Everything you wanted to know about North Knoxville, all in one place.  This post is going to going to cover a major north/south thoroughfare known as Broadway (US 441 on a map, and turns into Henley downtown at Western Avenue, which then turns into Chapman Highway after crossing the Henley Street Bridge over the Tennessee River in South Knoxville).  For this post, our southernmost point is at Fifth Avenue, with the northern ending point at I-640 (read about the Fountain City neighborhood here). 
Collectively, this whole area is known generally as North Knoxville (or NoKno).  There are a few small neighborhoods within, and we'll share some of that info for context but don't feel like you have to memorize all that – there won't be a quiz!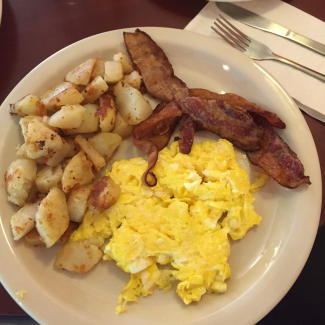 Rami's Cafe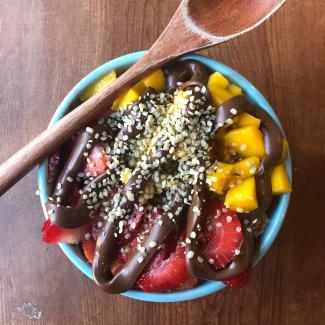 Blossom Bowls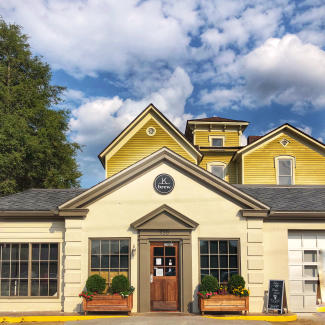 K. Brew
Starting posts in this series the way we always do – breakfast!  You've got a several options: Rami's Café is the quintessential diner. Biscuits & gravy, pancakes, omelets, you'll find them here.  For the uber healthy and trendy, get an acai bowl at Blossom Bowls – make it less healthy with a dollop of Nutella.  For a truly sweet indulgence, nab some pillowy-soft goodness at The Donut Shop. 
More of a bagel and coffee kinda person?  Good news: you have two more options.  Head to K Brew right on Broadway, snag some excellent house-roasted coffee and a house-made bagel, and twirl in the hammock chairs in this converted mechanics' garage.  Don't forget to snap a selfie at the Greetings from Knoxville mural on the side of the adjacent building.  For a gourmet breakfast bread experience, look no further than Paysan.  In addition to hand-made bagels and bagel sandwiches, you'll find focaccia, canelé, and more.  They don't have coffee but guess what – their neighbors at Remedy Coffee sure do!  You'll typically find Methodical Coffee and a rotating guest roaster there.  (Learn more about Knoxville's coffee scene here.)   
This might sound strange, but after you've got brew in hand, consider walking across the street to the Old Gray Cemetery.  It's a historic Victorian landscaped design that is the final resting place for the who's who of Knoxville's past, including Knoxville suffragist Lizzie Crozier French, McGhee Tyson (for whom the airport is named), and well-known families like the McClungs and Mabrys. If you're really into the (haunted?) history, take the Old Gray Cemetery Tour by Laura Still of Knoxville Walking Tours.  Adjacent to Old Gray is the National Cemetery, which was established by Union Major General Ambrose Burnside during the Civil War after the siege of Knoxville and subsequent Battle of Ford Sanders.  Brigadier General Neyland (yes, of UT's Neyland Stadium) is buried here.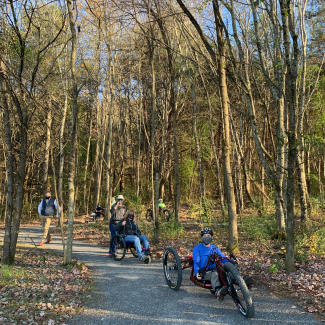 Sharp's Ridge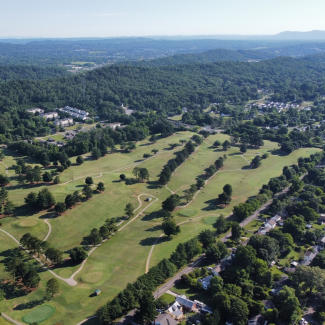 Whittle Springs Golf Course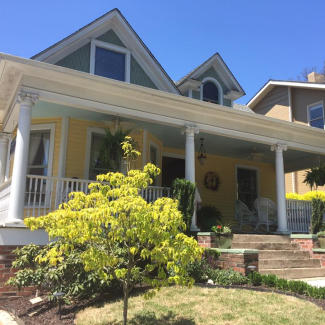 Fourth & Gill Neighborhood
No what you filled up on, it's time for some adventure!  Despite being a very busy part of town, there are plenty of places to find respite.  From the north end, Sharp's Ridge Veteran's Memorial Park is a hiking and mountain biking favorite – with great views of downtown!  There's even a 1.2 mile adaptive trail designed to accommodate adaptive mountain bikes.  Check out the trail map here.  Smaller neighborhood parks include Old North Knoxville Park, Fourth and Gill Park, and Edgewood Park; and the First Creek Greenway itself meanders through Old North Knoxville.  Looking to golf?  Whittle Springs is a public course just east of Broadway and south of I-640. 
Now might be a good time to explain those aforementioned mini neighborhoods a bit better for context. In relation to downtown, Uptown North is the closest, encompassing the plaza known as Emory Place and several of the breweries (more on that later), with rough borders of north of Magnolia, Broadway as the western border, and Morgan Street as the northeastern border. Fourth and Gill is a highly sought-after part of town, full of stunning Victorians and Craftsman-style homes. Its just north of Uptown North/Emory Place.  Their neighborhood association has hosted open-house walking tours, open gardens & camera sites as part of Dogwood Arts scheduled events in April, and there are murals to find on 6th Avenue.  Old North Knoxville is north of Fourth & Gill between Broadway and North Central and similarly has cute Craftsmans throughout.  If all of this has completely bamboozled you or you're fascinated and want to learn more, we cannot highly enough recommend The Knoxville History Project's "Historic Knoxville:  The Curious Visitor's Guide to its Stories and Places".  Just flip to the neighborhoods section and enjoy!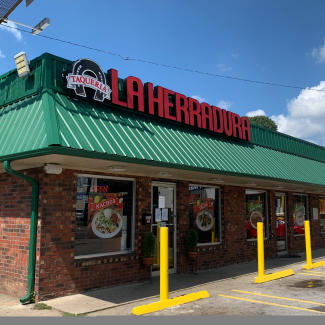 La Herradura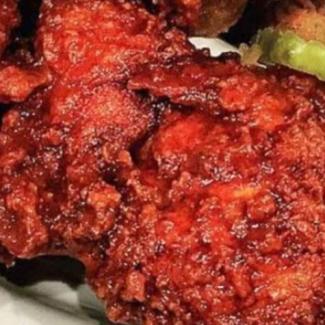 Jackie's Dream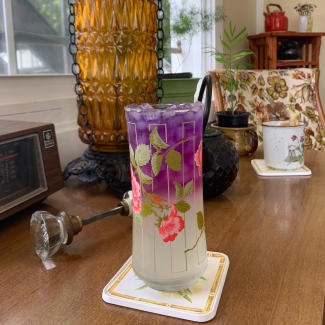 Tonya Rea's Teas 
Plenty of lunch choices to serve everyone's appetite.  We must warn you though, if Mexican is on your mind, you'll still have some tough choices to make.  North Knoxville has some of the best Mexican restaurants around: Taqueria La Herradura is just one of those places IYKYK with a physical location in NoKno, a food truck in Fountain City, a physical location in the Bearden neighborhood, and another food truck further west.  Other options include Señor Taco nearby (great for those who like coastal/seafood-type Mexican), hidden gem La Esperanza – a taco shop hiding in a Mexican grocery, and the place to party – La Piñata Mexican Grill. 
If you're not in the mood for south of the border eats, not to worry, there's plenty of other options.  Sandwich enthusiasts will want to try Time Out Deli, and if you want Knoxville's version of HOT chicken, look no further than the iconic Jackie's Dream off Woodland Avenue.  But hot is hot, so don't feel bad if you choose the mild option or choose other soulful sustenance.  If you are thinking of adopting a cat as you eat your lunch, we've found the purrfect place for you: Scruffy's Café.  We mentioned a lot of coffee earlier, but you might be just in the mood for an afternoon spot of tea, so keep Tonya Rea's Teas in mind.  Perfectly reminiscent of grandma's house that never left the 70s, the décor here is Instaworthy – and the tea is too (pro tip: get the butterfly pea flower lemonade tea).  Handcrafted dried tea blends are also available for purchase.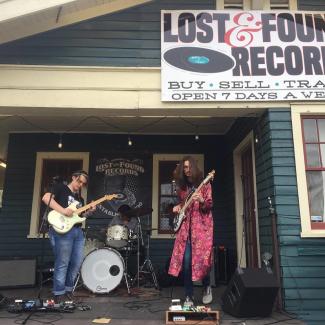 Lost & Found Records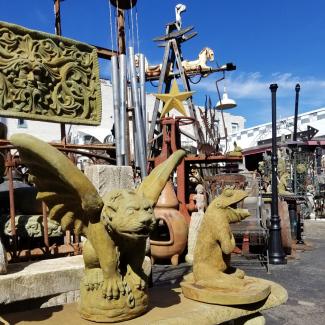 Architectural Antics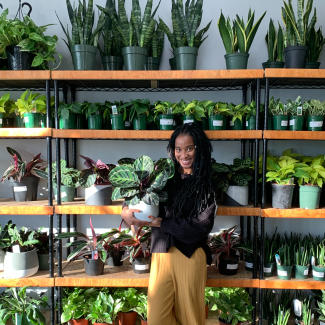 Oglewood Ave.
Similar to Happy Holler/Central, you'll find some cool vintage things in this part of town.  Another vinyl shop to add to your checklist, Lost & Found Records is a must-visit.  Pop Weasel Emporium is another fun stop, full of all kinds of nostalgia that will take you back to the good ol' days.  Antiques of all varieties are quite easy to find, too – swing by Part Time Antiques for a good hunt, or Architectural Antics and The Salvage Shop Revival for home and garden items.  Speaking of garden items, Olgewood Ave. is a plant boutique that is pure heaven whether you have a green thumb or not (and if you don't, their super helpful staff will find a plant bb that will be easy to care for). 
For the artistically inclined, there are galleries, shops, and even places to create your own items.  Across from K Brew, you'll find the Knoxville Arts & Fine Crafts Center, where you can do one-day workshops or take multiple-week classes on ceramics, painting in a variety of mediums, and more.  Broadway Studios & Gallery is next door, home to several artists' studios and a display of their works.  Nearby Mighty Mud has – you guessed it – ceramics workshops and classes along with a retail art gallery.  To pick up supplies to support your new hobby, look no further than ROY G BIV Art Supplies.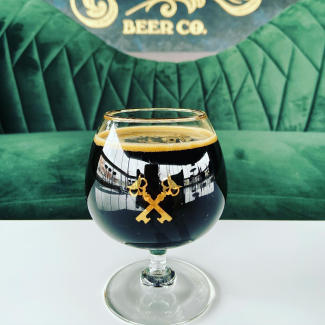 Xül Beer Co.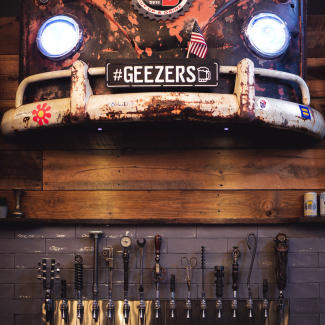 Geezers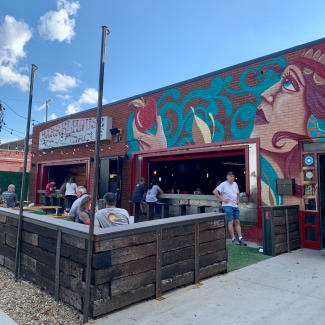 Gypsy Circus
North Knoxville is known for its role in the city's overall beer scene; it's home to over a quarter of the breweries on Knoxville's Ale Trail alone.  The best part?  Several are walkable from each other in the "Uptown North" area just north of downtown/Old City.  You'll find Xül, which has excellent fruity sours and IPAs in a unique building that was once a car dealership display room; Geezers, which has a grungy 60s mechanic shop vibe (in the same building next door!); Crafty Bastard, which is just down the street at Emory Place and has all kinds of interesting tropical sours and unique experimental options in a pet-friendly hole-in-the-wall vibe; and Next Level, which is on the corner of Broadway and Central with a great selection of NEIPAs; and Gypsy Circus Barrelhouse, one of only 5 wild cider barrelhouses in the US focusing on Lambics and other wild strains of cider.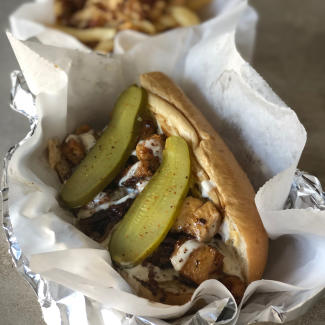 Ale' Rae Grill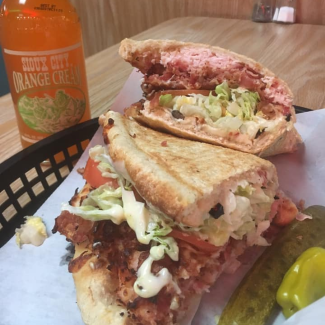 Harby's Pizza & Deli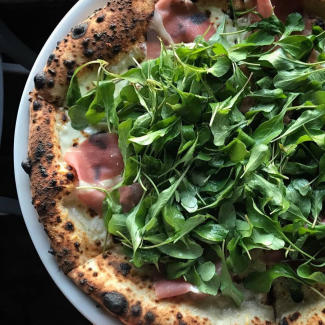 A Dopo
For dinner you have some more great choices (would we give you bad choices!?).  Ale' Rae Grill has been a longtime favorite food truck in the area, but now they've got a permanent location right on Broadway.  This gastropub features live music, a coffee/tea bar, and some of the best French fries you've ever had in your life. (Pro tip: get the maple bacon bourbon sub with the Over the Edge Fries.)  If you battled it out over Mexican for lunch, now you've got a fight for which pizza: Harby's Pizza and Deli is the neighborhood pizzeria.  Even if someone in your party for some odd reason doesn't want pizza (what a weirdo), you can give 'em a wedgey.  A Wedgey Sandwich that is, a Harby's signature!  Option two is A Dopo (means see you later in Italian) is a dinner-only, wood fired pizzeria that specializes in sourdough Neapolitan style pies – and save room for their small-batch gelato. 
We hope this inspired you to explore North Knoxville and the wonders along Broadway! Learn more about other Knoxville neighborhoods here.