Fountain City is a neighborhood in north Knoxville that was previously an unincorporated community prior to annexation by the city of Knoxville in 1962. It's generally considered to start north of I-640/Sharp's Ridge past North Knoxville, and ends at Halls Crossroads to begin the Halls neighborhood. It's easy to get to this part of town from the downtown area; it's a straight shot up Broadway (US Hwy 441). Read a bit of background on the area from our friends at The Knoxville History Project. To give a brief synopsis, European settlement was founded at Fort Adair (sometimes called Adair's Station). The fort was a stockade fortification that served as a supply depot for early settlers migrating west, constructed around 1791. The presence of a supply station encouraged more Europeans to settle in the vicinity. The town of Grassy Valley was developed around Fort Adair which eventually became Fountain Head which then became Fountain City. 
| | | |
| --- | --- | --- |
| | | |
| Folly Boutique | Salt & Pepper Boutique | Gracie Lee's |
Grab breakfast at your hotel (or if you're around Saturday/Sunday, swing by Inskip Grill – more on them later) and prepare for a fun day! Shopping is an enjoyable go-to, whether you like to casually peruse or shop 'til you drop. Fountain City has several boutiques and unique shops. For young ladies' and women's fashion, home décor, and gifts, be sure to visit Folly Boutique, Salt & Pepper Boutique, Birdies Boutique, and Gracie Lee's. Fountain City also has some great vintage shops – stop by Vintage Etc., Cottage Door Antiques & Gifts, Sans 2 Treasures Mercantile, and Sandra B's Trinkets & More. Sports enthusiasts will want to stop by Eddie's Sports Treasures. Lastly, for the sci-fi/comic/gamers, you'll enjoy Sci-Fi City. Oh wait, we can't forget Pratt's Country Store – this is a staple of Fountain City and is full of fresh fruit and veggies, jams & honeys, and more southern delicacies. 
| | | |
| --- | --- | --- |
| | | |
| Sam & Andy's | Inskip Grill | Archer's BBQ  |
You've no doubt worked up an appetite, so you've got a decision to make for lunch. Looking for old school diner, like the kind that gets to claim "Knoxville's oldest restaurant", established in 1946? You've found it in Sam & Andy's. Another option that isn't quite as old – but still impressive with a 1967 establishment – is Inskip Grill. Originally in the Inskip neighborhood (hence the name), this popular spot now in Fountain City is dedicated to a wide range of over 50 burger and sandwich creations. Insider tip: save room for their MASSIVE "Grilla" shakes. If you're in the mood for some 'cue, you'll find it in the same plaza as Inskip Grill. 
| | | |
| --- | --- | --- |
| | | |
| Fountain City Lake | Fountain City Art Center |  Dog Park at Tommy Schumpert Park  |
Might be time to walk all that off! We'll suggest the Fountain City Park with its Lake or "Duck Pond" depending on who you ask. A haven to ducks and geese, this spot is the heart of the neighborhood. There's a paved greenway path that winds around the park along with an expansive playground for the littles. Next to the park is the Fountain City Art Center. They have several exhibits throughout the year that are about a month and a half in duration, so you can expect to see new artworks frequently. You'll notice a historic marker for Fort Adair as referenced above across from the art center in front of Fountain City United Methodist Church. For some additional park options, visit Adair Park, which has butterfly gardens, a small duck pond, and a paved 1.1-mile greenway loop. Tommy Schumpert Park is an expansive Knox County Park not too far off Broadway. This park features several fields, an 18-hole disc golf course, and a paved loop that circles an incredible dog park and connects to the Sterchi Hills Greenway. Lastly, for a small golf course (complete with original barn and silo on the hills of an old farm) and a bit of natural terrain, enjoy the par 3 golf course and the non-paved 1.4-mile loop at Beverly Park.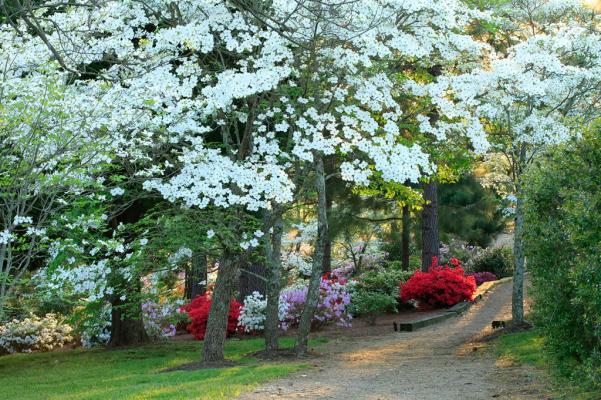 Baxter Gardens 
*If you happen to be in this part of town during April, you MUST make a visit to Baxter Gardens. Baxter Gardens is a private residence that opens its gardens to the public ONLY during the month of April as part of the Dogwood Arts Festival and is comprised of nine gardens that can be toured with the assistance of a printed map and self-directed guide provided onsite. 
| | | |
| --- | --- | --- |
| | | |
| Litton's Restaurant | Louis' Drive In | Sweet P's  |
Dinner time! You've got more decisions. For classic Italian American, you have to go to The Original Louis' Drive In Restaurant. Litton's is another great choice, and their dessert and bakery case is sure to get you into some delicious trouble. If you missed BBQ at lunch, you've got another chance with Sweet P's (under construction at time of this posting). Insider tip: get the sampler so you can truly have it all! 
We hope we inspired you to visit the Fountain City neighborhood! Check out Knoxville's other neighborhoods.