Gay Street
You can't fully experience the history and culture of Knoxville without a stroll down this historic thoroughfare.
Since the 1790s, Gay Street has played a primary role in Knoxville's historical and cultural development. Gay Street is home to art galleries, historic theaters, the East Tennessee History Center and more – with many buildings listed on the National Register of Historic Places. The street welcomes annual St. Patrick's Day, Pride, Veterans and Christmas parades and more. Take in a view from a rooftop bar and make sure you snap your photo in front of the Tennessee Theatre blade.
History in the Making
Gay Street was the site of the 1796 Constitutional Convention that resulted in the founding of the state of Tennessee, and was a focal point for the early political activity of both the city and the state of Tennessee. On the eve of the Civil War, Gay Street was the site of simultaneous Union and Confederate recruiting rallies.
During the Civil War, Gay Street saw some early violence, a fatal shooting of a Unionist demonstrator, days after the firing on Ft. Sumter. During the war, the street hosted headquarters of several commanders, including, briefly, Confederate Gen. Joseph Johnston and, during the later siege on the now Union-held city, U.S. Gen. Ambrose Burnside. Union Gen. William Sanders died as the result of wounds in the Lamar House on Gay. Several years after the war, former Confederate Gen. James Clanton of Alabama was killed in a gunfight with a former Union officer. 
After the war, Gay Street saw extensive commercial development as railroad construction brought an industrial boom to Knoxville. By 1850, Gay Street was home to three-fourths of Knoxville's commercial activity.
In 1854, Gay Street became Knoxville's first paved road.
It was the street connected to the first public bridge across the Tennessee River, the first a military bridge established by the Union army. There followed several other bridges, lost in floods or storms, culminating in the 1898 bridge that carries automobile traffic today. 
Almost all public visitors to Knoxville made an appearance on Gay Street. During the Civil War, Andrew Johnson was shot at when he gave a pro-Union speech on Gay Street. In 1877, President Rutherford B. Hayes gave a speech to a more peaceful crowd at the same location. Others who were seen on Gay Street at one time or another were prohibitionist Carrie Nation, Socialist candidate Eugene V. Debs, and civil-rights activist Frederick Douglass. 
One of Knoxville's oldest buildings, the Lamar House, now the front portion of the Bijou Theatre, was operating as a hotel facing Gay Street by 1817, when it hosted a reception for Gen. Andrew Jackson, then most famous for his defeat of the British army in New Orleans two years earlier. 
Beginning in 1908, Gay Street became the location of Knoxville's first skyscrapers, steel-frame buildings of 10 stores or more, beginning with the Burwell Building, followed by the taller Holston Building, and some years later the Andrew Johnson Hotel, which was for almost half a century the tallest building in East Tennessee. All of them still stand. 
The skyscraper race commenced again in the late 1970s, when the steel and glass United American Bank building, later known as Plaza Tower, soared above the Andrew Johnson, and Riverview Tower, almost as tall, rose near it. 
From 1960 to 1963, Gay Street was the site of dozens of civil-rights demonstrations, first sit-ins at all-white lunch counters, then demonstrations outside the still-segregated movie theaters. The demonstrations were all successful without notable violence. 
Gay Street has also been the home of multiple department stores, including Miller's, which maintained a presence in its original beaux-arts brick building on Gay for 70 years. It was home to the headquarters of furniture giant Sterchi Brothers, whose logo has become a signature of the Gay Street skyline, and today is one of downtown's largest and most popular residential buildings. Today, Mast General Store, located in the early 20th-century Newcomer's building, carries on the department store tradition into a new century. 
Knoxville's Theatre District
Gay Street has always been home to Knoxville's finest theatres. An early performance space, ca. 1860s, was known as Mozart Hall. In 1872, Swiss immigrant Peter Staub completed his grand Staub's Opera House, facing Gay Street. It would host orchestral performances, vaudeville, opera festivals, and lectures for decades. It was the first of several theaters that kept Gay Street lit up at night.
The street was always the center of vaudeville in Knoxville. Those who have performed shows in Gay Street theaters between 1880 and 1940 include Sarah Bernhardt, Lillie Langtry, Will Rogers, George M. Cohan, Ethel, John, and Lionel Barrymore (separately), John Philip Sousa, Tallulah Bankhead, Cab Calloway, Helen Hayes, Tom Mix, Glenn Miller, Desi Arnaz, and the Marx Brothers.
By the 1920s, Gay Street supported several movie theaters at once, the largest of which were the Riviera (1920) and the more extravagantly decorated Tennessee (1928). Today, as day turns to night, theatre lights still lure you down Gay Street for a variety of performances and cinematic entertainment at some of the region's most popular venues.
Knoxville Historic Theatres
Knoxville Arts District - 100 Block Gay Street
Live Radio Shows

Gay Street also witnessed the early days of live-audience radio, as country stars like Roy Acuff, Chet Atkins, the Everly Brothers, and Dolly Parton got their starts on radio stations WNOX and WROL.
Live music can still be found on Gay Street today at the WDVX studios located inside the Knoxville Visitors Center.
The station's popular Blue Plate Special is a free, live performance radio show that takes place Monday-Saturday at noon with music ranging from blues to bluegrass, country to Celtic, folk to funk, rockabilly to hillbilly, local to international.
Side note: Television was introduced to the region with a broadcast in 1953 from WROL studios in the Mechanics Bank building on Gay. Country stars like Don Gibson, Archie Campbell, and Flatt and Scruggs were among the attractions of early Knoxville television.
Claims to Fame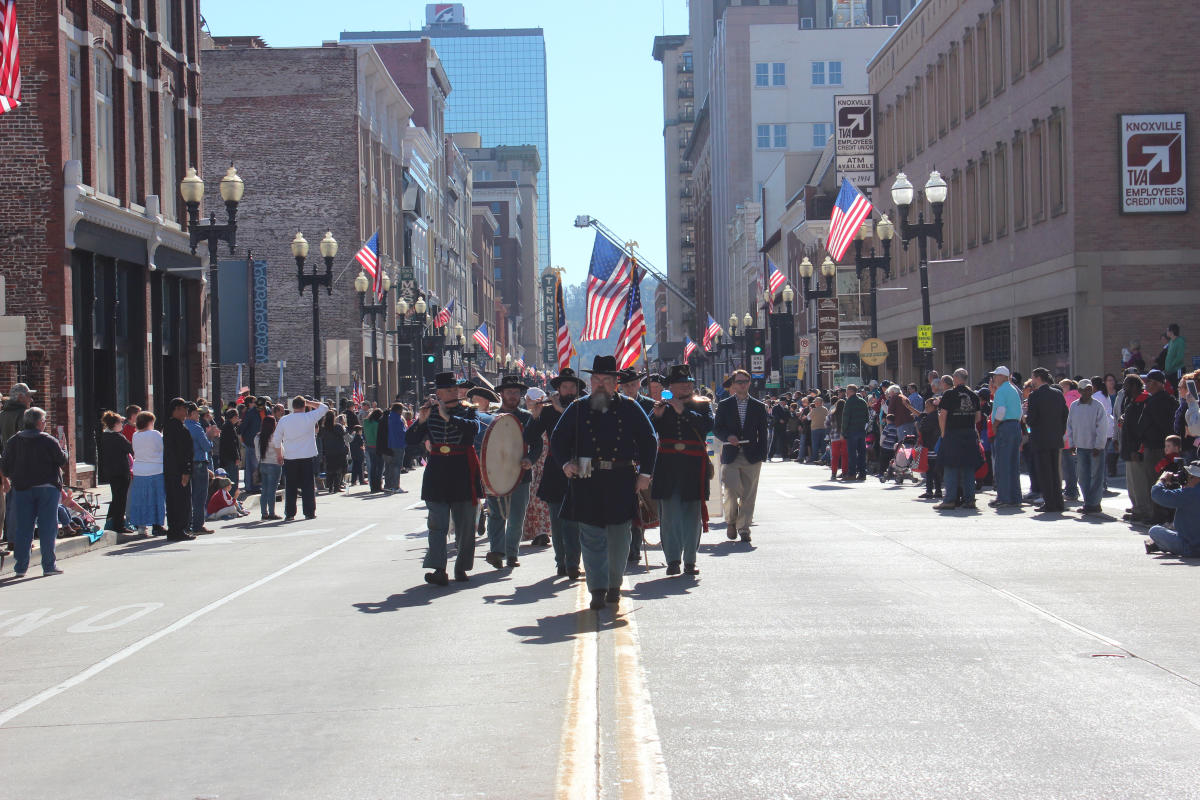 Gay Street and events that took place on it have been mentioned in the works of novelists James Agee and Cormac McCarthy, humorists Mark Twain and George Washington Harris, and poet and essayist Nikki Giovanni.
Gay Street was a setting for parades by the 1850s, and was the scene of many dramatic events, including several gunfights, most notably the Mabry-O'Conner gunfight of 1882, in which all three combatants were killed. It drew national attention, and some gibes from humorist Mark Twain. 
Gay Street was the setting of one of the South's first Decoration Day (later Memorial Day) parades, and by the 1870s, of more joyous St. Patrick's Day parades. 
Today, it's home to one of the oldest and largest Veterans Day parades in the nation.
Because of its preservation and contributions to Knoxville's economic base and vibrant arts scene, the American Planning Association designated Gay Street as one of 10 Great Streets under the organization's Great Places in America program.
Several downtown streets have been renamed over the years, but Gay Street retains its original name, perhaps because, from the very beginning, the street has been known as the place where Knoxvillians come for fun and entertainment.
Hop on a free trolley and experience the culture and history of Knoxville.