1. Squash those FOMO (fear of missing out) feelings! Year round, Knoxville's event calendar is full of activities everyone will enjoy; from annual festivals like Bike Boat Brew & Bark to concerts and live music throughout the city. Following Visit Knoxville on Instagram, Facebook and Pinterest will keep you from missing out on all of the city's great events and happenings. Pay special attention to Instagram/Facebook stories - lots of events are shared there, and they go away within 24 hours so keep an eye out!
2. Make the most of your visit! Vacations seem to go by so fast and we know you want to make the most of your visit to Knoxville. When you follow Visit Knoxville on social media, you stay up to date on what's happening and help you plan in advance. Saving Visit Knoxville's Instagram posts and Pinterest pins help you build a personal itinerary to rival those of any travel blogger. Got a friend of family member traveling with you? Share those posts so they can be in the know too!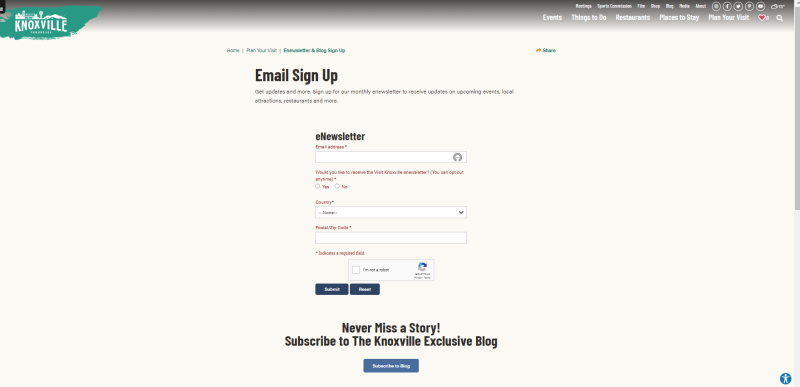 3. Stay in the loop! Now that you are following Visit Knoxville on Instagram, Facebook and Pinterest, you're ready to sign up for the our monthly enewsletter. Get updates on upcoming events, local attractions, restaurants and more. Be sure to subscribe to The Knoxville Exclusive Blog for articles about Knoxville's best foods, guides on where to go mountain biking, Knoxville's Whiskey Trail stops, things to do with kids, and so much more.
5. Capture and share your Knoxville vacation memories! When you follow Visit Knoxville on Instagram you can recreate Knoxville's most Instagram-worthy photos with your family and friends. Your followers will be envious of your photography and your Knoxville vacation. Tag us at  #knoxrocks, so we can enjoy them, too!
We hope this list helps you connect with us more through social media, so you can plan and enjoy your best Knoxville vacation!
This post was written and compiled by Taylor Hastings, Marketing Team Spring 2022 Intern