Collectively, our parks make a collection of surprising stories. One was a dairy farm turned Victorian park, the destination of the region's first electric streetcar. One was a failed urban marketplace. One was a favorite religious camp-meeting site. One was the centerpiece of a wealthy Victorian neighborhood. One was a mental institution.
Knoxville was a practical place in its early days, and the city had no public parks for almost a century. Except for the courthouse, and later Market Square, land was privately owned and expected to be either a residence or a workplace. A well-known bird's eye view of Knoxville in 1886 shows a dense city of solid buildings, with hardly any open spaces. Several years after the Civil War, though, when the city seemed economically stable, some citizens began to look around for ways to improve the old place. Those efforts coincided with a national effort called the City Beautiful movement.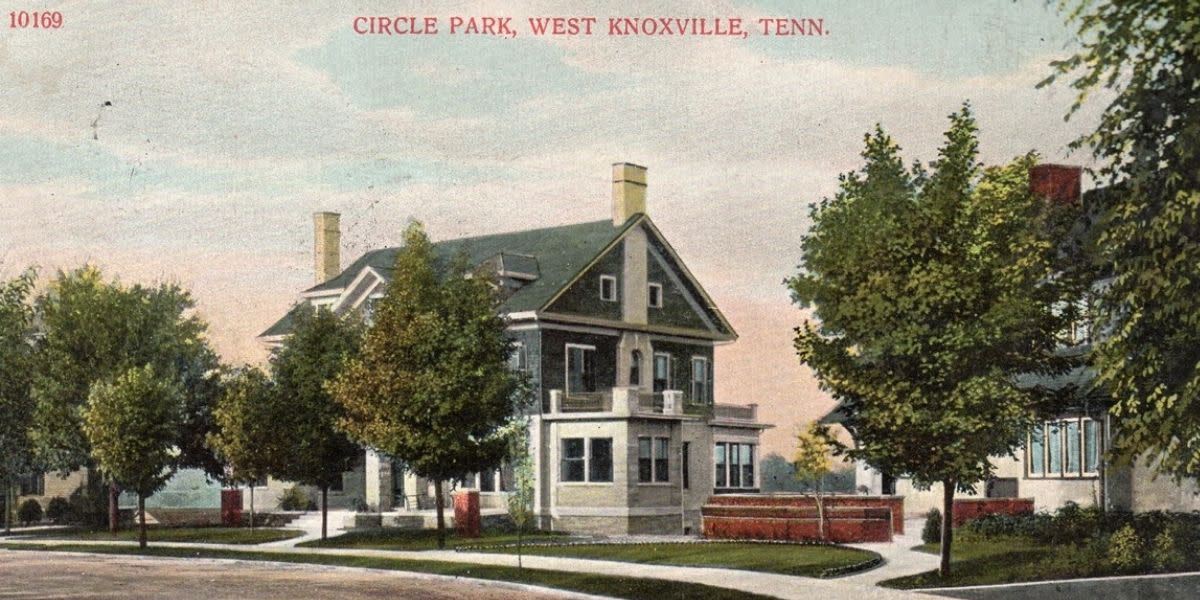 Circle Park | courtesy Knoxville History Project
Knoxville's first city park is a familiar place to tens of thousands, and its onetime status as a city park may come as a surprise, because for more than half a century it's been considered part of the University of Tennessee's campus.
It's called Circle Park, and it's easy to find on Volunteer Boulevard, right behind the Volunteer statue, a.k.a., the Torchbearer. Now most popular on game days, when it is often crowded with hundreds of revelers, it's been a public place for almost 150 years. (Ed. Note: you can also enjoy the free McClung Museum in the Circle). Originally called "The Circle," it appears in some maps from the mid-1880s. At the time, it was not part of any college's campus. UT was strictly up on its Hill, and the closest thing it's few students had to a park in those days was a small quad on the hilltop that was sometimes used for students' athletic events and drilling for cadets.
The Circle was a quieter, privately developed patch that made the area around it seem attractive as a place for people to live. On the outside of the circle were large Victorian houses occupied by some of Knoxville's most prominent families. On the inside was a disk of green, big enough for a baseball game or a church picnic. In 1888, it was deeded to the city of West Knoxville--an independently governed suburb that included Fort Sanders--as a public park.
At the time, there was not a single park downtown. So "West Knoxville" had a city park before "Knoxville" did. Despite the fact that its neighborhood might have seemed exclusive, Circle Park became a destination for a streetcar line. When Knoxville annexed West Knoxville in 1897, Circle Park became the city's only public park. It had that distinction for only a few years.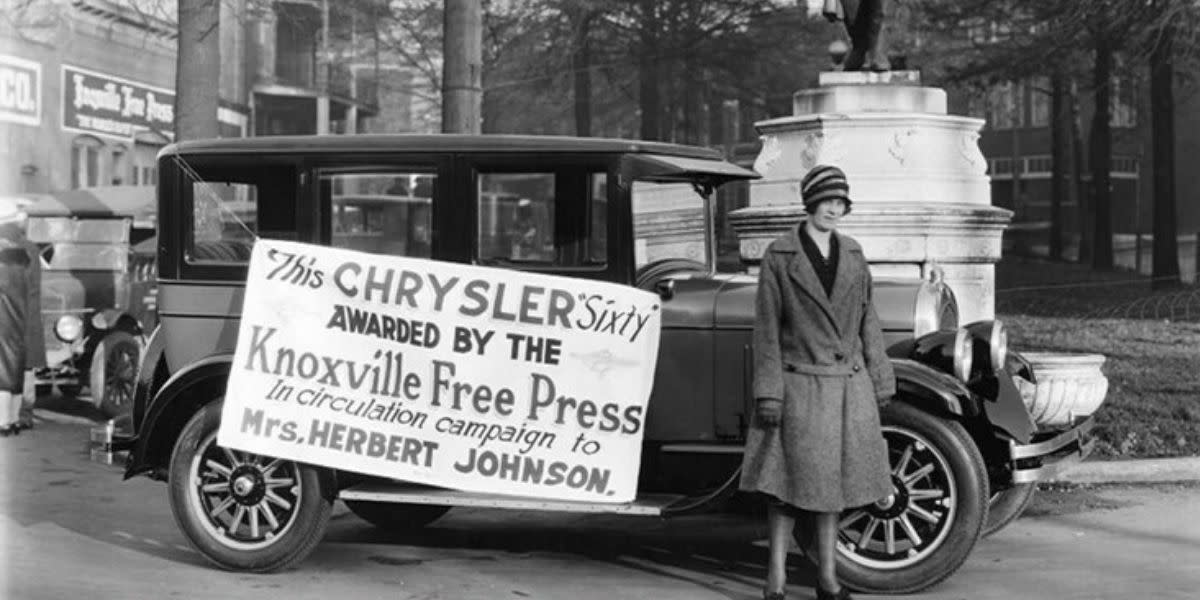 Emory Park | courtesy McClung Collection
But by that time the city had an interest in a semi-open place on the far northern end of Gay Street. It was then called the Central Market and featured a large market house. Its original intention, when it opened in the late 1880s, was to serve as a second Market Square, alleviating traffic in the downtown area by offering both residents and farmers an easier, less cluttered place to get to on market days. Although the vicinity of the park attracted some durable businesses, like the Walla Walla Chewing Gum Factory in a Victorian building that still stands, that market itself was a failure. After some financial problems and related bad feelings, the Central Market building was taken down--it was actually moved to South Knoxville, eventually to serve as one of Knoxville's first service stations--it left a space that suggested repurposing as a park, in a city that had seemingly never been able to plan one. It was named Emory Park, for Rev. Isaac Emory, a popular Presbyterian minister originally from New York, who was credited with introducing the idea of "Sunday School" to Tennessee. His name came up at the time because he was the most prominent victim of East Tennessee's worst transportation disaster in history, the 1904 New Market Train Wreck. The park became his memorial. An odd-shaped, angular park, it was a green lawn with trees, and at one time a memorial statue for firemen who had lost their lives on duty.
After serving as a green park for about 50 years, Emory Park became Emory Parking Lot, as it was paved over for automobile parking, mainly for nearby retail businesses. A 1980s effort partly reclaimed it, with landscaping and greenery, but also parking places. Today, the popular Crafty Bastard Brewery is in part of the old Walla Walla Chewing Gum building.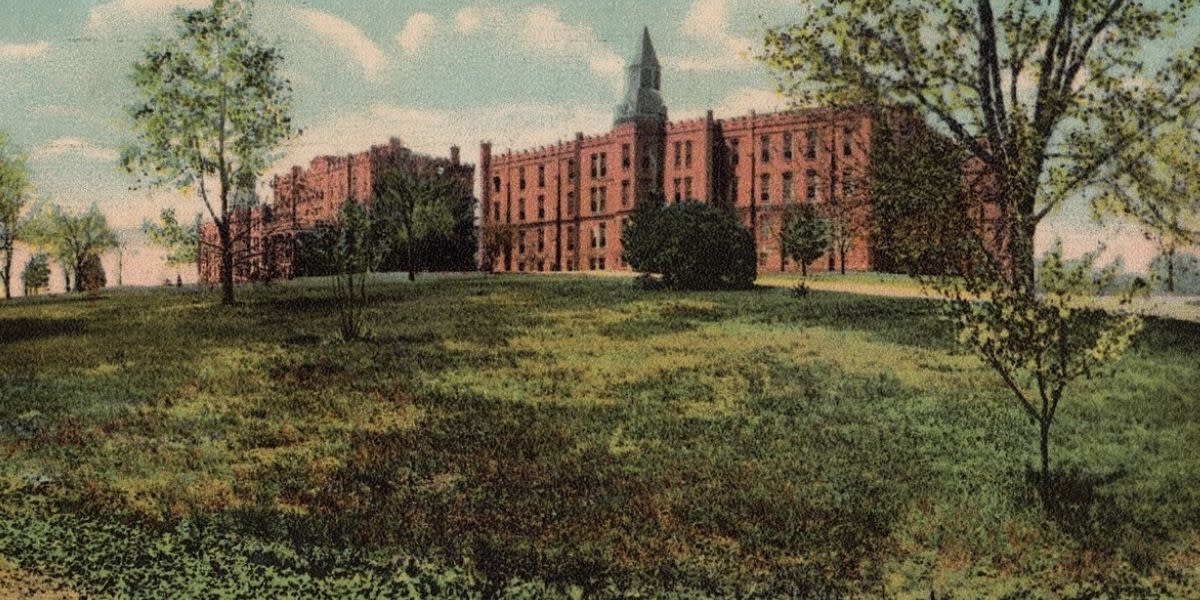 East Tennessee Mental Institute now Lakeshore Park | courtesy Knoxville History Project
Several other historic parks emerged about the same time, just outside Knoxville's Victorian-era city limits, but, importantly, within streetcar distance. They're within the city today, and remain popular today, albeit in different ways. You could argue that one of Knoxville's first parks was the very big one established in the 1880s along Lyons View, now called Lakeshore Park. It was land obtained by the state for public use, and it offered river vistas, lots of trees, and big gardens and walking trails and other amenities.
It wasn't a public park, though. It was a mental-health hospital. Opened in 1886, the Eastern State Hospital for the Insane--also known as Lyons View Asylum--had a large campus that allowed for long walks; its large gardens gave patients something to do, and also produced food for the patients and staff. That riverside acreage served only as only a mental-health institution for a century. Then, about 30 years ago, it began mainstreaming many of its patients--and with the leadership of the city, opened parts of its campus to the public at large, first for public ball fields. Since the hospital closed altogether in 2012, Lakeshore has been purely a park, and a very popular one, but you can still see landmarks of the old mental institution, especially the original central administration building on top of the hill.
Chilhowee Park | courtesy Knoxville History Project
About the same time the mental institution opened, a dairy farmer from New York named Fernando Cortes Beaman opened up part of his pastureland to public use, eventually developing it as a sort of suburban resort first called Beaman's Park, then Elmwood Park and "Lake Ottosee." It was so popular that the park was the destination of the first electric streetcar line ever established in East Tennessee, in 1890. Later the venue for three major expositions between 1910 and 1913, and almost every year since 1916, the Tennessee Valley Fair, the park Mr. Beaman established has hosted football games, balloon ascensions, swimming events, trade shows, concerts, and boxing matches.
If you want to see it, take a drive about three miles out Magnolia Avenue, and it's mostly on your left. Today, of course, it's known as Chilhowee Park. The Jacob Building, there since the early 1940s, replaced a grand exposition building that had burned down, and was named in honor of Dr. Moses Jacob, one of the Tennessee Valley Fair's most influential directors. Chilhowee Park's oldest features are the unusual marble bandstand constructed for a 1910 exposition--and, of course, Mr. Beaman's old pond, the attraction known in the Victorian era as Lake Ottosee.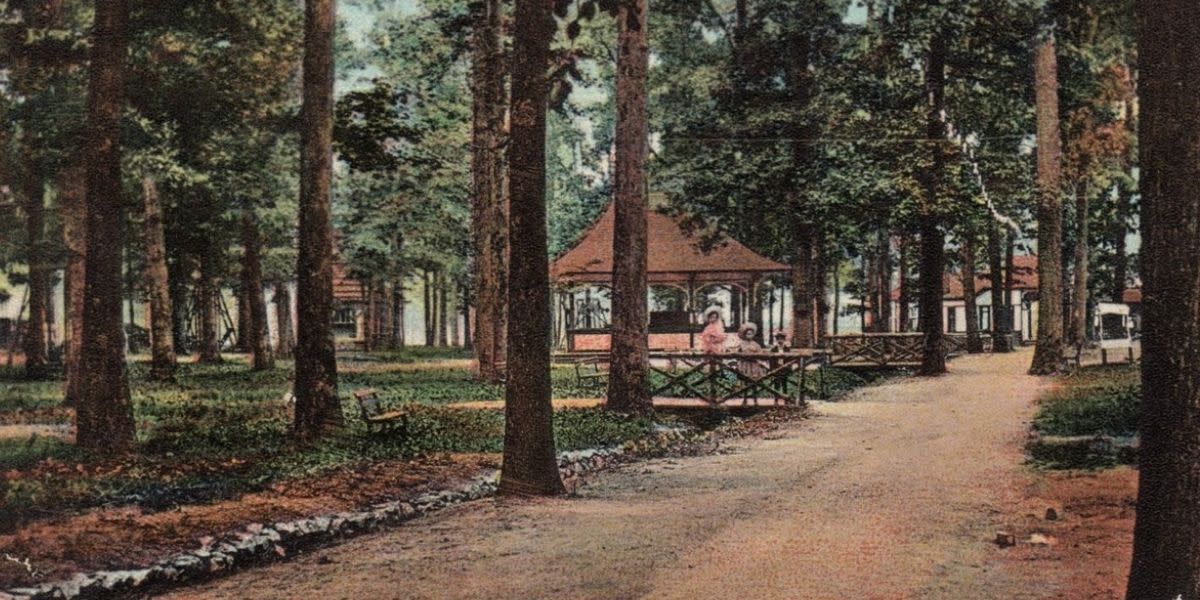 Fountain City Park | courtesy Knoxville History Project
Another park that evolved by degrees was Fountain City Park, and it's unusual in that it's not owned or operated by the city, county or state--still, it has been open to the public for more than a century. Five miles north of downtown on Broadway, it's on the left by Hotel Road. That area, originally known as the Fountainhead, for the groundwater that flows out of the bluff there to form a small tributary to First Creek, was a popular refuge from urban smoke, violence, and vice in the mid-19th century, especially among religious camp-meeting revivals. By 1890, there was a secular resort there (a big, luxurious hotel gone for a century now, but the origin of the name Hotel Road, and of the heart-shaped artificial "lake" by Broadway). "Fountain City Park" was an attractive entity by the 1890s, a destination of the streetcar from downtown. It was known to Knoxvillians especially on holidays like the Fourth of July and Labor Day, when picnics, amateur athletic events, and political speeches drew thousands of citizens from the crowded city to the south. The streetcar from downtown sometimes ran all the way to midnight, ferrying revelers back and forth.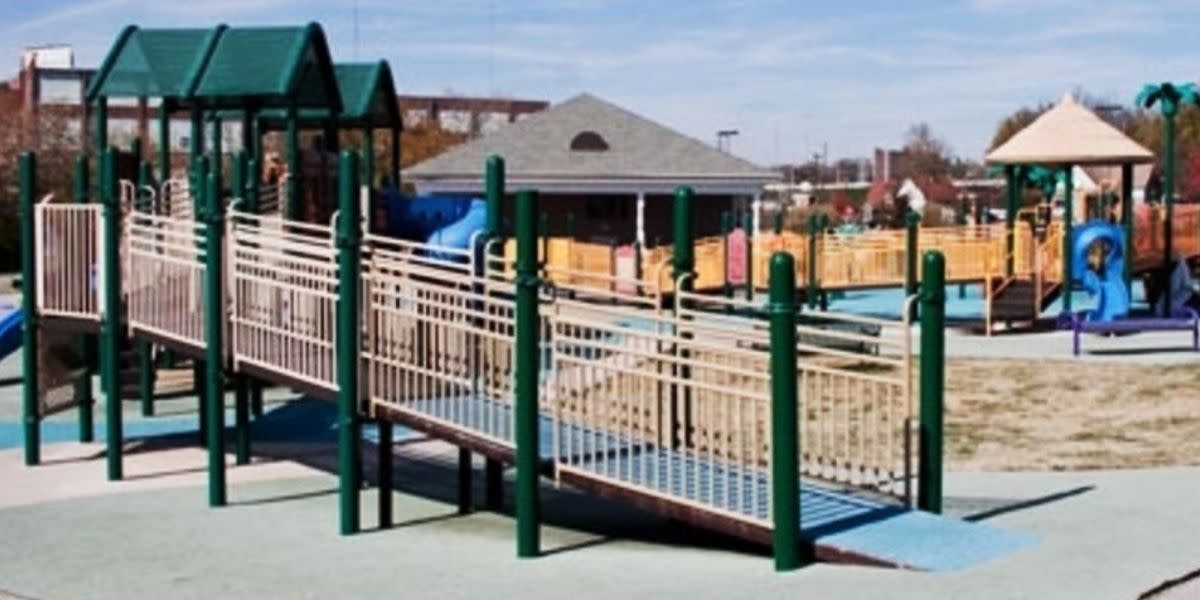 Modern-day Ashley Nicole Dream Playground at Caswell Park
The World War I era was good for parks in Knoxville. In 1913, William Caswell, an elderly businessman known for several distinctions--including his role as a player in some of the first baseball games in East Tennessee history, just after the Civil War--had become a successful real-estate developer in Knoxville who also had a major sideline in the grapefruit business in Florida. He donated his land for use as a baseball park. For 80 years, Caswell Park--also sometimes known by the names of the stadiums built on it, Smithson Stadium and Bill Meyer Stadium--hosted most of Knoxville's pro baseball games, for both black and white teams, sometimes featuring famous players, like Babe Ruth and Lou Gehrig, during the days when the New York Yankees played exhibition games here--and Satchel Paige, the star of the Negro Leagues. Caswell Park also hosted exhibitions by Olympic champion Jesse Owens, and musicians from guitar pioneer Sister Rosetta Tharpe to soul icon Otis Redding. Pro baseball left Caswell Park in the late 1990s, but the park, still with picturesque First Creek running through it, still hosts community sports, especially softball.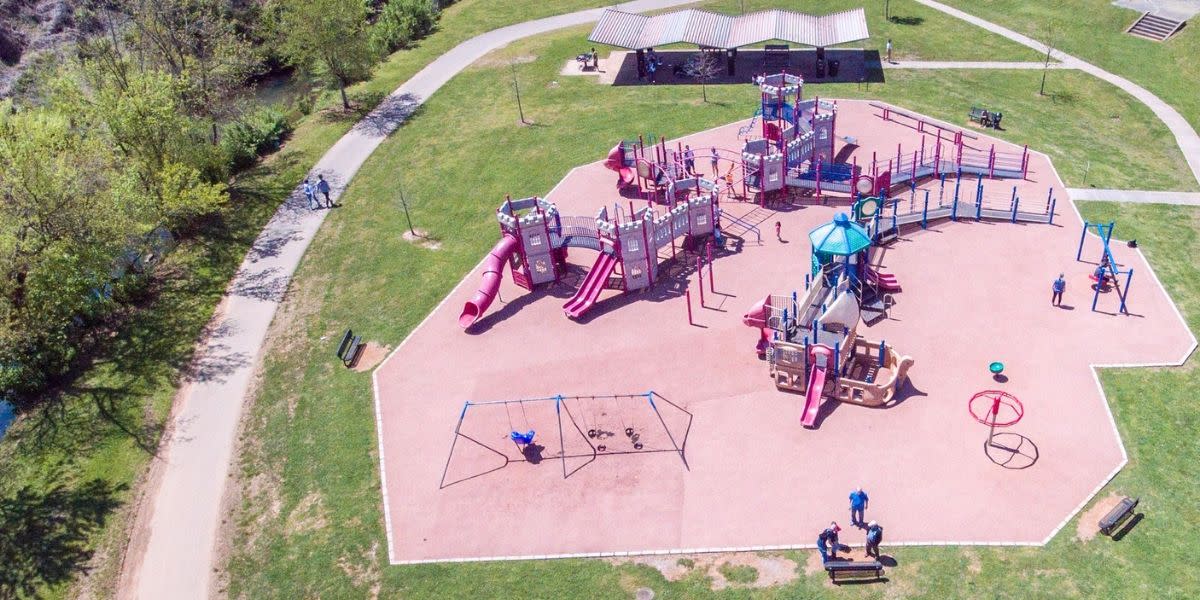 Modern-day playground and greenway at Tyson Park
Then, one of the city's first all-purpose parks developed as a memorial for a young pilot. In the late 19th century, part of Third Creek north of Kingston Pike was owned by the Tyson family. By 1898, though semi-forested and untended in a natural state, it was being used as an informal nine-hole golf course, with the creek a natural water hazard--known playfully on the course as the River Styx. The most famous member of the Tyson family was Gen. Lawrence Davis Tyson, veteran of Apache Wars and the Spanish-Ameican War, after which he had served as military governor of Puerto Rico. (He was later a U.S. senator.) By 1917 he was fighting the Germans in Europe in World War I. He made his fortune as a mill executive. He and his wife, Betty, lived in a nice house still standing just west of UT's Hill, along with their son, McGhee, a handsome young man who became best known in Knoxville not as a soldier, like his dad, but as a champion golfer (who at least once held his own against the even younger hotshot from Atlanta named Bobby Jones). Tyson had just enlisted in the Navy Signal Corps, learning to fly warplanes, when his plane went down in the North Sea.
In October 1918, just as the city was wrestling with the terrors of the pandemic Spanish Flu, word arrived that young McGhee Tyson had drowned. In 1929, his mother, Bettie, made a deal with the City of Knoxville: if the city were to name its airport for her son, who loved flying, she would give the city a park. Hence, to this day, we have both Tyson Park and McGhee Tyson Airport. For almost a century, Tyson Park, central to the Third Creek Greenway, has been popular among barbecue grillers and tennis players alike. In recent years the site of the Knoxville area's most elaborate skate park, Tyson Park continues to evolve in ways that might have astonished Mrs. Tyson.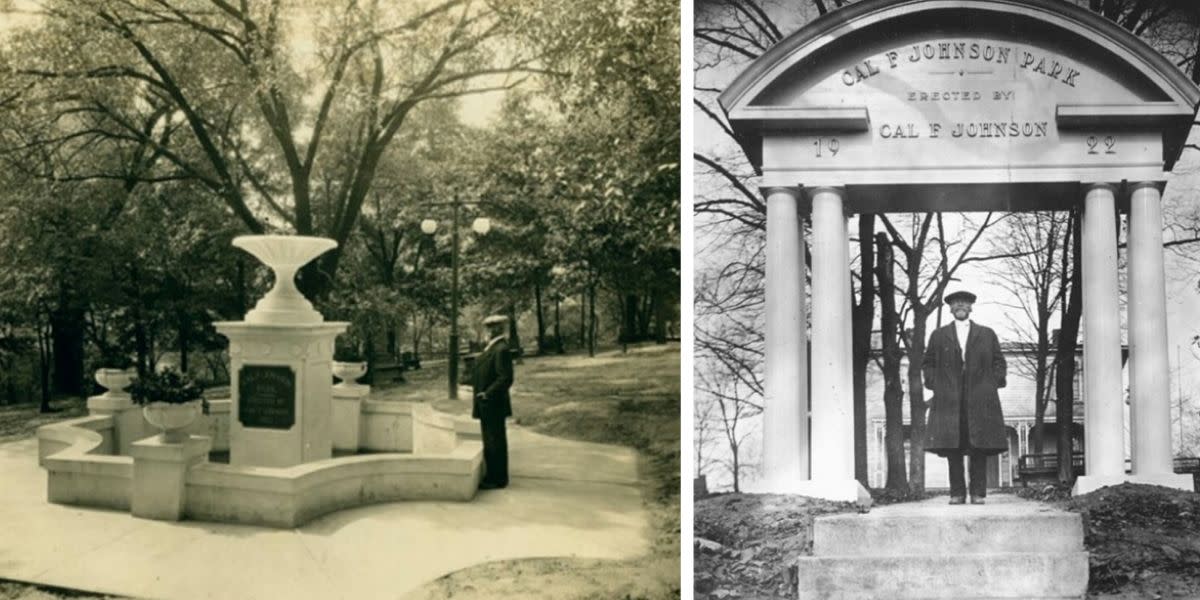 Cal Johnson Park | courtesy Beck Cultural Exchange Center
Perhaps Knoxville's most astonishing park story is right near downtown, though, on Hall of Fame just north of Clinch Avenue. It's less than four acres, with a couple of basketball courts, and today is probably better known for its recreation center, built during urban renewal in the '50s.
Cal Johnson Park is one of the few parks in America named for a man who was raised in slavery--and actually completed with his help. Cal Johnson combined inspiration and hard work to make a success of himself in a diversified array of businesses, including real estate development, a chain of saloons, and a horse-racing track. A wealthy man in his later years, Johnson became a philanthropist and actually contributed a substantial amount of money to creating this park, which was completed in 1922, when he was still alive and a walking-distance neighbor. Intended mainly for Knoxville's black populace during strict segregation, the Cal Johnson Park--originally on what was known as Mulvaney Street--became a cultural hub, recalled fondly by poet Nikki Giovanni, who grew up across the street in the 1940s and '50s. Unfortunately, the marble fountain that Johnson donated to the park vanished during redevelopment, and the park may not turn heads as it once did, but it's a practical success, still used daily, especially by those who live nearby, as it was when it opened almost a century ago.
This post is the tip of the iceberg for parks here – head to this page for a comprehensive list of ways to get out and enjoy the outdoors in Knoxville!