Whether you're a current student, prospective student, parent of a student, someone who loves that particular shade of orange, or just want to get to know the University of Tennessee more, today's post is for you!  We're talking all things UT!  Not Texas, mind you – not to ruffle any feathers but considering our UT was founded in 1794 (two years before Tennessee became the 16th state) and 86 years before the University of Texas was established, Knoxville has the claim to be the original UT.  We're going to take you through a weekend on the campus and "the strip" – more on that later.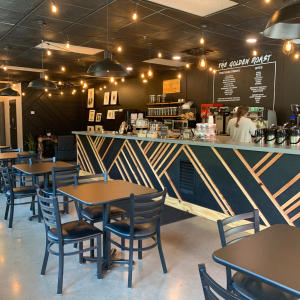 Starting as we always do with breakfast (if your parents are in town, shoot for 8-9am, and if not, that's why brunch was invented).  Maybe just keep it simple and start with the Golden Roast.  This cute coffee shop roasts their own beans and will give you the caffeine to walk your happy self up "The Hill".  Don't know what that is? Don't worry, your quadriceps will find out soon enough.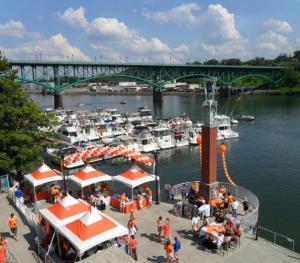 Plan to spend the morning touring campus at your leisure.  Some quick stats and fun facts:
• The University of Tennessee has 10 undergraduate colleges and 11 graduate colleges.
• UT hosts 28,000+ students from all 50 states and more than 100 foreign countries.
• Tennessee is known as the "Volunteer State" for the large number of Tennesseans who volunteered for duty in the War of 1812, the Mexican–American War, and the American Civil • War; and thus the "Volunteers" since the early 1900s.
• UT official colors are UT Orange (Pantone 151), White, and Smokey Gray (Pantone 426).
• Speaking of Smokey, Smokey is a Bluetick Coonhound and the official mascot.  See the UT map to find the several statues of our town's favorite pup!
​• Only one of two universities to have a football stadium on the waterfront (University of Washington is the other).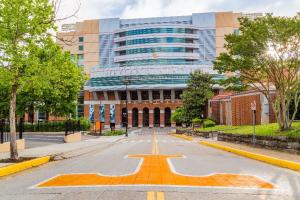 In addition to the historic architecture, some highlights include "The Rock", Pat Summitt Plaza, and of course, Neyland Stadium.  The Rock (at the corner of Volunteer Boulevard and Pat Head Summitt Street) is "An iconic UT landmark for more than 50 years, and a place of free expression on campus, a public canvas where thousands of artists have expressed themselves. The Rock has displayed thousands of messages expressing compassion, protest, beauty, humor, kindness, and hope."  The Pat Summit Plaza (located at the corner of Lake Loudoun Boulevard and Phillip Fulmer Way) honors the beloved coach of the Lady Vols basketball team.  During her thirty-eight years as head coach, Summitt led the Lady Vols to eight NCAA championships and thirty-two combined Southeastern Conference titles.  The court at Thompson Boling is named in her honor. Neyland Stadium is "named for the man most responsible for the growth and development of Tennessee's proud football tradition. General Robert R. Neyland served as head coach from 1926-1952, with two interruptions for military service." From 1921 with 3000 seats to today's behemoth 102,037 capacity, Neyland Stadium is the only place where you'll witness the football team run through the "Power T", see the orange and white checkerboards freshly painted in the endzones, and hear "Rocky Top" sung with unwavering fervor.  If you plan to be here for game day, get the lay of the land first to make the most of your visit.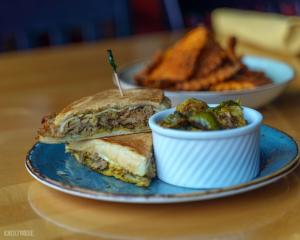 Now that you understand why one should never skip leg day, you deserve some lunch.  Might we suggest nourishing yourself from beneath the lemon-hued patio umbrellas at Sunspot?  Their menu is very inclusive and items indicate a variety of diets from vegan to gluten sensitive.  They have a great brunch too, so go ahead and order a mimosa or get a recommendation for a local beer on tap.  With all that walking, keep the afternoon light and do some shopping at the Vol Shop.  Naturally, you'll find everything in that gorgeous shade of orange you could possibly want – even checkerboard overalls!  Head back to your hotel for a quick afternoon rest.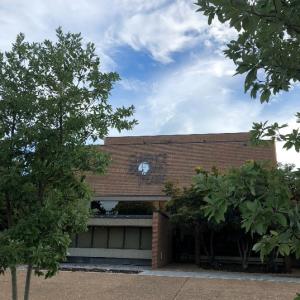 When you're ready for a night out on the town, head to the Original Copper Cellar on the Strip.  OMG has it really taken up til now to discuss why it's called the Strip!?  In 1974 Walter Cronkite designated Knoxville as the "Streaking Capital of the World." It was spring of that year that an estimated 5,000 people on the University of Tennessee's famous Cumberland Avenue took their clothes off and, well, stripped.  ….Now that we've gotten that out of the way, enjoy your dinner and, when you can, head to a show at the Clarence Brown Theatre.  The CBT is a professional theatre named after a man who graduated from the University of Tennessee.  He was an accomplished film director whose films gained 38 Academy Award nominations and earned nine Oscars.  This theatre is actually composed of three venues: the Mainstage Theatre (pictured here), the Ula Love Doughty Carousel Theatre, and the Lab Theatre.  Being a member of the League of Resident Theatres enables them to bring the best professional talent to perform at the Clarence Brown Theatre.  What we're trying to say is: go see a show here!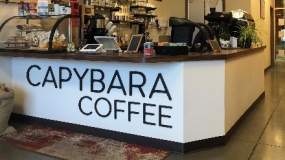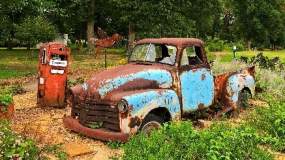 You'll need some coffee again to get going, head to the other side of campus to University Commons plaza (where the Publix is) for Capybara Coffee.  Spend the morning on a nice stroll through the UT Botanical Gardens.  Check out our recent blog post for a guide to Knoxville's gardens, including UT Botanical Gardens – just be sure to bring your camera!  For lunch, take it back to your student days and nab a sandwich at Gus's Good Time Deli.  This shop opened in the early 80s and has been a fixture on campus ever since.  And they've got some unique hours for a deli; if you've got after-party munchies or are out late after a game, you can swing by until 4:00am!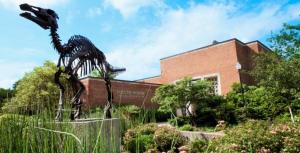 Now with some food in your belly, enjoy a true hidden gem on UT's campus – the McClung Museum.  Insider tip - park in Circle Park and tell the booth attendant you're headed to McClung and they'll give you a free 2-hour parking pass instead of the standard 45 minutes.  The McClung Museum of Natural History & Culture is a free Smithsonian-affiliated museum with permanent and rotating exhibits.  Before you leave this area, be sure to walk to the entrance of Circle Park.  You'll see the Torchbearer statue.  The torch is a symbol of knowledge, enlightenment, truth, and intellectual optimism—the belief that the light of truth and reason overcomes the darkness of ignorance.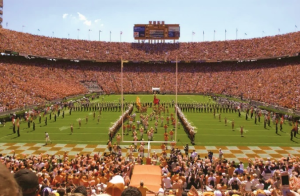 It's dinner time, remember the University Commons plaza?  Head back there for dinner, specifically to Fieldhouse Social.  It's a complete zoo during game days, but regular days will give you that fun football vibe.  And speaking of the game, don't forget to wear orange and yell "Go Vols"!
So have we convinced you to spend some time on the University of Tennessee Campus and around Cumberland Avenue?  We sure hope so!