We hope you were able to join us for HoLa Hora Latina's HoLa Festival in September celebrating the cultural diversity of Latin America and Hispanic Heritage Month, nationally celebrated between September 15th and October 15th. With multiple different food vendors, a dozen artisan crafts vendors, live music, and entertainment for all ages, we strive to provide a fun and educational event that invites all our East Tennessee neighbors to enjoy a variety of Latin American flavors and styles.  
Below you will find a list of our favorite Mexican food trucks and Latin American restaurants so that you can continue to explore Hispanic cuisines offered in the Knoxville area. (Check out our favorite non-mobile Mexican restaurants to kick off Hispanic Heritage Month)
Mexican Food Trucks: 
1. If it's a quick bite you seek, stop by the highly revered La Herradura food trucks found at the 76 gas station in West Knoxville (8311 Kingston Pike) or in Fountain City at the Citgo (4801 Broadway). The express drive-thru is also in Bearden (7063 Kingston Pike). La Herradura is well known for high-quality, authentic Mexican food and beverages (as pictured in the header image of this post). They are a Knoxville favorite and well known for their tacos, but they also serve up quesadillas, burritos, nachos, taquitos, mulitas (like a quesadilla sandwiched between corn tortillas), tortas (like a Mexican sandwich between two pieces of bread), and sopes/sopitas (a fried corn masa base shaped like a shallow quiche or small pie topped like a taco, similar to a tostada with a softer, thicker base). Protein options include chicken, marinated pork (pastor), barbacoa, asada, and lengua (tongue). You can also enjoy a slice of tres leches or flan if you're looking for something sweet. They have a dine-in restaurant in North Knoxville at 2625 Broadway.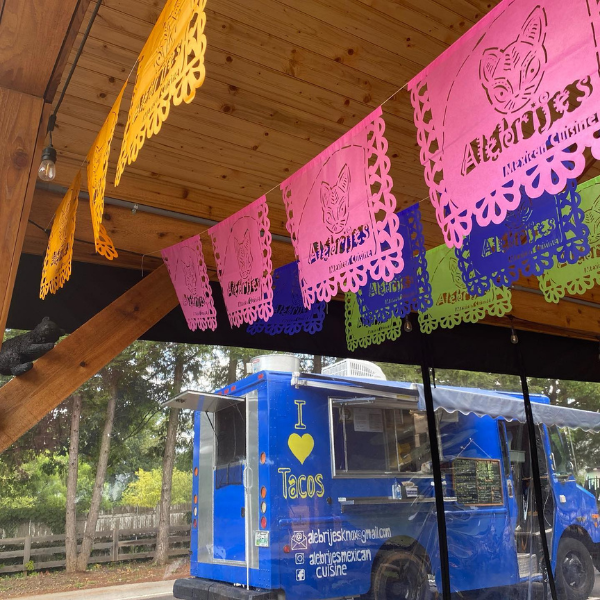 2. The Alebrijes Mexican Cuisine food truck is sure to bring you joy with bright, magical, and authentic flavors, just like your typical alebrije* (ah-lay-bree-hay) would. Offering a variety of both authentic and more accessible favorites like tacos, burritos, quesadillas, bowls, salads, sopes, and even a steak special, everyone can find something to enjoy. Protein options include carne asada, carnitas, chicken, pastor, barbacoa, and vegetables with rice, beans, fries, chips, cheese dip, and salsa perfect for sharing available as well. Be sure to try their churros with caramel or fried ice cream to complete the experience on a very sweet note. Like them on Facebook to keep up with their weekly schedule. 
*Alebrijes are wooden carvings of very colorful and whimsical versions of animals – think the dragon from Disney Pixar's "Coco."  You can find alebrijes imported from artisans in Oaxaca, Mexico at the Casa HoLa Tienda at our downtown gallery and office inside the Emporium for the Arts. Kids love them and we have a wide variety of figures signed by the artists who hand-carved and painted them.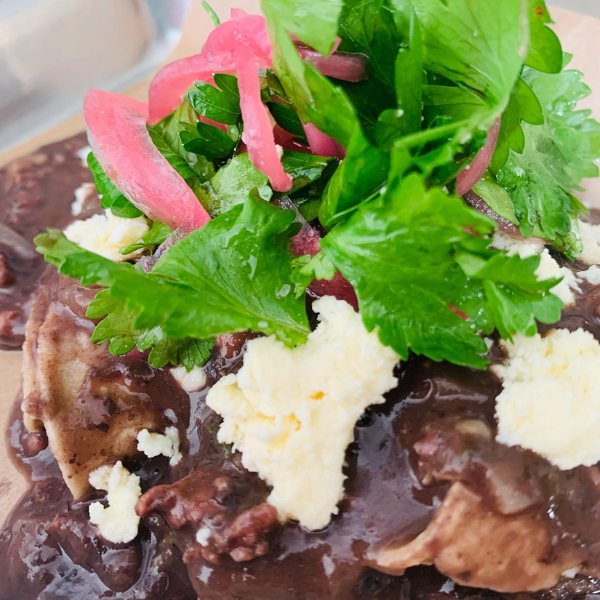 3. Dia de Foods truck serves up Southwestern and Mexican plates for brunch and dinner. Truly a fusion of many cultures and cuisines, plates like tacos de birria, blue corn enchiladas, and the baja burrito emphasize their devotion to fundamental Mexican flavors while inventive dishes like Southwestern Eggs Benedict, the Southwestern Waffle, and the Summer Salad complement Mexican traditions with contemporary twists and Texan flair. Like them on Facebook to find their next location.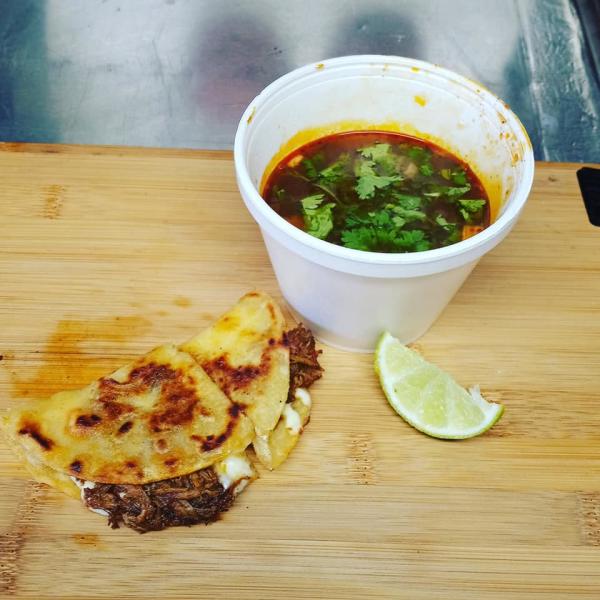 4. The El Zócalo Food Truck is conveniently parked outside the Mexican grocery store also named after the famous square and center of Mexico City. Find them both at 429 Dutch Valley Drive in North Knoxville just off Inskip Rd. Their menu is delightfully straightforward offering tortas, tacos, burritos, and quesadillas with an abundance of meat options including steak and chicken asada, pastor, chicken, chorizo, ham, lengua (beef tongue), campechano (sausage), saudero (pork or beef belly), cachete (beef cheek), and egg. Locals rave about the flavorful and high-quality options, quick service, large portions, and fair pricing. Pick up some specialty chiles and spices at the store inside.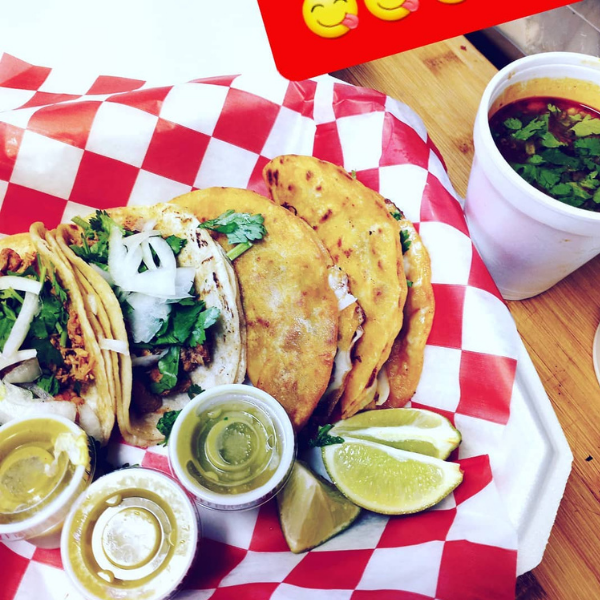 5. Orale Mexican Food offers staples like street tacos, tacos de birria, and fajita tacos to suit all your Mexican cravings. Try a burrito, quesadilla, sope or gordita (like a thicker sope with corn masa dough sliced in the center to be stuffed with your choice of meat, cheese, lettuce, and sour cream) with meat options including carne asada, pastor, chicken, barbacoa, and lengua. The pineapple topping for your pastor tacos is a must and an important acknowledgement of the typical Mexican street taco style. Keep up with their next location on their Facebook page or follow them on Instagram. 
Four of our favorite Latin American Restaurants: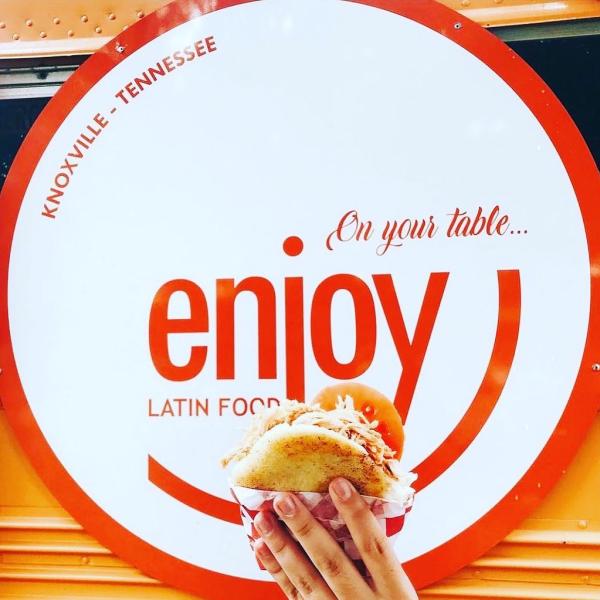 EnjoyLatinFood is a food truck that offers a Bolivian, Venezuelan, Mexican and Salvadoran menu. One of their most popular dishes that usually sells out fast is their tequeños. Tequeños are breadsticks filled with cheese, ham or even Nutella and are very popular as Venezuelan street food. Other Venezuelan options include meat-filled arepas and empanadas. They also offer Bolivian delicacies like salteñas (a bolivian empanada) and chicharón (a pork dish). Try a Salvadoran pupusa filled with pork, beans, meat, and cheese (a thick, corn masa dish similar to a gordita, panfried but stuffed with savory fillings) or Mexican staples like burritos and quesadillas. You can find their rotating location through their Instagram.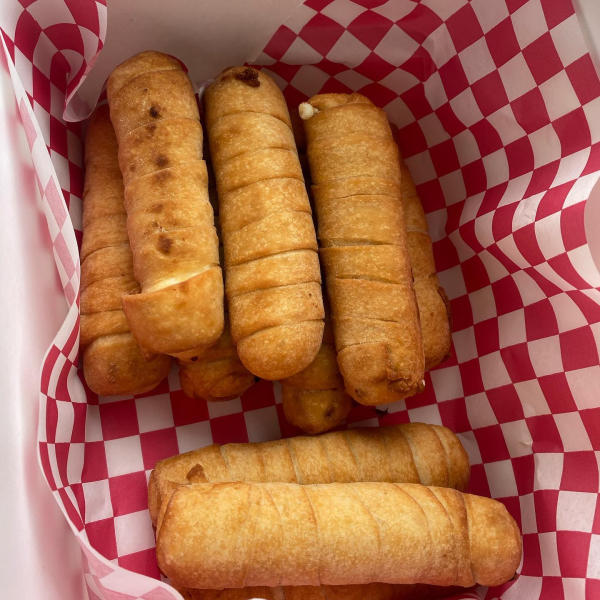 Algo Deli is found inside Tienda Nony at the corner of Kingston Pike and Gallaher View Road in West Knoxville. They are well known for their homemade Venezuelan empanadas made with corn or flour breading and shredded chicken or ground beef. Their delicious tequeños are filled with your choice of cheese, ham, or bananas. Other favorites are their beef or cheese pastelitos (like an empanada with a thinner and flakier crust), cachitos (a more bready Venezuelan croissant), pancitos (rolls), cachapas (like a corn masa pancake), and to top it off grab yourself a fresh fruit smoothie or ice cream.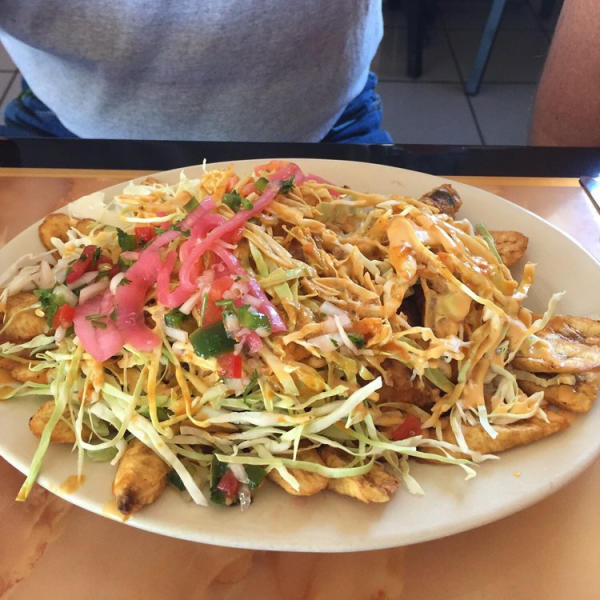 Sabor Catracho Latino is a restaurant in north Knoxville at 4705 Central Avenue offering Honduran breakfast, lunch, and dinner. They are known for their cheese, beans, and chicharrón/pork pupusas, like a gordita or arepa but cooked with the fillings inside. The yuca con chicharron is prepared here in authentic Honduran fashion with pork and a tangy salad with spices and herbs. Sweet plantains or plátanos maduros are a must-try for an authentic Honduran experience. Enjoy a variety of breakfast and lunch/dinner plates with choices like burritas hondureñas (corn tortillas filled with cheese, beans, eggs, and sour cream available with your choice of meat), baleadas (soft flour tortilla filled with beans, cheese, cream and your choice of meat), or el desayuno especial with plantains, sausage, beans, cheese, eggs, sour cream, avocado, and meat. They also serve huaraches (like a flatbread pizza on corn masa dough), tortas (sandwiches), taquitos, gorditas, tacos, burritos, fajitas, costillas (ribs), shrimp, fish, and enchiladas. It's a hidden gem you must try if you are looking for authentic Honduran flavor!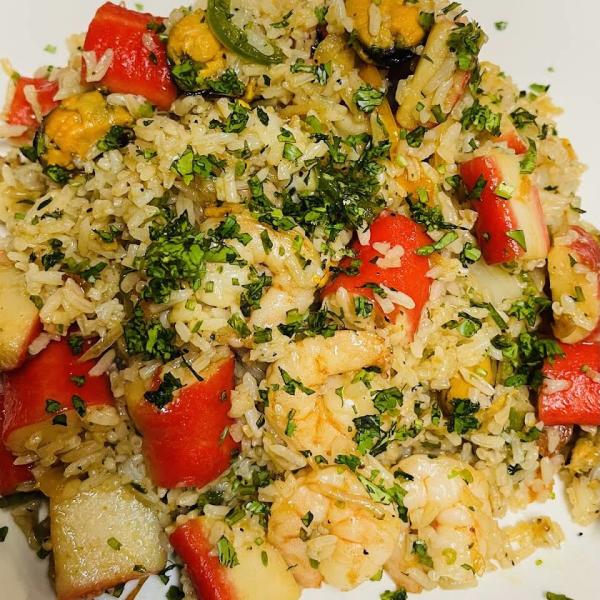 Delicias Colombianas is a restaurant in North Knoxville off Clinton Highway at the corner of Bradshaw Garden Drive. The owners are from Callie, Colombia, and they offer a breakfast, lunch, and dinner menu. With Colombian egg scrambles and arepas for breakfast, aromatic stews and fried plantains for lunch, and Bandeja Paisa for dinner, Delicias Colombianas hits the spot any time of day. Their house special, the Bandeja Paisa, is a staple in Colombian cuisine and made up of rice, beans, grilled steak, pork rinds, egg, Colombian sausage, fried plantains, and arepa. A unique item that is hard to find around Knoxville is their guanábana (soursop fruit) and milk. They also offer a variety of fresh tropical fruit juices like mango, strawberry, blackberry, and passion fruit. Try a mazamorra for dessert, a traditional dish made with dried and boiled corn kernels, milk, and sugar cane. This family-owned and operated business deliver an authentic Colombian experience without ever having to leave town.  
Hope this helps you find some delicious and authentic cuisine from around Latin America in Knoxville!