If you're looking for a Tennessee road trip, you came to the right place! Knoxville sits at the crossroads of I-75 and I-40, meaning it makes either a great destination on a road trip, or the perfect stop along the way.  Interstate 75 is a major north-south route – one of the longest in the US – and starts in Miami, Florida and goes all the way to Sault Ste. Marie, Michigan, at the Canadian border.  Some major cities it goes through or near include Tampa, Atlanta, Knoxville – hint hint, Lexington, Cincinnati, and Detroit. Interstate 40 is even longer; it's the third longest in the country. This east-west route starts in Wilmington, North Carolina and ends in Barstow, California.  Some major cities it goes through or near include Albuquerque, Amarillo, Oklahoma City, Little Rock, Memphis, Nashville, Knoxville – hint hint, and Raleigh. 
We should also mention Interstate 81 – it meets I-40 just east of Knoxville-hint hint, in Dandridge, Tennessee.  It connects up through the Appalachians through Virginia, West Virginia, Maryland, Pennsylvania, and New York up to the Canadian border.  
Consider stopping in Memphis, Nashville, and Knoxville if you're headed east/west on I-40.  Our friends at Tennessee Vacation are full of ideas!  In the meantime, we're here to tell you about some stops in Knoxville (this is west to east on I-40/I-75.  It's a bit confusing, but I-40 and I-75 are joined together for almost the whole city of Knoxville.  Here's a handy-dandy map to show you what we're looking at: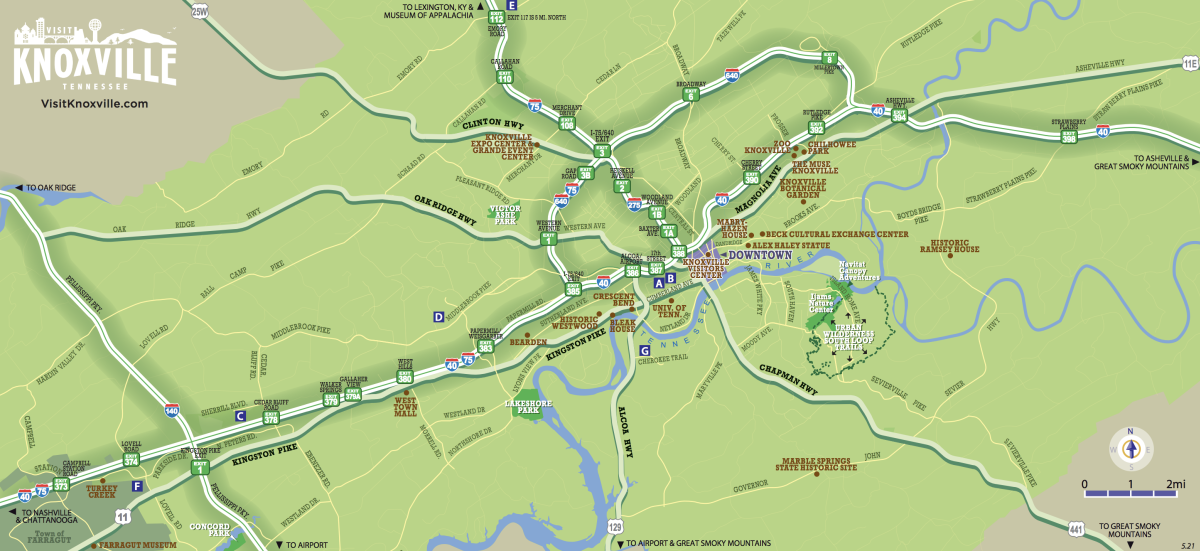 But for now, let's talk about some stops in Knoxville to make your visit special and celebrate National Road Trip Day in Style! 
Exit 373, Campbell Station Road – Farragut Museum 
This is far west Knoxville with the Town of Farragut.  You would have just come north from Chattanooga on I-75, or east from Nashville on I-40 just a few miles back.  If you're in the mood to shop, hop out and enjoy Turkey Creek.  Or enjoy a visit to the Farragut Museum which highlights the incredible life of Admiral David Farragut who was born in the area and famous for his Civil War bravado in saying "Damn the torpedoes, full speed ahead!". 
Exit 383, Papermill/Weisgarber/Northshore – Bearden 
Sometimes you just want to get off the expressway and see what a city REALLY looks like.  This exit is a great way to do it, just get on Kingston Pike and head east towards downtown.  You're in the Bearden Neighborhood, an eclectic artsy part of town that can be hard to describe.  Expect to find high-end art galleries to antiques to chill beer gardens to murals to parks.  Want to rub elbows with locals? Dive deeper and head over to Sutherland Avenue. 
Exit 388/388A, Henley Street/James White Parkway – Downtown 
No roadtrip to Knoxville would be complete without a visit to our incredible downtown.  Come explore and delight in more than 80 restaurants catering to every taste and budget, over 40 boutique shops in beautifully restored buildings, festivals, world-class theatres, parks, museums, and extraordinary venues for events and outdoor activities; all in less than one square mile. 
Take 388 if you're headed towards the Knoxville Museum of Art, World's Fair Park, or want to check out the University of Tennessee.  Take 388A and exit at Summit Hill Drive to come see us at the Knoxville Visitors Center and get additional directions for parking and suggestions on what to eat, see, and do. We guarantee you'll enjoy beautiful historic Gay Street and Market Square! 
Exit 392, Rutledge Pike – Zoo Knoxville 
This one is a great stop in East Knoxville, home to Zoo Knoxville!  Stretch those legs and let those kids have a "wildly fun" time learning about all kinds of animals.  Pro tip – they just opened the ARC (Amphibian and Reptile Conservation Campus) and it is a STUNNING facility full of diverse species of turtles, lizards, snakes, and so much more.  You'll even see "Big Al" – a giant Aldabra Tortoise estimated to be over 120 years old.  He even has his own twitter account.  What will they think of next!? 
While you're at this exit, and really in the same parking lot, head over to The Muse if you've got littles between crawling and 10.  This hands-on science museum will have them asking you more interesting questions on the way home than "are we there yet?" so be prepared to have your curiosity piqued and Google at the ready!  Be sure to grab some coffee at Perk City nearby for a quick caffeine boost. 
Exit 398, Strawberry Plains – Historic Ramsey House 
Looking for something off the beaten path? This exit is it.  Meander through a more rural part of town in between the Holston and French Broad Rivers.  Historic Ramsey House is one of Knoxville's Seven Historic House Museums and was built in was built in 1797 by Knoxville's first builder, Thomas Hope, for Francis Alexander Ramsey. The home is constructed of Tennessee pink marble and blue limestone. It was known at that time as the finest home in Tennessee. The structure is significant for its original interior and exterior architectural features and its period decorative art collection.  And if you're exceptionally lucky, you might even catch a vintage base ball game on their grounds! 
If you'd like some more history, keep meandering down Sevier Hwy where you'll make it to Marble Springs State Historic Site. It's another of Knoxville's Historic Homes and was the last home of Tennessee's first governor, John Sevier. 
At this point you're about to leave Knox County and head towards the Smokies.  We hope this helps you find some gems on your roadtrip that will keep the whole family happy! 
For more planning, request or view a digital Visitors Guide.