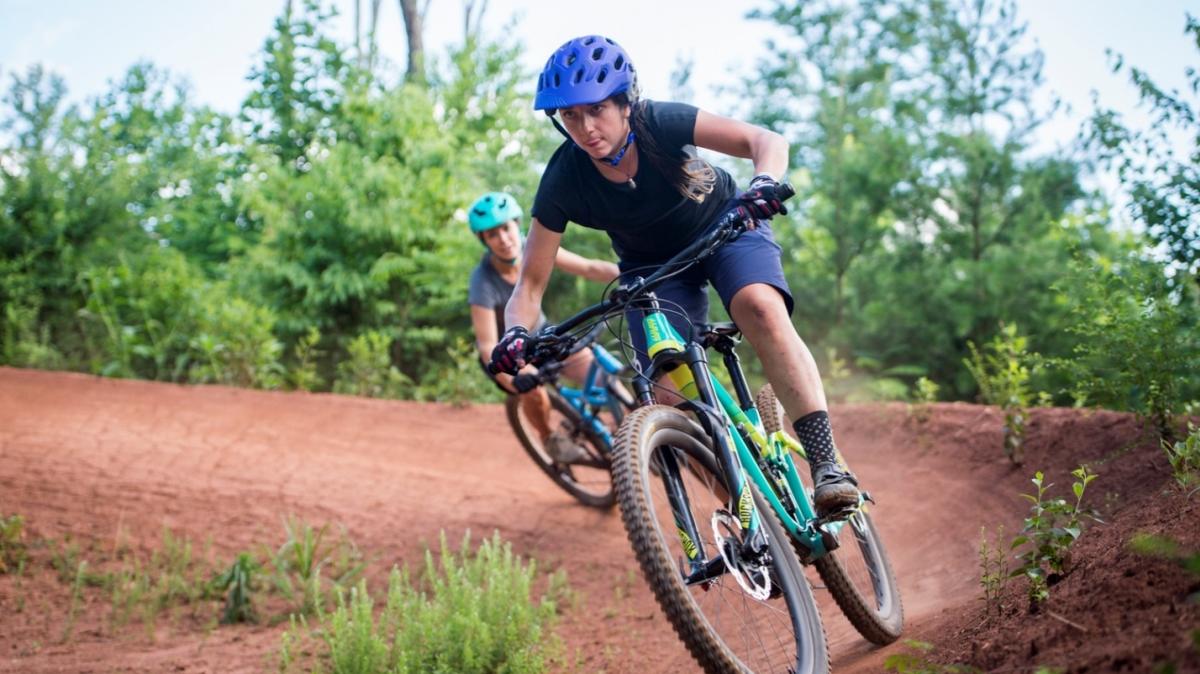 Knoxville offers year-round access to some of the best mountain biking in the Southeast. A few days in Knoxville can feature long flowy jump lines, rocky technical descents, or beautiful backcountry XC riding. Mountain biking is a staple of Knoxville's outdoor recreation scene, and there are great trail options for everyone from beginners to experts.
For beginners, we've got a few tips to introduce you to some two-wheeled fun in the woods. Like every sport, mountain biking has its own lingo that you'll want to know before you go:
Trailheads – trail official entry points for the trail system, not be confused with trail crossings which are the intersections of trails with roads and no designated parking or amenities. There are 13 trailheads in Knoxville's Urban Wilderness.
 
Trail Ratings – Similar to ski slopes, our multi-use trails (bike and hike) are categorized as a progression of difficulty from Green to Blue, Black, and Double-Black difficulty levels. Downhill mountain bike only trails have their own rating that incorporates the technical features of the trails. Descriptions of the features of each level can be found on the trailhead kiosks and trail maps. Knoxville offers an abundance of trails with the full range of ratings. A relatively new designation to watch for is AMTB, which means the trail is suited for adaptive mountain bikes. These trails are open to all users, but you want to be observant and yield to adaptive riders as their maneuverability is more restricted. Sharp's Ridge has some great adaptive mountain biking trails.
 
Types of Trails – Singletrack trails, the most common trail type, have a width that varies from just a little wider than your shoulders to wide enough for two bikes side-by-side, and are often old unpaved road. quote Singletracks.com, "Singletrack offers tremendous variety. Singletrack may be tight and twisty or swoopy and fast; it may be smooth or rocky, hardpacked or loose, carefree or heart-in-your-throat scary." Doubletrack trails are basically two singletracks side by side. Read more from Singletracks to learn more about other types and trail configurations (loops, out-and-backs, etc.).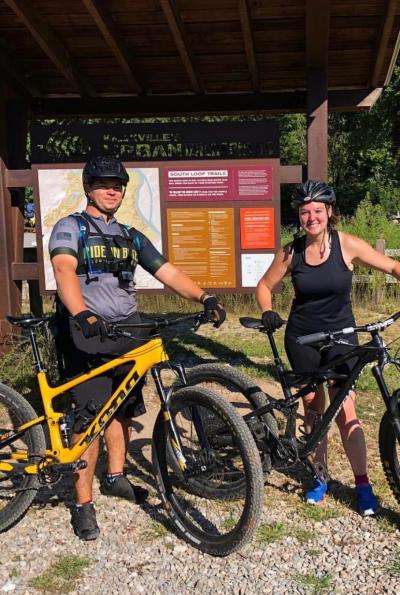 Mountain Bikers at the Quarry Trails at Ijams Nature Center
Equipment is an essential part of a great mountain biking experience. Typically, mountain bikes are referred to as "hardtails" or "full suspension". The difference in these bikes depends upon whether a rear shock is present (nearly all bikes have a suspension fork on the front). A good-fitting helmet is essential – one that doesn't move when you shake your head. Grab your pair of closed-toe athletic shoes, layered clothing and a water bottle and you're ready to get started.
Before hitting the trails, beginners and experts alike should always practice the following:
Pre-ride: warm up your brain and body by riding the trail at a low speed. Take the time to check your equipment.
Re-Ride: lap the trail a few more times and get to know the flow of the features.
Free-Ride: start small and work your way up to faster speeds and larger features.
There are over 120 miles of mountain bike trails in Knoxville, with the largest concentration of trails in Knoxville's Urban Wilderness, just two miles south of downtown Knoxville. Beginners can start on the Green-rated the Sycamore Loop at Baker Creek Preserve, and work their way up to several connecting Blue trails. Baker Creek also has some pump tracks to practice a variety of useful skills before hopping on the trails. Other great beginner trails can be found at Sharp's Ridge Veterans Memorial Park in North Knoxville and Concord Park in West Knoxville. Download a trail app or a map here and begin your mountain bike adventure!
Prefer to have a guided experience?  Come explore the best of Knoxville's mountain biking with Knoxville Outdoor Tours – and pedal to some breweries afterward! Their guide staff are also active trail builders in the area, giving you top-notch insider knowledge. Don't have a bike or not planning on bringing yours from home? They rent several options for adult riders (5'2" – 6'3") with free drop-off/pick-up at Baker Creek. Read what others are saying, and plan your mountain biking trip to Knoxville!