Knoxville's Track and Field Club (KTC) is among the largest track clubs in America, so it's no surprise that this is a great road running town. Races such as the Expo 10K and the Knoxville Marathon have invited thousands of people from all over the region to explore Knoxville's roads, greenways, hilly streets, and shady paths. But there's more to it… behind the trees, along the rivers and streams, cresting the wooded hills, are trails! In fact, you can throw a stone to more than 50 miles of trails from the bustling downtown streets.
Here is a sampling of some of our favorite trails to trod less than 15 minutes from downtown: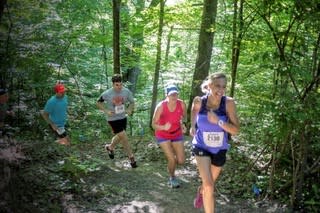 1. Sharp's Ridge Veterans Memorial Park is about 10 minutes north of downtown. The 5-ish miles of trails sweep up to the city's highest point offering views of the Knoxville skyline and the Appalachian Mountains in the distance. You can expect to get a little tripped up on this trail because the views can be quite distracting. Overall, expect flowy trails that follow the contours of the steep ridge. We recommend parking at the East Picnic Shelter on Sharps Ridge Memorial Park Dr where you can access the Firebreak, Sharp Shin, and Lincoln trails. All three of these trails run parallel to each other and connect on either end, making for a great out-and-back or figure-eight route!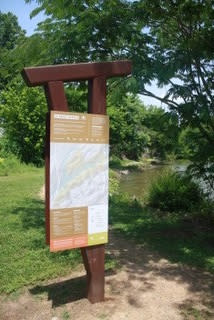 2. Fort Dickerson Park/ Augusta Quarry is located directly across the river from downtown. A favorite for the after-work crowd, the trails here can be steep, flowy, fast, and fun. We recommend parking at the Augusta Quarry overlook where you can take in a view of the turquoise water and large walls of the now abandoned Quarry. If you're looking for a challenge hit the steep and technical Pit Viper trail to the bottom of the quarry and hop in the quarry, it's swimmable! Use the Booger, Trial and Error, and Breastworks trails to make your way up to the "Fort" at Fort Dickerson – an old civil war-era fort with views of the Tennessee River and Downtown Knoxville.
3. I.C. King Park is not for the faint-hearted. There are about 10 miles of curvy, rooty trails that traverse an inlet of Fort Loudon Lake, up and around three very steep hills (one dubbed "Everest"), and through hilly woods (one called the "Expert" trail). Park at the brand-new parking area off Maryville Pike and climb the gravel road adjacent to the parking lot to hit the approach trail. Don't let this fun and flowy trail fool you, soon enough you'll be huffing up hills. Meet up with the Upper and Lower lake loops trails for some rooty action along the water's edge – when this trail turns around you'll be graced with "Everest Loop", "Middle Hill", and "Kimble's Ladder" - they had a lot of fun naming these, and you'll see why.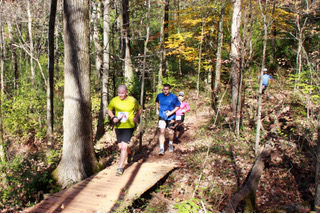 4. Knoxville's Urban Wilderness is a weekend destination in its own right. There are more than 10 trailheads, two swimmable quarries, and an 11-ish mile "loop" that connects 6+ separate parks consisting of over 50 miles of soft and hard surface trails designed for hikers, bikers, and runners. Oh, and did we mention it is only 10 minutes from downtown? For a 5-ish mile trail run park at Meade's Quarry and head south on the Will Skelton Greenway for about a quarter mile. On the right you'll see the trailhead for the "West Perimeter" trail – a fast, flowy, not-to-steep or technical trail that meanders through the woods for 2.5 miles. The West Perimeter trail ends at a gravel parking lot where you'll take a left onto the "Whaley" trail. Whaley is a narrow gravel road that turns into singletrack as it approaches bluffs along the French Broad River. Take a break, check out the views, and think about how awesome these trails are. At this point there are signs marking the "South Loop" – follow the south loop until it ends back at the Will Skelton Greenway. Follow the greenway along the Holston River, past vast sunflower fields, and back to the quarry. You're not done yet! Jump in the quarry to cool off. Ok, now you're done.
5. House Mountain.  is the highest point in Knox County and also has a well-maintained trail loop that is perfect for hiking and running. The mileage is not huge, but a great workout is inevitable because of the amount of vertical gain—around 1,000 feet within a mile. You would have to drive to Wind Rock in Anderson County or Great Smoky Mountains National Park to find other trails like House Mountain to train on. There are three main trails in the recreation area that connect the two main overlooks on top of the mountain, creating a scenic singletrack loop. There are two routes to the summit ridge, so you can pick your poison between West End Overlook Trail (0.8 miles, steeper) and Mountain Trail (one mile, slightly less steep), and then both connect with the Crest Trail (1.5 miles, rolling terrain). The West End Overlook Trail connects with the west terminus of Crest Trail, but Mountain Trail joins at approximately the midpoint of the Crest Trail, so reaching the East End Overlook requires some backtracking.
Follow these tips to ensure a safe, enjoyable run: take your phone, run with a buddy, or head over to Runners Market for some trail maps and recommended routes (the locals always have the best routes!). Familiarize yourself with a trail before you go without a map or a phone. If the timing is right the Knoxville Track Club puts on monthly trail races that are well-marked and fun opportunities to explore the local trails.
This post was written in contribution by Runners Market, a unique running specialty store, locally owned and operated, that has been serving Knoxville and the outlying areas since 1995. Specializing in custom shoe fitting for all different levels of runners and walkers, the friendly, highly trained, and experienced staff is committed to properly fitting you for footwear designed to fit the biomechanics of your foot.