Mural hunting and street art searching is a popular thing to do for tourists and locals alike, but when you're short on time, it can be hard to know where to go to find the best murals in Knoxville. We've got a Top 5 list of the most sought-after Knoxville murals and where to find them, along with murals by theme if you have a specific interest!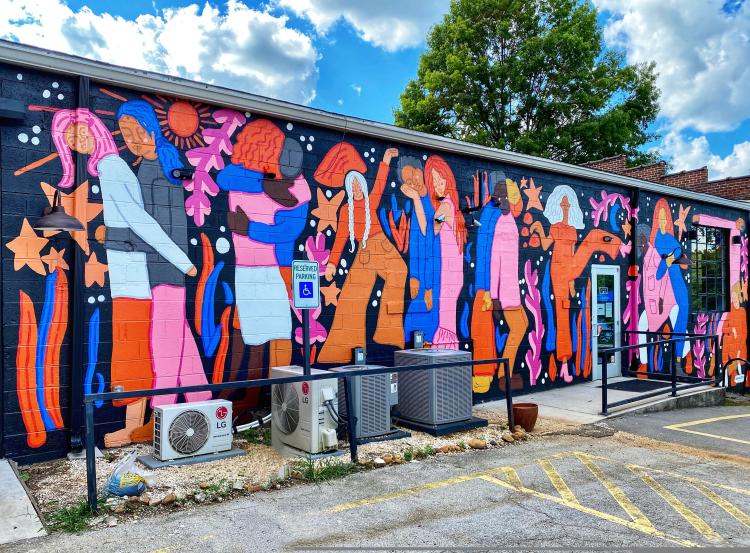 This is local artist and illustrator Paris Woodhull's first mural, painted on the side of Print Shop Beer Co. in SoKno. "Victoria" is part of the Walls for Women project, a statewide effort of DMA-events to commemorate the 100-year anniversary of the ratification of the 19th Amendment giving women the right to vote. She describes her design and concept:
"The mural is titled "Victoria" after my relative Victoria Claflin Woodhull, who was the first female to run for U.S. president in 1872. Even though the piece is not depicting her, I feel that it depicts her energy as I carry on the legacy of women's rights by doing exactly what I want to do...create art! More specifically, the piece is inspired by modern dance, bodies interacting, textile design and an array of other influences. I hope folks are drawn in by the colors and that the art makes them think up their own stories about the meaning."
You'll find Paris' other two murals in Strong Alley and on the side of the State Street Parking Garage. For a quick bite, pop into Petro's in Market Square and you'll see a map of Knoxville inside. Paris is known for her illustrated maps of Knoxville, and you'll see another inside Commonplace Coffee in SoKno. If you want to take one home, stop into RALA in the Old City for sticker and print options.
Sports/University of Tennessee
The Graduate Hotel – This hometown highlight heavily features icons of the University of Tennessee painted by Happy Moon. Expect to see Peyton Manning as "The Sheriff" along with Neyland Stadium and other athletes.
It's Great to be a Tennessee Vol – Paris Woodhull and Kristin Luna, alumnae of the University of Tennessee, Knoxville, have come together to design and coordinate the creation of an "It's Great to Be a Tennessee Vol" mural, which is now complete. The mural is located just behind downtown Knoxville's Gay Street on one side of the State Street municipal parking garage. The mural, commissioned on behalf of UT's Office of Undergraduate Admissions and sponsored by Visit Knoxville, will encourage current and future UT students to explore downtown and share why it's great to be a Vol.
Mountain Biking – Find this large piece in the Old City, another design by Curtis Glover. Knoxville is well known for being dog friendly and a great place to go mountain biking – we think this piece nails it!  
Handy Dandy Market Postcard – This hidden neighborhood market in SoKno has a beautiful postcard-style mural that features the Tennessee state flag, a mountain biker (you're in SoKno, after all, home of Baker Creek Preserve in the Urban Wilderness), and a quarry. The "postcard" itself showcases Neyland Stadium and the Smokies.
"The Rock" – Around longer than Dwayne Johnson (1966 vs 1972), though not exactly a mural, we'd be remiss not to include it in such of list of public art. It's got its own website for crying out loud! An iconic UT landmark for more than 50 years, the Rock is a place of free expression on campus, a public canvas where thousands of artists have expressed themselves. Messages on the Rock are as varied as the thousands of students, faculty, staff, and visitors who pass by the 97.5-ton hunk of dolomite at the corner of Volunteer Boulevard and Pat Head Summitt Street. At the Rock, we have celebrated victories, expressed opposition, remembered those we've lost, shared joy, and when necessary, stood united against hate.
Graphic/Good for Selfie backgrounds
Weaving Rainbow Mountain - The 43, 10ft-wide steps which are heavily used by pedestrians to segue between UT Campus and the World's Fair Park was transformed by the efforts of the Baltimore based team of Jessie Unterhalter and Katey Truhn.
Stories - Knoxville is one-of-a-kind. Centuries of history, people, and culture weave together to create the unique and vibrant city we know today. The Gay Street-Jackson Avenue Stairwell Mural is a celebration of these stories. From writers to celebrities, activists to space explorers, STORIES showcases dozens of Knoxville icons and images. If you want a challenge, see if you can find 'em all!
Lift Me Up – Find this powerfully inspirational piece by Curtis Glover at Beaumont Magnet School.
Cassiopeia – This 300 feet long, three stories tall concrete canvas by Seattle-based artist Addison Karl runs along the opposite alley against Market Square. Take a stroll and see up-close, huge faces of six diverse East Tennesseans he's met, painted across the color spectrum.
COVID-19 Memorial – Nationally acclaimed artist Kelsey Montague (well-known for the "What Lifts You" wings in Nashville) and her team painted the mural on one of the Clinch Avenue viaduct underpasses at World's Fair Park. Her memorial mural in Knoxville features a motif of brightly colored flying birds soaring into a brilliant blue archway near the base of the Sunsphere. It will be possible for a person to position himself or herself at the left of the mural and appear to be releasing the fanciful flock.
Plenty more where that came from - get hunting with the Downtown Mural Map and don't forget to tag #knoxrocks in your photos on Instagram!