Cool nights and sunny days have us ready to get outside, and lucky for Knoxville, that's also a perfect recipe for beautiful fall foliage. Leaves are just starting to change colors in and around town, so we want to share a few of our favorite hikes that you'll want to try during the coming weeks of peak leaf season.
Grab your loved ones and a camera, and lace-up those boots - it's time to get out and play in the leaves!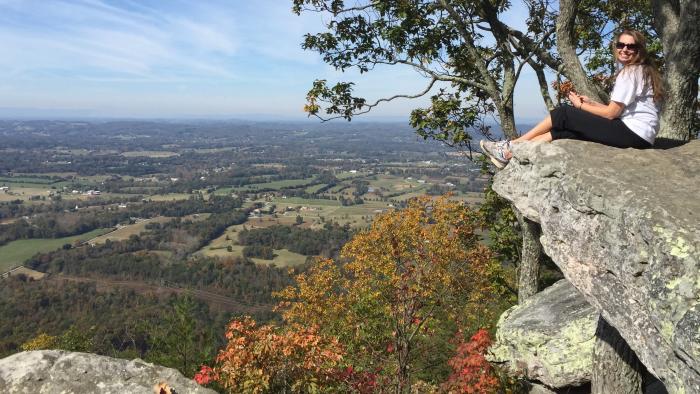 1. Hike to the Highest Point in the County
If you're up for the challenge, the trails to the highest point in Knox County are just a 20-minute drive east of downtown. The wide views from Crest Trail at the top of House Mountain are breathtaking during fall, spanning with more colors than you can count. The overlooks on either end of the ridge offer views of several mountain ranges including the Cumberlands, Smoky Mountains, and Clinch Mountains. The higher elevation of House Mountain also makes it home to a wider variety of tree species than the surrounding areas, giving you an extra splash of color.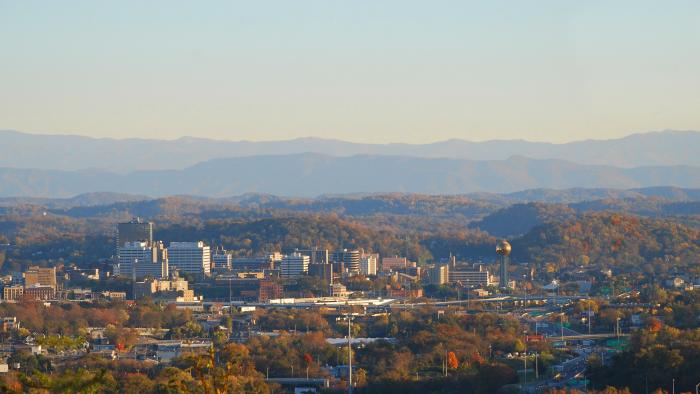 2. See City Skyline and Mountain Views
Sharp's Ridge is a perfect destination for downtown leaf seekers. It's just north of town and its views of the city and the surrounding ridges make a great reward for the climb - especially with the red, orange, and yellow glow of autumn. Another great feature of Sharps Ridge is that folks who aren't as keen on the trails can take Sharps Ridge Memorial Park Drive to meet you at the overlook. This is a great opportunity for friends and families with different hiking abilities or fitness levels to experience the beautiful autumn views together.
3. Find Great Views in Knoxville's Urban Wilderness
Just across the Tennessee River from downtown, you'll find fantastic views of fall colors from Pappy's Peak at Baker Creek Preserve. Less than a mile from the parking lot, this view can be a quick trip, or you can add some of the other trails at the Preserve for a nice wander through the woods. This beautiful natural area has giant sycamore trees, a little creek running through it, and fun features for kids. Baker Creek Preserve is connected to about 40 more miles of trail within Knoxville's Urban Wilderness, so you can hike through the autumn leaves all day if you choose!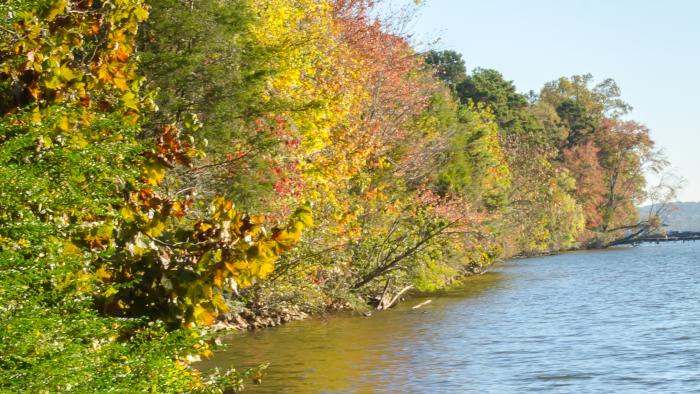 4. Wind through the Trees Along the Lake
Concord Park in west Knoxville has more than 10 miles of trail with pretty even elevation that wind through the trees and along the banks of beautiful Fort Loudoun Lake. Here, you will be immersed in the vibrant colors of fall with fun features like a junior golf course, a dog park, and a tennis court right around the bend.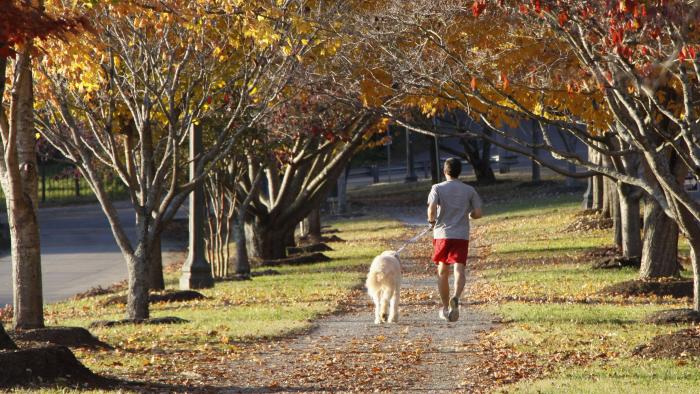 5. Stroll along the River with the Family
If you're looking for something super convenient for families, where strollers and pets are more manageable, Sequoyah Park offers the trail experience but keeps you within close proximity of and all the necessities and abundant open space. Take your pick between the natural trail that follows the bank of the river and the tree-lined, gravel-surface Sequoyah Greenway that runs along the boulevard median for your trek. The bright colors of the huge, old trees throughout the park and along the boulevard will be sure to impress.
Make plans to fully experience Knoxville's foliage this year. Take one of these hikes to get started, but know that there are countless opportunities to get outside and see the natural beauty of Knoxville. For more ideas, visit Knoxville's Urban Wilderness or check out Knoxville's impressive greenway system.