Knoxville has been home to all sorts of couples in its 230-odd years, even back to the days of Blount Mansion, and the team of William and Mary (or Molsey) Blount—whose union is remembered with the fact that Maryville, named for her, is the seat of Blount County, named for him. 
There have been hundreds of thousands of functional and dysfunctional couples in Knoxville history. But for Valentine's Day, we thought we'd highlight a few that stand out.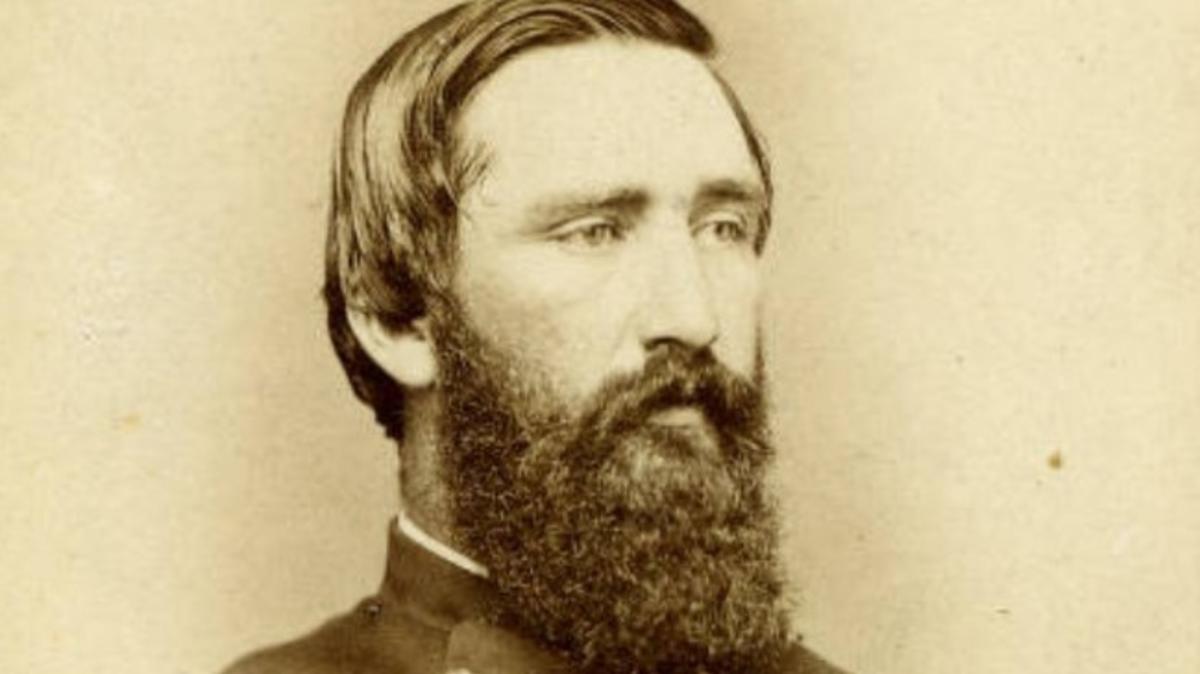 1. Sue Boyd and Brig. Gen. William Sanders
She was at 19 a regionally famous singer, celebrated for her high, clear, soprano voice. She sometimes took it on the road in tours to other states, billed as "the Songbird of the South." Daughter of a former mayor, she had grown up in Blount Mansion, the oldest house in the region. During the Civil War in 1861, her family leaned Confederate; in fact, her cousin was the famous rebel spy Belle Boyd, who spent several weeks in Knoxville in 1863, on the lam. 
Sue Boyd turned 19 during Union occupation. In the fall of 1863, it was a young Union officer who caught her eye. Recently promoted Brigadier General William Sanders, 30 years old, rode a white horse, and was regarded as the most charismatic of the Union commanders. 
For a few weeks in the fall of 1863, something was going on between the two.
Despite his blue uniform, he was about as Southern as Sue was, and by some accounts they found time to go riding together. He had a girlfriend in Kentucky, but was impressed with Sue, and gave her one of his colonel's epaulets as a keepsake. 
She had reason to keep it, because during the Confederate siege, Sanders was hit by sniper fire along Kingston Pike. He died downtown in the Lamar House hotel, now part of the Bijou Theatre. For this bachelor, dying turned out to be his only experience with a bridal suite. 
After the war, Sue married a merchant from Massachusetts; he died only 18 years later, leaving her a widow for almost half a century. Both of their sons died before she did. Sue Boyd Barton was living in the beautiful old Vendome apartment building on Clinch Avenue when she died at age 89, some 70 years after her intrigue with young Gen. Sanders. She never wrote a tell-all about their relationship, but throughout her later life, she dropped hints about the story, and if she trusted you, she might show you a certain bit of fabric, a young Union officer's epaulet that she still cherished.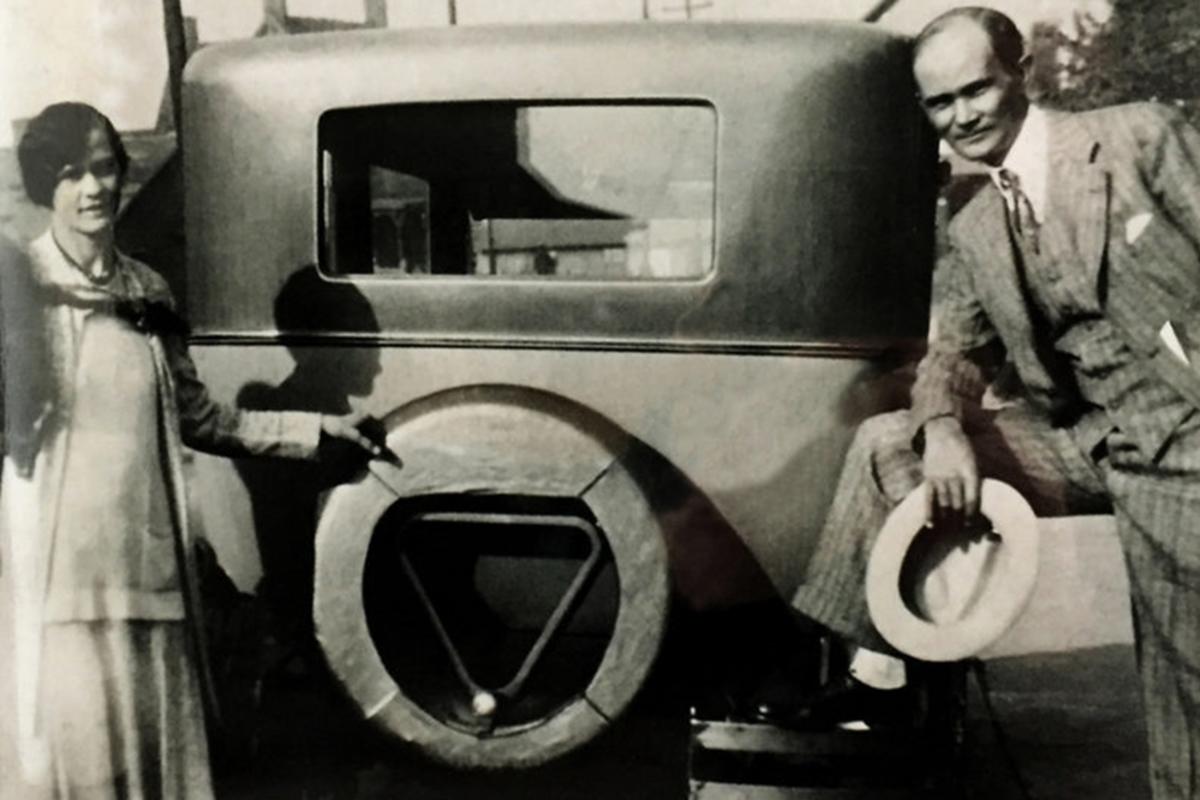 2. James and Ethel Beck 
When Alabama-born Knoxville College alumnus James Garfield Beck was working as Knoxville's first black postal clerk, in the old Custom House, he met a champion tennis player from Morristown named Ethel Benson. They hit it off. They were both very active, goal-oriented, and enjoyed sports. James favored baseball to tennis, but was proud of his wife's achievements. 
She was a Democrat; he was as Republican as his namesake; he was named just weeks after the assassination of President James Garfield. They achieved important things on parallel tracks. He founded the Knoxville chapter of the National Association for the Advancement of Colored People in 1919, when it was still a bold thing to do; in parts of the Deep South then, founding an NAACP chapter could introduce the prospect of lynch mobs. 
She was a teacher, in fact the statewide president of the Tennessee Association of Colored Parents and Teachers, and was a major supporter of the local "Colored Orphanage." 
Together, they were much envied, the black community's golden couple. They never had kids, but they had a nice car, and went motoring. 
They never reconciled politically. She would say she enjoyed cancelling out her husband's vote. But their lively marriage lasted more than half a century. The Becks' home is now known as the Beck Cultural Exchange Center.  You can visit there, where their pictures still hang on the wall. If you listen close, you might hear their lively discussions.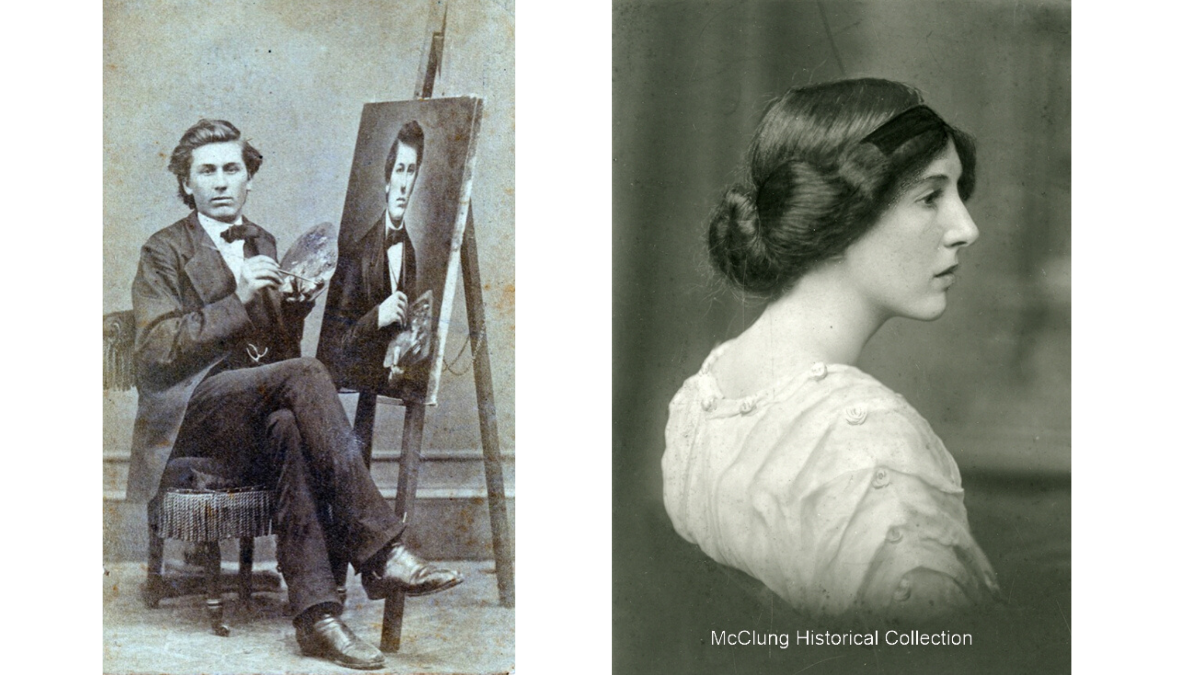 3. Lloyd Branson and Catherine Wiley
The relationship between Lloyd Branson and Catherine Wiley is speculative, but people do like to speculate. He was Knoxville's first career artist, a country boy with some talent, a broad curiosity about the world, and a pragmatic sense. He would do portraits, advertisements and other commercial and patriotic pieces, but in his spare time, an occasional masterpiece. 
She was 25 years younger, from a prominent and powerful family, and more formally trained than he was. 
In the early 20th century, they were considered Knoxville's two most accomplished artists. They were certainly friends, both members of the culturally progressive Nicholson Art League. She was devoted to Impressionism. He was at least interested in that stuff, too, and occasionally experimented with that French idea. 
Branson once painted a nude, a young brunette woman reclining and shielding her face; some people thought it looked a lot like Catherine. Both would seem to have been fairly attractive. Neither ever married. 
He died in 1925. A few months later, she was committed to a mental institution in Pennsylvania. They are, together or separately, two of Knoxville's greatest mysteries. Today they're both represented at the Knoxville Museum of Art, in the Higher Ground exhibit. They're both buried at Old Gray, but on opposite ends of it. 
4. Willis and Annie Davis
Originally from Louisville, Ky., Willis and Annie Davis were already a married couple when they arrived in Knoxville in 1916. He was a big shot in the iron industry, an executive at Knoxville Iron Company. She was a Bryn Mawr grad who might have appeared at first as if she were going to be another jewelry-bedecked socialite. They liked to travel together, and in 1923, went out west to see the breathtaking vistas of Yosemite. Annie was enthralled with the National Park idea, then mainly associated with the West—and had the temerity to think might work at home, where the Smokies were being chewed up by lumber mills. Willis loved his wife's idea, and as a man of some means, began making connections. 
They moved into a nice house on Lyons View, from which they could see the Smokies. They dreamed that the distant mountains might someday be even greener. 
But she wasn't just the dreamer in the family. In that new era of suffrage for women, Annie Davis ran for public office, the state legislature no less, in 1925, and she won. She became the first Knoxville woman ever to hold elective office. There she furthered some women's issue, but especially her pet project, the Great Smoky Mountains National Park, with legislation approving major purchases of privately owned industrial land. 
Although the Smokies were informally open as a national park by 1930, Willis Davis never got to witness the fanfare of the grand opening. He died in 1931, at the age of 71. Annie left the house they'd shared, and moved much closer to her beloved mountains, to Gatlinburg, where "the Mother of the Great Smoky Mountains National Park" organized a garden club and lived another quarter century. 
Today you can hike Mount Davis, or Davis Ridge, in the Smokies, named for Willis and Annie respectively.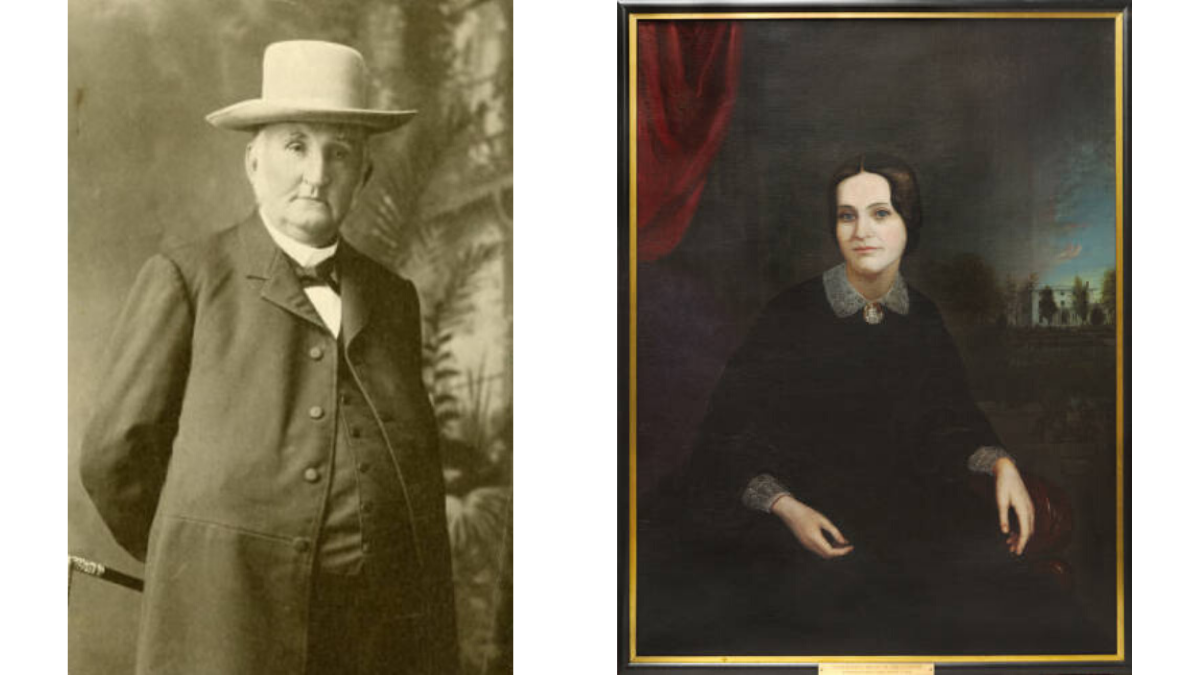 Perez Dickinson, courtesy of Knoxville History Project and Susan Penniman Dickinson courtesy of McClung Historical Collection
5. Perez Dickinson and Susan Penniman
One of our saddest stories is that of Perez Dickinson and his wife, Susan. Part of an extended family of New Englanders who moved to Knoxville in the 1820s, Dickinson was born and raised in Amherst, Massachusetts, and attended Amherst College. He was a teacher at first, but then became a partner in a prosperous general store on Gay Street. 
In 1845, at age 32, he'd been living in Knoxville for most of his life, but went back to Massachusetts to find a bride, and found an especially lovely one in the person of Susan Penniman. The dark-eyed beauty came down to join him in Knoxville. "She was an accomplished young lady who was warmly welcomed to the city," went one account, years later. "The union was the beginning of what gave promise as a happy home," went another. They lived in Dickinson's much-admired house on Main Street, "an old Southern mansion, beautiful as a dream, with its stately trees and giant boxwoods." 
It was there, a year later, that she died, at the age of 23. She had just borne a child, a daughter who also died. 
Although he was still a young man, and very wealthy, Perez Dickinson never remarried. According to his obituary, "It is said that he never fully recovered."
There are romantic stories about the idea that his wife, or the memory of her, inspired him to build his "Island Home," because "she had loved the forest land by the river, and had wished for a white country house with large rooms for entertaining relatives and friends." It was a summer home across the river where he never slept, but held receptions. It still stands on the campus of the Tennessee School for the Deaf. 
Perez lived as an unattached widower for 55 years after his one and only wife died. He's buried at Old Gray Cemetery. A sister and some other relatives are nearby, but his wife is buried back in Massachusetts. When she died here so long before, Old Gray wasn't even new yet. 
She appears, dark eyed, beautiful, and forever young, in a large and haunting portrait hanging in the main reading room at the McClung Collection. In the deep background, like a mirage, is the Main Street house where she died. 
Torn down in the '50s to make way for a parking lot, the briefly "happy home" stood on the site of what's now the Bank of America building.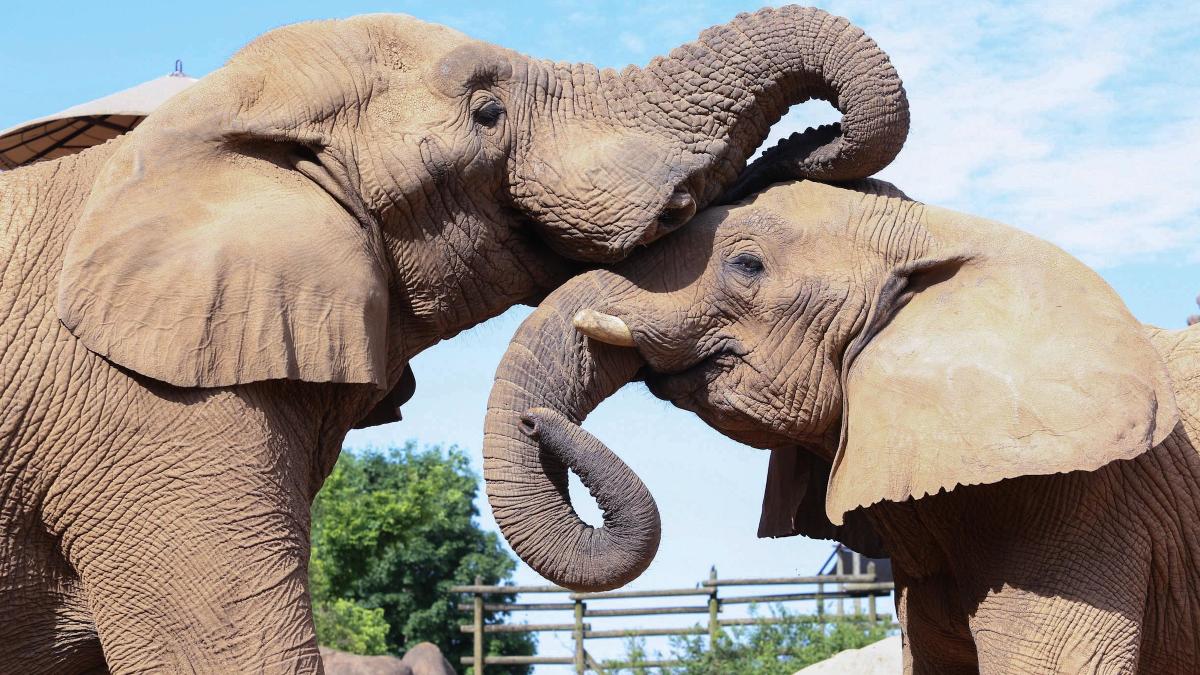 Finally is the story of two couples with something in common, that is, the fellow in the union. 
6 & 7. Ole Diamond and Toto. And Sapphire.
Diamond was from Africa, an eight-ton bull elephant who'd been traveling with the circus, the Greatest Show on Earth, in fact, the Ringing Brothers, Barnum and Bailey Circus. It happened to be in Knoxville in 1963 when the people in charge decided the elephant, sometimes described as the largest African elephant in captivity, was unmanageable. The circus donated the elephant to what was then a modest Municipal Zoo at Chilhowee Park. 
Knoxville was at first grateful, but after a couple of years, the mayor of Knoxville, who was partly responsible for the little zoo, started to realize why the circus had a problem with this fellow. He proposed finding another home for the big guy, but a popular outcry to "Save Ole Diamond" suggested other options. 
In 1975, the growing and ambitious Knoxville Zoo thought they'd put the big elephant's hormones to productive work. At the time, no African elephant had ever been born in America. The Knoxville Zoo acquired a female elephant from the Memphis Zoo, named Sapphire—and borrowed another female elephant named Toto from the Bronx Zoo. 
Ole Diamond and Toto hit it off right away. Then Toto did something no one had ever done in the history of the Western Hemisphere. In 1978, she gave birth to a baby elephant. 
It didn't get quite as much press, two months later, when thanks to Ole Diamond's apparently equal fascination with Sapphire, the second elephant ever born in the Americas appeared. She would be named Hillary, and she wouldn't get nearly as much attention as Little Diamond did, but that may have been fine with her. 
Ole Diamond died in 1980, and none of his blended family is still around. But at Zoo Knoxville you can see where the magic happened.