"Y'all means ALL" courtesy of Taryn Ferro
In 2012 the international LGBTQ Magazine The Advocate listed Knoxville as the "8th Gayest City in America" during its countdown of places to live or visit in the USA. While the criteria used to generate this list was viewed as pretty shaky (number of nude yoga studios & WNBA teams per capita?) and the general public both in and out of East Tennessee laughed off the declaration that Knoxville was a Queer Friendly place to live and visit, I am here to tell you that this mid-sized city is actually a pretty great place for LGBTQ+ people to visit and call home. Here is a list of the many reasons why you should make Knoxville your next travel destination.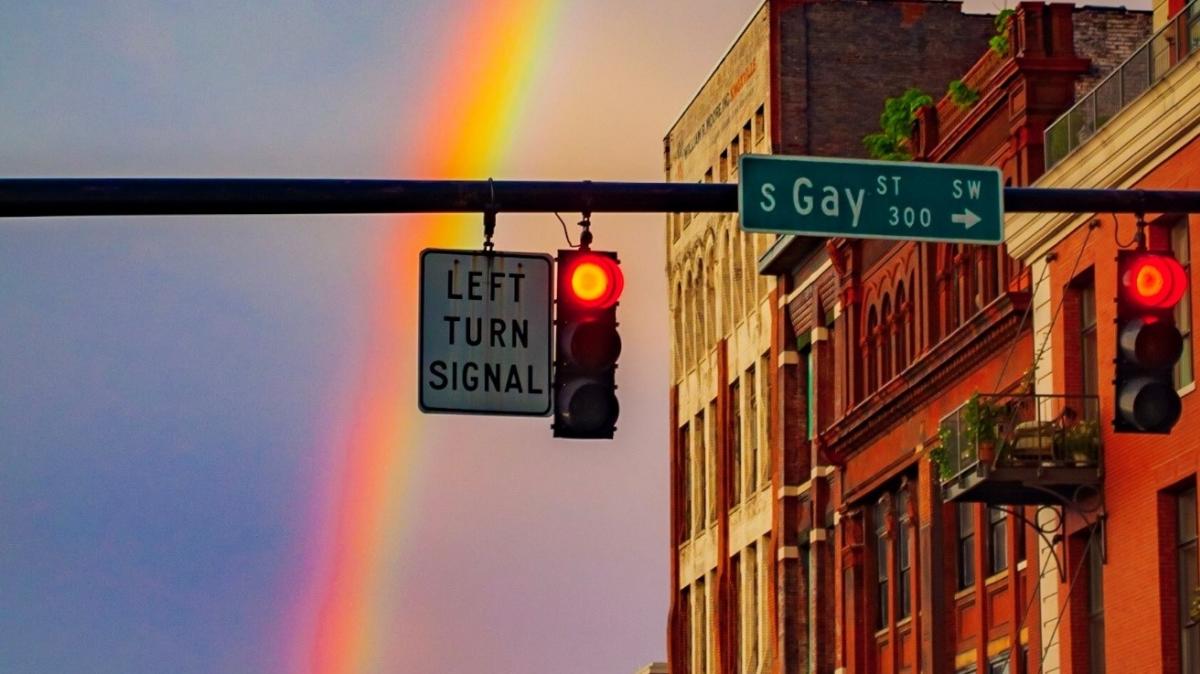 Gay Street in Downtown Knoxville courtesy of Tod Sheley
Geography: Knoxville is the largest city in East Tennessee and is nestled in a large valley at the foot of the Smoky Mountains. Often viewed as a regional capital of sorts, Knoxville has been a major population center for about as long as people have been living in the Southern Appalachian area of the US. What this means for tourists is that you'll have a large number of places, events, and activities to choose from when visiting our great city. If you're someone that loves being in the outdoors, then you will love Knoxville. We have World's Fair Park, our treasured downtown urban park that stands as a monument to the global festival our city hosted in 1982. If having a good time means going hiking, biking, or climbing around in the woods then I strongly recommend heading over to Knoxville's 1000 Acre "Urban Wilderness". This recreational area is a nature lover's playground and features over 50 miles of trails and greenways along with adventure parks and riverfront paddle boarding and kayaking, all within eyesight of downtown Knoxville.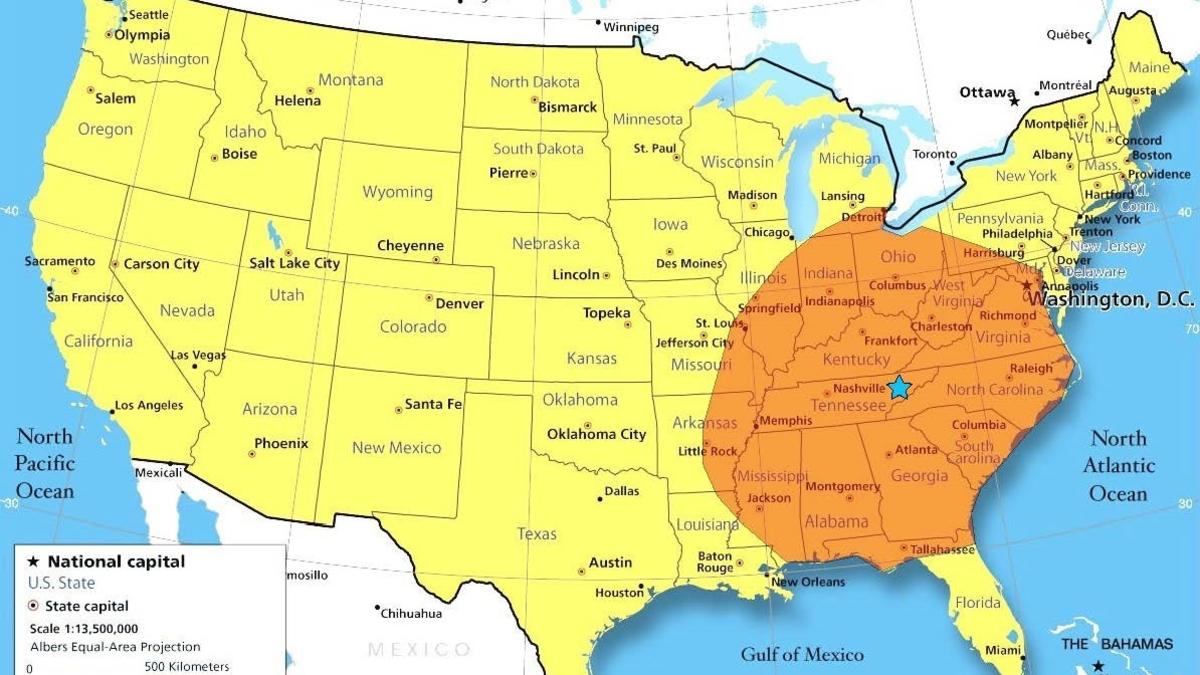 8 Hour Travel Radius from Knoxville courtesy of NASA, SEDAC, Columbia University, & Oren Yarbrough
One of the great advantages of Knoxville's location in the US is how easily you can drive here from a large number of cities on the East Coast. This Appalachian gem is about as geographically centered in the Eastern half of our country as you can get. What this means is that if I were to get in my car and drive off right now, then I could be in 6 different states in around 2 hours. If I decided to drive north from Knoxville then I could be in Detroit, Washington D.C., & St. Louis in 8 hours; and if I decided to drive South from Knoxville I could be in Jacksonville, Tallahassee, and Mobile in those same 8 hours. I point this out because I feel it highlights how great Knoxville is at being the perfect road trip city you can get to within a day's drive for a long weekend of fun with your friends or family. Thanks to Columbia University & NASA, I was able to locate and map all the major cities in the US that could have people drive to Knoxville in 8 hours or less. This map calculated a population of 95 Million people living within a day's drive of Knoxville.  Don't want to drive?  McGhee Tyson Airport offers over 20+ direct flights, including NYC, Chicago, DC, Fort Lauderdale, and more.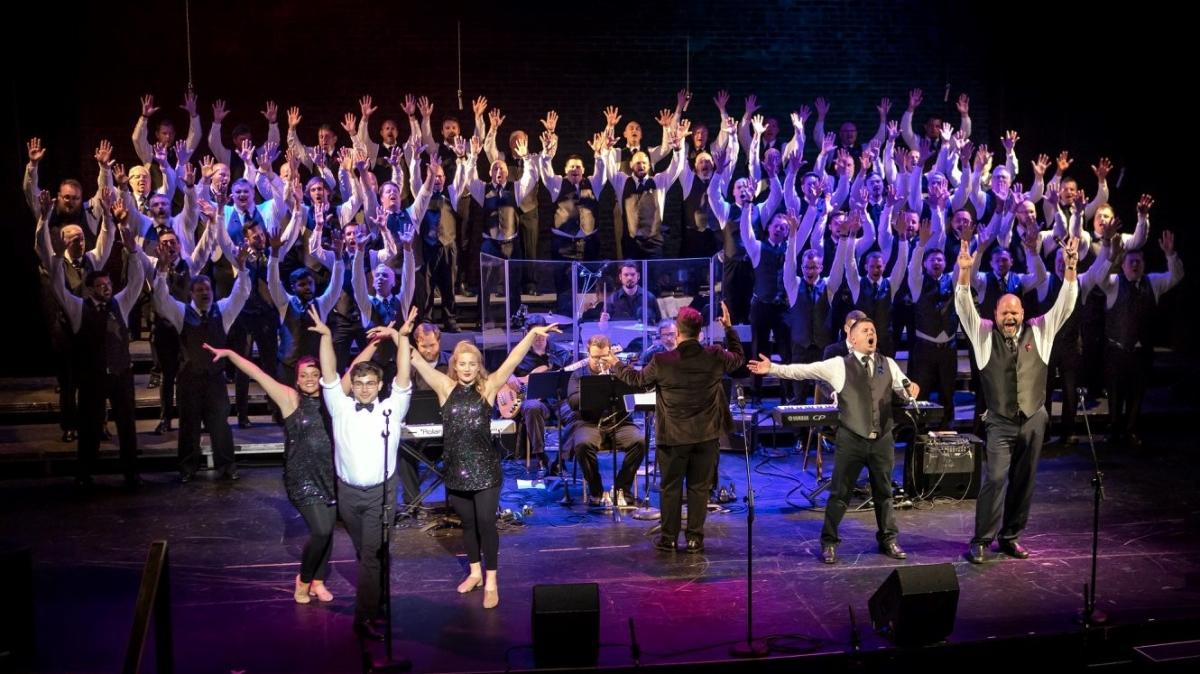 Knoxville Gay Men's Chorus – Broadway on Gay Street Concert courtesy of Steve Soaringoak
Large LGBTQ Population: Historically, Queer people tend to gather and congregate in large metropolitan areas in order to feel safe and also to meet likeminded people and create a sense of community. Knoxville is no exception to this rule and, being the 3rd largest city in the state of Tennessee, has amassed a surprisingly large LGBTQ population over the years. I can easily say that I know hundreds of gay people that live in Knoxville, and even after 13 years I meet new people every day that have lived here just as long as me and yet I had never crossed their path up until recently. Even though the overall LGBTQ community is large for a medium-sized city, I would not compare Knoxville's Queer population to cities much larger than us. I think this is important to highlight in a way that makes our city feel more personal and charming to a gay person wanting to come visit us. If you come to Knoxville during our festival season, then you can just have a great time with a whole bunch of strangers and get lost in the crowd. At the same time, if you want to come to Knoxville and just go exploring downtown or head off to one of our gay bars or gay friendly establishments then there is a very good chance you will meet some amazing people. Knoxville is the kind of city where it is a very common occurrence to go to a summer party and meet a dozen people visiting from outside of town that have been invited by the host, often from places hundreds or thousands of miles away.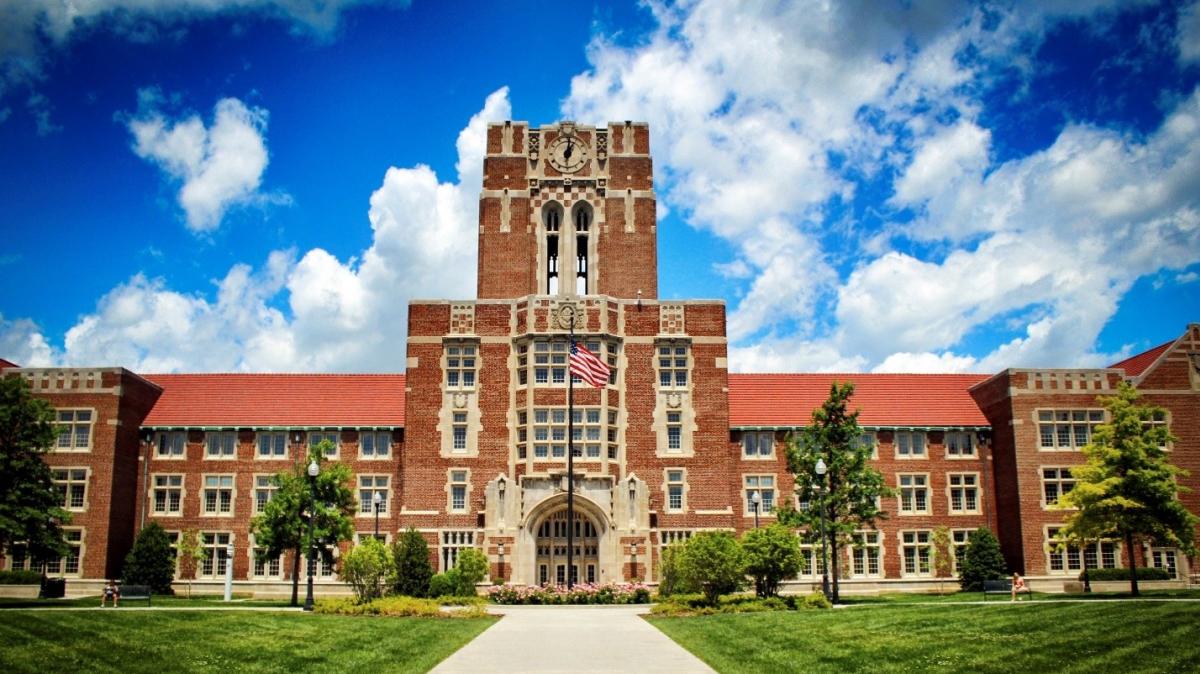 Historic Ayres Hall on the University of Tennessee Knoxville Campus
Big Institutions = More Diversity: Knoxville is the proud home of the University of Tennessee's flagship campus, bringing in a rotating population of around 35,000 students every semester. This massive institution for higher education has been a powerful force in transforming the city of Knoxville into a more openminded and liberal haven for people to express themselves and live the life they otherwise may hide from the world. I'm sure everyone has read and book or watched a movie where the plot involves a small town closeted gay kid moving away to go to the big university, which winds up being the life changing moment where they finally feel accepted for being different and learn to love who they are, inside and out. I hate to tell you, but this isn't some act of fiction made for a John Hughes movie, but a very common situation for the young adults coming here to Knoxville every year.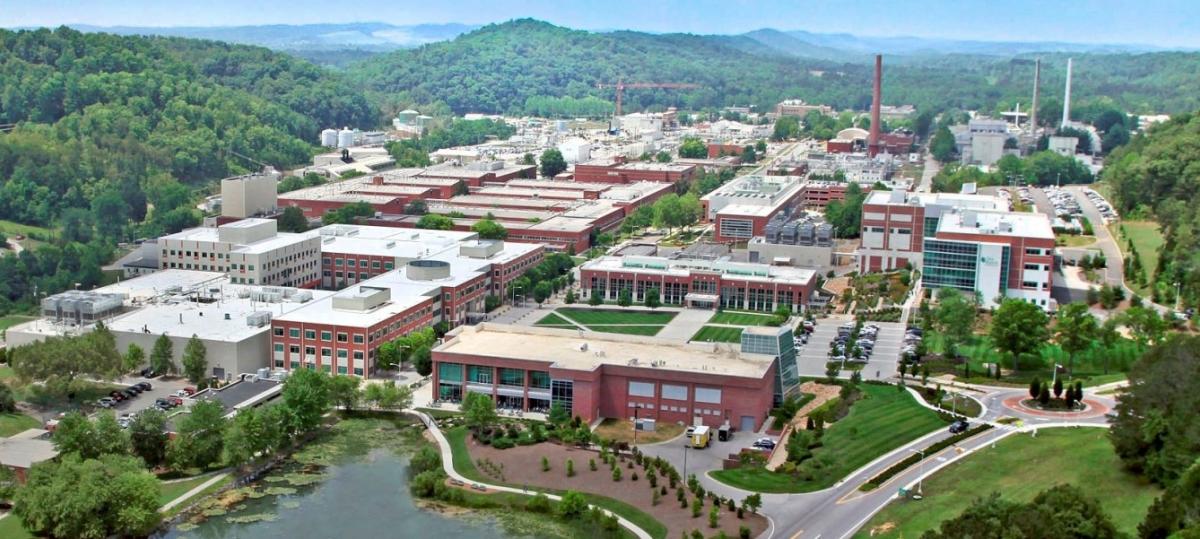 Aerial View of Oak Ridge National Laboratory – Open source image; owner is the Federal Government
Oak Ridge National Laboratories, an internationally recognized research facility with ties to both commercial and federal sectors, is another nearby institution that contributes to the diversity of Knoxville and the greater region. People from all over the world come to the Tennessee Valley to work for ORNL because of its prestige, and a majority of them choose to live and spend their free time in Knoxville because of the welcoming atmosphere we provide to them. Most of the people that work for ORNL are well educated and well-traveled, which doesn't exclusively make them LGBTQ friendly, but it sure helps a whole lot when you are building a community of tolerance and love.
I think around 50% of the gay people I know living in this city either moved here to go to school at the University of Tennessee or they moved here for a job at UT or Oak Ridge National Laboratory. Both UT and ORNL help foster an environment that values education and diversity here in East Tennessee. Having the flagship state university in Knoxville helps keep the city young and helps add excitement and creativity to our local art and culture scene. The impact these two massive institutions have made on the local economy and also in elevating Knoxville as a whole cannot be understated.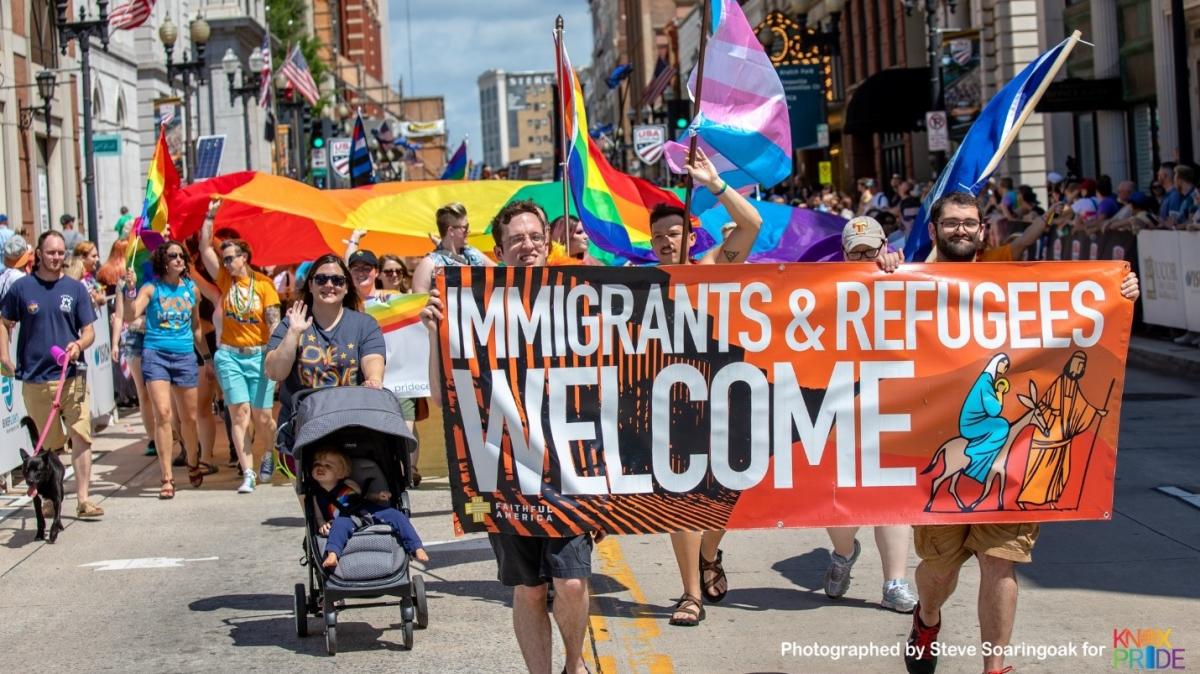 Pro-Immigration supporters marching in the Knoxville Pride Parade in 2018 courtesy of Steve Soaringoak
Activism: Having an activist spirit is a thing to be valued in the gay community & Knoxville has had a courageous history with activism of various sorts throughout the last century. Famous suffrage protests took place in Knoxville over 100 years ago and the final deciding vote to ratify women's right to vote was cast by a man who lived right outside of Knoxville, Harry T Burn.
 The large college population mixed with the large LGBTQ population has really given this city a temperament towards activism that other cities just do not have, especially in the South. Maybe it is because people have such pride in our local community, but participation in events to show support for a minority group always draw large and active crowds.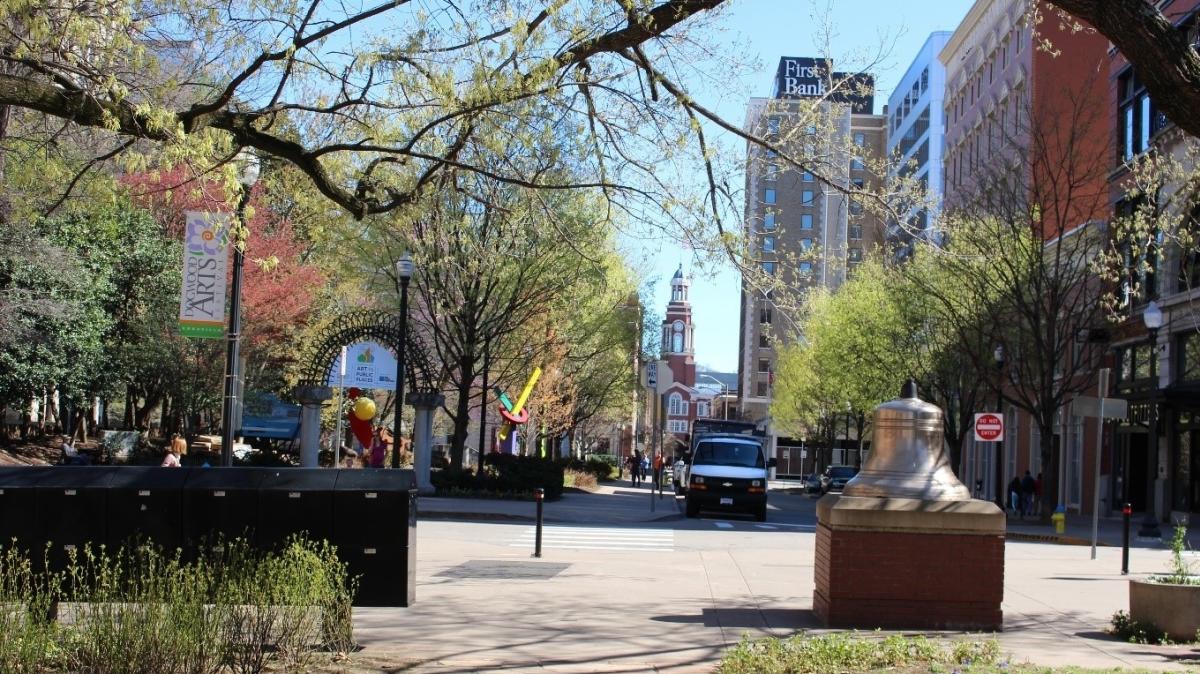 Downtown Knoxville – View looking down Market Street
Downtown Vibes: Downtown Knoxville has a special place in the hearts of the LGBTQ community by being the primary home of a lot of our earliest bars and clubs, our only places of acceptance many decades ago. As the city has grown and changed and become more accepting of gay and transgender people our choices for places to find entertainment and meet friends has opened up to include most all of downtown Knoxville. As younger people, intellectuals, and non-natives moved into downtown Knoxville they formed a welcoming and outgoing climate not just for tourists but people from all different backgrounds. It is extremely common to find same-sex couples walking hand in hand on any given day when exploring our downtown. Filled with 80+ restaurants and bars, 40+ shops and stores, a dozen hotels, multiple world class theaters and music venues, multiple parks and landmarks, and blocks of historic architecture; Downtown Knoxville literally has everything you would expect to find in a larger city, but just condensed into a walkable footprint. The heart of our downtown is widely declared to be the historic Market Square, a large piazza style square in the middle of the city and surrounded by dozens of restaurants, shops, and bars. On weekends in the warmer months you can find this area of the city flooded with large crowds of people coming in to visit our Farmer's Market or attend a festival of some sort. Gay or straight, we all like to explore a city and just have a great time. Downtown Knoxville is perfect for exploring and having fun in without the fear of getting a double stare or a mean word spoken at you.
While you are downtown make sure you go visit Yassin's Falafel House, a local restaurant with a great story. This little middle eastern restaurant is run by a Syrian refugee and has been declared to be the "Nicest Place in America" by Reader's Digest and announced by Good Morning America in 2018. The shop is decorated with loving words of support for all people in the world, regardless of religion, ethnicity, or sexual orientation. When Yassin received his award on live television he refused to accept the honor without highlighting the welcoming and loving community of Knoxville to embrace him while other parts of the country have struggled over the issue of refugees and immigration.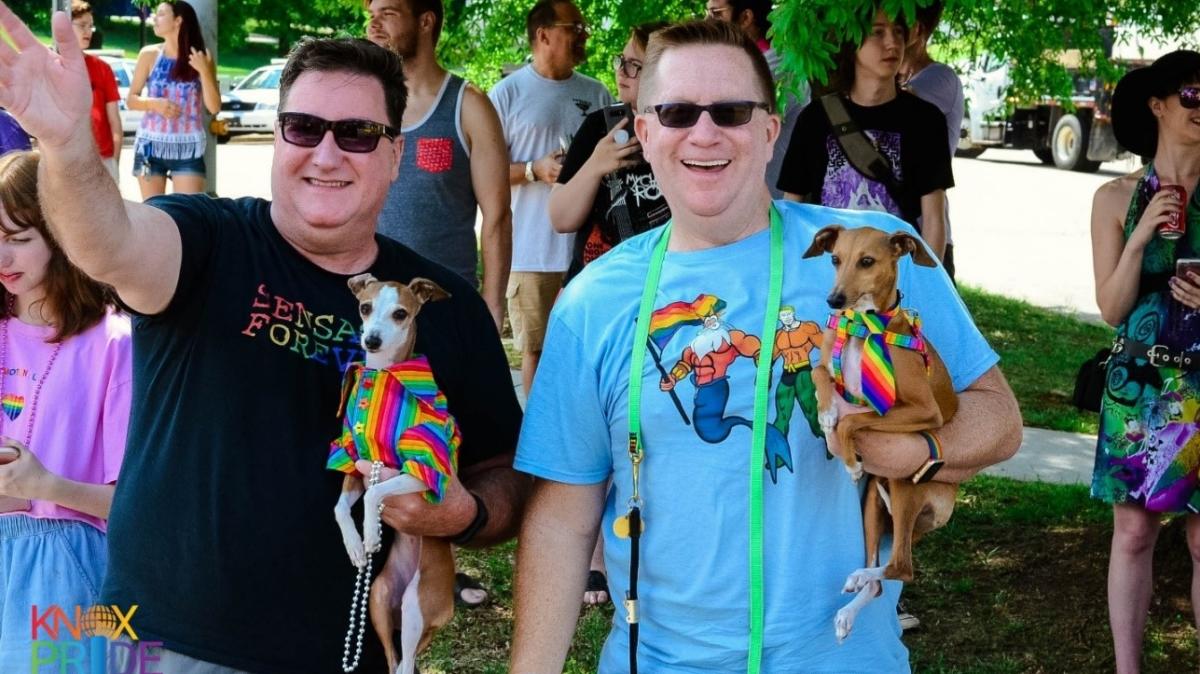 Pride spectators with their pets courtesy of Taryn Ferro
One more thing about Downtown that makes it an even more welcoming place for the LGBTQ community, our hotels will welcome your children! No, I am not referring to your actual children (those are welcome too!), but rather your furry children. Knoxville is at the top of many lists for being one of the most pet friendly cities in the nation. Many downtown restaurants will allow dogs on the patios and we have a leash-less dog play area downtown along with a doggy day care, pet salon, and a pet retail store for you to take them shopping in even. For over a decade now Knoxville has also hosted Mardi Growl, a downtown dog parade and festival that brings thousands of two and four legged attendees for a day of fun. So basically, if worrying about who will watch Fido while you are on your next vacation is a reoccurring issue, then head on over to Knoxville and bring them along to enjoy the trip as well.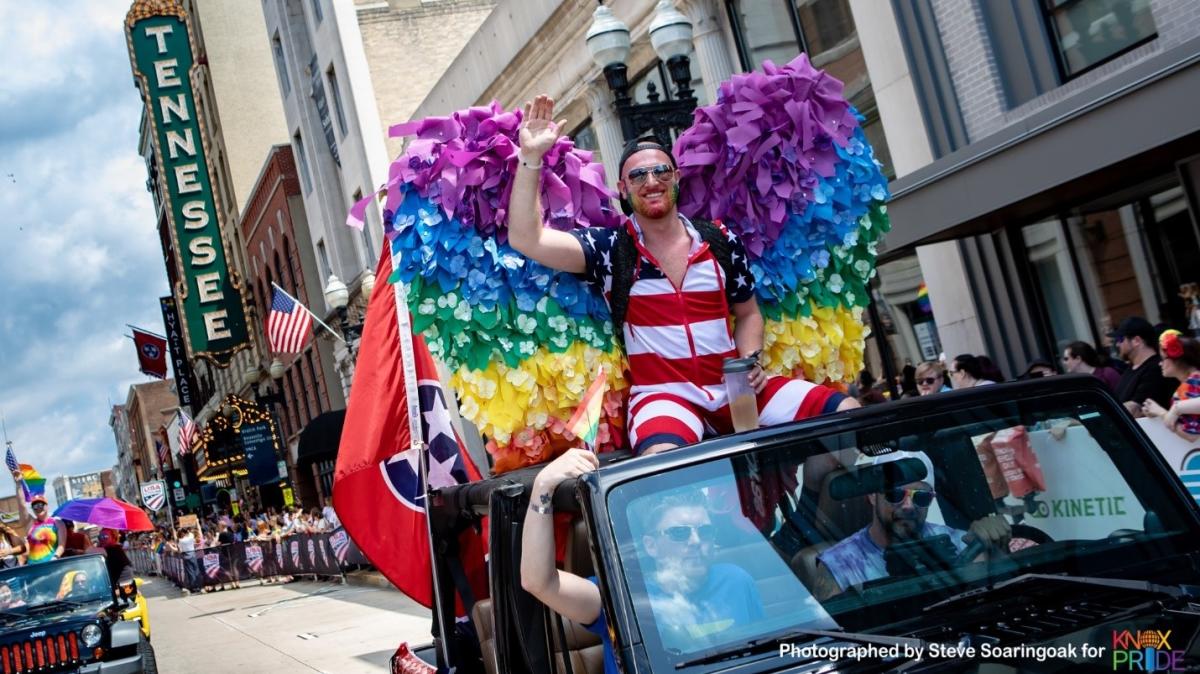 Justin Foster riding on top of a Jeep with the rest of The Edge Knox crew in the 2018 Knox Pride Parade courtesy of Steve Soaringoak
Gay Nightlife: One side effect of Knoxville having a welcoming environment towards LGBTQ people is that we have a smaller number of Queer Bars than we used to a few decades ago. The nightlife for a gay person visiting Knoxville is still very open to a whole lot of variety, with many downtown clubs and bars hosting very mixed crowds of people and gays to be found in large numbers everywhere you look. If you are someone that feels safer and at home in a LGBTQ Club or Bar, then I recommend either going to the Club XYZ or The Edge. Both of these clubs have been around for a large number of years and they serve the community with dancing, drag shows, game nights, costume contests, etc. on a continuing basis and they are active participants in the community.
Recently a group of LGBTQ people begun chatting through social media about the need to provide more options for LGBTQ gathering places in Knoxville which led to the formation of "Keep Knox Queer", a Facebook Community where the members can follow a series of "Queer Dance Parties" all over the city and throughout the calendar year. If you attend one of these "QDP" as they are called then you can expect to see some of the largest variety of queer people to be found at any given moment in the city, with many attendees being people that otherwise would shy away from a straight bar or even a traditional gay bar.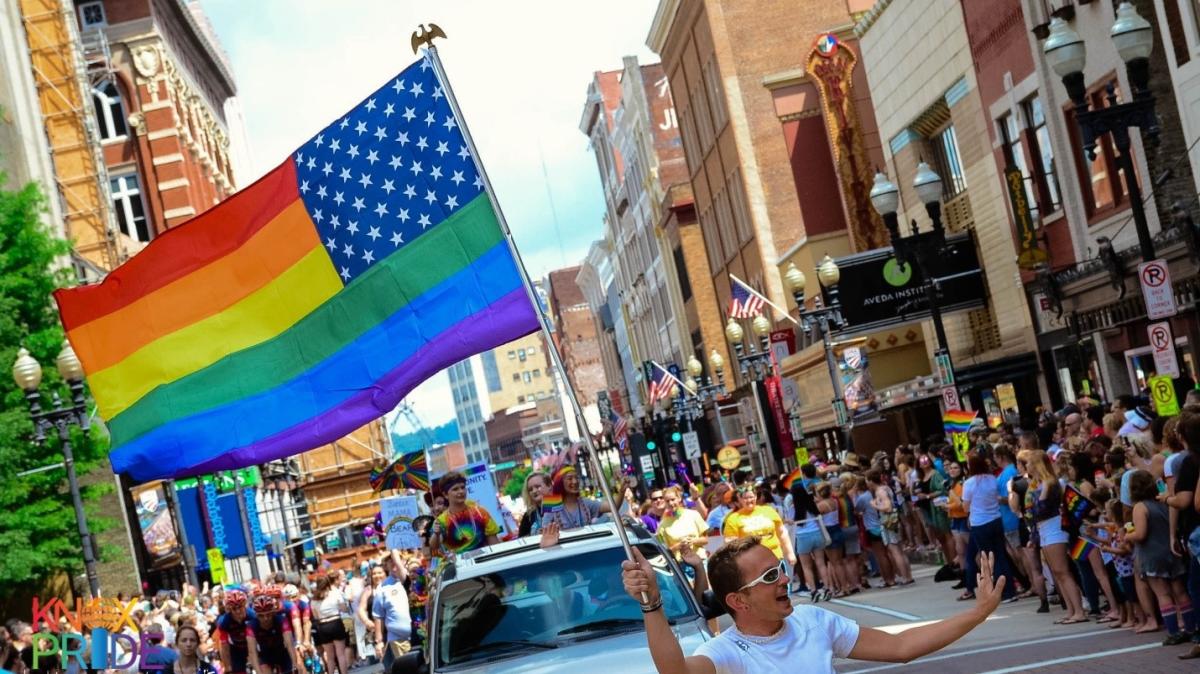 View down Gay Street during the Knox Pride Parade in 2018 courtesy of Taryn Ferro
Festivals & Events: One of the best ways to see just how welcoming Knoxville can be as a city towards the LGBTQ community is to attend the annual Knox Pridefest. Occurring every June, Knox Pridefest is a free event held downtown that features a massive parade on Gay Street followed by a day of performances and entertainment at one of our nearby parks. Unlike Nashville's Pride, Knox Pridefest is free, making it the largest free Pride in the state of Tennessee. In 2018 the estimated number of people to attend Knox Pridefest was over 35,000. One way Knoxville is able to keep their Pride festival free is because of a continual series of small fundraiser events hosted throughout the calendar year. Everything from special pride nights at restaurants to art shows and even underwear & fashion shows and bourbon tastings are all attended by sizable crowds and help sustain our Pride and keep the party going year-round.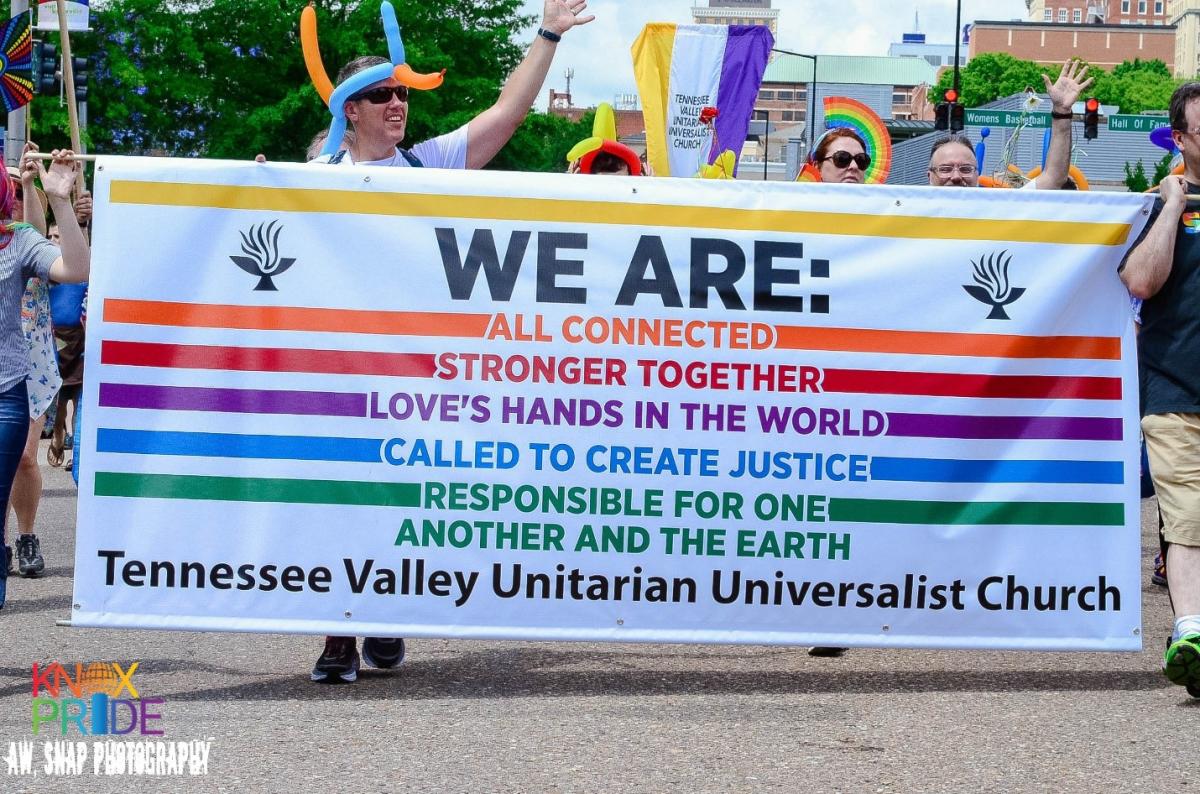 Pride Banner for the TVUUC courtesy of Taryn Ferro
If you get the chance to see one of our Pride Parades one thing you will notice is that our churches support us and love us and welcome us with open arms. It's very common to see religious groups from all backgrounds marching with their LGBTQ members and holding signs of love. Some of the best local outreach programs for gay youths struggling with their sexuality or gender identity are in fact churches in the Knoxville area. For a fairly well-done list of welcoming and pro-equality churches, businesses, and organizations in Knoxville and the surrounding area please see this link.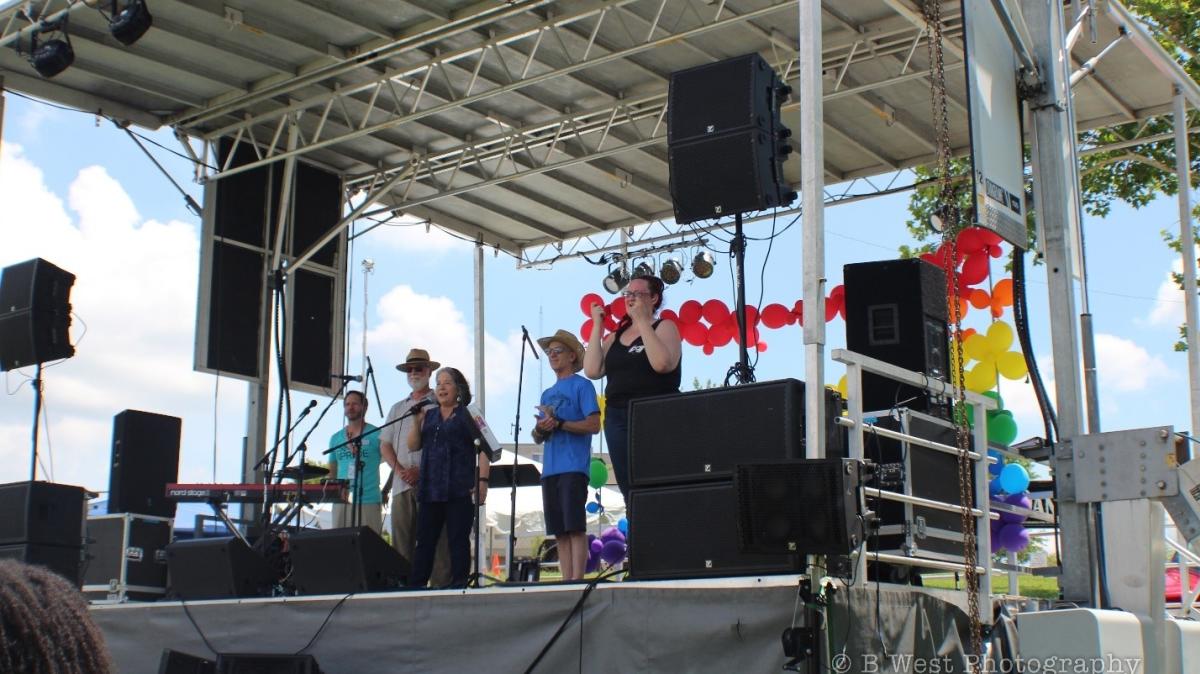 Mayor Rogero speaking at the Knox Pridefest in 2017 courtesy of B West Photography
LGBTQ+ Friendly Government: The last thing I would like to highlight about Knoxville is something I cannot stress enough to people that have never been here; our city loves us. Let me explain:
Let's start with Knoxville's current Mayor, Madeline Rogero, who has marched in our pride parades and has written statements of praise and support for the LGBTQ community for years. Mayor Rogero was an early supporter of marriage equality and was the only Mayor in Tennessee to sign the 2015 Amicus for the SCOTUS support of marriage equality. Rogero also sent a letter to President Obama in 2016 in support of the creation of the Stonewall National Monument in NYC and has had the Henley Street bridge lit up in rainbow colors for support of the LGBTQ community during both times of celebration, like marriage equality, and mourning during the immediate aftermath of the Pulse nightclub shooting. Knoxville could not ask for a more welcoming Mayor that is supportive of diversity in all forms.
I can't talk about our city and the support we receive in the gay community without mentioning the people that keep us safe every single day. Regardless of whether we are celebrating Pride, marching for women's rights in Market Square, or just enjoying a Sunday Funday downtown, our police officers and firefighters help keep all of us safe regardless of our background or identity.
Knoxville is one of the first cities in Tennessee (and the South) to have an LGBT Liaison for both the Knoxville Police Department and also the City Mayor's Administration. In the first year of Madeline Rogero's tenure as Mayor, Knoxville City Council unanimously passed a non-discrimination ordinance for all Knoxville city employees from discrimination based on sexual orientation, gender identity, disability, and ethnicity.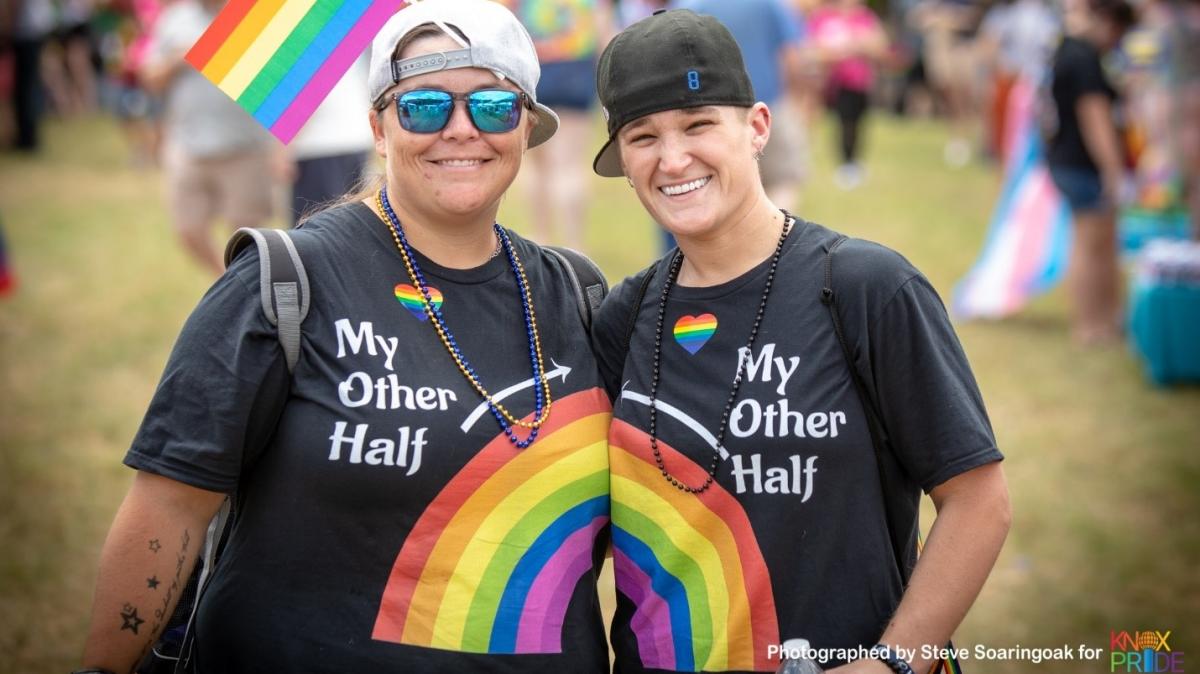 2018 Knox Pridefest attendees courtesy of Steve Soaringoak
So, I'd like to end with the thought that identity can be multi-layered and most of our identity is something we have built and worked on and created. Gay people sometimes have a harder time working at finding where we fit in the world, but once we do we want to celebrate it with our community and share it with the world. As a member of the LGBTQ community I really hope that I have managed to show you some reasons why Knoxville is really a beautiful little gay friendly city, just waiting for you to come and visit.
The stereotypes of Southern people are true for at least one instance. We really are some of the friendliest people you will ever meet if you give us a chance.