Photos courtesy of Scott Heptinstall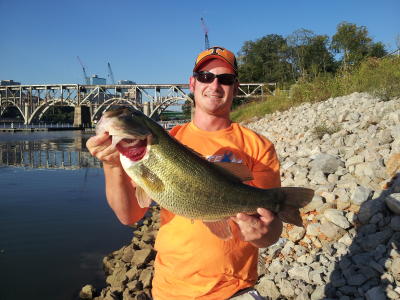 A great catch on the bank of the Tennessee River right across from Neyland Stadium
Knoxville's access to a multitude of lakes and its mild climate produces fishing that's impressing anglers from all around the country. Even elite anglers recognize our area as a top fishing destination, with the Bassmaster Elite Series happening on Cherokee Lake, less than an hour from downtown Knoxville. And if you explore enough to get to know what our lakes have to offer, we're pretty sure you'll get hooked on our city too.
Here are a few spots some of our top local guides, Jon Oody and Scott Heptinstall, don't want you to miss:
Locals name this lake one of their favorites because of its crystal clear waters and undeveloped lakeside. Cold, super-oxygenated water released from the bottom of Norris Dam create an ideal environment for healthy populations of baitfish. The flow from the dam allows the lake to act more like a slow-moving river, which helps keep the fish populations moving and available. With just a short half-hour drive from downtown, you'll have plenty of time to soak in the natural landscape.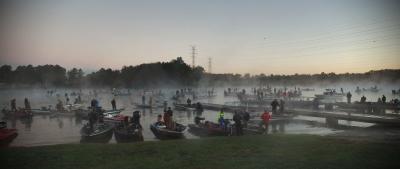 Fort Loudoun is super accessible, with bass tournaments happening pretty much every day of the week. From small groups of locals to large, organized competitions, the social element of fishing thrives here. With a main channel that flows at a couple miles per hour, you'll find crazy amounts of baitfish migrating through its waters in the fall and spring. The banks of Fort Loudoun Lake have a gentle slope, and the variety of structures such as docks and trees offer great spawning and fishing habitat. Grab your buddies and join in the classic Knoxville fun.
Here you'll find a great smallmouth/largemouth fishery where the average fisherman usually has luck landing a decent-sized catch. Being part of a river system, the lake's water level changes throughout the year, presenting different opportunities and fishing styles. When the water is down, the exposed rock points make great places to scout out fish. And when the water is high, the flooded trees and vegetation make great places for fish (and fishermen) to hang out. Cherokee is stocked with striped bass, and there's never a shortage. Stick around long enough, and you might see some that are up to 40 or 50 pounds!
Just southeast of Cherokee Lake, you'll find Douglas, another large, well known lake. Douglas Lake fishes a lot like Cherokee with its rocky outcrops and shallow flats. Massive creeks feed into Douglas, carving the lay of the land and the water. With a plethora of secondary points within the many coves, it makes an outstanding fishery for the Bassmaster Open Tournament that's hosted there every year.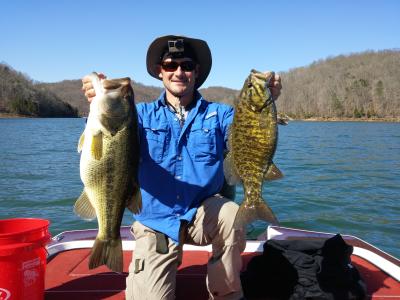 The mountains meet the water at this big, beautiful lake just half an hour north of town. With deep, clear waters, Norris is a great place for sight fishing, (spotting the fish in the water) when the weather warms up. Make sure to pack the polarized lenses.
River Fishing
If you want to mix things up a bit, you'll find fantastic smallmouth fishing on Knoxville's three rivers. The French Broad River and Holston River come together just east of town to form the Tennessee River. With boat access at Governor Ned McWherter/Riverside Landing Park, the confluence near the Forks of the River Wildlife Management Area is easily accessible. At certain times of the year, this special spot is the crossroads of species coming from the French Broad and the Holston. If you have the time, a great option is to put in at Holston River Park and float down to Ned McWherter. On this stretch, you could find a mixture of largemouth, smallmouth, and spotted bass.
With access to seven lakes within an hour's drive, plus great river fishing, Knoxville is a natural fit for anglers seeking quality fishing in a variety of locations. And since Tennessee has a unique climate that allows for the overlap of typically northern or southern fish, we are home to more freshwater species of game fish than any other state. You may come for the bass fishing, but you can't help discover the amazing variety our healthy lakes produce.
For more information about any of the above lakes, click on the links to visit Outdoorknoxville.com, a resource that Legacy Parks produces to share information about all the great ways to Get Out & Play in East Tennessee. Legacy Parks is also working to create more public access points on the French Broad and Upper Holston River. To support their work, become a Friend of Legacy Parks.