Knoxville is known for its blend of breathtaking scenic beauty and urban cityscapes, often captured beautifully by local and visiting photographers.  
Arguably the best way to truly capture Knoxville's unique city views against the backdrop of East Tennessee mountain landscapes is from the sky. Drone photography and videography has become one of the most popular ways to experience new sights (and heights) without ever actually leaving the ground.  
Having been around since the "Wild West" days of drone operations in Knoxville, Big Slate Media was actually founded as an aerial film and photography company in the summer of 2015. So, we get drones. We love drones. And if you do, too, Knoxville is a great place to enjoy them. 
Whether you're a budding drone hobbyist or a professional aerial videographer, it's important to abide by all the rules and safety regulations in place to ensure a safe, legal drone flight.  
Knoxville Drone Laws and Safety Information 
Before taking off anywhere around the city, it's essential to study up on the rules and regulations for the Knoxville airspace. Here are the do's and don'ts from your friendly neighborhood drone nerds (that's us!):  
DO - Abide by all FAA part 107 commercial or section 44809 recreational rules.  
DO - Register your drone through the FAA Drone Zone website. 
DO - Download the Aloft App (Apple or Android) for pre-flight checks, current weather information and instant flight authorization (for areas that require prior LAANC approval).  
DON'T - Take off in crowded areas or fly over people.  
DON'T - Fly in areas you're not authorized to. 
DON'T - Fly in conditions that prevent a visual line of sight. 
Follow these rules, and you're off to the races and can enjoy the amazing aerial views Knoxville has to offer. If you're not sure where to start, we've put together a list of our top five favorite spots to fly a drone around town.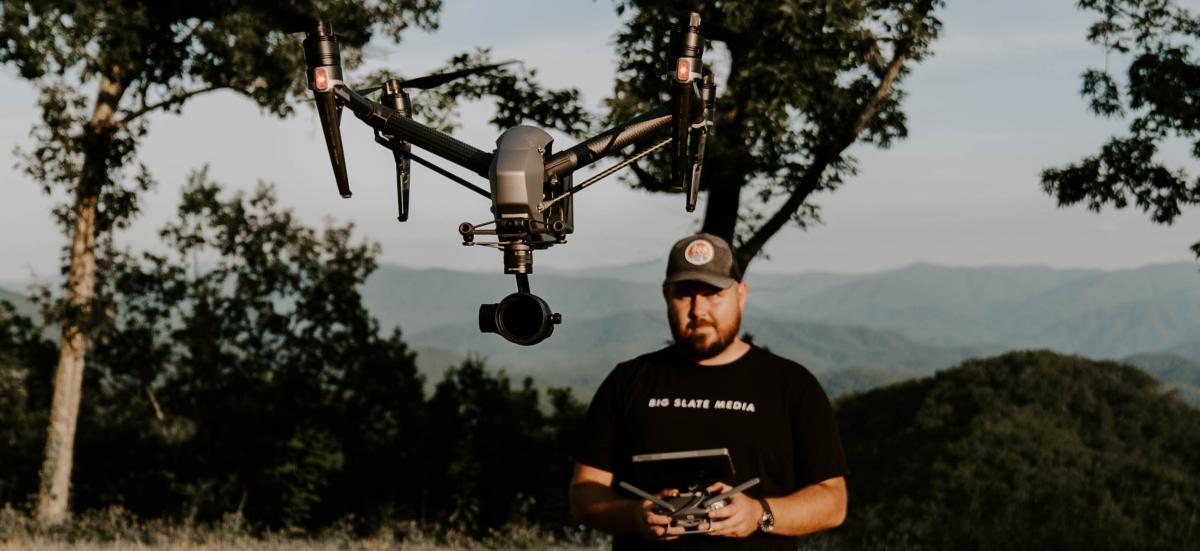 1. World's Fair Park  
A lush greenspace featuring the iconic Sunsphere, the 10-acre World's Fair Park offers a perfect location to fly a drone and capture shots of the Knoxville skyline. Flights here require prior LAANC approval and are permissible to 100 feet. This area can be busy (especially on nice days), so be sure to avoid flying directly over park visitors. You can easily enjoy the sights while maintaining a safe distance from surrounding buildings and structures (don't be the guy that flies his drone into our beloved Sunsphere).  
2. Lakeshore Park 
Enjoy amazing views of the Tennessee River and the Great Smoky Mountains by flying your drone at Lakeshore Park in West Knoxville. There are no restrictions to flying in this popular area but remember your drone etiquette. Don't fly over people and avoid all the trees and park equipment. As air traffic restrictions go, this is a great place to get some open-space practice while enjoying the spectacular scenery.  
3. Sharp's Ridge Veterans Memorial Park  
Just 10 minutes from downtown Knoxville, Sharp's Ridge Veterans Memorial Park offers views of the city skyline against the backdrop of distant mountains. Drone flights here also require prior LAANC approval (as they fall within Class E airspace) and are permissible up to 400 feet. This is a very technical area with several towers and support cables, so it's not the best fly zone for beginner drone operators. 
4. House Mountain 
Knox County's highest point presents full panoramic views of the East Tennessee countryside and distant views of downtown Knoxville. House Mountain has no restrictions and wide-open airspace (it's basically a drone operator's dream). The 5.8 miles of trail are moderately difficult as they climb to the top, so be prepared for a bit of a hike if you want to take off from the crest. However, the incredible views are worth the extra effort.  
5. UT Research Park at Cherokee Farm 
Located just across the Tennessee River from the University of Tennessee's flagship campus, UT Research Park at Cherokee Farm has trails, green spaces, vistas and an archaeological preserve. It boasts a nice, wide-open space on the riverfront, which is perfect for some drone flights. You get lovely views of the river, Downtown, and the UT campus. There are no flight restrictions; however, be mindful of emergency helicopters landing at UT Medical Center.  
From the bustling downtown city views to the incredible local parks, to the national park right in our backyard, you'll be astonished by the incredibly diverse aerial views you can experience here in Knoxville. For additional information on aerial film and photography gear and techniques, check out Big Slate Media's Ultimate Drone Guide.