If you're a road cyclist, you know some of the best sights and sounds are experienced along the backroads.  Knoxville makes for a great ride because it only takes a few minutes in the saddle to get to lots of greenery, rolling hills, or to reach a pretty creekside path. We're also home to more than 10 bike shops and clubs that host weekly rides varying from short and easy to long, fast, and challenging. And with mild Tennessee weather, we never hang up our bikes because you can ride all year!
Sites to see
Want just a taste of Knoxville riding? Try a route through south or east Knoxville, where there are plentiful backroads with a nice rural feel. Some popular destinations that keep you within the 30- to 40-mile range from the downtown area are the Seven Islands State Birding Park, which is home to more than 190 species of birds, or House Mountain State Natural Area, which contains hiking trails that lead to the highest point in Knox County!
If you're looking for some more mileage (about 60-70), one great ride takes you from downtown Knoxville all the way to Look Rock on the Foothills Parkway and back. The halfway point is a spectacular ridge with a viewing tower, which is a great spot to soak in the beautiful scenery and eat a packed lunch.
For an even longer (around 100 mile) ride, consider heading out early with Cades Cove as your mid-point destination. The Cove contains a classic Smoky Mountain loop with tree-covered peaks surrounding a grassy valley, which is home to all kinds of wildlife. The route along Rich Mountain Road will leave you breathless with beautiful patches of hardwoods, photo-worthy open views, and historic sites at your sides.
Groups to join
Knoxville's bicycle shops and clubs go above and beyond when it comes to weekly and special group rides. If you're visiting to cycle for the first time and want to join some folks who know their way around, you're sure to find a group that meets your schedule, experience level, and style.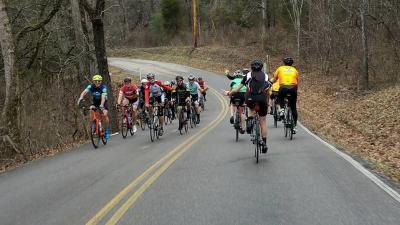 Outdoor Knoxville has a great calendar of weekly events, which lists all of the bike shop and club rides that meet on a regular basis. And if you're planning around certain dates, you can select them from the full calendar and see which special rides might be planned in addition to the regulars. Many of the shops that host rides also rent bicycles if you'd rather leave yours at home or want to try something new!
Come discover Knoxville's hills and valleys on the winding roads that connect our downtown area with some of the best views in the region. There's beauty in every season in these parts, but come ride with us this fall!
For more cycling action, head to our biking page!