Winter the season for a warm meal, and what is more comforting than a hot bowl of soup?  Luckily Knoxville has everything from lobster bisque to classic chicken noodle, but today we're focused on pho and riveted on ramen!
Pho (pronounced "fuh") is a Vietnamese soup consisting of broth, rice noodles, herbs, and meat (usually beef, but there are chicken and veggie versions). Pho is considered Vietnam's national dish and it is served in households, street stalls and restaurants countrywide.  The infamous Sriracha sauce is a popular condiment topping to add a touch of vinegary heat.
Ramen is a Japanese noodle soup consisting of wheat noodles in a meat or fish-based broth, with a wide variety of add-ins that often include sliced meat, eggs, scallions, seaweed, and other condiments such as soy sauce or miso.  Ramen styles vary widely and are so much more than inexpensive college fare!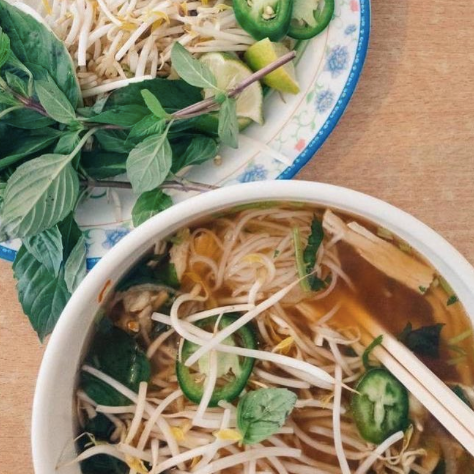 Bida Saigon
This spot is in a unique area of town that has Indian groceries, a large Asian grocery, Honduran cuisine, Turkish kebabs, and more international restaurants and corner-style stores.  Bida is nestled amongst them all offering a great selection of both pho and rice paper rolls.
Pho 99
This tucked-away spot off Cedar Bluff in West Knoxville has a wide variety of namesake pho, steamed and fried rice plates, and banh mi options. 
Landing House
This fusion restaurant in SoKno combines Chinese, French, and Cambodian cuisine resulting in some creative and delicious eats.  You'll find pho and fried rice in all varieties and some vegan options with tofu and veggie broth.
Sticky Rice Cafe
Sticky Rice is a Laotian café in West Knoxville.  If high school geography escapes you, Laos is a Southeast Asian country sandwiched between Thailand to the west and Vietnam to the east.  The north borders both Myanmar and southwest China, and its southern border is adjacent to Cambodia.  Needless to say, the food is incredible, and Sticky Rice showcases it to perfection with traditional items like chicken laab with the namesake sticky rice (it's sticky enough – and meant to be eaten with your fingers).  But they have some modern takes on this cuisine: enter the phoritto!
Asia Kitchen
Asia Kitchen is next to the largest Asian grocery in town, so once you've given up on shopping and cooking your own food you won't have far to go before you are rewarded nicely for your lack of ambition.  Their menu is large and in charge and covers everything from 10 kinds of pho, familiar Chinese favorites like sweet and sour chicken and moo goo gai pan, Japanese hibachi, and even hot pot!  They have a hot and spicy section too for those who prefer a meal with some heat.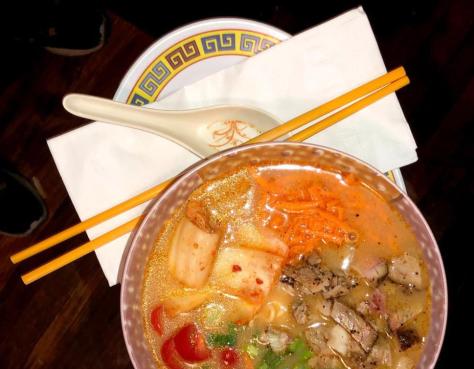 Suttree's High Gravity Tavern
This place is kind of a hidden secret right in the heart of downtown.  One might think okay, obviously they have high gravity beer…but would you expect they've got some killer ramen?  Well, they do, which goes really well with the beer!  Several of their options include kimchi as a topping and they also have vegetarian ramen on their menu.
Ramen Bones
Traditional food meets modern food truck in Ramen Bones.  Often found at Central Filling Station and other food truck parks around town, Ramen Bones has a concise efficient menu.  Expect tonkotsu, miso, shoyu, and shio styles of ramen along with gyoza (steamed and fried dumplings) and onigiri (rice balls wrapped in seaweed with optional additional seasonings).
Kaizen Izakaya
Chef Jesse Newmister has quite a dedicated following at his first restaurant now located in the Old City.  You'll almost never hear the full name locally as it's generally just referred to as Kaizen (a Japanese word meaning the philosophy of continuous improvement of working practices, personal efficiency, etc.). Izakaya refers to the type of restaurant it is, which is a small Japanese-style pub featuring tapas-style small plates.  The menu changes, but expect to find steamed buns (the "Nashville Man Bun" is a fave), and a variety of udon noodles, stir-frys, and more.  Ramen may not even be on the menu when you're planning to visit, so check the menu online or call ahead.
Fin-Two Japanese Ale House
Izakaya themed restaurant in the Old City that offers ramen, yakitori (skewered & grilled items), and sushi selections with local, southern Ingredients.  Their sushi has fun names like "Fourth & Eel" (a play on the Knoxville neighborhood "Fourth & Gill" and the Hall of Fame (Knoxville is home to the Women's Basketball Hall of Fame).  For ramen, you'll find tonkotsu, tori shio, and yasai.
Anaba Japanese Cuisine
Anaba is on the 100 Block in downtown Knoxville and has a great selection of ramen; you'll find shoyu, tonkotsu, miso, chashu, yakisoba, yakiudon, and even a cold ramen salad.  Their menu also has udon, soba, hibachi, tempura, panko, sushi, and rice bowls.
Tomo Japanese Restaurant
Tomo is in west Knoxville with a nice selection of appetizers from gyoza to hiya-yakko, tempura options, seafood salads, sushi, and more.  You'll find rice bowls, hibachi, and other entrees.