With our abundance of rivers to choose from and the Tennessee River flowing right through our downtown area, Knoxville offers many adventures on the water no matter what you are looking for. The water is warm, birds and fish plentiful, the backdrop spectacular. Whether solo or with family and friends, the French Broad, Holston and Tennessee rivers have everything you'd want for a flatwater river trip.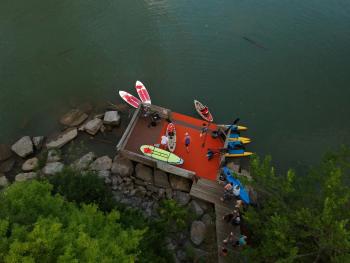 Here are the best quick and easy paddle trips that our local paddling outfitter, Jon Terry of Knoxville Adventure Collective, doesn't want you to miss!
Volunteer Landing
​Launch at the Bicentennial Dock at Volunteer Landing for a leisurely paddle around the beautiful bridges that line Knoxville's waterfront as well a great view of Neyland Stadium. While floating on the Tennessee River, you have the unique chance to view the sunset over downtown Knoxville, witness the full moon rise over the river, or paddle alongside the abundant wildlife such as river otters and beavers.  Make this trip what you want, spend 30 minutes or 2 hours taking in the natural beauty of East Tennessee!
 Suttree Landing Park
A quick 45-minute paddle from the Bicentennial Dock at Volunteer Landing takes you to Suttree Landing Park boat ramp. Make it a full day's activity by renting a boat and paddle lock and spend your afternoon eating and drinking along Sevier Avenue's thriving restaurant and brewery scene in SoKno.  You'll fit right in with the outdoorsy crew at Alliance Brewing Co. and South Coast Pizza!
Otter Island
Minutes from downtown a scenic paddle around Otter Island from the Island Home Airport awaits you. Put in at the boat ramp at the airport and paddle upstream in a protected tributary of the Tennessee River, around Otter Island bordering Ijams Nature Center and back downstream. Trip length takes about 1 hour out and back.
Holston River Park
​If time allows for a longer float trip, the 2-hour float from Holston River Park to downtown Knoxville is a surprisingly beautiful section of river. Or take your time and make it a half a day.
Downstream on the Tennessee
​Explore the Tennessee River downstream as you paddle along the back side of the University of Tennessee campus. Along the way, you'll pass Neyland Stadium, the Vol Navy marinas, UT Botanical Gardens, as well as beautiful basalt cliffs on the opposite shore. Take out at Sequoyah Park in one of Knoxville's premier neighborhoods.
The Knoxville Adventure Collective offers curated paddling trips on the Tennessee River to meet your needs, whether you're an experienced paddler or a beginner, we've got a trip designed for you.
Got your own kayak?  Check out these other places to paddle in Knoxville.