The first Saturday of every month is National Play Outside Day, and there's no shortage of places to play in Knoxville.  Here are a few of our favorites for littles, bigs, and fur babies too!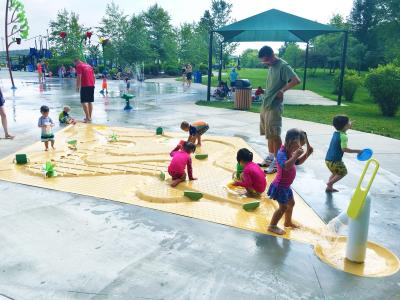 McFee Park 
Fun places to play with littles: 
McFee Park has everything you could want in a park and more. The splash pad has 25 sprayers and 16 above-ground water features - plus an interactive, educational element specifically for toddlers called the "water Journey" – an in-ground stream where you can direct the water by moving the dams and reservoirs. An enormous playground is just a few feet away and offers fun for kids of all ages. Several slides will keep your littles entertained 'til it's time for a snack under the big pavilion! 
Lakeshore Park is a huge 207-acre park with beautiful views of the Tennessee River, a 2-mile greenway popular among walkers and runners, ballfields, picnic areas and the much-loved Hank Rappe accessible playground. The soft rubberized floor of the playground makes it a great place for littles to run and explore all the playground has to offer – which is a lot! Swings, climbing structures for younger and older kids and two play structures with slides – one great for little tykes and the other for older kiddos.  After the playground, enjoy a picnic in one of the many open fields and let the kids run free!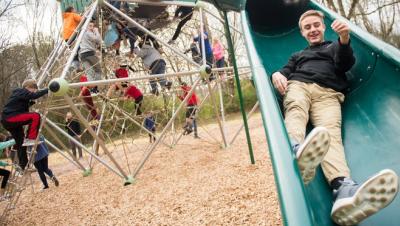 Baker Creek Play Forest
Fun places to play with older kids: 
Baker Creek Play Forest was designed specifically with middle school aged kids in mind! A towering play structure with a challenging climbing net takes you up to the top where a huge slide brings you back down. For a longer experience, take bikes and begin your adventure at the new Gateway entrance to the Urban Wilderness and enjoy the greenway ride all the way to the playground – and if you are feeling very adventurous – there are bike pump tracks and features along the way to try!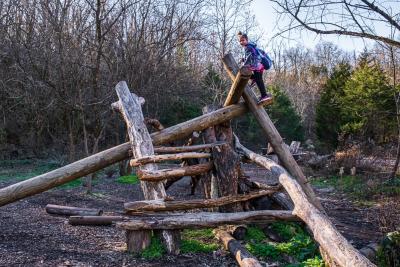 Ijams Nature Center
Ijams Nature Center has so much to do and explore just down the street, surely you won't hear those two little words – I'm bored! You can go for a hike on a nature trail, jump in the quarry to cool off, or get in a "wild" workout at the Primal Playground just off the Pink Marble Trail using rock and wood elements as your equipment.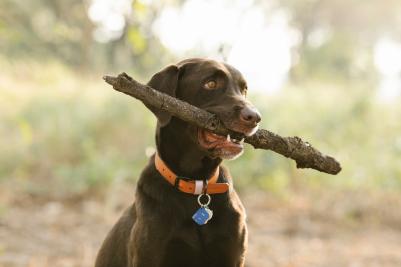 Fun places for our four-legged friends: 
Concord Dog Park is a favorite for our furry friends that love the water! Practice retrieving skills off the dock or doggy paddle from the gently sloping beach access into a swimming area. A trailhead is located just outside of the dog park entrance for a fun hike in the woods! 
Victor Ashe Dog Park is perfect for agile dogs with 1-acre park of space to run and roam, tunnels, jumps, and ramp structures that will keep your dog entertained and active. If your pup has more energy to burn, take a walk along the 2.3-mile paved greenway loop around the park. 
Explore more of Knoxville's parks and trails here.