To many around the country, the Friday before Labor Day Weekend is spent soaking up the last ounces of summer sunshine while looking forward to that last long weekend before fall arrives with cooler weather, shorter days, and a school year ahead.
However, the Friday before Labor Day Weekend serves as something else: National College Colors Day. In most years, National College Colors Day occurs on the eve of a school's first football Saturday. This year in Knoxville, however, College Colors Day will hopefully be spent sporting Orange & White in celebration of an opening-night victory by first-year Tennessee Football head coach Josh Heupel on Thursday, September 2.
Tennessee Orange

CMYK 0 50 100 0
HEX FF8200
RGB 255 130 0
PMS 151

White

CMYK 0 0 0 0
HEX FFFFFF
RGB 255 255 255
PMS N/A

Smokey

CMYK 0 0 0 80
HEX 58595B
RGB 88 89 91
PMS COOL GRAY 11
The University of Tennessee is known throughout the country and world for its bright and bold colors: Orange and White. While many universities and teams throughout the country utilize orange in their color scheme, let me make something clear: there is only ONE Tennessee Orange. Tennessee orange, Pantone® 151 to be exact, is uniquely bright and distinctive from the other oranges around the nation. In fact, Sandra Bullock even had something to say about this orange in the movie, The Blind Side: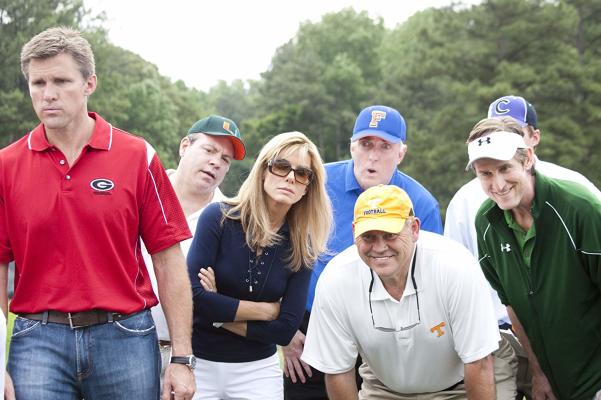 (Photo by IMDB)
We in Knoxville claim this "gaudy orange" as our own, and sport it proudly to honor the Tennessee Volunteers. You'll also find white as the complementary color, and a specific shade of gray affectionately called "Smokey". 
You may be wondering, "Where did this Orange come from?" 
I'm glad you asked. The University's colors of Orange and White were selected by Charles Moore, a member of Tennessee's first football team in 1891. Moore chose these colors based on American daisy flowers which grew atop the University of Tennessee's famous landmark, The Hill. The petals of the daisies were white with the inside of the flower glowing with a fluorescent yellow-orange mix. After some debate, the student body of the University of Tennessee approved orange and white as the official school colors. Over time, this unique orange we know and love was standardized into its current Pantone® shade, and the rest is history! 
Selected Gameday items from HoundDogs 
Best Places to Find Orange & White Apparel 
For the guys, there are a plethora of excellent spots to find a Tennessee Orange polo, shirt, hoodie, or jersey for gamedays. Whether at one of the official UT VolShop locations, the various Alumni Hall stores throughout Knoxville, or at HoundDogs located on Kingston Pike, these shops can get you set up with officially-licensed Tennessee gear to help you stick out from the crowd! 
For those looking for a more unisex and Knoxville-themed gameday fit, check out Nothing Too Fancy on Market Square in downtown or The DW Designs on Kingston Pike just minutes from campus. These stores have a unique assortment of apparel for all styles and tastes and have a little bit of a Knoxville flare as local Tennessee small businesses! 
For the ladies who want to dress to impress, there are a variety of boutiques and shops around town that promote gameday dresses, tops, and accessories to fit every style. Val's Boutique offers a unique array of gameday outfits, including orange dresses, earrings, and even a custom clear-bag purse to satisfy the University of Tennessee's Clear Bag Policy* for gameday. Up in Powell, Josie's Boutique offers a similar assortment of orange and white items to complete any imaginable gameday get-up. There is no end to the Orange and White movement in Knoxville in the fall, so take your time and explore every shop you can to round out your perfect gameday outfit! 
*For more information on UT's Clear Bag Policy for Gameday.
Selected Gameday fashions from The DW Designs 
So, on College Colors Day this year, sport that beautiful Tennessee Orange despite what Sandra Bullock may think and buy a new gameday outfit from a local business in Downtown, Turkey Creek, or West Town Mall. Join the fun of painting Knoxville in these beloved colors of the University of Tennessee on September 3, and be sure to greet everyone with a loud & proud…
"Go Vols!"