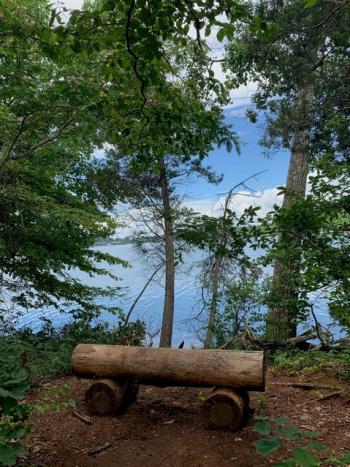 Life in Knoxville is better lived outdoors, and this recreational destination offers a variety of urban hiking opportunities. With six main trail systems, you don't have to go far from the city to feel totally off the beaten path.
Knoxville's Urban Wilderness
Right in the heart of the city is where Knoxville's Urban Wilderness begins - a recreational, cultural, and historic destination that incorporates 1,000-forested acres along downtown's south waterfront. Over 50 miles of natural surface trails provide hiking and biking experiences for adventurers of all skill levels. The majority of trails are multi-use natural surface trails and three dedicated downhill trails create a fun challenge for avid mountain bikes. The trails connect multiple parks, a beautiful nature center, quarries, adventure playgrounds, and historical war sites, winding you through wooded valleys, descend steep slopes and varied terrains.
House Mountain
East of downtown is the beautiful 500-acre natural area offering a trail system that leads to some amazing lookouts, including the highest point in Knox County! This heavily wooded area contains steep slopes with interesting rock outcrops and is rich in plant and bird life, which is unique for its close proximity to an urban area. The 5.8-miles of trails range from moderate to strenuous. Two trails lead to the summit, each about a mile long, winding up the hill on a series of switchbacks.
Sharp's Ridge Memorial Park
To our north, Sharp's Ridge Memorial Park is situated on a steep limestone ridge that offers a great view of the city skyline and the distant Great Smoky Mountain peaks. The 111-acre park offers a 7-mile ridge featuring 4.7 miles of multi-use trails that wind across the wooded hills. The terrain runs from flat and rolling to short and steep climbs. Sharp's Ridge trails are a great place to hike or ride when other Knoxville trails are too wet.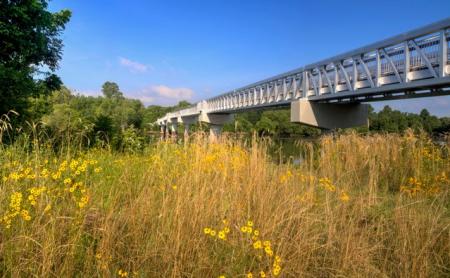 Concord Park
On the west side of town, the linear park sprawls 500 acres and borders Fort Loudoun Lake. Create your own adventure with 13.7 miles of multi-use trails ranging in difficulty from easy to moderate and many options to shorten or lengthen your hike. A favorite quick hike is the 1.5-mile Lake Shore Loop that features beautiful lake views and challenging twisty climbs with roots and rocks to navigate.
I.C. King Park
To the south, I.C. King Park spans 219-acres with over 8-miles of trails skirting the shoreline of Knob Creek, an inlet of the Tennessee River, and winding through heavily forested woods. The trail system contours the shoreline and climbs the ridges, twisting and turning through the woods, ranging in difficult from easy to moderate.
Seven Islands State Birding Park
Tennessee's first birding park, the 425-acre park is on a peninsula bordered by the French Broad River and features 8-miles of natural trails and easy mowed paths that climb ridges and weave through fields of native grasses. A 1.2-mile ADA accessible paved path leads to a pedestrian bridge that crosses the river to an island. An easy hike around the island provides a waterside walk where you are likely to see a soaring heron or a family of deer retreating to the woods. The scenic landscape ranges from upland hardwoods to river-bottom fields sown in native warm-season grasses.
For maps and more trail information visit OutdoorKnoxville.com.