Not everyone wants to spend Thanksgiving in the kitchen minding green bean casseroles and basting turkeys. Lucky for you, a number of local restaurants are ready to feed you and your family. From pick-up full menus to buffets and sit-down meals, Knoxville is full of Thanksgiving options and we've rounded up some of our favorites for you. But make sure you get reservations early as space is limited at most of these restaurants and you don't want to be left out! Also, please remember to tip your server a little extra if you can for working on the holiday. They deserve it. 
Whether you're local or coming from out of town and spending a long weekend here in Knoxville, there are several Thanksgiving Day options:
5 Market Square
Knoxville, TN 37902
865.622.6434
The Oliver Royale has a yearly tradition of offering a 3-course upscale take on Thanksgiving with traditional and non-traditional offerings along with an incredible wine and cocktail list to pair with your holiday feast. The cost is $75 per person. The menu will be served from 11am - 7pm by Executive Chef Darin Hoagland. Reservations are recommended, but walk-ins are always welcome and accommodated based on availability. See the Oliver Royale Thanksgiving menu. 
7316 Kingston Pike
Knoxville, TN 37919 
865.673.3422
Copper Cellar will feature an all-day Thanksgiving buffet for guests to savor. Call (865) 673-3422 for pricing and reservations. Traditionally all Copper Cellar, Calhoun's (also does a pre-ordered pick up menu), Smoky Mountain Brewery, and Corner 16 restaurants are open for Thanksgiving.
6535 Kingston Pike
Knoxville, TN 37919
865.999.0988
For those with a sweet tooth, Status Dough will be open 7am-2pm in their Bearden location, offering their best-in-town doughnuts, and yes, you can get pumpkin spice doughnuts. Their downtown location will be closed.
(865) 673-3433 downtown Knoxville
(865) 851-9088 west Knoxville
Chesapeake's at both locations will be open. Downtown will be open 11AM-6PM with a regular menu and Thanksgiving-themed items. West location will be open 10:30AM-6PM featuring a served buffet with their regular menu and Thanksgiving items. Reservations recommended but not required. 
Fleming's, Ruth Chris Steakhouse and Shoney's will all be open for Thanksgiving.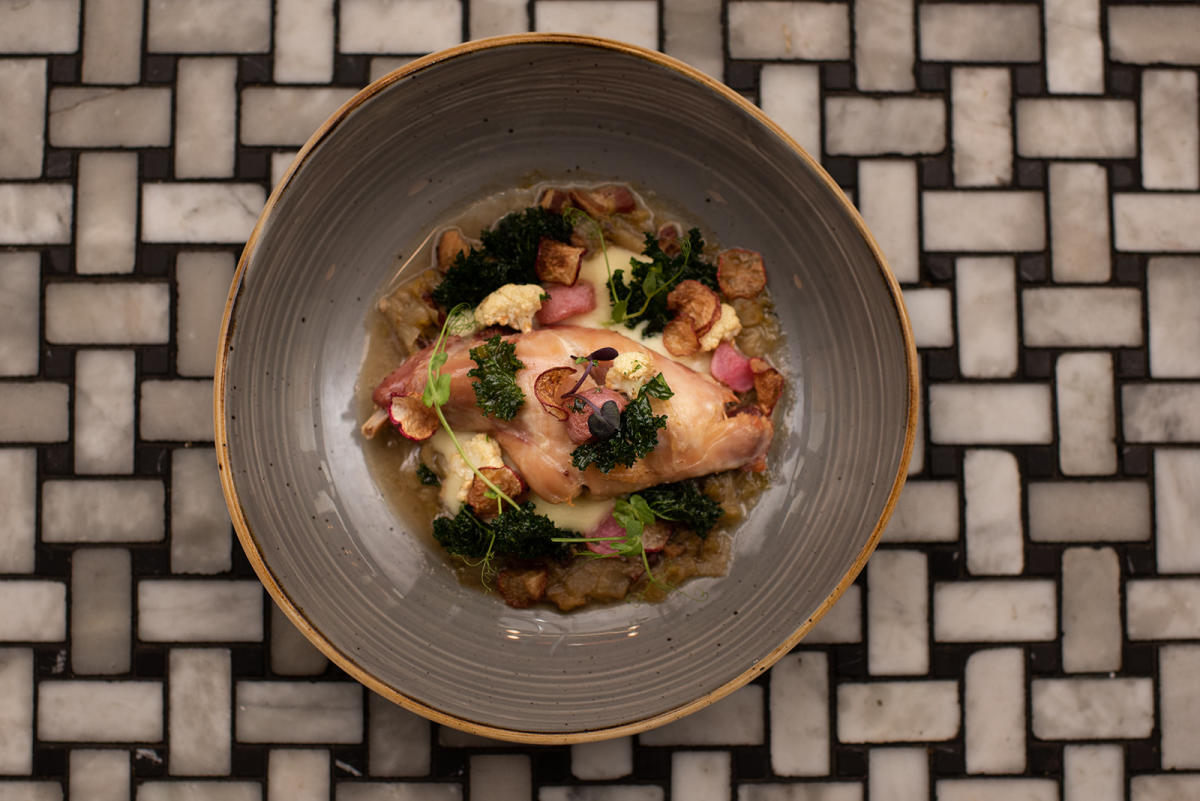 Oliver Royale
Thanksgiving Pick-Up, Take-Home, Warm-Up Menus to Ease the Cooking Chores
Brown Bag has their Holiday Classic Menu for $17.50/person that includes Honey Ham with House-Made Glaze, Grilled Sliced Chicken Breast, Winter Green Salad, Loaded Mashed Potatoes, Bacon& Garlic Seasoned Green Beans, Gravy, Cranberry Sauce, Yeast Rolls and Brownies. 15-person minimum. Or opt for pan servings to mix-and-match your own menu.  
3621 Sutherland Ave
Knoxville, TN 37919
865.212.5655
Dead End has to-go options that include Smoked Turkey and/or Smoked Ham, turkey gravy, cornbread dressing & cranberry sauce, homestyle mashed potatoes & turkey gravy, southern cornbread salad, southern style green beans, creamed corn, seasonal cobbler, peanut butter pie, banana pudding.
Holiday meal pack option consists of smoked turkey breast or smoked ham, choice of three sides, choice of yeast rolls or corn muffins.
One week notice required for all orders. 20-person minimum required. Holiday menu available November 1-December 31, excluding Thanksgiving Day, Christmas Eve and Christmas Day. Visit their website for more details.
5107 Kingston Pike
Knoxville, TN 37919
865.330.0123
Holly's Gourmets Market is offering a pick-up holiday menu with a wonderful selection of favorites. 48 hour notice required, last day to order for Thanksgiving Day is November 18. Minimum six servings per order, call to place order.
____________________________________________________________________________________________
We hope this helps you make some decisions as you start to plan your holiday season. Who knows, maybe you can start a new tradition with some of these options! Happy planning!
Did we miss a local restaurant serving up Turkey Day eats? Drop us a line at communications@knoxville.org. A big thank you to KnoxFoodie for compiling the original restaurant list.