Visitors come from near and far to enjoy the beautiful lakes in the greater Knoxville area.  See that star below?  That's us.  That's Knoxville.  The center of these 9 Lakes of East Tennessee.  Consider making Knoxville your "home base" and then simply pick a direction - we can tell you what to do and how to do it!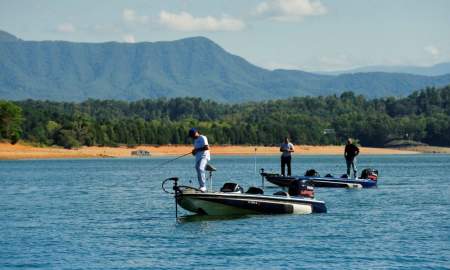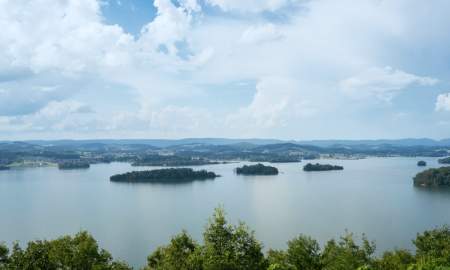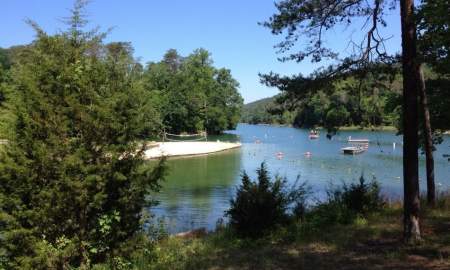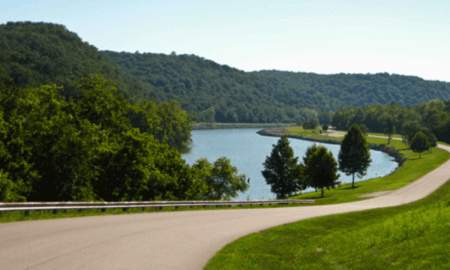 Melton Hill Lake (Northwest)
Melton Hill Lake borders Anderson and Knox Counties.  This lake is in between Knoxville and Oak Ridge; Clinton and Oliver Springs are also nearby.  This lake is home of the Oak Ridge Rowing Association and nationally recognized for collegiate and championship regattas.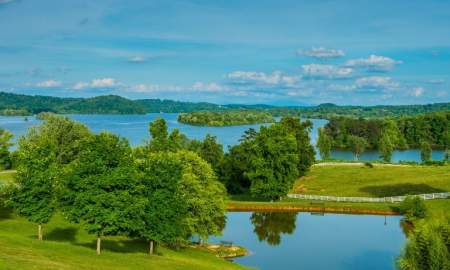 Watts Bar Lake (West)
Watts Bar Lake borders Meigs, Rhea, Roane, and Loudon counties.  About halfway between Knoxville and Chattanooga, this is the largest Lake in the area.  Nearby cities include Kingston, Rockwood, and Harriman.
Explore the nearby Obed Wild and Scenic River
Great opportunities for birding; the marshy wetlands provide nesting grounds for birds like ospreys, blue heron, and even bald eagles
This lake contains several islands, get out on a boat to find them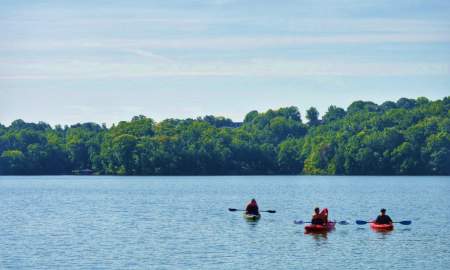 Fort Loudon Lake (South/Southwest)
Fort Loudon Lake borders Knox, Loudon, and Blount Counties.  In addition to Knoxville, Alcoa, Maryville, and Lenoir City are also nearby.  Fun fact:  Suttree Landing, Volunteer Landing, Sequoyah Hills Park, Carl Cowan Park, and Concord Park are some of the City of Knoxville and Knox County Parks that border this lake and this section of the Tennessee River.
Excellent bass fishing here; the launch for competitors of the Bassmaster Classic in 2019 was at Governor McWherter Park
One can navigate all the way to Paducah, KY from here via the Tennessee Riverline
Rent kayaks or SUPs at multiple outlets – if you're sticking close to downtown Knoxville, check out the Knoxville Adventure Collective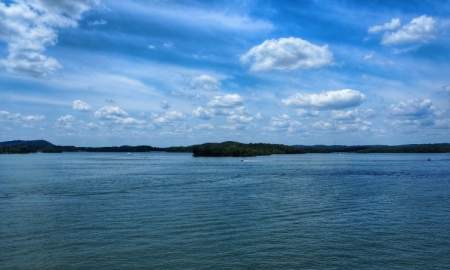 Tellico Lake (Southwest)
Tellico Lake borders Loudon and Monroe counties.  This reservoir was created by the Tennessee Valley Authority in 1979 upon the completion of Tellico Dam.
This area flooded historic Cherokee towns, and since the Dam completion, this area has great farmland so be sure to sample the produce
Fort Loudon State Park is one of the earliest British frontier fortifications built in 1756
Visit the Sequoyah Birthplace Museum, birthplace of the genius Sequoyah who invented the Cherokee alphabet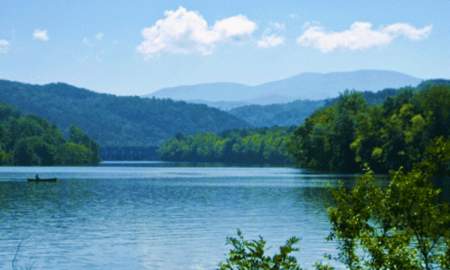 Calderwood and Chilhowee Lakes (Southwest)
Calderwood Lake forms the border between Cherokee National Forest, Nantahala National Forest and the Great Smoky Mountains National Park.  Chilhowee Lake is just downstream.  Nearby towns include Tellico Plains, Townsend, and Vonore.
Great place to fish for a variety of trout and bass too
Townsend is known as the "Quiet Side of the Smokies" and Cades Cove is easily accessed from this side of the GSMNP
A favorite fall activity is driving the Cherohala Skyway
We hope this helps you plan a trip to Knoxville and explore the 9 Lakes of our region!
Additional Resources below.