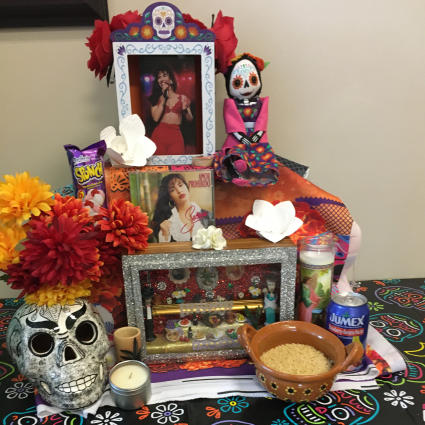 El Día de los Muertos, or the Day of the Dead, is a celebration of life and death practiced mainly in Mexico but also increasingly in other Latin American countries, in the United States, and any place around the world where this tradition has been introduced. Not to be confused with Halloween festivities of any kind, this holiday is a joyous, colorful, and bright celebration of the lives of loved ones who have passed on to another world. The celebration begins on November 1st and lasts through November 2nd. During this time, families gather together to remember and honor the deceased with ofrendas (altars), calaveras (skulls), calaveras de azúcar (sugar skulls), pan de muerto (a light, sweet bread topped with sugar), cempazuchitl (a variety of marigolds native to Mexico), processionals, and other festivities.  
Modern day celebrations of El Día de los Muertos are the result of thousands of years of pre-Hispanic tradition combined with Spanish-Catholic influence. Historically, Toltec, Olmec, Mayan, and Aztec cultures believed strongly in life after death, that life and death are cyclical and should both be celebrated. In this way, death would not be feared and would instead be a joyous occasion of continuing one's life into another realm. Due to the extremely harsh nature of the Spanish inquisition to convert indigenous Americans to Catholicism, these ancient traditions were disguised under the veil of the Catholic celebrations of All Saints and All Souls Days, November 1st and 2nd. Much cultural syncretism has taken place to create the Día de Muertos celebrations practiced today which often vary by location, culture, and circumstance.  
In general, families celebrate and connect with their loved ones who have passed away through these ceremonies and festivities. For example, decorating ofrendas with photos of the deceased, their personal belongings, favorite foods and drinks, water, pan de muerto, cempazuchitl flowers, calaveras, candles, and papel picado (colorful paper garlands cut in intricate shapes and patterns) helps to connect the deceased with the living and welcome them back for a visit. Offering these items of consolation and nourishment invites lost souls to enjoy the comforts of their former homes and the company of their loved ones. Ofrendas can be found set up in the homes of those who have passed, near their graves, and also in public spaces. Family members and friends are welcomed to visit the ofrendas and celebrate the lives lost with good food and stories of the deceased.  
Some families gather at the gravesite of those who have passed away to clean up the headstones and decorate them in a similar fashion to the ofrendas with cempazuchitl flowers, photos, candles, etc. Families stay all night at the graveyard with food and drinks while they socialize with others and tell stories of their ancestors.  
La Catrina is a popular figure among Día de los Muertos celebrations and depicts the Aztec Goddess Mictecacihuatl as a skeleton dressed in very elegant, European fashion not only to maintain indigenous traditions under the guise of Catholicism, but also as a reminder that even the rich cannot escape the inevitable fate of death. Nowadays, it is commonplace to see those celebrating the holiday dress up in similar fashion with intricate face paint and adornments to reiterate the message that we are all equal in death.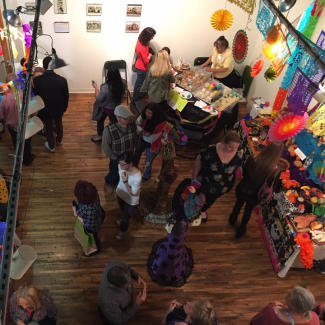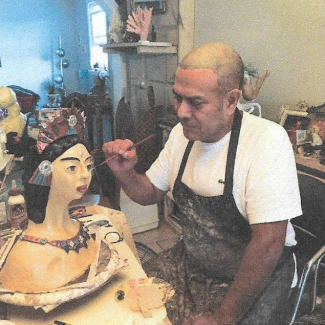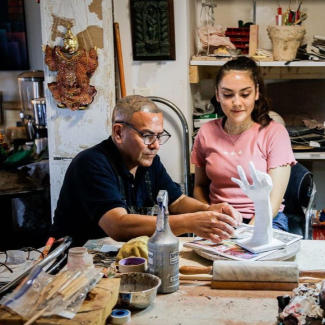 While there are many ways to celebrate El Día de los Muertos around Knoxville, HoLa Hora Latina has been hosting an annual celebration and art exhibit at the Casa HoLa art gallery inside the Emporium for the Arts for many years. Each year during November First Friday, HoLa Hora Latina welcomes local artist Héctor Saldivar, originally from Mexico City, to display his sculptures of calaveras and catrinas made of papier-mache and clay in celebration of El Día de los Muertos. Join us on November 5th from 5pm-9pm at the Casa HoLa on Gay Street to see Mr. Saldivar's latest collection of Día de los Muertos figurines, enjoy locally made pan de muerto and calaveras de azúcar, and visit the ofrendas made by Spanish students at the University of Tennessee. The exhibit will also be made available online at holahoralatina.org. You can enjoy more of Mr. Saldivar's artworks at his website, www.hectorsaldivararts.wordpress.com, or by visiting his studio in Lenoir City (call him first at 865-335-4016 to schedule an appointment). 
Stay tuned for other Día de los Muertos celebrations provided by Centro Hispano de East Tennessee off of Sutherland Avenue in John Tarleton Park and by the University of Tennessee's MFLL/Hispanic Studies programs. Zalate Taquería will also be hosting a celebration with live music, giveaways, face painting, and other fun activities at their restaurant near the corner of Schaad Road and Clinton Highway at 102 Stekoia Lane. Beginning in August of 2022, the McClung Museum at the University of Tennessee will host a month-long exhibit "The Spirit of Día de los Muertos" with artworks commissioned by local artists, educational activities, a parade, movie screenings, and interactive art projects. Our own Héctor Saldivar will be a featured artist at this exhibit too!