For lots of children in the United States, the most anticipated moment of the holiday season is waking up on Christmas morning and rushing to discover what gifts Santa Claus has left for them under the tree. However, many children in this country and across the world celebrate the Christian tradition of gift giving in honor of the birth of Jesus on January 6th, or Three Kings' Day (or El Día de los Tres Reyes as it is called in Spanish).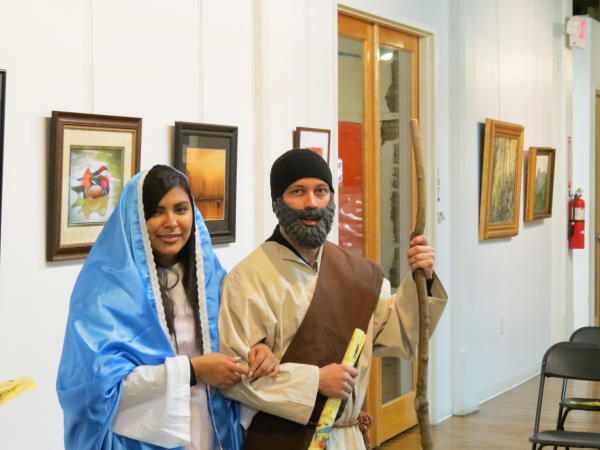 Mary and Joseph | HoLa Hora Latina
On the twelfth night of Christmas, January 5th, the Three Kings or Wisemen arrived at nightfall to Jesus' manger in Bethlehem where they gifted the newborn King of Kings with gold, frankincense, and myrrh. In following this traditional timeline, many children of Spanish and Latin American cultures await their gifts on this twelfth night, when they leave their shoes by the door or window just as many other children hang their stockings on the mantle with care on Christmas Eve.  While they are sleeping, the Three Kings leave gifts next to the children's shoes to be discovered the following morning, Three Kings' Day. Although this tradition is not exclusive to Spain and Latin America, children of these cultures anticipate the morning of Three Kings' Day as many American children do Christmas morning, anxiously awaiting new toys and goodies.
During El Día de los Tres Reyes, it is tradition to celebrate with a King's cake. In Spanish, the cake is called Rosca or Roscón de Reyes, and is shaped and decorated like a king's crown. Hidden inside of the cake is a figurine of baby Jesus which symbolizes the discovery of the newborn in the manger by the Three Kings. The significance of finding the figurine varies across cultures but in general presents another opportunity to celebrate Jesus Christ.
HoLa Hora Latina, a non-profit uniting the Knoxville and Latino communities through art, culture, and education, celebrates this tradition each year by giving away free toys and gifts to children who visit our store, Casa HoLa, during the month of January. The celebration will begin with our First Friday event, January 8th 5-8PM, and continue throughout the month during regular weekday hours, which can be found on our website. Included with each gift is also an educational coloring page book to teach children of the meaning of Three Kings' Day. Only children will receive a free gift and each child will receive only one gift and one coloring book, while supplies last.
The Casa HoLa store, or tienda, can be found inside of the Emporium for the Arts building in suite 112 at 100 S. Gay St, Knoxville TN, 37902. The store features artisan crafts, jewelry, home décor, and accessories handcrafted by local artists and artisans across Latin America.
While we encourage families with children to stop by and pickup a free gift, we ask that you please maintain ample social distance between households. If another family is picking up gifts at Casa HoLa, please enjoy the Emporium's art gallery just outside of our suite as we ask that only one household enter the shop at a time. The Emporium's January exhibit will feature new works by local artists and members of the Arts and Culture Alliance. Masks are required inside of the Emporium and consumption of food and beverage is strictly prohibited. Visitors are welcome to call ahead to inquire about the number of remaining gifts or the current traffic at our store at 865-335-3358 or email us at casahola@holafestival.org.