We all know that Knoxville was the final home of author Alex Haley, author of Roots, a groundbreaking narrative that traces his family back through the slavery era. If we ever forget, there's a giant statue in Haley Heritage Square adjacent to Morningside Park. However, he was not Knoxville's first African American author to receive national attention for a book exploring his African American roots. 
This month marks the sesquicentennial birthday of an African American educator and author named Charles Cansler. He was born on May 15, 1871 (a day prior to what would one day become National Biographer's Day). He would be memorable just as a teacher. He was the longtime principal of old Austin High, Knoxville's high school for Black students. He led the establishment of Knoxville's Carnegie Library, the city's only library for African Americans, in 1917.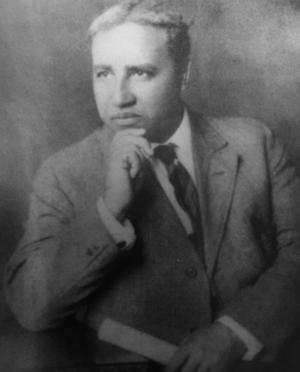 Charles Warner Cansler | Courtesy University of Tennessee Libraries 
And he has a footnote in art history. One of his students at Austin High, about the same time he was working on the public-library project, was an especially talented teenager named Beauford Delaney, who within 20 years was drawing national praise for his colorfully imaginative works on canvas, in a career that would take him from New York to Paris. One of Delaney's first known works was a becoming portrait of his principal, Charles Cansler. Its whereabouts are unknown.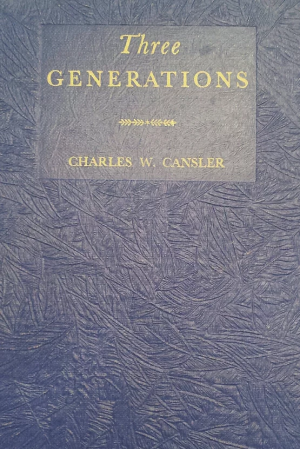 Photo credit ruthdhunt.com/cansler-family
But in 1939, a time when Tennessee's restaurants and theaters and schools were still very strictly segregated, Kingsport Press published Cansler's book called Three Generations: The Story of a Colored Family of Eastern Tennessee. Although he did not attempt to reach back as far as Haley did, to Africa, his story covers about a century of a family like no other. The book earned some national attention, reviewed in Journal of American History, Journal of Negro History, and The Crisis, as well as several newspapers across the country. 
The family story that Cansler related was not typical. On both sides of his family were free people of color. They weren't enslaved, but they were not altogether free, either, forbidden to vote, and often under suspicion for interfering with slavery. 
His grandmother on his father's side was the white daughter of a German immigrant named Kantzler who, after she had an affair with an enslaved African American, banished herself from mainstream society, eventually living alone on a farm to raise her son, Hugh Lawson Cansler, a country wheelwright. (Like many German names, it was gradually anglicized.) 
His grandfather on his mother's side, William B. Scott, was a North Carolina native who, during a period of suspicion of free African Americans after the bloody Nat Turner revolt in southeastern Virginia, crossed the mountains to Tennessee. Originally bound for Ohio, Scott found the Knoxville area agreeable, partly though his acquaintance with an antislavery Quaker community at Friendsville. He worked as a saddler, but remarkably, just after the Civil War, also a publisher, and a politician, and in 1869 was elected the first and only Black mayor of Maryville. 
Scott's daughter, Laura, married Hugh Cansler and settled in Knoxville, which somehow seemed safer during the Civil War, and during Union occupation became the city's first Black schoolteacher. Because white public schools didn't exist at the time, she could also be called Knoxville's first public schoolteacher of any race. They had several children, one of whom was Charles Cansler, an especially bright kid who attended Maryville College--back when few colleges in America accepted Black students, Maryville did. After an unsatisfying spell as a licensed attorney, Cansler followed his mother into the teaching profession.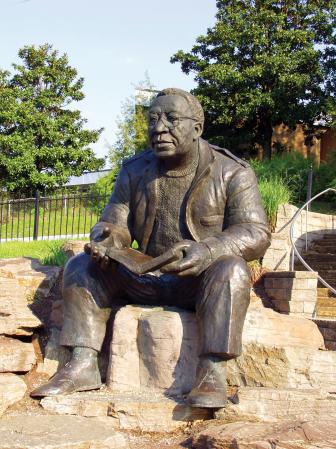 Alex Haley Statue at Haley Heritage Square 
It was this remarkable and complicated family story that inspired Cansler to write his family story. It might be seen as a precedent to a monster bestseller called Roots; Alex Haley never knew Cansler but, as it happened, settled in his favorite city. 
The narrative includes several other interesting characters, including one fascinatingly mysterious. A tall, grim African American named Caesar was a runaway who was believed to live in a cave in Blount County. From there he plotted an insurrection, trying to recruit other African Americans to join him. However, those he encountered feared violence, but at the height of the crisis, Caesar disappeared. 
Cansler's family preferred persuasion, especially through education. Cansler was a polymath, and a polymath who liked math. He actually gave mathematical performances, racing a mechanical adding machine to come up with the sum first. But mainly he was a teacher, and late in life, he wrote this book. 
In 1939, outspoken News-Sentinel columnist Lucy Templeton called it an "extremely interesting and valuable book." She advised that "Three Generations is a book that every Knoxvillian and every East Tennessean should possess." She always gave good advice. If you or your grandmother bought a copy for $1.25, take good care of it. Online, copies of Cansler's Three Generations are going from about $90 to $300.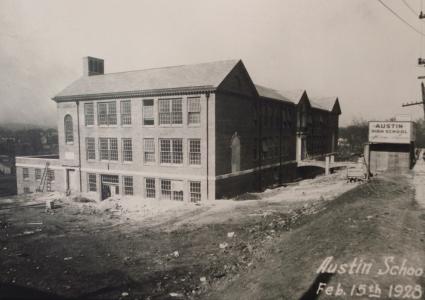 Austin High School on Vine Street, 1928 | Courtesy Beck Cultural Exchange Center 
Although Cansler's school buildings are long gone—Austin-East High is a modern descendent of Austin--You can still see some of Cansler's Knoxville here and there. He lived at 1805 Brandau Street in Mechanicsville, and I'm glad to say his two-story home with roomy porches where he once hosted visitors like Booker T. Washington, is still there, well-kept and occupied. 
When Cansler died in 1953, a capacity crowd of both races attended his memorial at McMillan Chapel, the prominent columned building that still stands on the campus of Knoxville College, near his home. He's buried at Crestview Cemetery, off Keith Avenue in West Haven.