History enthusiasts from around the world come to Knoxville to explore the many historical homes, buildings, sites and artifacts our city has to offer. Those with ties to the region ALSO come here to explore their OWN family history via genealogical research. I'm going to take you through a personal journey of an interesting story I found about an ancestor while doing my own research!
I was born in Michigan, but my dad's entire family hails from East Tennessee.  His half-sister did some genealogical research several years ago and my second cousin passed some info my way.  This gave me an excellent head start, so I joined ancestry.com and got to work filling in more of the blanks.  My eventual goal is to see if I am eligible for membership in the Daughters of the American Revolution (DAR).  However, I know their research process is pretty intense – so I thought I'd start with seeing if I would be eligible for First Families of Tennessee (FFT), a project established by the East Tennessee Historical Society. Membership is open to anyone who can prove direct descent from a person or persons living in any part of what is now Tennessee before or by statehood in 1796.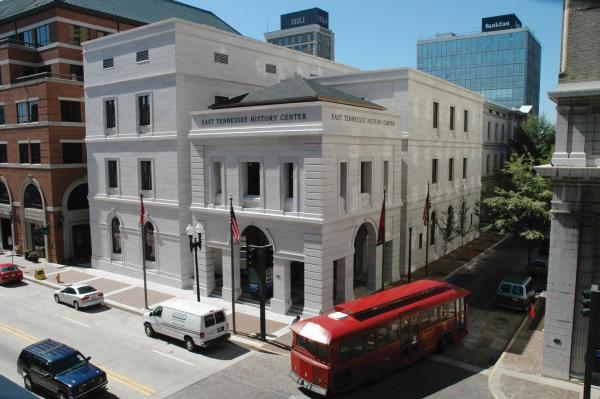 The East Tennessee Historical Society itself is an incredible organization that encompasses the East Tennessee History Center (a museum covering this region's history from the time of the Cherokee until the 1982 World's Fair), the Knox County Archives on the second floor (public access to permanent records of this county from 1792-present), and the McClung Collection on the third floor (a genealogical research library part of the Knox County Library system).
So how does one start with genealogy research? To many Americans, it's an overwhelming melting pot of data (pun intended), and the more you find, the more you realize what a rabbit hole it is!  Luckily, I could stay on task with the focus of FFT.  The experts will advise to start with what you know – and just because it's written down somewhere that so-and-so is your ancestor or that Grandma insists you're part Cherokee, doesn't mean anything until you are able to prove it with paperwork (this is where Ancestry.com can get you into trouble if you "accept" their hints that look like leaves without confirming).  Of course you likely have your own birth certificate, which will prove your birth year, and your parents.  If you have parents and grandparents still living, see if they have their birth certificates, which will prove their birth years and their parents.  Keep going until you run out of birth certificates!  Death certificates are useful, and the US Censuses will be an immense help too.  Military, tax, and marriage records all count.
At this point, I had myself, my dad, my grandmother, my great-grandmother, and my great-great grandfather all proved by some sort of government record.  My cousin's notes indicated that my great-great grandfather was involved in a bar fight in Knoxville and ended up dying not too long after, which sounded intriguing!  His death was recorded in November 1905 – now I was really on the case!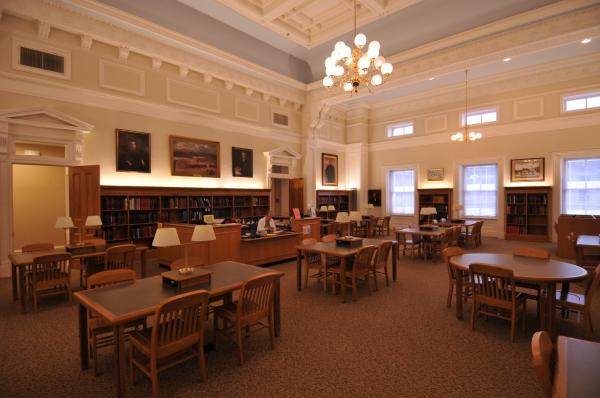 I asked the amazing staff at the McClung Collection to help see if I could find some details on the incident, perhaps in the paper?  They have roll after roll of microfilm, including the newspaper I was hunting for!  In the November 28, 1905 edition of The Journal and Tribune I found the following on page 11:
Tragedy in East End Saloon – J. G. Edwards Dead; Elsie Luttrell Dying.
(Spoiler alert – J.G. Edwards was my great-great grandfather)
Bloody Affair in Which Knife and Pistol are Used With Awful Results.
J. G. Edwards is dead and Elsie Luttrell is cut almost intro shreds and will probably die as a result of a personal encounter in an East Main avenue saloon last night in which a large pistol and a heavy knife figured with fatal effect.
The affair took place in Hanahan's saloon at Main avenue and Bright street about ten o'clock.  Both men are white and they met at the bar of the saloon just a moment before the encounter.  An instant later one had drawn a knife and the other a pistol.  Two pistol shots were fired and Edwards fell to the floor and died about four minutes later.  In the meantime, he had used his knife with fearful effect and Luttrell was slashed in six different places.  He, however, was able to run to this home a short distance away, where he was arrested a little later by Deputy Sheriff Goolsbee.
Just what the trouble came up about is not known but it was probably the outgrowth of previous trouble, as nothing transpired between the two just preceding the trouble to bring about such a terrible encounter.
About ten o'clock Luttrell was standing at the bar when Edwards accompanied by a man by the name of Russell entered the saloon.  Russell observed some one in the saloon whom he knew and went to him and sat down while Edwards took a position at the bar bedside Luttrell.
It was but an instant later when Edwards was seen grasping an open knife while Luttrell was flashing a very long pistol.  Edwards was advancing on Luttrell and the latter ordered him to stand back.  Edwards did not heed the command and commenced slashing his man when Luttrell fired once and then again.  Edwards dropped and expired a few minutes later, but not until he had used his knife with such fatal effect that Luttrell will probably die, so say the physicians summoned to attend him.  He did not give way before the shock, however, until he had run to his home on Main avenue, a short distance away.
Police headquarters were at one telephoned of the tragedy and Patrolman Keith, who was on reserve, responded.  However, Deputy Sheriff Goolsbee was just passing the saloon on a car when he heard the shooting and was first on the scene.  He at once left the car and went to the saloon, where one dead man and a trail of blood showed him the way to the other.  He found Luttrell at home, but he was in need of a surgeon more than an officer and a surgeon was procured.  Luttrell, however, was placed under arrest by Deputy Goolsbee and an officer was left at his home as a guard.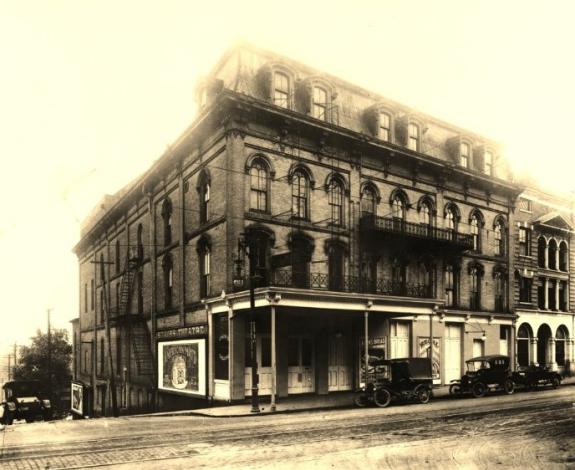 Staub's Theatre | Credit Knoxville History Project
Coroner Hackney had been notified, and about eleven o'clock he summoned a jury and conducted an inquest over the remains of Edwards which were still in the saloon.  There were but three eyewitnesses to the fatal tragedy, but they were soon examined and a verdict returned.  It was that Edwards had come to his death as a result of two pistol shots fired from a pistol in the hands of Elsie Luttrell.
An examination of Edwards' body evinced the fact that he had been hit with fatal effect by both shots.  One entered the left breast just above the nipple and ranged to the rear of the right hip, where it lodged against the skin.  From the direction the bullet coursed, it is apparent that the shot was fired when Edwards was crouching over and slashing at Luttrell.  The other shot entered the abdomen and lodged against the spine.  The bullets were from a cheap .38 caliber pistol with a six inch barrel and must have had terrible force.
The surgeon's examination of Luttrell indicated that he had been slashed in the left and right breast, once to the right lunch, in the right shoulder, in the back and on the thigh.  Some of the wounds are deep and it is doubtful if Luttrell can ever recover.
After the coroner's examination, Edwards' remains were removed to an undertaking establishment for disposition Tuesday.
The dead man was apparently thirty-five years of age, was married, and leaves a family.  He lived in "Happy Hollow" on the east side of the city, not far from where the tragedy occurred.  He was a teamster by occupation.
Luttrell is about twenty-five years old and was employed by C. B. Atkin.  He is married and lives on East Main avenue.  He is given a good reputation by the officers.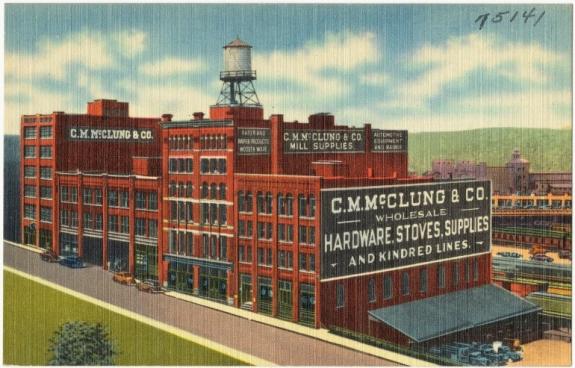 Postcard ca. 1930-1945
How crazy is that!?  The proverbial "don't bring a knife to a gun fight"!  It leaves me with so many questions…What were they fighting about?  How did my great-great grandfather's family fare after he died?  How common was an occurrence like this in Knoxville in the early 1900s (it was on page 11 after all, not front-page news)!?
The paper also has national mentions with which we might have some familiarity.  For those of us who have shopped at Marshall Fields (the Chicago-based department store bought out by Macy's), the front page shows that Marshall Field Jr. accidentally shot himself and died the day before.  Of other front-page news worthiness, it informs the reader that President Roosevelt (that would be Teddy, not FDR) removed the Assistant US Treasurer for violation of civil service laws.   Page four states "There is a belief that more picks and shovels and less red tape will be needed in the construction of the Panama Canal."   
There are many Knoxville mentions we would recognize to this day.  Staub's Theatre, mentioned on page 3, was Knoxville's first opera house.  The theatre was demolished in 1956 and Knoxville's tallest building, the First Horizons Plaza, now stands at the site. Staub himself was mayor of Knoxville in the early 1870s and 1880s and died in 1904 in a carriage accident, a year and a half before this newspaper issue and buried in Old Gray Cemetery. The second-oldest cemetery in Knoxville (est. 1850), this cemetery contains the graves of some of Knoxville's most influential citizens, ranging from politicians and soldiers, to artists and activists.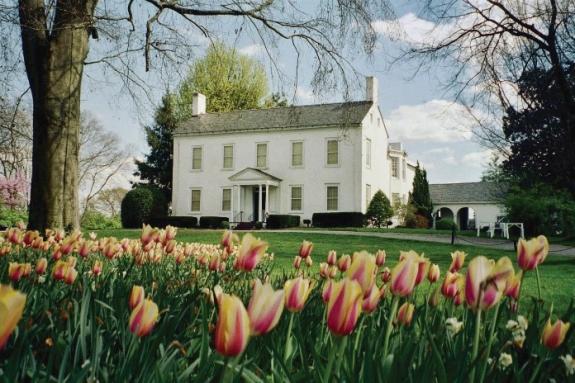 Crescent Bend
C.M. McClung & Co. is mentioned, too. If you're having de ja vu, that's because the McClung Collection inside the East Tennessee History Center is where all of this got started!  The C.M. is Calvin Morgan, and if you run across a Frank H. McClung, you might discover the McClung Museum that is on the University of Tennessee's campus.  These three buildings compiled 505-507, 509, and 501-503 West Jackson Avenue.  Today these no longer exist. You'll see railroad tracks in their space across from Knox Whiskey Works.  Another Old City mention is White Lily flour made at the Knoxville City Mills.  This building is at 222 N. Central and is now occupied by the White Lily Flats.
The paper notes that New Second Presbyterian Church purchased some land. The church now sits on Kingston Pike near Crescent Bend, Bleak House, and Historic Westwood.  General Ambrose Burnside occupied the church during the Civil War, and its history can be read here in Part I and Part II.
Southern Railway lists their established lines headed to Louisville, Cincinnati, and St. Louis.  This 1903 building ran passenger service until 1970.  Today it houses Knoxville's first winery, the Blue Slip Winery, and otherwise serves as a unique event venue.
"A Fine Thanksgiving Dinner Would be more appropriate after we had finished papering the dining room in one of our late patterns.  See us about it." Advises Rosenbeck & Co. at 626 Gay Street.  Today this building is occupied by Tombras, a Knoxville-based advertising agency.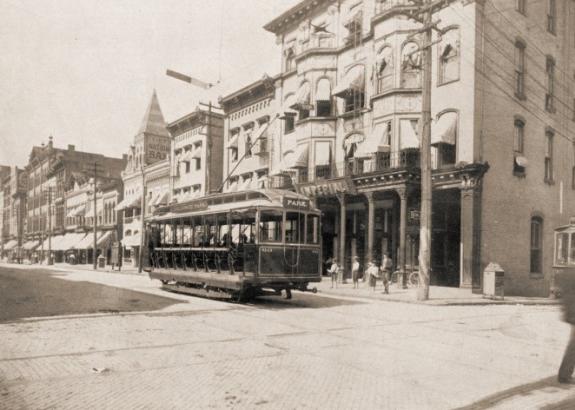 Imperial Hotel | Knoxville History Project – look at the cute trolley!
And don't forget a room at "Knoxville's Leading Hotels" – The Imperial and The Cumberland, with rates starting at $2.00 per night.  But hold your horses, bub, if you want a bath that'll be $3.50 a night.  (approximately $57 and $99 respectively in today's money).  The Farragut Hotel replaced The Imperial, and this building stands today as the Hyatt Place on Gay Street next to the Tennessee Theatre.
We're missing a bit with a large advertisement from McCulley's Big Shoe Store at 509 Gay St. and Hope Bros. Jewelers at 519 Gay St.  These no longer exist and are now the Krutch Park Extension next to the Embassy Suites and the Holston Building on the other side.  Today lots of festivals and events are held here, and of course a fun splash pad for the kids!  Interesting history on this block here.
On page 9 we have lovely fashion advertisements with the ladies looking quite Gibson Girl-esque.  The rest of the page is full social observation and commentary.  Chilhowee Park gets a mention, along with Mrs. McClung hosting a bridge party.  Of interest to me as someone who works at Visit Knoxville, the paper also lists personal visits from notable citizens from Chicago to New York, and Atlanta to Richmond.
Many more stories on historical buildings can be found here at the Knoxville History Project.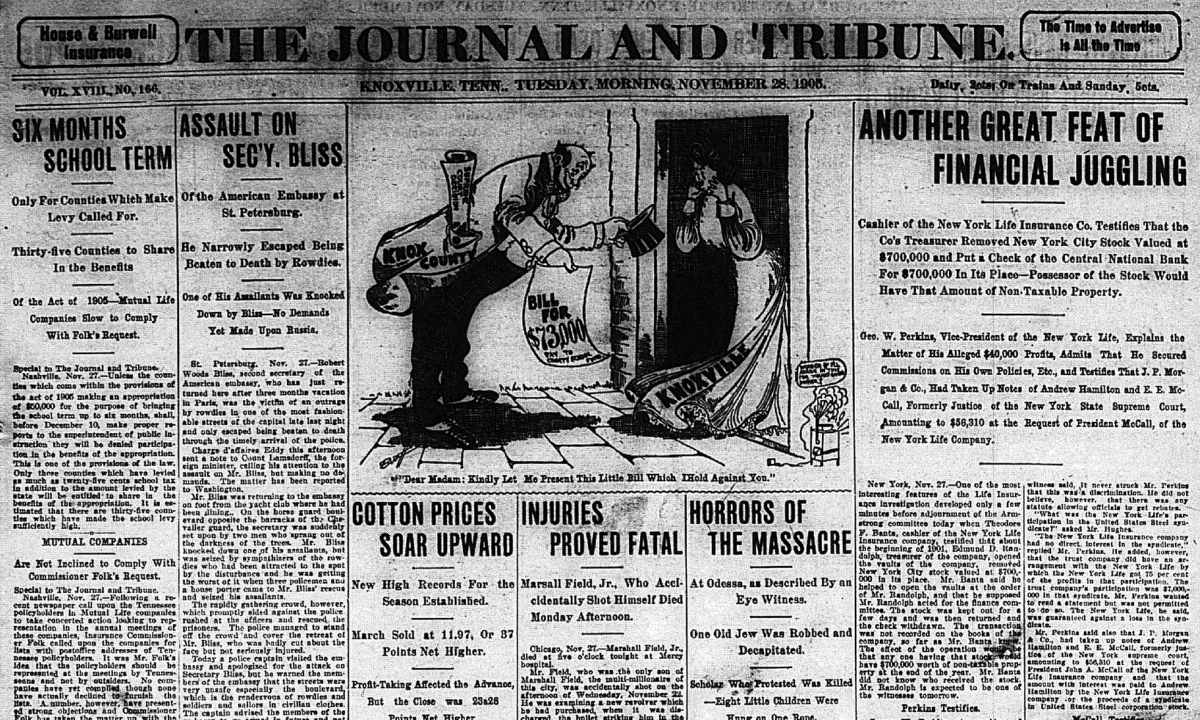 I hope you found this tale interesting and perhaps inspires you to dig into your own family's history.  Come see us in Knoxville and take a stroll through the McClung Collection's archives…what story is waiting to leap off the pages?  Click here to view the full November 28, 1905 paper!