In these days when many people are picking up groceries from sidewalk pickups, and meals from restaurant take-out windows, some even attending church services in their cars, some older folks may experience a sense of deju vu. They may remember similar scenes in their youth--if not with the same sense of urgency.  You don't have to look very far back to realize we used to practice social distancing--even when we didn't have much reason to. It was the drive-in era.
The Postwar era has gotten respect from historians only recently. After 1945, Americans started living farther apart, driving more, mixing less. We ate in our cars, watched movies in our cars, even did some shopping in our cars by negotiating purchases through the window. The trend inspired its own sort of architecture. Most of it has been torn down. But you can still see traces of it all around town.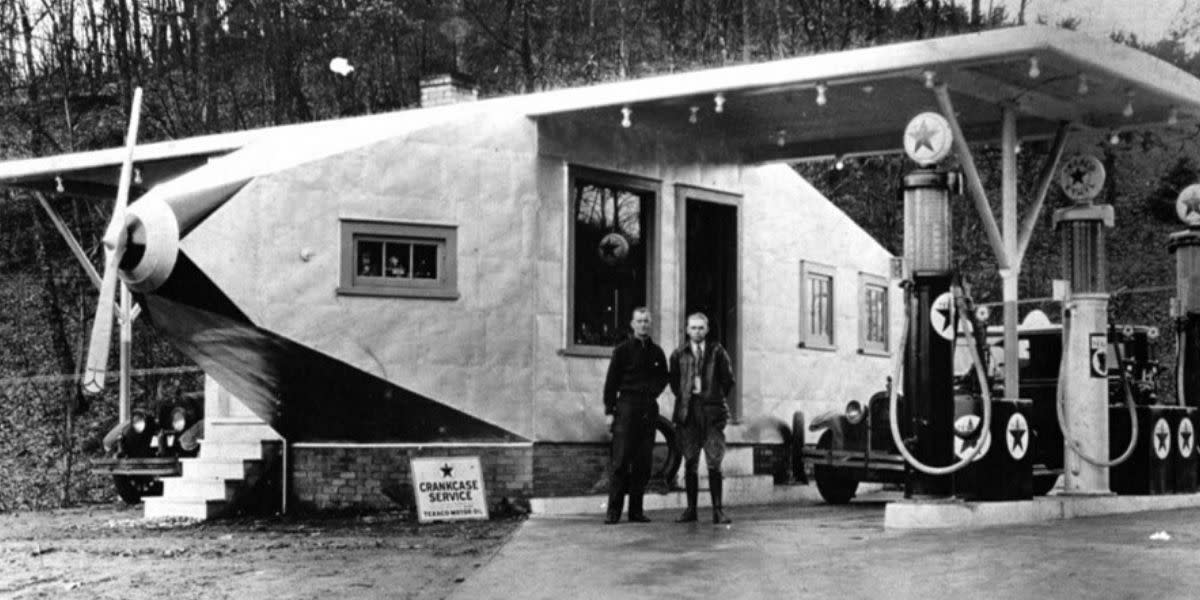 Airplane Filling Station | photo courtesy McClung Collection
Knoxville may have gotten a jump on America's driving culture as early as the 1920s, when it became central to major cross-country tourist routes, the Dixie and Lee Highways. The "Airplane Filling Station" at 6829 Clinton Highway, inspired by Lindbergh's "Spirit of St. Louis" and built around 1930, is a well-kept relic of that era, perhaps as startling to drivers today as it was then.
Adding to Knoxville's attraction to the driving tourist was the opening of the Great Smoky Mountains National Park, informally in 1930. Although there had been a small, slow train to Elkmont, it was clear that the best way to get there was by automobile, especially down the fresh new road called Chapman Highway, which soon offered restaurants, hotels, souvenir shops, and other tourist attractions along the way. Kay's Ice Cream at 6200 Chapman Highway, with its giant ice-cream cone, is a living relic of the era when most of America drove down this street to get to the nation's most popular national park.
The drive-in craze followed just a little later.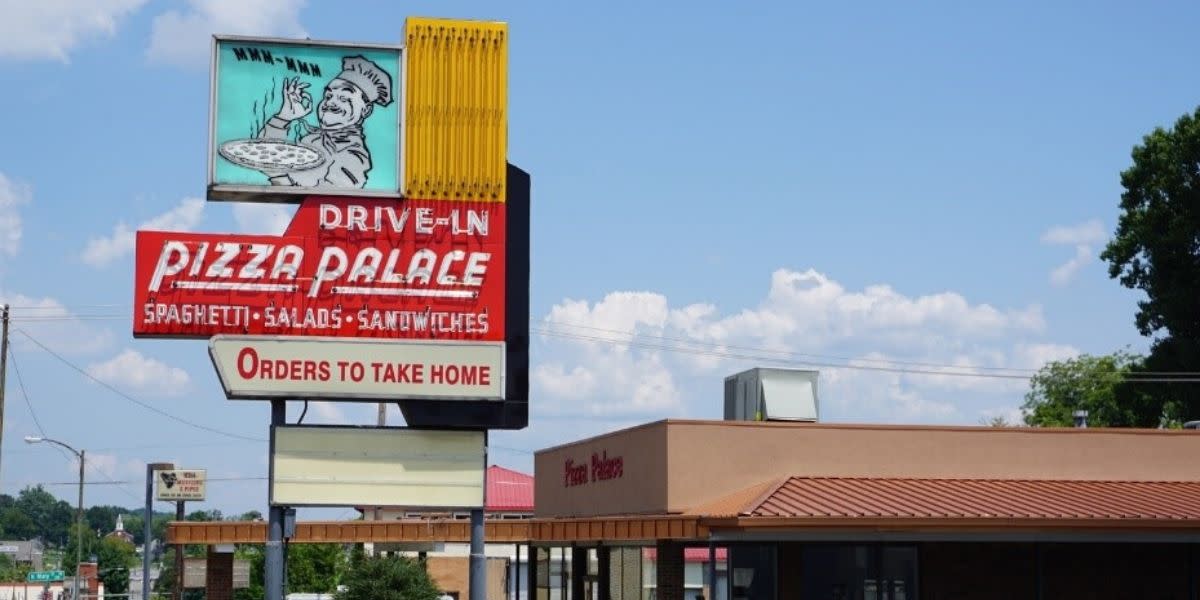 Pizza Palace | photo courtesy Knoxville History Project
Drive-in restaurants didn't exist before World War II, but started catching on in the late 1940s. One, a Knoxville institution, still does good business on Magnolia: Pizza Palace at 3132 East Magnolia.  Popular for almost six decades, opened in 1961, and still serves not only fresh-made pizza, but full Italian meals, with spaghetti and salads and even beer, for customers to enjoy in their cars. This local favorite has been featured on the Food Network's series Diners, Drive-Ins and Dives.
The Original Freezo, at 1305 N. Central in the Happy Holler district, is even older, a relic from the mid-'50s--and, for what it's worth, one of the oldest restaurants in Knoxville. It's a postwar drive-in--or walk-up, as many prefer to do, in practice. They're famous for ice cream, but offer full meals of hot dogs, chili, tamales, and other treats, and convey it to you through a window, as many restaurants have learned to do this spring. There's a picnic table under a big tree in back, if you prefer that to your car.
Knoxville's Dogwood Trails, at their height in April, are a perfect example of the accidental social distancing that came with the new excitement about the automobile. In 1955, rather than throwing a festival where lots of people would be rubbing shoulders in a downtown street, Knoxville chose to celebrate its dogwoods with marked trails through neighborhoods. We still do that today, with the same kind of brightly painted pink arrows down many of the same streets, but now it's part of the larger Dogwood Arts Festival. There's a little secret--dogwoods bloom mainly in April, but you can follow the trails any time of year, and through the summer and fall especially, there's always something blooming, something to look at. They've been especially popular this year.
The ultimate social-distancing device, television, arrived in Knoxville with the first broadcast of WROL-TV--later known as WATE--in September, 1953. At the time, many worried that TV spelled the end of the movie theater--and several small neighborhood theaters did close. Downtown, which had once had as many as 10 movie theaters, soon had only three: the Tennessee, the Riviera, and the Bijou. But some enterprising folks tried to introduce a new experience for the ticket-buying public: the drive-in movie theater. The first was in the Bearden area--the shopping center that contains Ace Hardware covers much of the old space. But soon they were all over. The Dixie-Lee Drive-In, at Dixie Lee Junction, was one that became something of a legend. A night at the drive-in movie became a way of life for Knoxville families for at least 30 years. Drive-in theaters hang on in some smaller towns--the best known in the Knoxville area is probably the Parkway in Maryville.
It might have seemed a little crazy, at first, to watch movies outside. But in fact the very first films ever shown in Knoxville, in the mid-1890s, were shown outdoors, at what was then known as Turner Park, in what's now North Hills.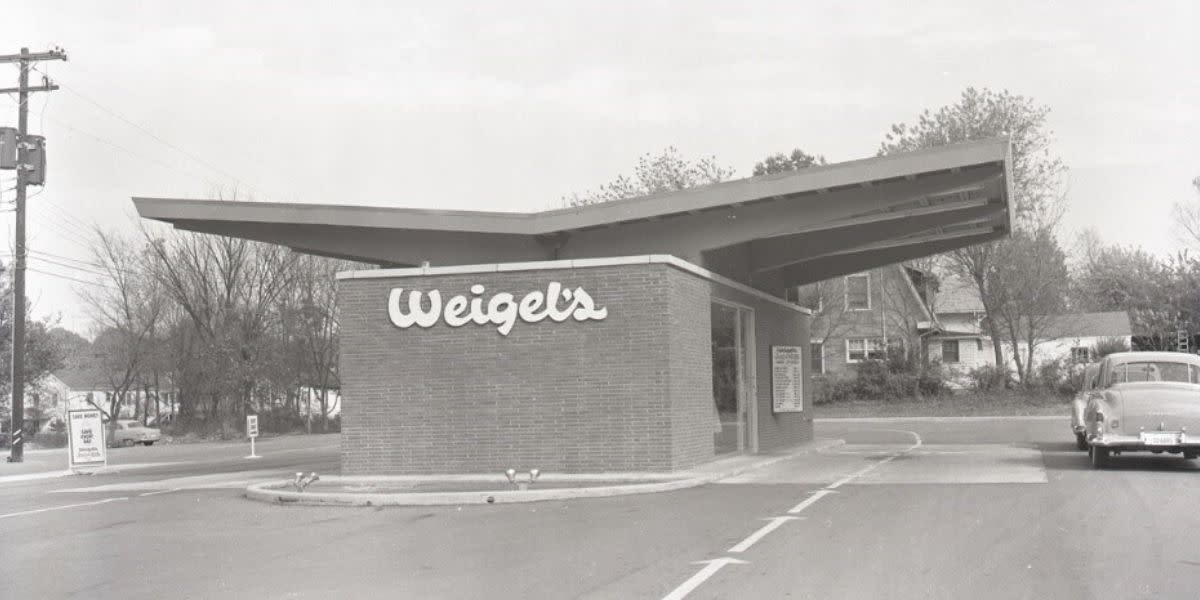 Weigels | Photo courtesy Tennessee Archive of Moving Image & Sound
For many years, Weigel's, which is known as one of Knoxville's most popular convenience-store chains, was first known for its drive-in milk depots. From the 1950s up into the '80s, if you needed a jug of milk, any style, skim, chocolate, whatever, you'd pick it up through your car window at a Weigel's store. A few of these innovative kiosks are still standing around town, serving different kinds of businesses. A ca. 1960 Bearden Weigel's drive-in, modified but still recognizable by its butterfly-wing design, is now a Smoothie King, at 305 North Forest Park Boulevard.
Bearden, once central to the cross-country traffic of the national Dixie and Lee Highways, had a lot of tourist trade from the 1920s through the 1960s, perhaps more than anywhere else in town, and became a center for drive-in culture. It even had a drive-in bootlegger. Nationally, Prohibition ended with the 21st amendment in 1933. Beer was legal in Knoxville immediately after that. But stronger drink, liquor and wine, was not legal even for package sales until 1961. Knoxville was one of the few cities where the bootlegging era overlapped with the later drive-in era, and one especially well-known supplier--some preferred to think of him as their personal sommelier--set up a drive-through window outside his establishment off Sutherland Avenue, barely outside of what was then city limits.
Maybe things will get back to normal soon. But it's always good to know we have some precedent to the idea of social distancing, back when it seemed kind of fun.