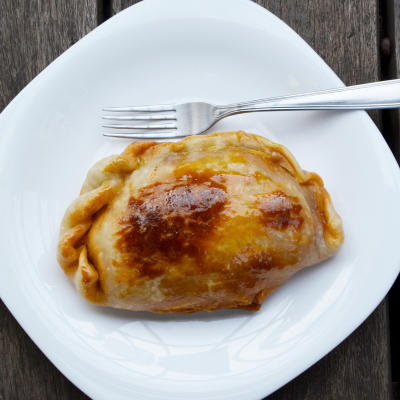 In celebration of National Empanada Day (April 8th), your friends at HoLa Hora Latina have compiled a quick list of local restaurants where you can find delicious and authentic empanadas of all kinds, right here in Knoxville! Here at HoLa, we strive to create artistic, cultural, and educational bridges between the greater Knoxville and Latino communities to promote unity and celebrate the diverse cultures of East Tennessee and Latin America. We've noticed during our nearly 30 years working in Knoxville that the old saying "the fastest way to someone's heart is through their stomach" really is true! These warm empanadas packed full of flavor will fill your stomach and surely warm your heart, too, and we hope your Empanada Day celebration encourages you to learn more about Latin American culture and cuisine. First, let's review the history of the illustrious empanada before we delve into our favorite local spots to find them.
Typical empanadas are made of bread or pastry dough, filled with various meats, cheeses and/or vegetables and fried. However, sweeter variations more suitable for dessert are also common. Their very long history and simple construction means they now make an appearance in almost every modern cuisine in some form or variation. However, the dish plays a larger role in many Hispanic cultures, especially those of South America. Some historians suggest that the empanada's origins can be traced back to medieval Europe during the invasion of the Iberian Peninsula, now present-day Spain and Portugal, by the Arabic Moors of North Africa. The resulting confrontation between Arabic and Iberian cultures likely left the Arabic samosa, a triangular meat filled pastry, to evolve into the semi-circular Spanish empanada. In fact, the Galicians, a historic Spanish community, named the dish after the verb "empanar", which means to wrap or coat in bread. A Spanish cookbook dating back to the early 16th century includes seafood empanadas among other European, African and Asian dishes. Because of their popularity among the Spanish and Portuguese, empanadas were soon carried over to the Americas as colonies were established and the dish was adapted to the local offerings and flavors of South America. Now you can find empanadas all across the Americas, even right here in Knoxville!
Try out some of these spots below to support our local businesses during your National Empanada Day celebration!
If your Empanada Day celebration has inspired you to learn more about Latin American culture, stop by the Casa HoLa Art Gallery and Artisan Shop to enjoy exhibitions by local and Latino artists and shop jewelry, accessories and home décor made by and imported from Latin American artisans.  Casa HoLa is open weekdays from 9AM – 5PM and is located at the Emporium for the Arts (100 S. Gay Street, Suite 112, Knoxville, TN 37902). Tag HoLa Hora Latina in social media posts featuring your National Empanada Day celebration on Facebook and Instagram @HoLaHoraLatina and on Twitter at @CasaHoLa.