In your backyard, on your commute to work, at the park – birds are everywhere. Knoxville's mild climate, hilly-to-mountainous terrain and many lakes and streams makes a great habitat for birds. We are also conveniently located right in the middle of migration routes for many species of birds. Whether you are a beginner looking for easy birds to identify or an experienced birder, there are many places to start exploring.
If birding is your thing, the Knoxville Chapter of the Tennessee Ornithological Society is an active birding group that offers monthly meetings with guest speakers and outings. The club welcomes beginners and experienced birders alike.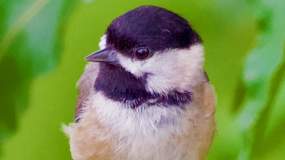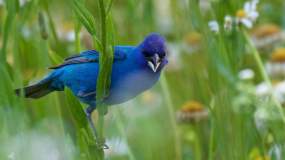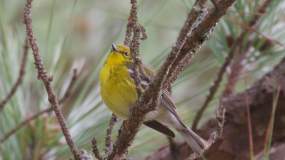 Here are five great places to break out your binoculars!
Seven Islands State Birding Park
Tennessee's only "birding park" has 209 bird species that have been recorded. The park borders the French Broad River and offers a great variety of habitat choices - from forested areas to open meadows with native bluestem grasses managed to support northern bob white quail, which is also favorable habitat for many other species. You'll find birds all along the 6-plus miles of natural surface trails. Popular sightings include purple martins and tree swallows. Easily heard songbirds include yellowthroat, yellow‐breasted chat, summer tanager, blue grosbeak and indigo bunting. In winter, hundreds of sparrows can be found, especially field, savannah, song, swamp, white‐throated and white‐crowned. A pedestrian bridge (ADA accessible) offers birders an opportunity to cross part of the river to an island with a 1-mile natural surface loop trail. You can easily spend several hours strolling through the park's varied habitats enjoying the scenery and songs. Mornings are usually the best time for birding but late afternoons, before dusk can also be rewarding.

Halls Greenway and Marsh
A flood plain watered by Beaver Creek and Willow Fork, this marsh attracts ducks, great blue herons, and kingfishers most often, among the 140 recorded species. Woodlands border the meadows, and the combination attracts diverse species of birds. The park offers about 1.3 miles of level paved greenway that offers pleasant walks alongside a large marsh, past large open grassy meadows, and through wooded areas.

Concord Park
For its size, this small park bordering Fort Loudon Lake offers a phenomenal 162 species. Various species of waterfowl, seagulls, pelicans and terns are seen here during their migration seasons. A combination of large pines on the site and proximity to forested areas attracts many songbird species. Additional hiking trails in the larger contiguous sections of Concord Park also offer birding opportunities.

Sharp's Ridge Veterans Memorial Park
Close to downtown Knoxville, this park is among the favorites of most local birders with over 157 species. The ridge-top park offers six miles of heavily forested natural surface trails. With many mature trees, and perhaps due to its elevation, the location attracts migratory songbirds, especially in the spring and fall migration seasons. Among the many species of birds listed for this location are 36 species of warblers.

Norris Dam State Park - Songbird Trail
Just outside of Knoxville and situated on the Clinch River, the aptly named Songbird Trail at Norris Dam State Park has recorded 172 species of birds and specifically many songbird varieties. The two-mile loop trail passes through a woodland adjacent to the river and the other side borders open grassy meadows not far from the woods. The water released from the dam comes off the depths of the lake, giving a bit of cool relief to summer heat, but more importantly, offering opportunities to see herons, grebes, ducks, and kingfishers on the river side of the loop.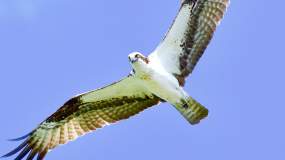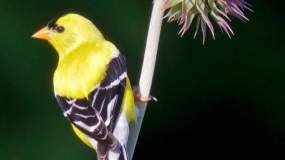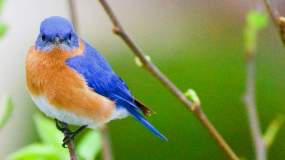 This post was written in contribution by Ron Shrieves, local birder and member of the Harvey Broome Group of the Sierra Club. The club works to protect the natural world via education, advocacy of issues, support of local political candidates who support our goals, by building and joining coalitions, and when necessary, litigation. Also, we seek to enhance appreciation of the outdoors through outings and programs.
Read more about birding in the greater Knoxville area HERE.