In 2020, you'll hear a lot about centennials, especially the centennial of Suffrage, the shorthand term for the 19th Amendment, which guaranteed women the right to vote. Some women already had the right to vote. Tennessee had passed suffrage the previous year, and in Knoxville, women voted in September 1919 in a city mayoral election. 
But 1920, a presidential election year, was the year suffrage went national. In that year, a former Knoxvillian named William Gibbs McAdoo was considered to be a contender. 
There was a lot going on here. But what was "here," in 1920?
Someone teleported from 1920 to modern-day Knoxville would recognize the place. About half the buildings on Gay Street were already there then. Some of them, like the Holston, look a lot like they did then. The relatively new hotel we now know as Hyatt Place was then a relatively new hotel called the Farragut. Mast General Store was another department store called Newcomer's. 
It was the year the Riviera first opened, the biggest movie theater ever seen in Knoxville, with more than 1,000 seats; partly rebuilt after a fire in 1963, it was torn down in the 1980s. But today, the Regal Riviera, named for that older theater, is on the same site. 
The Tennessee Theatre was still a few years off, but the Bijou was there in 1920, presenting mostly traveling shows like vaudeville acts and occasionally famous dancers, magicians, and singers—not completely different from the steady diet of live music presented there today. 
But a lot of things were indeed very different. In 1920, people thought of Knoxville as more of a factory town than a college town. Several big textile mills, like Standard Knitting and Brookside, as well as several marble mills, lumber mills, employed tens of thousands. Some factories were famous, like the J. Allen Smith Co. (White Lily) flour mill and the Fulton Sylphon plant, which made parts for a wide variety of gauges, some of which had enabled important weapons in the World War, like the depth charge. 
The University of Tennessee was there in 1920, a few brick buildings on top of the Hill, but was still a small college with only a few hundred students. Ayres Hall was under construction in 1920. The UT Vols had a football team, but they weren't any big deal. They didn't even have a regulation field; Wait Field on Cumberland Avenue was rocky and not completely flat. Fans sat on the hillside. The Vols played mostly teams from mid-South colleges, including small ones like Maryville and Sewanee and Transylvania. They often lost to their annual nemesis, Vanderbilt. In terms of spectators, baseball was still much more popular, both minor-league pro ball and industrial leagues. 
Streetcars—buses on rail laid into the pavement, powered by electrical wires above—were all over the place, connecting all points of the town, from Bearden to Fountain City to Vestal to Chilhowee Park. Some people, mostly young, affluent people, had automobiles in 1920, but they were expensive—sometimes more than $1,000!—and most people didn't really need them, because they lived within walking distance or work and stores and streetcar stops.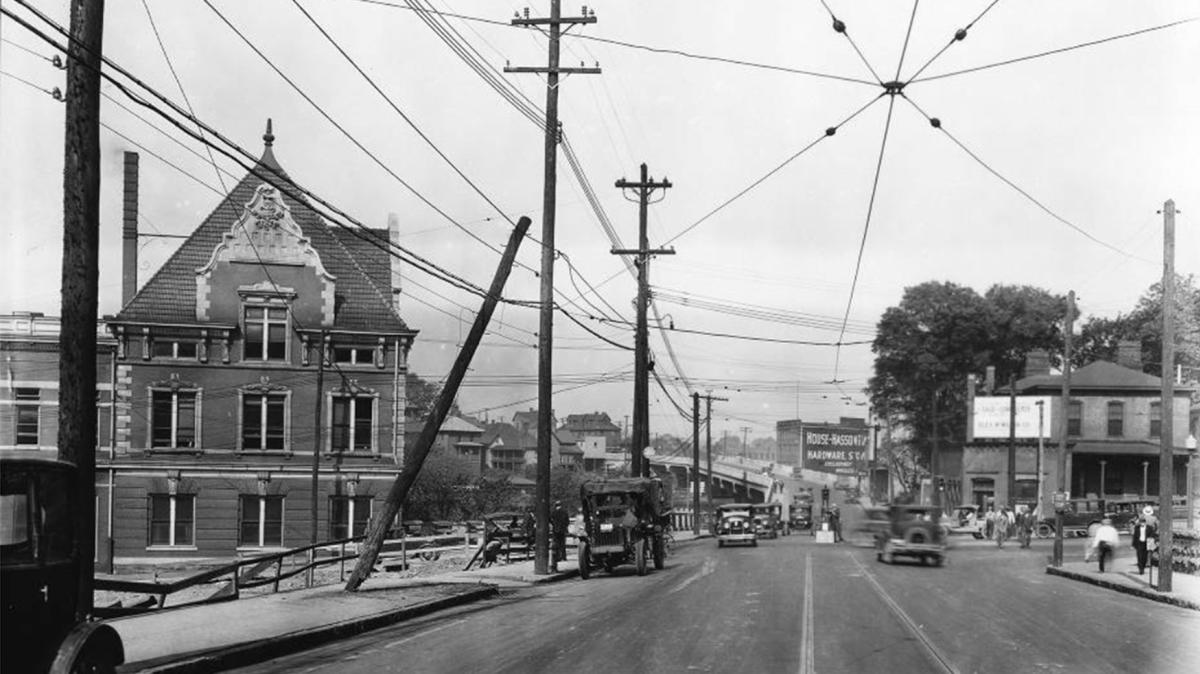 Looking along Western Avenue towards the L&N Railroad Station, 1920 credit McClung Historical Collection
Knoxville had two train stations, the Southern and the L&N. Both stayed very busy, with 24-hour business. The L&N was good for short trips to Cincinnati or Atlanta; the Southern had connections all over and was more likely to be the one you'd choose to go on a longer trip, to New York or Florida. 
Knoxville was segregated, though strangely, not as strictly as it would be later. In 1920, blacks and whites went to different schools, sat separately on the trains, and mostly went to different restaurants, but there were some exceptions. Blacks and whites saw each other often, because they all lived in the downtown area, and they all shopped at Market Square.  
We were also officially dry. Even beer was illegal. But everybody knew a bootlegger, and they did good business. Occasionally one would get arrested, but never enough to make him quit. Otherwise, though, soft drinks were becoming very popular. 
Except for Island Home, Lincoln Park, parts of Fountain City, most of the suburban areas we know today were still cow pastures. Sequoyah Hills seems old today, but didn't exist in 1920, and neither did Holston Hills. Only a few suburban landmarks—Chilhowee Park and Fountain City Park—might seem anything like they were in 1920. But then, Chilhowee Park still had several big wooden buildings from its grand exposition era of earlier years. Today, only the stone bandstand remains from those days. 
Vaudeville was still popular, and there were nightly shows at places like the Bijou and the Lyric, but movies were very popular, and there were about a dozen single-screen theaters downtown. Clarence Brown, who turned 30 in 1920, was well-remembered in Knoxville, where he'd graduated from Knoxville High and UT a few years earlier. That year was a turning point for him, the year he helped direct a major motion picture called The Last of the Mohicans. All of the movies were silent, but usually accompanied by a live piano player, an organist, or sometimes a small band. 
Jazz was the exciting new thing, and jazz bands were playing for dances at places like Whittle Springs, the resort north of town, or at downtown theaters.  
In 1920, radio was just a rumor, something teenagers knew more about than their parents did. Some kids had homemade sets, and could pick up signals, sometimes in Morse Code. But regular broadcasting was on its way. 
Several Knoxvillians, mostly young men, were learning to fly, most of them on surplus "Jennies," planes used to train pilots during the World War. Airplanes were just beginning to capture the attention of an 8-year-old Beardenite named Bruce Holloway, who would later be a World War II fighter ace—and later still the four-star general in charge of the Strategic Air Command.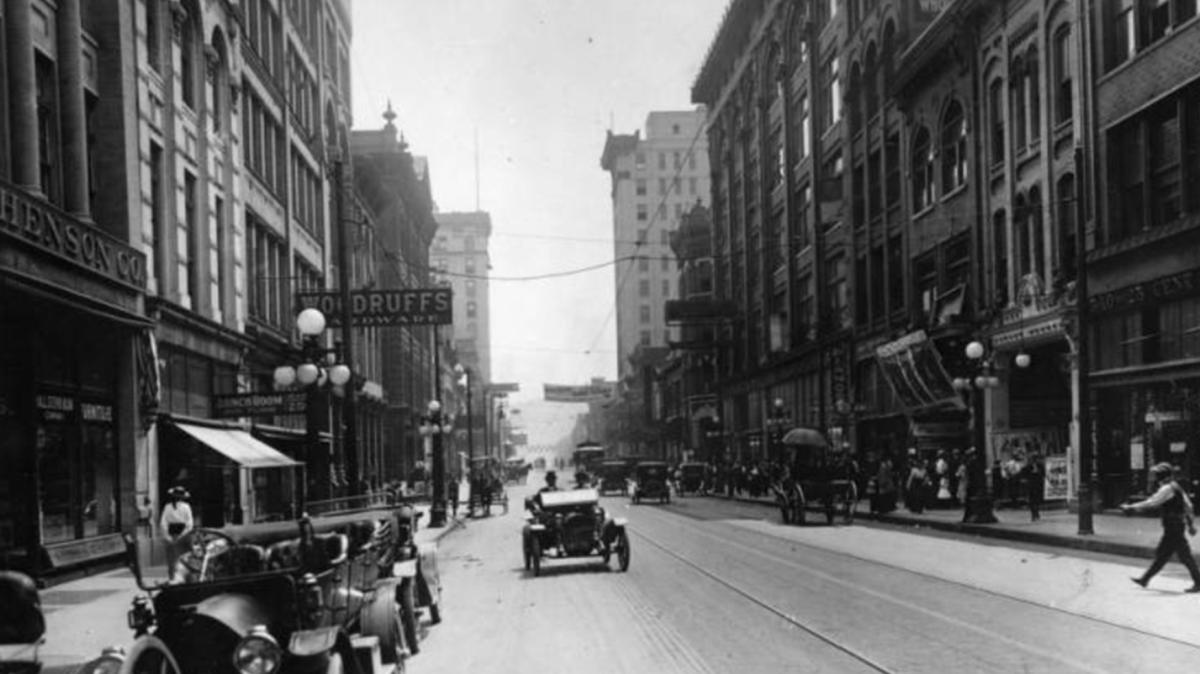 Looking south on Gay Street from about where Mast General Store is today, credit McClung Historical Collection
If you lived in Knoxville in 1920, you might meet a few other people who would later be famous—like 17-year-old Central High athlete, Roy Acuff, who had not yet learned how to play fiddle and sing. Twenty years later, he'd be the single biggest star on the Grand Ole Opry. Artist Beauford Delaney, then 19, was already a bit of a pro; his vivid, colorful work would later sell in galleries in Paris and New York for hundreds of thousands. (Ed. Note: plan a trip to Knoxville to see Beauford Delaney and James Baldwin: Through the Unusual Door at the Knoxville Museum of Art from Feb 7-May 10, 2020). A UT freshman with the awkward name of Estes Kefauver would later be a U.S. senator and a viable presidential candidate. Lifelong Knoxvillian Edward Terry Sanford, a 55-year-old federal judge often seen downtown—his office was in the Custom House—would soon earn a seat on the U.S. Supreme Court.
Also a few others who maybe were less famous, but would soon by influential, like Mary Utopia Rothrock. She turned 30 that year, but she was already the director of Knoxville's public-library, working on a plan to put branches in different parts of the newly expanded city. Another, more relevant to this year's centennial of Suffrage is a woman from named Annie Davis, then in her 40s, and a familiar club speaker at Knoxville luncheons. She had a special interest in the mountain range she could see on a clear day from her house on Lyons View. 
It's hard for us to wrap our minds around the fact that in 1920, most Knoxvillians had never been to the Smokies. With the exception of Elkmont, the privately owned resort that had limited passenger-train access, they were hard to get to.  Roads were bad, or nonexistent, and you needed a good horse and some camping equipment to make the trip. Thanks to trains, it was actually easier and maybe even quicker to go to New York—as a lot of more affluent Knoxvillians did. 
Prompted by a trip out west, Davis was soon to have a very big idea: the Great Smoky Mountains National Park. As the first female elected official—she became a member of the state legislature in 1925—she furthered that idea in major ways, and lived to see it happen. 
There was a lot going on in town in 1920, the first year women voted in state or federal elections. More than today, maybe? That might depend on how much you like jazz and vaudeville and streetcars and silent movies.