Welcome Gold Wing Road Riders
Association Wing Ding 40

August 28 - September 1, 2018
Knoxville Convention Center
Tradeshow Tickets (Wed - Sat): $22 per day

Knoxville in 2018 is a little different than it was when Wing Ding was here in 2011. If you were here then, you're going to see a difference. In just six years, downtown has truly come into its own. Every storefront is brimming and every night there seems to be a festival, a concert or something else happening on Market Square and throughout downtown. You won't believe all the new restaurants, shops and attractions!
The countdown is on!  We can't wait to see you!

DON'T MISS THE WING DING 40
GRAND PARADE & BIKE NIGHT
FRIDAY, AUGUST 31
FREE TO PUBLIC
Join us as we cruise through downtown to Knoxville's historic Old City for our first annual Law Tigers Bike Night featuring our People's Choice Bike Show and Light Show, live music, food trucks AND MORE!
PARADE @ 7:00pm
Parade begins at
UT Regal Soccer Stadium
Public Viewing on Gay Street & Jackson Avenue
BIKE NIGHT @ 7:30pm
ALL BIKES WELCOME!
400 East Jackson Avenue
Join us for food trucks, live entertainment, bike show and light show at the first ever Law Tigers Bike Night! 
With a Wing Ding wristband, you can also enjoy the following discounts in the Old City.
Jig & Reel
$2 off Pub Fries all week
Crown & Goose
Half off Wings all week (excludes happy hour pricing)
Pretentious Beer
Saddlebag Special
$5 off Any Three Crowlers To-Go
PARADE ROUTE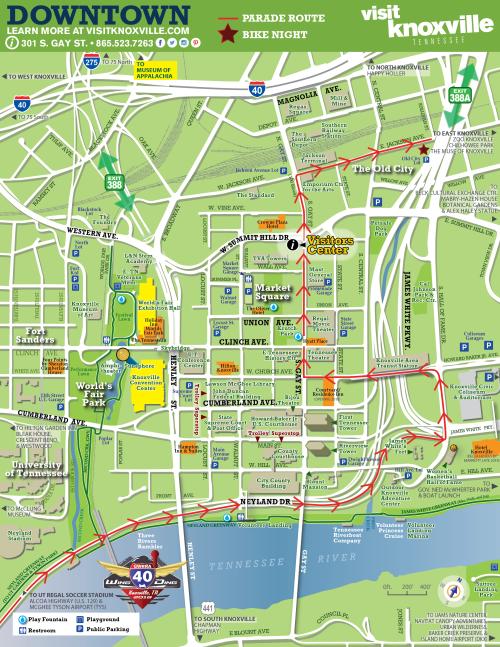 GETTING AROUND DOWNTOWN KNOXVILLE
DOWNLOAD AREA MAPS
SEE ALL KNOXVILLE HAS TO OFFER
KNOXVILLE WILL SURPRISE YOU