Two hundred twenty-five years ago this June, fifty-five men made history when they put quill to parchment and boldly declared that Tennessee was a state.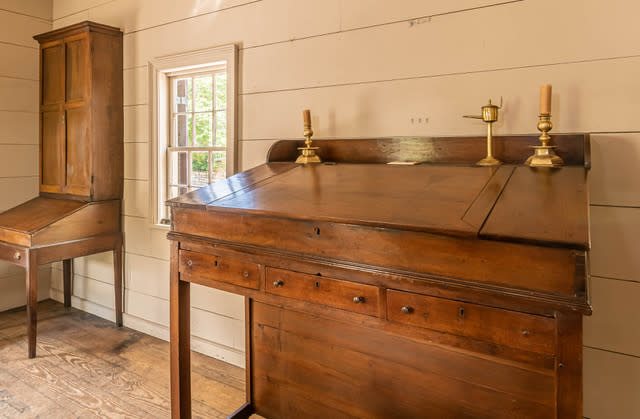 It was an audacious plan: brazenly electing a governor, two senators and one at-large congressman, and simply showing up at the United States capital—then in Philadelphia, Pennsylvania before the creation of Washington, DC—and essentially saying, "Hi—we're you're sixteenth state!" But that's exactly what William Blount and his compatriots did. The "Tennessee Plan," as it came to be known, eventually worked; after dithering for a few weeks about whether to accept this upstart state into the family, both houses of congress granted their consent, and Tennessee was admitted to the union on June 1, 1796—known thereafter as "Statehood Day" in Tennessee. Six other states—Michigan, Iowa, California, Oregon, Kansas, and Alaska—gained statehood by following the same strategy, and Puerto Rico has frequently considered following suit. You might say Tennessee broke the mold!
Prior to statehood, the land mass that would become Tennessee was a federal territory, carved out of western North Carolina by an act of Congress in 1790. President George Washington appointed North Carolina merchant and land speculator William Blount, a signer of the U.S. Constitution, to govern this wild frontier west of the mountains, and it was Blount who spearheaded the birth of the state. Afterwards he served as one of the new state's two U.S. Senators.
Today, William Blount's wooden frame house still stands in downtown Knoxville. It was designated the city's only National Historic Landmark in 1965. Inside Governor Blount's detached office, visitors may see Statehood Desk, a handsome standing desk on which those fifty-five aspiring state leaders affixed their signatures to the document that would become Tennessee's first state constitution, beginning the chain of events that ended with statehood.
This year, on Tuesday, June 1, 2021, Blount Mansion and nearby James White's Fort—the birthplace of Knoxville, which existed as the federal territorial capital prior to statehood, will partner with the City of Knoxville to host a once-in-a-lifetime birthday party celebrating Tennessee's 225th anniversary. The event will include a short parade from the fort to the mansion, led by historical reenactors and school children wearing period clothing. Participants will enjoy birthday cake and hear short celebratory remarks from Knoxville Mayor India Kincannon and other leaders, after which folks may pick up a quill and sign their name to paper on the desk on which the dream of Tennessee became a reality 225 year ago. The big day will be preceded by a months-long series of special events at historic sites throughout Knox County, including open houses at several of the Historic House Museums of Knoxville on Saturday, May 30th.
Join us . . . and become part of the story of Tennessee!