The Sunsphere Fund
Visit Knoxville created the Sunsphere Fund with support from the City of Knoxville in 2019 to preserve and maintain this historic structure. Monies from the fund will be utilized for ongoing repairs and maintenance as well as enhancements to the experience on the 4th floor Observation Deck. The goal is to protect and preserve the structure for the enjoyment of groups and individuals for generations to come. The fund is operated and overseen by Visit Knoxville. The Sunsphere is owned by the City of Knoxville and promoted like other attractions by Visit Knoxville. 
You can make donations of any amount through PayPal via the DONATE button below.
All donations are appreciated. For optional ways to donate, please contact sunspherefund@knoxville.org.
Now Available: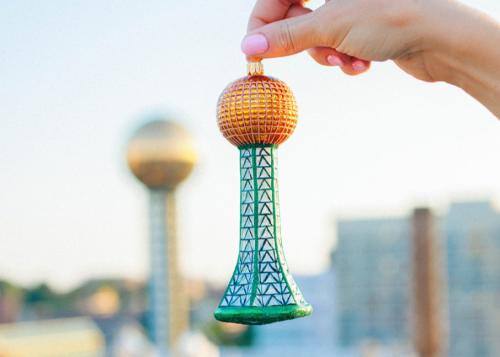 The First Ever, Hand-Crafted Glass Ornament of the Sunsphere
The idea for this ornament originated with Knoxville natives Guinn and Derek Boyce. The couple wanted to give back to the city they are proud to call home and reached out Joy to the World Collectibles, a Knoxville-based company that has been creating the world's finest holiday ornaments since 1988. The Boyces also contacted the City of Knoxville and Visit Knoxville to find out how proceeds from the sale of the ornament could benefit the Sunsphere. To learn more about Guinn and Derek Boyce and the story behind their passion for the Sunsphere, visit knoxsunfund.com.
Cost of the ornament is $55 plus tax. Five dollars from the purchase of each ornament will go to the Sunsphere Fund. 
Limited quantities of these special ornaments are available for purchase at the Knoxville Visitors Center Gift Shop or online below. 


To discuss ways to partner with Visit Knoxville on items to benefit the Sunsphere Fund,
please contact sunspherefund@knoxville.org
---
LEARN MORE ABOUT THE SUNSPHERE & ITS HISTORY
After the World's Fair, with brief exception, the Sunsphere was closed to the public. It reopened after renovation in 2007. In 2014, in an effort to provide an enhanced experience for visitors and locals, Visit Knoxville updated the 4th Floor Observation Deck with new graphics and information on Knoxville and the World's Fair. Since that time the Sunsphere has welcomed countless visitors from (rather appropriately) around the world.
CHECK OUT WINDOW WASHERS IN ACTION AT THE SUNSPHERE