We are happy to welcome a new blog series from The Maker City featuring some of the Knoxville area's outstanding makers – artists, crafters and custom builders. This month's post introduces three area woodworkers.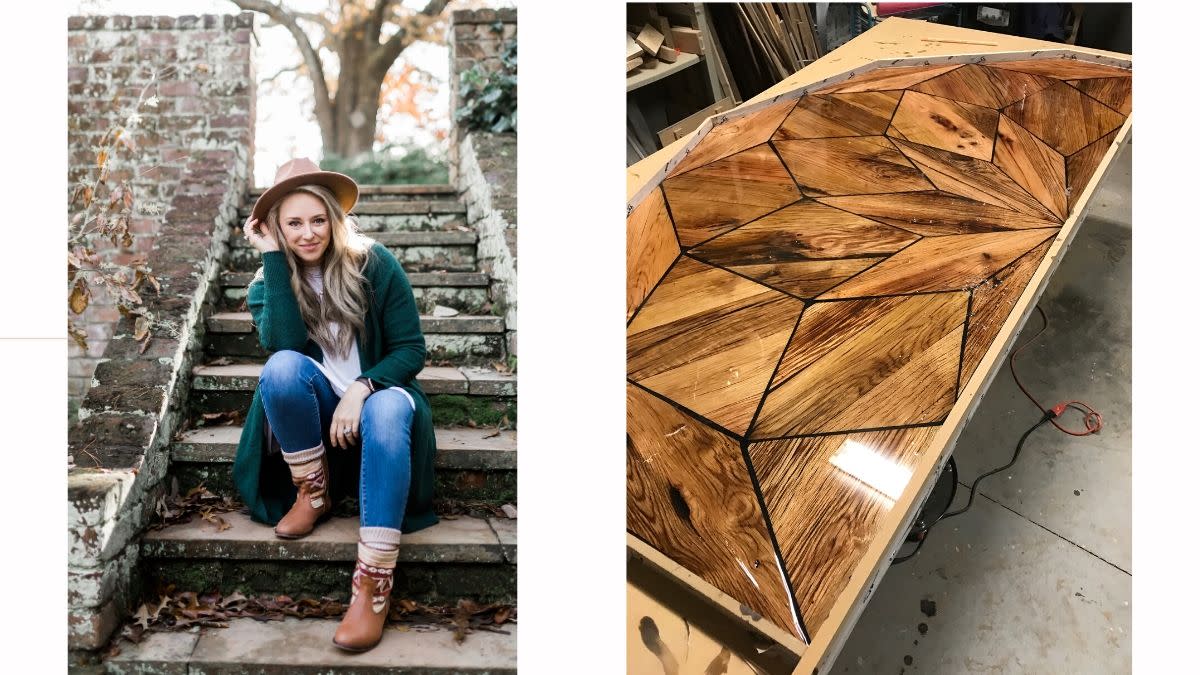 Kayla Cooper of The Crafty Cooper 
How did you get started as a woodworker? 
I started my business in 2013 making hairbows and quickly learned I HATED making those stupid things I saw an old circular saw in my mom's garage and asked if I could have it. She said yes and told me that it used to be my papaw's, who had passed away the year before. I am super sentimental so I was determined to use that thing. I started off making a sign for a coworker and oh my goodness did it look TERRIBLE!  
What do you make, and how do you do that? 
Fast forward to 2020... I have now made over 1,000 signs, several pieces of furniture, 200+ pens/bottle stoppers on my lathe, and sooooo much more! In the past year I have started making my own 'blanks' using flowers, wood and resin. Blank is a term used for a block of resin or wood before it is turned into something on a lathe. I absolutely love what I do and I cannot thank God and my supportive husband enough for bringing me this far!
Where are your products for sale? 
Locally I sell through Shae Design Studio and Oak Ridge Pharmacy. Online I sell through Etsy, Facebook, Instagram and Turners Warehouse.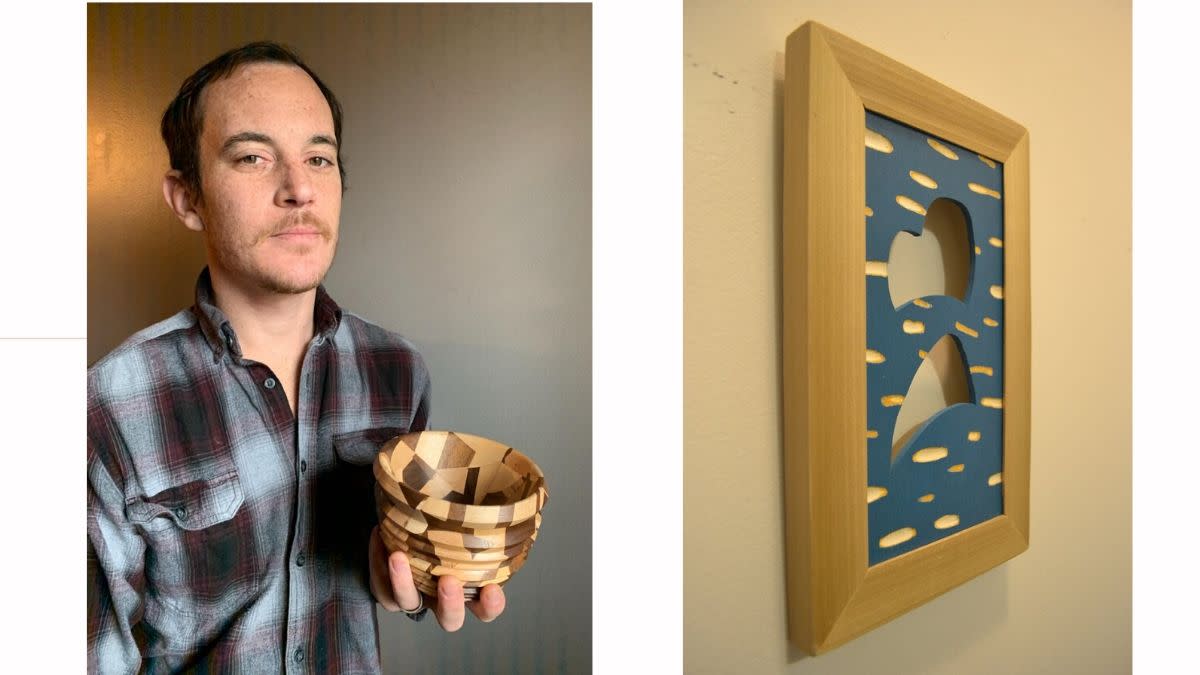 Jordan Kear of JKwoodworksNdesign
How did you get started as a woodworker? 
I started building when I was around 8 years old when we were building our family home.  It was a way of passing the time and being creative, and I loved it.  At Heritage High School in Maryville, I took a vocational woodshop class, and it changed everything for me. My instructor was phenomenal and taught all of us how to be successful in our particular thinking processes. My junior year we got a lathe, and my interest in woodworking went through the roof.  I went on to Tennessee Technological University and received a Bachelor of Fine Arts with a concentration in wood from the satellite campus of Joe L. Evins Appalachian Center for the Crafts. There I discovered new techniques, processes, mediums, and a way of thinking. 
What do you make, and how do you do that? 
I taught high schoolers woodturning in the OutReach Program that brought students weekly to the school to give them a hands-on workshop in a craft of their choice. That was when I decided that woodturning was my "bread and butter." While I do carve and build furniture, turning is my go-to.  I turn products such as food safe bowls, decorative painted and non-painted bowls, rolling pins, pens and traveler mugs. 
Where are your products for sale?
Currently, I have an ETSY page and a booth at The Southern Market in the local ETSY shop owner corner where my work can be purchased.  You can also see my bowls in use at The Hummingbird Hemp Café.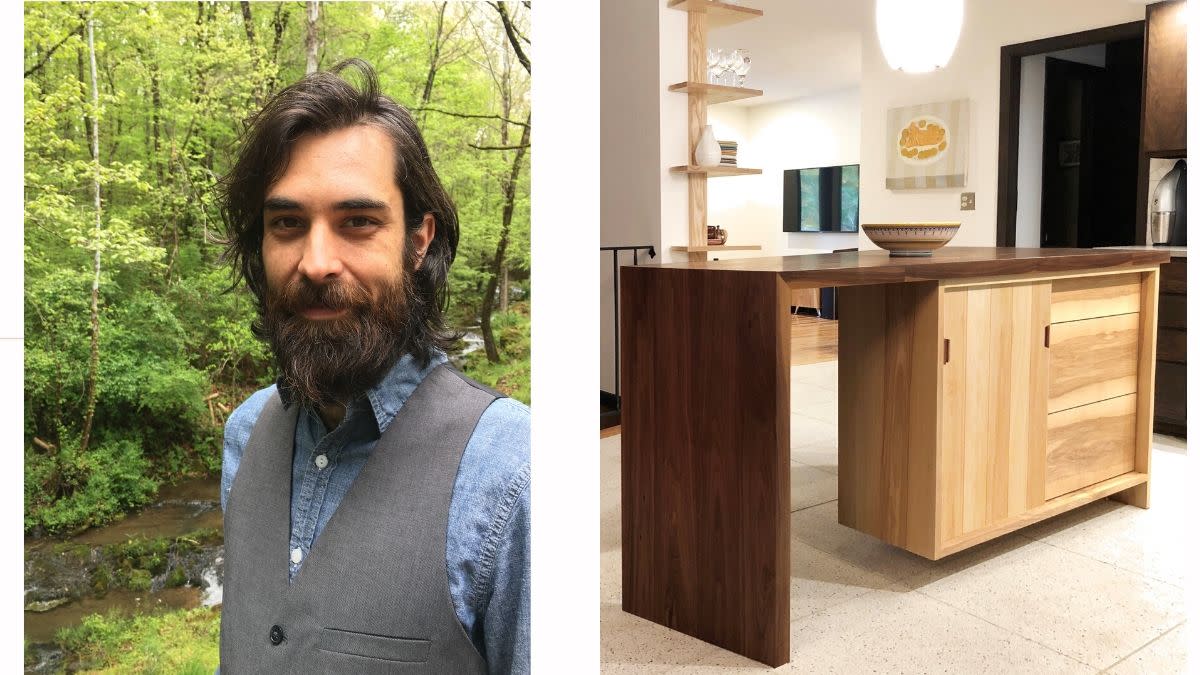 Alex Jaynes of A. Jaynes Woodworks
How did you get started as a woodworker? 
My first job after graduating from Auburn University with an industrial design degree was as a human factors engineer helping design rockets for NASA. Part of that job included building full-scale models in a woodshed, and as a somewhat overconfident 21-year-old I figured I could build my furniture instead of buying it. I'm happy to say that those first few pieces have survived six moves over a dozen years. After NASA I moved to Boston, worked with a design build contractor, and then set out on my own to build furniture full-time. 
What do you make, and how do you do that? 
The pieces I create are meant to be as functional as they are beautiful. My human factors experience allows me to understand how things will be used. I try to find the root of the need and work up from there. What is the role that needs to be filled, and how can I do that simply and elegantly? I apply this approach primarily to furniture, cabinetry and other wood items using a mixture of hand sketching, computer design, machine woodworking and traditional joinery. I get a lot of satisfaction from using hand tools and try to incorporate time-tested techniques in the work that I do. I aim to blend the subtlety of Scandinavian and Japanese design with the Shaker tradition's aesthetics of simplicity, utility, and honesty. 
Where are your products for sale?
I have pieces for sale at MidMod Collective in Knoxville as well as on my website. I show work at several events locally throughout the year, including the upcoming House and Garden Show where I will be launching a few pieces in collaboration with Daniel Clay of Saturday Box Company. Among them will be The $500 Table, our answer for those on an IKEA budget who want a solid wood dining table that will last generations, and a modular storage system that reinterprets stacked milk crates in a fun and elegant way. Otherwise, most of my work is custom commissions, making unique pieces that bring joy to my clients. Interested parties can contact me through my website or follow me on Facebook and Instagram.
For more on The Maker City woodworkers, please click here.
For more on where to find goods by artisans of The Maker City, please click here.