The Union Soldier's Monument by Shawn Poynter
Veterans Day, which we once knew as Armistice Day, is coming up on Nov. 11. It'll be the 99th time we've celebrated Veterans Day with a parade organized by the American Legion. Although Knoxville has seen parades down Gay Street since the 1790s, none have been as durable as the one on Veterans Day (though the Christmas parade is a pretty close second). All American cities have veterans, but Knoxville may have a special place in that regard. The whole city is named for a Revolutionary War general, Henry Knox, who was President George Washington's secretary of war at the time of Knoxville's founding. Knoxville is the burial place of dozens of veterans of the Revolutionary War. Knoxville is in fact the burial place of veterans of every war in American history. Not all cities can make that claim. From the Civil War alone, the city has graves of thousands of Union soldiers and several hundred Confederates. You can see many of them in separate cemeteries, National Cemetery and Bethel Cemetery, respectively, which are just about two miles apart.
The National Cemetery on Tyson Street--just across the wall from Old Gray--has over 9,000 soldiers arranged in concentric circles around the U.S. flag that has flown in exactly the same spot since 1863. The first ones buried there were Union soldiers, many of them a long way from home, but who died in East Tennessee during the war, including several near the center who died defending Fort Sanders in the Battle of Knoxville. It was mainly a matter of expedience to bury them all there, mostly far away from home. 
By the 20th Century, though, National Cemetery was regarded as a place of honor for East Tennesseans who died in wars far away. Some died in battle, some as old men decades after the battles they fought. The names of all three streets that run by the National Cemetery--Cooper, Bernard, and Tyson--are the names of notable veterans of the Civil War, the Spanish-American War, and World War I.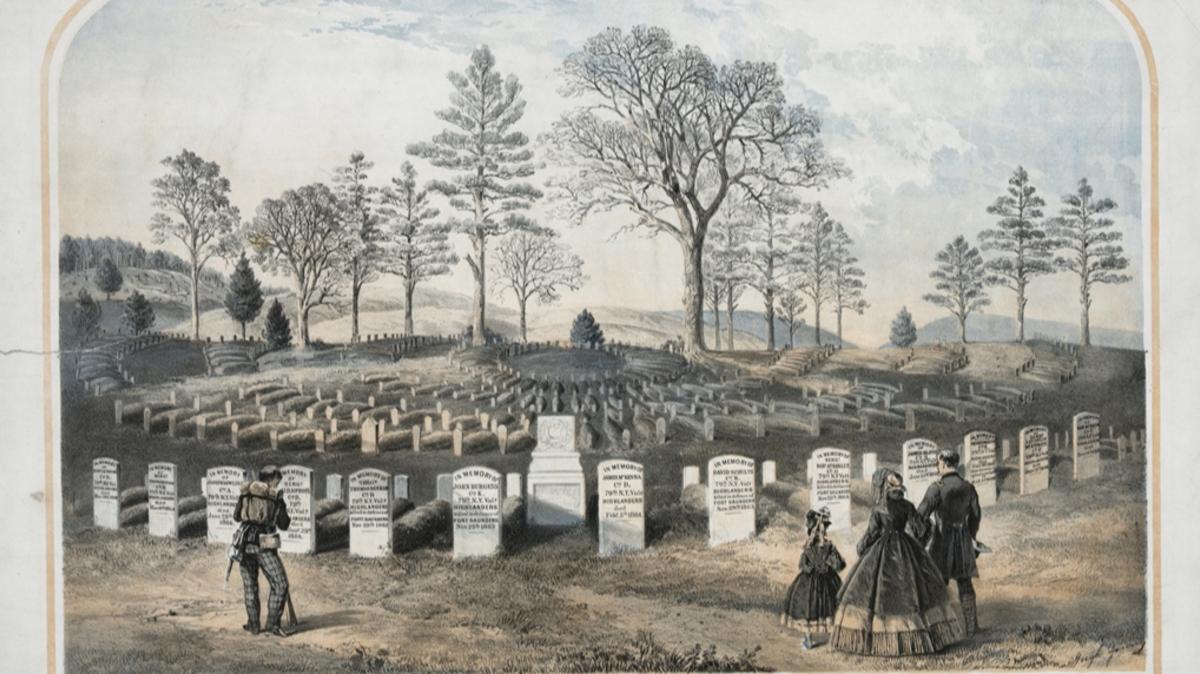 Graves of the Highlanders. Soldier's Cemetery, Knoxville, Tenn. Ca. 1864 (Library of Congress)
Also in town are two large state veterans' cemeteries, on John Sevier Highway and Lyons View, with the graves of thousands more veterans, mostly from World War I and later. A permanent Veterans Memorial, inscribed with the names of every soldier from East Tennessee killed in action since World War I, is a prominent attraction in World's Fair Park. Of course, soldiers killed in battle are remembered more on Memorial Day. Veterans who survived the battle have played major roles in Knoxville's growth and development.
The University's nickname, the Volunteers, came from the large number of volunteers from Tennessee for several wars, beginning with the War of 1812. Many of these veterans returned, some bearing the scars of battle, to make more history as citizens. A large number of the buildings that make up downtown today--including the Woodruff Building and Tailor Lofts on Gay Street, the Kern Building on Market Square, and the Foundry on World's Fair Park--were built by combat veterans of the Civil War. Even Knoxville's first classical-music organization, the Knoxville Philharmonic, was founded by Gustavus Knabe, a German immigrant who had led a military band into battle with an Ohio artillery regiment. He's also considered the godfather of UT's Pride of the Southland Marching Band.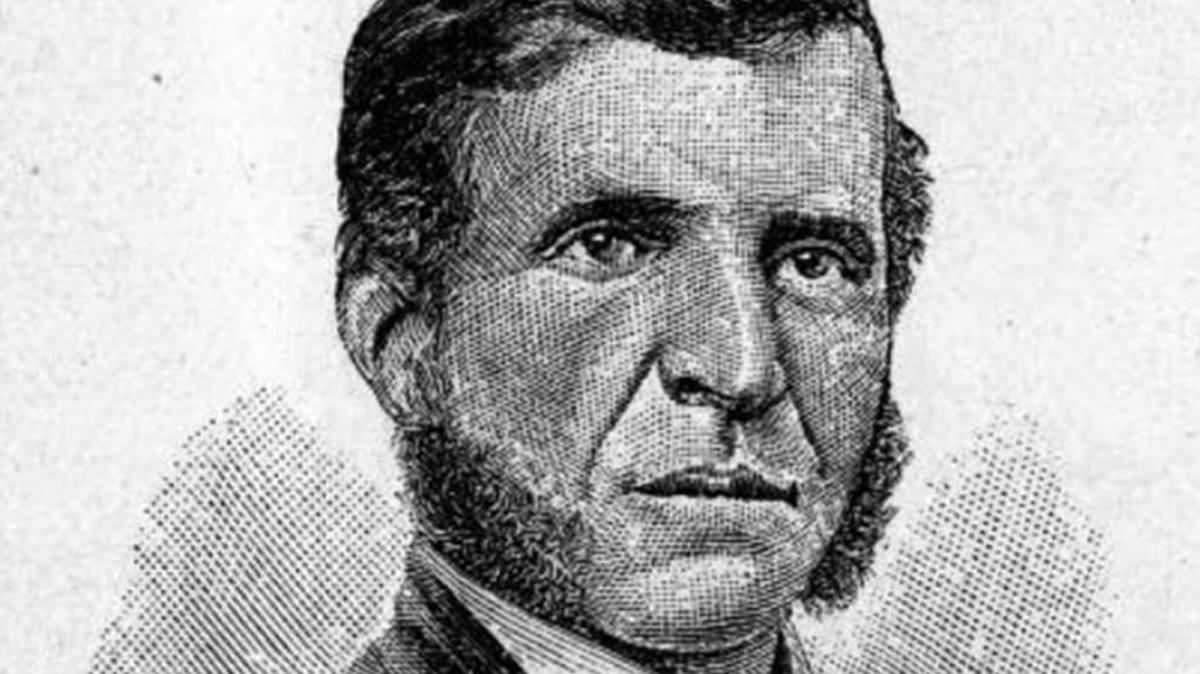 Gen. Joseph Cooper, Union Veteran. (McClung Historical Collection)
During the Spanish-American War, the city played an unusual role, as an army base, a training center for recruits from across the nation. Many of those who later fought in Cuba and the Philippines in 1898 had memories of drilling in Knoxville.
Our airport is named for a Navy airman, McGhee Tyson, who died when his plane crashed into the North Sea in the final weeks of World War I. The original airport was partially endowed by his parents, including his father, Gen. Laurence Davis Tyson, a veteran of the Apache wars, the Spanish-American War, and World War I.
David Chapman, a combat veteran of the same war, was the leading figure in the founding of the Great Smoky Mountains National Park. Mount Chapman and Chapman Highway are named for him. In fact, it's hard to get to the Smokies without paying homage to a World War I veteran. Our steel bridge across the river at Alcoa Highway is named for J.E. "Buck" Karnes, the Medal of Honor winner of World War I, whose heroism is comparable to that of Sergeant Alvin York, that war's single most famous veteran: that Fentress County native was a familiar speaker in Knoxville in the years after the war.
Part of I-40 in Knoxville is named for native Medal of Honor winner Troy McGill, who was killed in combat in World War II. The list of Knoxville civic leaders who were World War II veterans--among them Mayor and Congressman John Duncan, Sr., Sen. Howard Baker, and UT President Ed Boling (who are all remembered in names of major buildings today)--is very long. Our biggest single sports venue, Neyland Stadium, is named for Brig. Gen. Robert Neyland, a notable football coach whose successes created the phenomenon known as Volmania, but he was also veteran of two world wars. Today, he's one of only two generals buried at Knoxville's National Cemetery. His simple grave mentions nothing about his national championships. Neyland wanted to be remembered as a soldier. 
Veterans have supplied some surprising influence on the city's culture. Granville "Stick" McGhee, one of Knoxville's best-known R&B performers, was a World War II veteran who worked a gamey army song into a jump-blues song called "Drinkin' Wine, Spo-de-oh-dee"; his recording of it was a hit, but McGhee's composition became a bigger hit for others, including Jerry Lee Lewis. Some scholars have raised the possibility that it might have been the first rock 'n' roll recording. Even Pulitzer-winning novelist Cormac McCarthy was a veteran; he served in the Air Force in the early days of the Cold War--mostly in a cold place called Alaska.
So, when you watch the Veterans' Day Parade--the 99th since the first one in 1921, when the holiday was still called Armistice Day--there's a good deal of personal authenticity behind the celebration.
For information on this year's Veterans' Day Parade, go here.  For the East Tennessee Veterans Memorial, go here.