If you are new to Knoxville, you may not know that it is quickly becoming not just a hub but a destination for the performing arts. River and Rail Theatre Company (R&R), founded in 2015, is located in the heart of downtown Knoxville with a permanent home in a chic, flexible venue called the Old City Performing Arts Center. At River and Rail, we choose plays that unite people through the beauty and power of live theatre. In addition to cultivating local talent and partnering with the University of Tennessee, R&R brings in talent from New York City, Los Angeles, Dallas, Chicago, and beyond. 
Our location is one of the best parts about seeing a show! Grab an early dinner in Downtown Knoxville and you can easily walk straight to the theatre for a 7:30 curtain. Most performances are suitable for children, and this year featured a magical production specifically for Young Audiences: The Little Prince.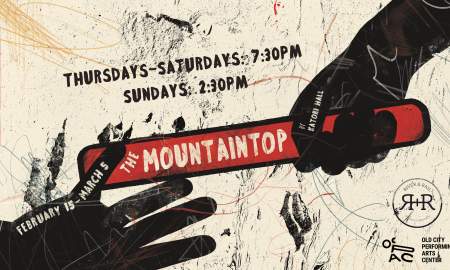 Many of the shows we select originated on Broadway, and our next production is one of those: The Mountaintop by Pulitzer-winning Tennessee Native Katori Hall. The play features two characters: Dr. Martin Luther King, Jr. and a young woman who works at his Memphis motel the night before his final speech. Haunting, surreal, and full of unexpected humor, this gorgeous historical fantasy runs February 16-March 5 at Old City Performing Arts Center (OCPAC). Running time: Approximately 90 minutes (no intermission). Tickets can be purchased here.