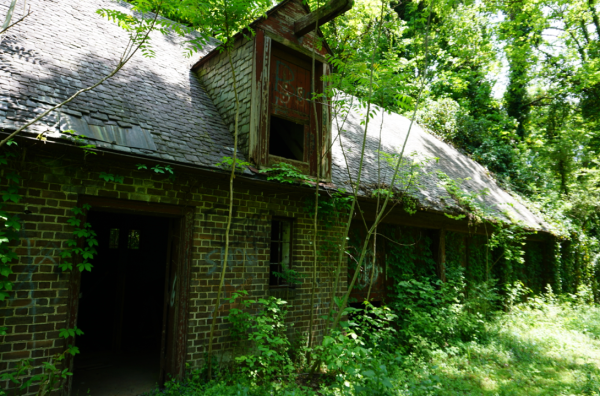 On Lyons View, the west-side river-bluff road that is the address of Cherokee Country Club and Lakeshore Park, is a big brick house behind a high wall that has been a mystery and subject of fascination for 80 years. Thanks to the Aslan Foundation, the charitable nonprofit that purchased it two years ago, the long-hidden Eugenia Williams house is opening up, by degrees. 
Probably Knoxville's biggest single residence when it was completed in 1941, the 10,600-square-foot Regency-style mansion is also one of Knoxville's most notable works of residential architecture. Still, it's been essentially empty and little-used since its one and only primary resident left it, around 1984. 
It comes with a story, that of "Miss Eugenia" Williams herself. She was a baffling mystery to her neighbors during her lifetime, and though we've learned a bit more about her in recent months, we still wonder about her, what she wanted, and whether she ever found it. 
She was born in 1900 to parents who were talented, attractive, and rich--but unlucky in some tragic ways. Her father, Dr. David Williams, was a charismatic physician and medical professor. Alabama-born but New York-educated, he had invested in the local industry, notably the region's first Coca-Cola bottling plant, which made him wealthy. Eugenia's mother was vivacious, creative Ella Cornick, who grew up in a prosperous family of attorneys with roots that connected her to antebellum Knoxville gentry. Ella loved formal card tournaments, chamber music, and golf—she's believed to be Knoxville's first female golfer. In all, the golden couple had three children. 
The family lived in a stylish townhome on Main Street and traveled more than most. As Dr. Williams became more prosperous, the Williamses spent more and more of their time in Florida, when the Sunshine State was still a bit of an adventure. 
Sometime before World War I, Dr. Williams took a risk and purchased 24 acres of riverfront property on Lyons View, before the area was known for its wealthy residents. It may have seemed a fine place to raise a family, a roomy brick house with porches to enjoy the river breezes—a "handsome home" described in the newspapers. But by the time it was completed, most of Dr. Williams' family had disappeared. Eugenia's younger sister, Elizabeth, and younger brother, David Jr., both died of infectious diseases before the age of 8. Her mother Ella came down with tuberculosis, and though Dr. Williams sent her to a sanitarium in Asheville to convalesce, his remarkable wife died at age 38. 
By the time he finished his big house, Dr. Williams had only his first daughter, Eugenia, to care for, and she was then in her latter teens, almost old enough to marry. 
Eugenia was an unusual girl. At age 17, her prep-school yearbook described her: "It is rather difficult to become acquainted with her, but when the wall of reason is scaled, she proves to be a good friend and a jolly companion." Apparently socially awkward, opinionated, and introverted, she was also intensely interested in modern fashions in a rapidly changing era. 
In 1920, she married a young man who was in some ways her opposite. Son of the police chief, Gordon Chandler was handsome, robust, competitive, outgoing, garrulous, outdoorsy. Downtown he worked in insurance and real estate but was better known as a pool champ and a gambler. One of the first Knoxvillians to enlist in the Army in 1917, he trained to fly planes in the World War. The injury he reportedly suffered soon after his arrival in England isn't described in handy records but prevented him from flying in combat. 
Gordon and Eugenia married quietly in 1920. They commenced 15 years of traveling and acquiring expensive new cars together. It was one thing they had in common. They reputedly owned a Dusenberg, a Mercedes, a Rolls-Royce, a Bentley, and a Hupmobile, which Eugenia was proud to drive long distances swiftly. They toured jazz-age America, especially New York, Chicago, and the Gulf Coast of Florida, sometimes with Dr. Williams. Gordon developed a love for deep-sea fishing. 
They had no children but lived a fun and stylish life of luxury and adventure by most accounts. However, they both spent more time in the hospital than you'd expect of healthy people in their 20s and early 30s. Newspapers mentioned hospital stays, and that "procedures" were successful, but discreetly offered no detail. 
In 1929, Dr. Williams died, leaving a somewhat unusual will, a "life estate" for his daughter, offering her a luxurious lifestyle, but not control of her estate—unless she had children. It included his house and 24 acres on Lyons View. 
Eugenia and Gordon remained a couple into the 1930s, but at some point, in late 1935 or early '36, when they rather suddenly divorced. They split absolutely. In 1936, she was no longer Mrs. Gordon Chandler, but "Miss Eugenia Williams." 
After the divorce, she did a few unusual things with her father's property. At a distance down the steep slope below her father's house, toward the river, she built an unusually large and elaborate stable for her horse—or horses. It included an apartment for a groom or stableboy. The cost of it, as reported through the construction permit, got the attention of reporters, who believed it the most expensive "mule barn" ever built in Knoxville. Legends suggest she rode her horse along paths by the river. 
Then she tore down her father's house, then hardly 20 years old, and hired a well-known Texas architect named John Fanz Staub, to replace it with something grander. 
---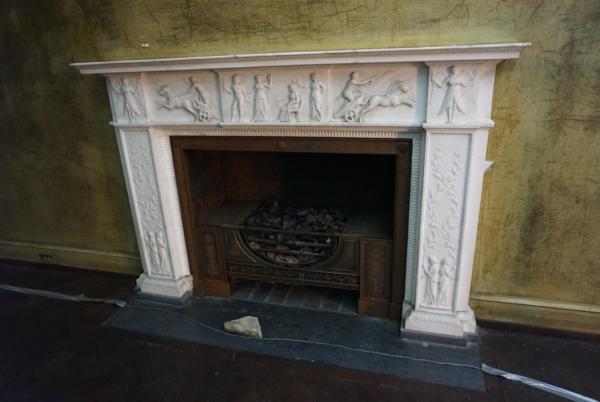 The grandson of Swiss immigrant Peter Staub--who built the famous Staub's Opera House on Gay Street and was subsequently elected mayor—future architect John Fanz Staub had grown up in Knoxville. He studied math at UT, then went on to Boston and MIT, where he earned two degrees in architecture. By 1920, he was a notable young architect in demand all over the country, including his hometown. The then-new firm of Barber and McMurry offered him a partnership, and Staub accepted. He designed one house in his hometown at that time, the extraordinary English cottage style home called Hopecote, which earned some national attention in architectural magazines. But he had some more work to do in the rapidly growing Texas oil town of Houston: mansions, mostly, for millionaires. The most famous of them was Bayou Bend, the home of the unfortunately named philanthropist Ima Hogg. 
As soon as he was done, Staub said, he would come back to Knoxville. As it happens, he was never done, and today, most of Staub's life work is in Texas. He designed impressive mansions in the Regency style, previously unusual in America. It was a revival of an early 19th-century English style that bridged the opposite ethics of the earlier Georgian neoclassicist era and the later Victorian era, an imposing but almost playful style that included balconies, friezes, balustrades, and tricks with symmetry. Staub came up with his own regional and sometimes a bit quirky version of that style. 
It's evident in his work for Eugenia, which Staub completed in his late 40s. He was puzzled by Eugenia and her intentions for building the house; he would later remark that she was his most difficult and perplexing client. 
It's an unusual house in many ways, a regional interpretation of the English Regency style, by way of Staub's experience with humid Houston; it's designed for ideal ventilation. Although luxurious in many ways, it never had air conditioning, and perhaps never needed it. Designed for cross-ventilation, it was a mansion designed in such a way that you're never more than about 15 feet from a window. 
The broad veranda in back looks borrowed from a mansion in New Orleans, with French-colonial style ironwork. The kitchen is enormous, with multiple appliances, including what must have been one of Knoxville's first dishwashers, and dozens of cubic feet of refrigerator and freezer space. The bathrooms are built with pink Tennessee marble, and the multiply mirrored dressing room, connected to a balcony overlooking the long rear verandah, looks like one built for a Hollywood starlet. In the basement is an industrial-sized laundry and a three-car garage, with three garage-door openers, operated by a remote-control key. 
What got people's attention first, back in 1940, was that high brick wall along the road. It's sometimes described as a "spite wall," but whose view she was trying to block, and of what, and why, is hard to prove by any records. The fact that Eugenia built a wall but never a gate to prevent joy rides by teenaged daredevils, is one of her many mysteries. 
Eugenia moved in, accompanied by her "Aunt Annie" Cornick, who lived with Eugenia when the house was new. Probably Eugenia's most frequent female companion in her early adulthood, Annie Cornick, often referred to as her "Aunt Annie," was actually Eugenia's step-grandmother. A New Jersey-born schoolteacher who became Knoxville's first female public-school principal, Cornick had survived both her husband and their only child. After Dr. Williams' death, she was Eugenia's closest relative. 
However, after only about two years at the house, "Aunt Annie" moved to Cleveland, Ohio, where her brother lived. For more than 40 years after that, the only listed resident of the house is Eugenia Williams. There's evidence that other people lived there, over the years. In the house are two large guest rooms, plus two dormitory-style rooms for servants. But we don't know the names of anyone who probably lived there--except for one Lee Williams. Presumably not blood kin to Eugenia, Lee Williams is sometimes described as a boyfriend, sometimes as a chauffeur. There's some evidence that he was engaged to Eugenia at one time. He had been in the army, reportedly as an electrician. In Knoxville, he kept a very low profile. 
Neighbors rarely saw Eugenia; few would have recognized her if they did. She didn't like to have her picture taken, and perhaps never did. There are no known photographs of her between when she was a teenager at prep school in 1917 and when she was a very old woman in the hospital--that is, there are no reliable images of her during the entire period she lived in the house. However, those who did know her claim she wasn't strictly reclusive. She would go downtown to challenge her property assessment, always claiming it was overvalued. 
She also would shop at the A&P in Western Plaza, and for decades got her hair done in the beauty shop beneath the shopping center. She and Lee would occasionally go out together, sometimes over to the Corner Lounge on North Central; an unlikely resort for an heiress, the Corner Lounge was then little more than a beer joint with a grill and occasionally a musician at the piano.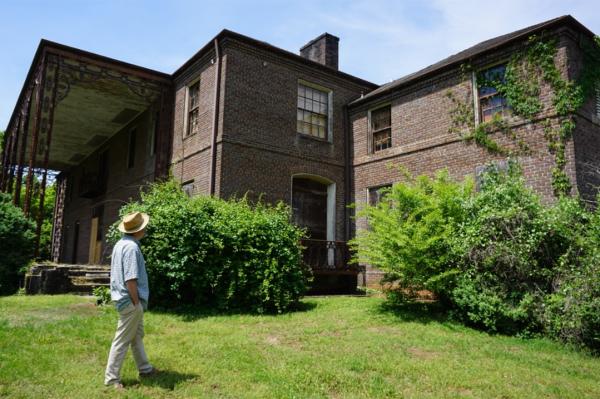 The house looks like one uniquely built for entertaining. She's said to have hosted at least one party in the house. But there's little known about that party, who attended, and, in reference to one rumor, what went wrong. 
There she lived for decades, taking occasional trips to New York: mainly, it seems, to shop for clothes to model in her capacious dressing room. After working with lawyers combatting other claimants to her father's complicated will—one of her rival beneficiaries was the National Geographic Society—she finally achieved some degree of control over her estate's destiny. She arranged to leave her house and property to the University of Tennessee. 
Lee Williams, whoever he was, seems to evaporate in the early 1970s.  
After that, by most accounts, Eugenia lived in the house alone. She remained until about 1984 when her own concerns for her health prompted her to use her wealth and influence to create a unique relationship with St. Mary's Hospital, which allowed her to stay during her late 80s and 90s as a semi-permanent resident. 
Born before airplanes or radios, she lived into the era of cell phones and the Internet. She died in 1998, at the age of 98, and left her home to UT, as expected. However, despite a well-heeled effort to make it a showplace and a presidential residence, UT found no immediate use for the place. They kept the big lawn mown and occasionally allowed local groups in to behold the house itself. 
Attorneys, who found a way to reinterpret Dr. Williams' will for Eugenia, also found a way to reinterpret Eugenia's will for UT—who in 2019, successfully sold the house and grounds to the resourceful Aslan Foundation.  
Aslan is in the laborious and expensive process of restoring the house, keeping as much of the original house as possible intact. It will likely take years. The big nonprofit has not announced its intentions for the property, only that it will be something of value to the community as a whole. 
For now, they're offering free tours of the home, in cooperation with the Knoxville History Project; I conduct two of them each month. You can sign up for a future tour via the website of the Aslan Foundation. Anyone who has any clues about Eugenia's life is especially welcome. It's a story that has yet to be fully told.