We are happy to welcome a new blog series from The Maker City featuring some of the Knoxville area's outstanding makers – artists, crafters and custom builders. This month's post introduces three area graphic artists.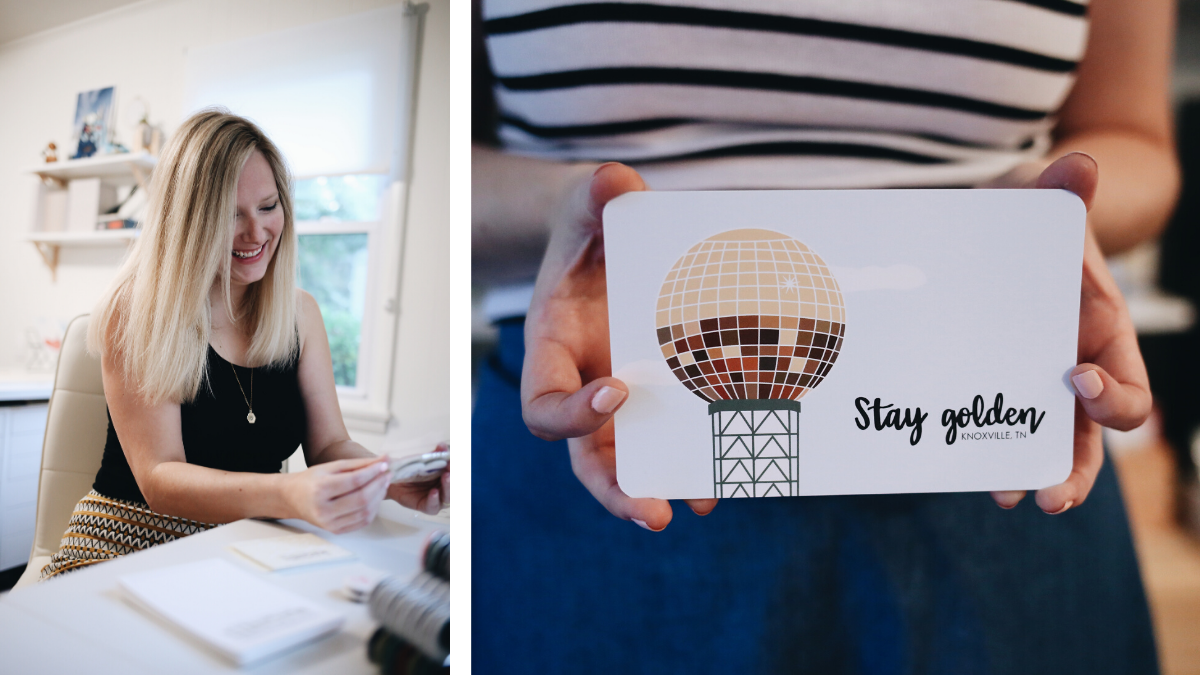 How did you get started doing what you do? 
I graduated from the University of Tennessee with a degree in architecture during the recession. It was obvious to me that I wasn't going to find a job in architecture, so I started designing logos and graduation announcements for family friends, mostly as favors. Then one day I discovered Etsy and realized that I could be making things for money.
I started designing paper items that I could make over and over again and sell on Etsy. I didn't realize that I was creating a stationery line at the time, but that's exactly what ended up happening. It was a lot of trial and error. I didn't set out to create a handmade product line. I was just making things that I liked and hoping other people liked them too. I didn't have a plan or even a design style. It wasn't until several years into owning my business that I started creating products with intention and a cohesive aesthetic.
What do you make, and how do you do that? 
I make greeting cards, postcards, notepads, stickers, magnets, screen-printed towels and apparel, and other giftable items. All of my products are designed by me. Most of my paper products are printed in-house, but I use a print shop to print bulk paper items. I use fabric for my magnets which sets them apart from most of the magnets in gift shops. I have a company that prints the fabric that I design. Then I assemble the magnets by hand. I prefer to do all of the screen printing myself because it allows me to print shorter runs in lots of different colors.
Where are your products for sale? 
Locally they are for sale at Rala, Bradley's, Fig and Company, Proper Popcorn, Nostalgia, Knoxville Chocolate Company, and Salon 1551 in Farragut. You can also find them on my website  or on Instagram.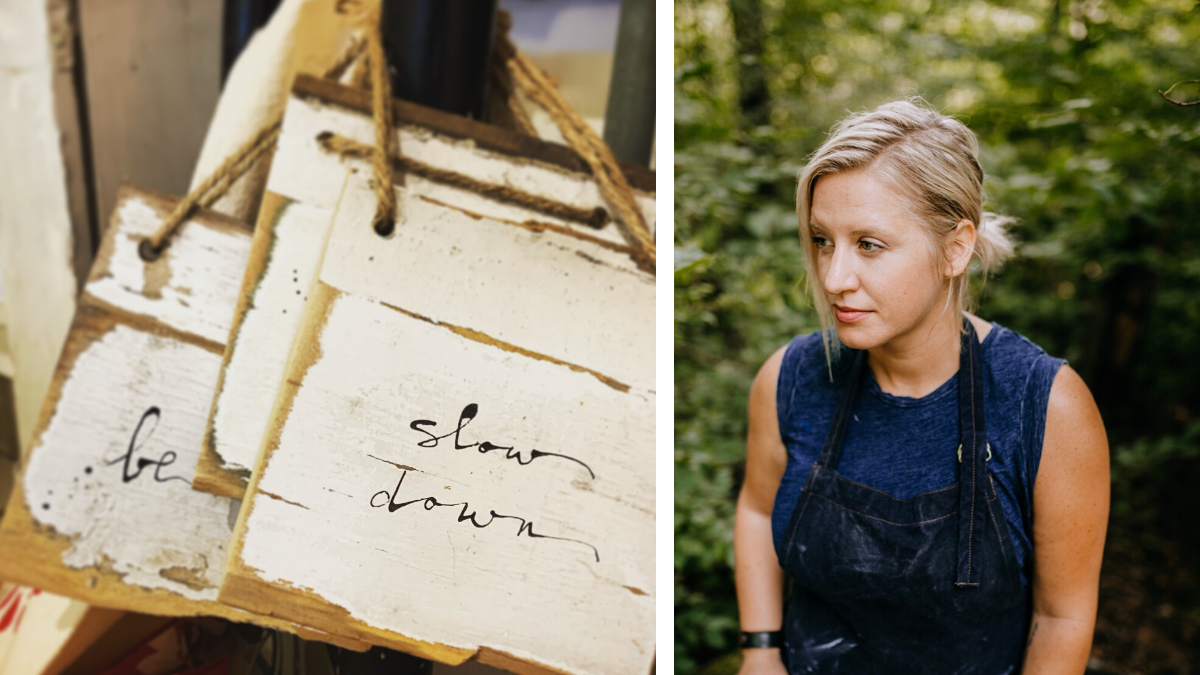 Joanna Simeone of Milk Moon House
How did you get started doing what you do? 
After stepping out of the public relations industry where I had been working since college to raise our two little ones, I had a fresh yearning to have more fun. One day, a friend of mine asked me "What brings you joy?  Not anyone else, only you."  The answer came easy: I loved seeing old become new again.  And for me, this looked like being elbow deep in paint, and pen deep in writing. I'd paint whatever I could get my hands on; an old piece of furniture, a slab of barnwood.  I'd write through my feelings of insecurity as a young wife and a new stay-at-home mom. Then friends began asking me to paint them something. Soon, their friends began asking, and Milk Moon House was born. Soon I was pairing my love of reclaimed wood, art and writing together in the form of ink and paint on canvas framed by hardwoods salvaged by the magnificent folks at The Salvage Revival in Knoxville. Add in a healthy social media presence and a divine encounter with a local shop owner, and I was in business. 
What do you make, and how do you do that? 
I make original art primarily through hand-lettering with India ink on board, framed in reclaimed woods. I also create original abstract works using acrylic, gouache paint and ink.  Every step of my work, from concept to custom framing, takes place at my home art studio and workshop in Louisville, TN.   Prints, T-shirts and tea towels are produced by the incredible folks at Riot Printing in Knoxville. 
My creative process usually goes a little bit like this: Life happens, both good and bad. I look to understand both the joy and pain that happens in this life. I pray. I talk to friends and read books. I listen to music and spend time with family and strangers too. I listen for God. And I write what I hear. Sometimes they're my words. Sometimes they are someone else's far more eloquent than me.  Then I get to work, with a whitewashed board and sketch pen dipped in jars of ink.  My works are often imperfect and sometimes messy, just like the world that inspires them, I suppose. 
Where are your products for sale? 
Locally my products are for sale at Bradley's, Knoxville Chocolate Company and DandyLions in Maryville. You can also find me on Instagram.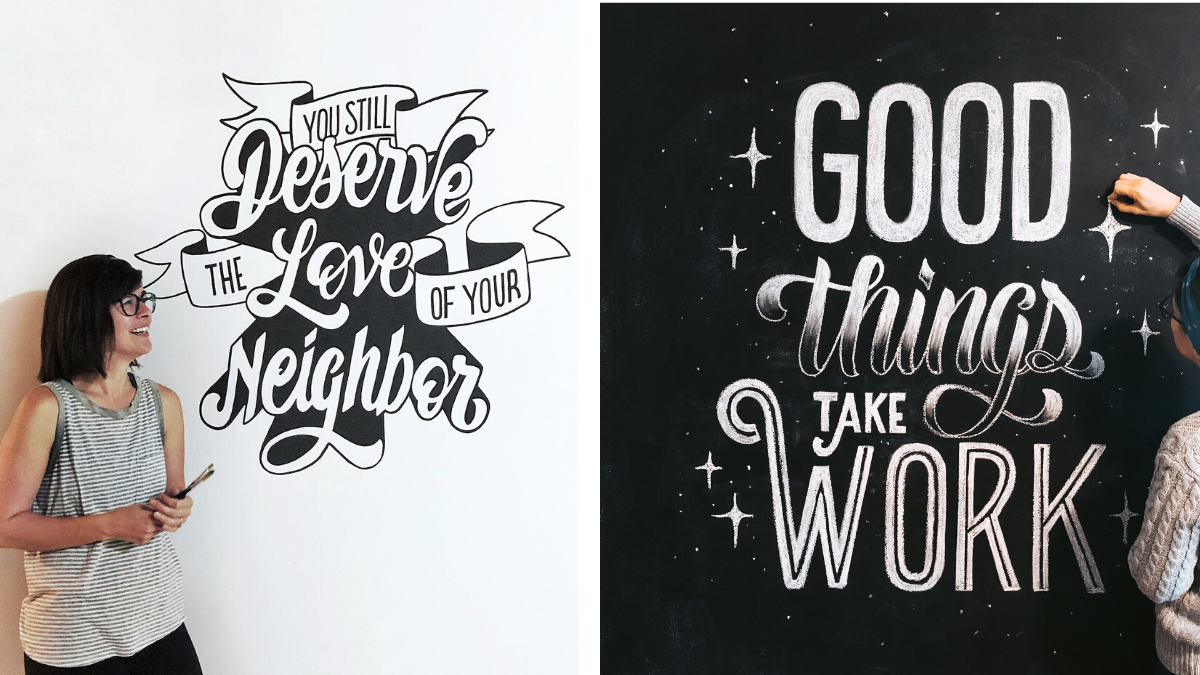 Amanda Smith of The Paper Heron
How did you get started? 
I started lettering by dabbling in calligraphy. I really enjoyed calligraphy but felt limited by what I could do with it. After I began watching online tutorials on lettering and saw all of the amazing things you could do with lettering, I was completely hooked. I began spending my free time sketching letters and learning the basics. I started lettering on handmade cards and signs, but over time it has progressed to larger formats such as chalkboards and walls. 
What do you make and how do you make it?
I do custom lettering projects for individuals and businesses. I make prints for people's homes and large-scale lettering for chalkboards and walls. 
I begin each project by drawing thumbnail sketches of multiple layout ideas. Once I narrow in on the concept that is working the best, I make revisions and continue to refine it until it is finished. Then I move on to the tangible project. If I am doing a lettering mural, I use a projector to blow the image up. From there I transfer the image onto the wall with paint. If I am creating a chalkboard, I use a grid method to transfer the artwork to the larger chalkboard. 
Where are your products for sale?
Individuals and businesses can contact me for custom work through Instagram or via email at thepaperheron@gmail.com. 
For more on The Maker City graphic artists, please click here.
For more on where to find goods by artisans of The Maker City, please click here.