We are happy to welcome a blog series from The Maker City featuring some of the Knoxville area's outstanding makers – artists, crafters and custom builders. This month's post introduces three area artisans who are expert at designing and making beautiful things to wear.
Bio:  Originally from the Chicago area, and in Knoxville since 2007 by way of North Carolina, Idaho and Oregon, Joanna Warren has always done something creative -- painting, knitting, sewing, trying new things. She works in leather because "it is the medium in which my imagination can be revealed in 3-D."
How did you get started as a leather goods designer/maker?
I started making leather products about four years ago when I saw a $100 watchstrap online that was really just a strip of leather and I thought, 'I can make that!' So I did!
What do you make, and how do you do that?
I primarily make totes and purses - minimal bag bases and interchangeable hand-woven handles and straps - you can customize your look. Every piece is 100% handmade, and unique. I start with a basic shape, then the rest of the bag design comes together while making it. I am all about multi-use and function. I'm working towards zero waste and have made small accessories to utilize scraps. These handmade products keep signs of use and tell a story; they change, like us, over time. I hope to inspire others to find a way to express themselves.
Where are your products offered for sale?
214 Magnolia Gallery and my website at joanna-warren.com.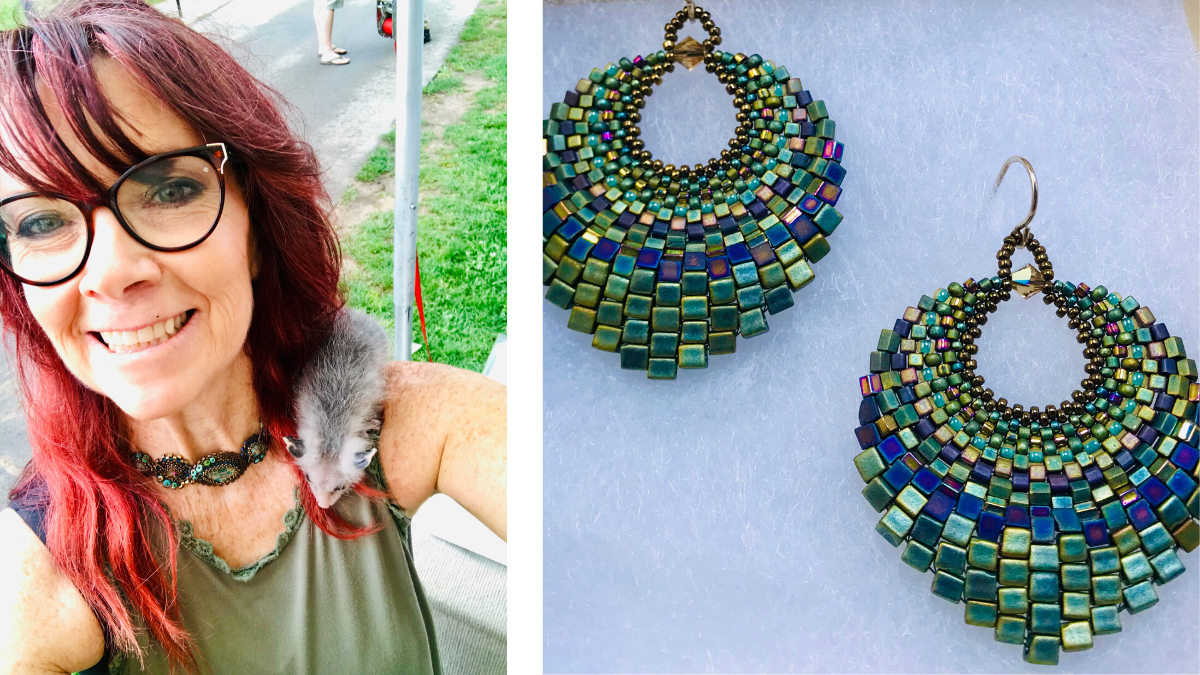 Wendy Seaward of Wendy Seaward Beadweaving
Bio: Well known in the Southeast, Wendy Seaward has won national acclaim and numerous awards in fine craft shows, art exhibits and galleries. Her pieces have appeared on the red carpet of the Country Music Association Awards, the Ellen DeGeneres Show, and on the televised Academy of Country Music Awards. Her work is in the collections of Stevie Nicks, Hilary Scott of Lady Antebellum, Nashville "stylist-to-the-stars" Cheryl Johnson, and Knoxville Mayor Madeline Rogero. She would love to loan some pieces to Dolly Parton.
How did you get started as a beadweaver?  While living in Africa as a Peace Corps Volunteer, I was inspired by the dynamic beadwork of the Ndbele, Swazi, Zulu, Xhosa and Basotho cultures. I am self-taught and consider myself an "outsider" artist.
What do you make, and how do you do that?  I use off-loom beadweaving techniques to compose intricate sculptural works out of glass seed beads and natural materials such as semiprecious stones, pearls, fossils, and found objects.
Where are your products offered for sale?  I sell my work entirely through the fine craft festivals that I jury into. Locally, I sell at my open studio events, Foothills Craft Guild shows, the  Arts and Culture Alliance's current "Arts in the Airport" show, the Folk Art Center in Asheville and the gallery at the John C. Campbell Folk School. I hope to market my work during this time of social distancing and encourage people who are interested to DM me their email for event updates, and follow me at Facebook, Instagram, and wendyseaward.com.