We are happy to welcome a blog series from The Maker City featuring some of the Knoxville area's outstanding makers – artists, crafters and custom builders. This month's post introduces three area artisans excel at the art of body care products.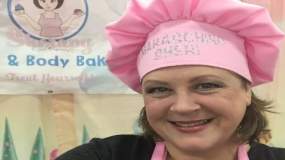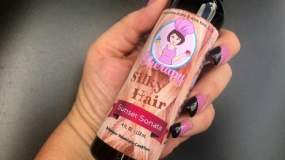 Bio:
The mother of two grown sons and grandmother of three grandsons, Sheri Deburcheo started making her own self-care items in 2011 because she wanted to control what she put on her skin, and to smell good despite many allergies to mainstream fragrances.  "My husband says he married me because I'm funny and I smell like chocolate cake."
How did you get started as a personal care product maker?
I started making sugar scrub and lotion for me and my family members back in 2011. I gave them as gifts for birthdays and holidays. For Christmas 2018 I put a cute label on them and posted it on Facebook. By 2019 I started preparing to offer them for sale to the public.
What do you make, and how?
Everything I make is from raw ingredients and my own recipes in my home - no pre-made bases. I make a variety of products, but my top sellers are Silky Hair, a detangler and silk treatment for hair; CBD Body Butter, a whipped body butter with CBD in it to relieve pain; and Maggie Mud, a magnesium lotion that aids with insomnia, restless leg syndrome, cramps, etc. My business has a bakery theme; most of my products are scented like desserts or fruits.
Where are your products offered for sale?
I sell my products primarily on my website but I also have a booth at Dandridge Mercantile and Southern Market. During fall and winter, I can be found in my pink chef outfit at craft shows and festivals. I also do wholesale.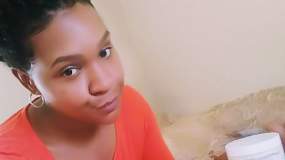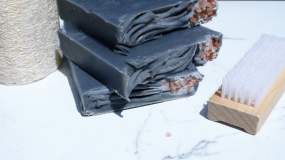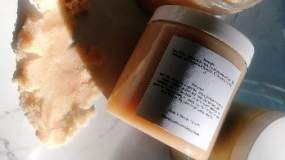 Bio:
Originally from the Memphis area, Morgan Hendrieth moved to Knoxville in 2012 to pursue her BA in psychology at the University of Tennessee.  In the summer of 2014, she began making body care products, distributing them to family and friends, one of whom suggested that she try a local craft fair. She did, and was an immediate hit.
How did you get started as a personal care product maker?
I was a new mom and initially started making body care products because my son was experiencing issues with eczema. I fell in love with saponification -- the process of turning water, oil and lye into soap. After several failed recipes and months of studying and perfecting the product, I finally landed on the creamiest and most nourishing version, with bubbly lather.
What do you make, and how?
We make all of our products by hand in small batches, using only the finest oils and butters. We don't use any harsh chemicals or additives. Every batch is handmade and plant based for the most nourishing and lavish experience. The best part is that it's all good for you and your body.
Where are your products offered for sale?
Several local shops including Jacks of Knoxville and Knoxville Soap, Candle & Gifts. Our goal is to have a storefront here in Knoxville very soon. Visit us online,  Facebook, and Instagram.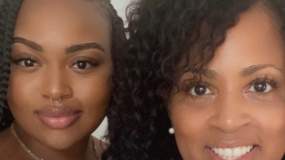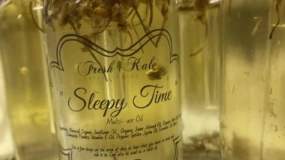 Bio:
Mother-daughter team Tina Drake and Alexia Frazier are native Knoxvillians. They lived in California - Drake working for Bare Minerals and Frazier for Apple - before eventually returning to Knoxville and starting Fresh Kale Bath & Boutique. Drake has extensive experience in the beauty industry, having also worked for Laura Mercier and Lancome. Frazier just loves to create. "I love having my mom on - she does stuff like taxes - yuck! She allows me to focus on what I'm truly passionate about."
How did you get started as personal care maker?
Frazier:  I've always enjoyed doing things with my hands, always been into beauty. I made vegan nail polish in college. When I lived in Atlanta, I would make products for my coworkers at Apple. I was having to take days off of work to fill the orders. That was when I knew what I was supposed to be doing.Drake: My daughter and I wanted to be able to do something to feed back into the community and provide jobs. She sent me some products that she had been making for her team at Apple. I thought, "this is it!" She's the maker; I'm the entrepreneur.
What do you make, and how do you do that?
Drake: Body butters, oils for body and hair, bath and shower bombs, sugar scrubs, a miracle salve with many uses. It's helped kids that had eczema really bad. And it helps with dry skin.
Frazier: I make everything at the kitchen table. Eight hours will go by and it seems like about an hour and a half. I'm in the process of dropping my skin care line at end of August, and we're currently looking to rent a space that has a kitchen in it.
Where are your products offered for sale?
Frazier: Suite 1092 at West Town Mall and on our website. We have wholesale vendors in California, Kansas, Arizona and Texas. That part of the business has really picked up, and I've had the opportunity to dedicate myself to it.
For more on The Maker City body care product artists, please click here.
For more on where to find goods by artisans of The Maker City, please click here.