Chilhowee Expo Postcard courtesy of Knoxville History Project
Knoxville's association with summer is long and deep. Today, we take our lake life for granted, along with recreation on our parks and greenways. A century ago, we didn't have much of that. Still, people from around the country came to Knoxville in the summertime, anyway. Why?
Going way back, even before the Civil War, Knoxville was a sort of epicenter of a kind of summer-vacation attraction that hardly exists anymore. The Springs Resort.
The ideal of a vacation wasn't the beach, which many 19th-century people associated with sharks and hurricanes. It certainly wasn't hiking in the mountains—people did enough walking in town. The ideal was a more restful vacation in the countryside, in a hotel with lots of porches with rocking chairs, with semi-formal meals and perhaps with a band in the gazebo for dancing—and, always, with a beautiful brook nearby. Sometimes the springs would be advertised for their medicinal quality, sometimes not, but something about fresh water, the smell of it, the sound of it, was considered essential for the perfect vacation.  
The Knoxville area had lots of springs—A century ago, probably two dozen of them within a 50-mile radius. Oliver Springs, Hale Springs, Lea Springs, Mt. Nebo Springs, Line Springs, Glen Alpine Springs, Melrose Springs, Wildwood Springs, Seaton Springs, Panther Springs, Haymond's Springs, Yellow Springs, Dupont Springs, Rhea Springs, White Cliff Springs.
Those were each, at one time, the latest thing, the last word in a relaxing rural vacation. Some of the best-known ones were close to Knoxville.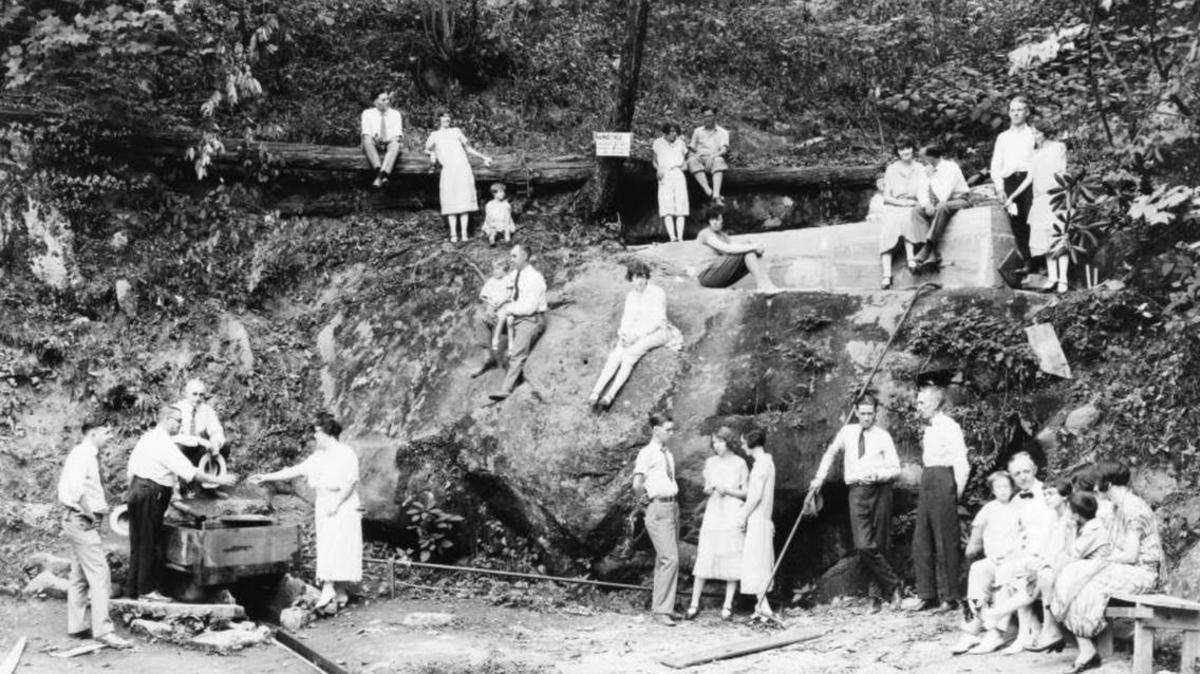 Montvale Resort courtesy of McClung Historical Collection
Montvale Springs is one of the oldest; its original hotel was built in 1832, during Andrew Jackson's first term as president. The same year, it became a setting for Tennessee's first novel, by Charles Todd, called Woodville. It was known for its parties—an elaborate masquerade party at Montvale is a big part of another novel called Tiger-Lilies, by Sidney Lanier. It seems to have cultivated a literary reputation, since it was also a favorite spot for Middle Tennessee writer Mary Noilles Murfree, who was best known for her fiction about the Smokies. Many Montvale visitors would arrive in Knoxville on the train, and perhaps stay in a local hotel before setting off in a carriage for Montvale the next day. After its hotel burned down, Montvale later became a YMCA camp, with the hotel's stone steps as a centerpiece, and the old gazebo still standing. It's now privately used by a nonprofit.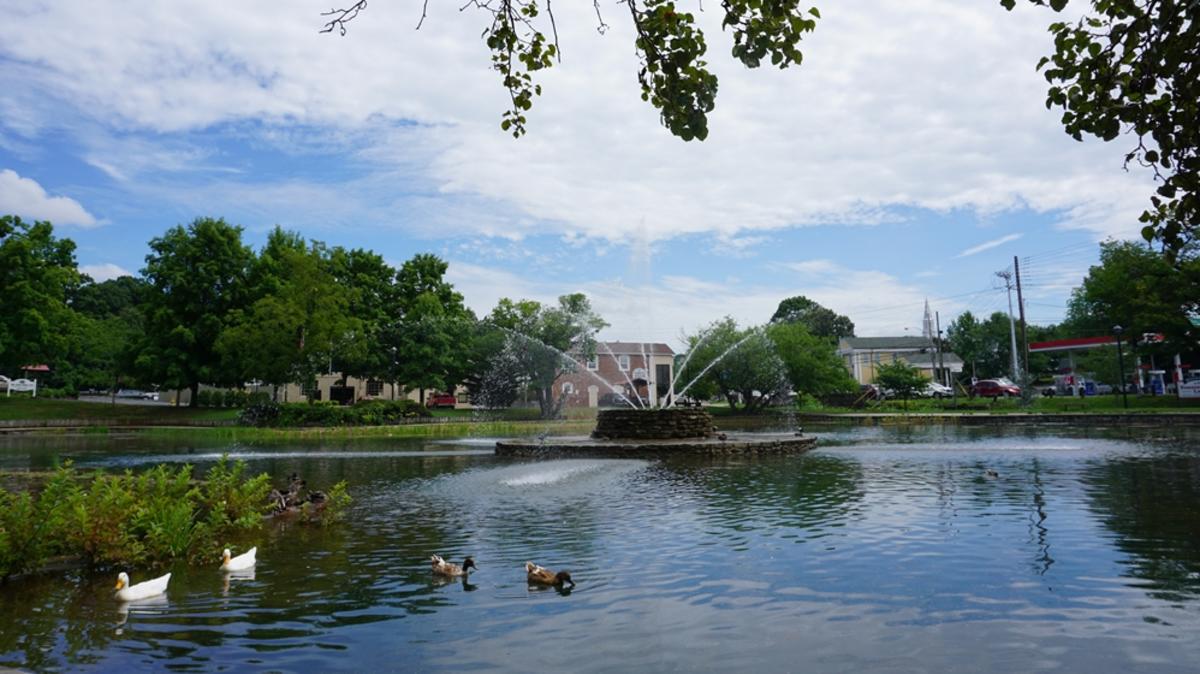 Fountain City Duck Pond courtesy of Knoxville History Project
Fountain City, which developed as a destination soon after the Civil War, was Knoxville's best-known resort in the late 19th century, first famous just as a beautiful, quiet spot with a brook that flowed out of the side of a steep ridge to form First Creek. You can still see the Fountainhead, as it was known, in Fountain City Park, which is the best place to imagine what attracted thousands to the area. So many came that developers built a resort for them—the Fountainhead Hotel. It vanished a century ago, and all that remains of it, beside the name Hotel Road, is its heart-shaped pond, from 1890, now known as Fountain City Lake—or "the duck pond." 

Whittle Springs Pool courtesy of Knoxville History Project
Whittle Springs, which was not far from there but later, lasted much longer as a hotel. Once advertising waters with healing qualities, Whittle eventually abandoned those claims, but remained a popular destination for both tourists and Knoxvillians. Its big, handsome hotel, which remained in operation until the 1950s, hosted some of the great jazz orchestras of the day, including those of Jack Teagarden and Gene Krupa, but to many Knoxvillians of a certain age its main attraction was its giant swimming pool. After 1954, Whittle Springs it was the broadcasting headquarters of WNOX, which hosted performers from Johnny Cash, early in his career, to Bill Haley and the Comets; that last of that studio was recently torn down. All that's left of Whittle Springs resort today is a big golf course. 
Another long-gone hotel was at Neubert Springs, in deep South Knoxville. It remained popular for its jazz dances in the 1920s and '30s. Its unusual gazebo, built of laurel roots, is still visible from Neubert Springs Road. 
The springs-resort era declined and nearly disappeared in the mid-20th century, as people had automobiles and began favoring different kinds of vacations. But they were a big part of the origin of Knoxville's tourist business, and on the hottest days of summer you can't help wondering if they couldn't make a return someday.