It's Women's History Month. In 2020 we celebrated the centennial of the Nineteenth Amendment, and learned a lot about Women's Suffrage, and it's a great story of a great effort. But we shouldn't overlook women deeper in Knoxville's past who made a mark on the city without ever casting a vote.
It's true that many or most of them rose to prominence as wives and then widows of prominent men. But they did more than family duty obliged them to, pioneering in their own way--and all succeeded in improving their community in ways we may be able to see more than two centuries later.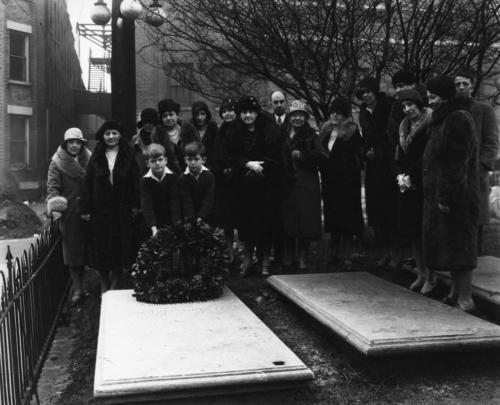 Ceremony decorating the graves of William Blount (1749-1800) at left and his wife Mary Grainger Blount (d. 1802). First Presbyterian Church graveyard, 1920s. (McClung Historical Collection)
Mary Grainger Blount, for example, grew up in colonial Wilmington, North Carolina. She married William Blount, a promising politician 12 years her senior. He became one of the signers of the U.S. Constitution, then a territorial governor, establishing the capital of the Southwest Territory, and the rough new frontier town of Knoxville. Mary was pregnant with her sixth child when she moved here and is believed to have had a strong influence on the town's most durable piece of architecture: the frame house that became known as Blount Mansion. If it was not as luxurious as some in Wilmington, it was believed to be the first house in the region with proper glass windows. As a historian from her era related, "She was an accomplished lady, and did much to soften and refine the manners of the first inhabitants of Knoxville."
As First Lady of the territory, she often served as the host of her husband's negotiations with Cherokee and others, occasionally sharing her table with internationally noted scientists, like Andre Micheaux, and noblemen of Europe, including France's future "citizen-king," Louis Philippe.
She bore seven children, including William Grainger Blount, who became Tennessee's secretary of state, and served two terms as a U.S. congressman—and Barbara Blount, who became one of the first women to enroll in a college in Tennessee, two years after her mother's death. Although she died at age 41, the impression she left on the frontier is memorable. Maryville, soon to be famous for its college, is named in her honor, and Grainger County, which bears her maiden name, is Tennessee's only county named for a woman. Her 1802 grave is one of the easiest to find at First Presbyterian Church on State Street.
Molsey Blount, the title a reference to a nickname known to Mary's family and friends, is a rare biography of a frontier woman; the book by Nancy McEntee came out in 2015. And her home, Blount Mansion, said to be the first frame house so far west of the Appalachians, is formally a National Landmark. It's always there to look at a surprise glimpse of the 18th century just around the corner on Hill Avenue. 

Knoxville Gazette Masthead from April 1, 1817
Not as well known, but maybe more astonishing, is the story of Elizabeth Roulstone, who became an important publisher more than a century before American women could vote. Born around 1777 in Virginia, the daughter of a Revolutionary War veteran and early Tennessee settler Devereaux Gilliam, she spent some of her youth at Gilliam's Station, at the Forks of the River just east of town. In 1794 she became the wife of George Roulstone, the former Bostonian who became Tennessee's first newspaperman when he launched the Knoxville Gazette in 1791. Her husband's press was especially important because it was the only press in a territorial capital that became a state capital. It was Roulstone who printed the Tennessee Constitution of 1796, and the state's first law books. It's believed that she worked alongside her husband.
When Roulstone died in 1804—he was only 36—his wife became a single mother of five children, and was pregnant with a daughter. Male executors formally assumed some of his roles, including that of state printer, but it was apparently Elizabeth who knew how to do the work, and who did it. In 1806, in a competitive election, the state legislature (still meeting in Knoxville) chose her over George Wilson, the city's only other printer. Elizabeth Roulstone became, arguably, Tennessee's first female elected official. Documents from that era bear the stamp of "Elizabeth Roulstone, State Printer."
She was in charge of the weekly Gazette, and perhaps the state's first newspaperwoman. But perhaps feeling the stress of single motherhood, she married an older man, a Revolutionary veteran named William Moore. In those days, marriage was rarely a good career move for a woman. A single woman could own a printing press; a married woman was obliged to turn it over to her husband.
That husband, William Moore, was in charge now. In 1808, following the death of her daughter, she and Moore moved her printing press to Carthage, and set up shop there, running the Carthage Gazette. Most of what the press produced bore the name of her husband, who learned the profession as her apprentice. She died in 1824 when she was about 47. Her burial place is obscure.  
It's a pity there's no relic of Elizabeth Roulstone in the city where was once a prominent publisher. Her pioneer-publisher first husband is believed to be buried at First Presbyterian, though no legible grave marks the spot. Searches turn up the graves of her father (he's in a private family graveyard at Gilliam Station) and at least a couple of her children. One respelled his name as George Raulston and settled in Blount County; south of Maryville; Raulston Road intersects with Montvale Road.
George and Elizabeth Roulstone's original Knoxville home was apparently on the southwest corner of Cumberland and Locust, now the location of a nondescript modern office building.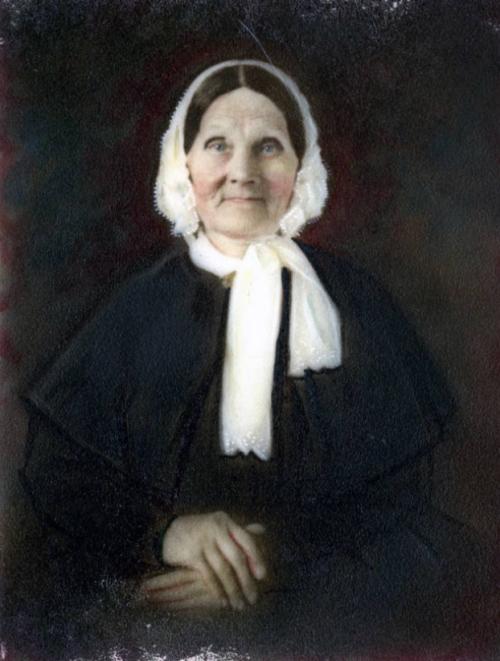 Margaret Christian Russell Cowan Humes Ramsey (1777-1854). (McClung Historical Collection)
Margaret Russell was born in 1777, the daughter of a Revolutionary War officer. (Her birthdate suggests he apparently came home during the war at least occasionally.) In Jefferson County she married James Cowan, "a young man of high principles" who intended to join his brothers in Knoxville as successful merchants. But in 1801, the year they moved to Knoxville, the state capital, where her husband intended to join his successful brothers as merchant, he died. Margaret, a widow at 24, had a second challenge; she was pregnant. She gave birth six months later.
A single mother in a frontier capital with a newborn to care for had few options. Just four months after giving birth, she married again, to Thomas Humes, an Irish immigrant who had lived in Knoxville for several years and found himself single and agreeable at age 34. She took her four-month-old baby on their honeymoon.
They would have several children together, and Humes, a merchant, did well in the lively town. They built a large brick house on Gay Street, a more impressive building than most, with four stories including a capacious basement, perhaps to serve as a residence. But before it was completely finished, Thomas Humes died of a skin disease. Not even 40, Margaret had been widowed twice.
A single mother again, with a household of children ranging from toddlers to teenagers, she did have some versatile property. The big building the Humeses had not quite finished at the time of the husband's death wouldn't be a luxurious house for one family. Inheriting her husband's small fortune, including what was probably the most impressive single building in Knoxville, Margaret oversaw its completion, and leased it to other businesses, notably for use as a tavern, or hotel. Open in July, 1817, under the proprietorship of Archibald Rhea, the building became known as the Knoxville Hotel. It quickly developed a reputation as Knoxville's finest.
The degree of Margaret Humes' involvement in the day-to-day Knoxville Hotel operation is unknown, but she was at least the landlady of an interesting spot in Knoxville. The hotel had a bar, 13 guest rooms, a ball room, and a dining room, with a separate fireplace in each room. It hosted parties, a dancing school, occasional vocal concerts. Among its distinctions was a gala reception for Gen. Andrew Jackson, then best known as the hero of New Orleans.
At the same time Humes and Rhea were opening that hotel in early 1817, an august group of intellectuals got together to create a new public amenity for Knoxville. A total of 48 were involved, willing to invest time and money to start the city's first library. Almost all of them were men. One of the 48 charter members of the Knoxville Library Company, the first library movement in East Tennessee formally incorporated by act of the state legislature, was one woman named Margaret Humes. The subscription-based library, which was located in a private school downtown, was only open on Saturday afternoons from 2 to 5, but had a wide variety of books, ranging from books on botany and rhetoric, a biography of Patrick Henry, a narrative of a shipwreck off the coast of Africa, and subjects of great recent interest, like the new state of Louisiana, and "Lewis and Clark's Travels across North America to the Pacific Ocean." Details of Knoxville's first public library are limited, bit it thrived vigorously for at least seven years, perhaps longer.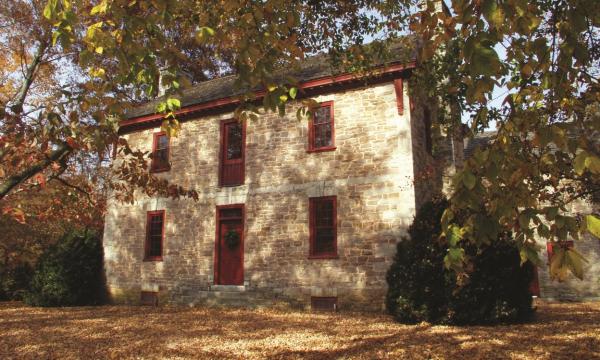 Ramsey House
Margaret Humes was certainly interested in knowledge and education—an interest reflected in the careers of some of her children--even though she had reason to be distracted. That April, 1817, just as she was involved in the nascent library movement, she gave birth to her late husband's last child, Andrew. She was in her 40s by then, but not quite through with men. In 1820, she married Pennsylvania native Francis Ramsey, then 55. He died only seven months later. And, as was her habit when a husband died, she was once again pregnant. She was almost 44 when she gave birth to Francis Alexander Ramsey, her last child.  (Today you can visit the Ramsey House to learn more about this family.)
Known for her "magnetic" personality, she "had suitors" even after that—perhaps we would say she "dated"--but she remained devoted to her family, which was already complicated enough. Her seven children, with three different last names, most of whom grew up knowing their mother as the only constant in their lives, were dominated by achievers. 
Margaret's last child, Francis Alexander Ramsey, became a prominent physician and editor of medical journals. 
Her son James Hervey Cowan, born when she was unexpectedly single and with few resources in 1801, became a prosperous merchant, a strong supporter of several educational institutions, including the university, and was elected mayor in twice, in 1856 and 1858.
Two daughters with Thomas Humes, Mary and Elizabeth, were at least somewhat involved in business, after 1824, as heirs of different parts of the commercial Gay Street property later to be known as the Lamar House; the extent to which they were involved in dealing with the businesses that located in the big building their parents built in 1816 is unclear, but they might be listed, along with their mother, among Knoxville's first businesswomen. 
Thomas Humes never really knew his father who bore the same name. Margaret had raised him to be a Presbyterian minister, went to Princeton's Presbyterian seminary long enough to discover he was really an Episcopalian. After a career as a journalist—during which he served, arguably, as Knoxville's first historian--he became the rector of St. John's Episcopal Church—and later, president of East Tennessee University when it became, with his help, the University of Tennessee. As an elderly man, he finished his distinguished career as the first full-time librarian of Lawson McGhee, the state's most durable public library—perhaps finishing a job his mother had helped start, 75 years before.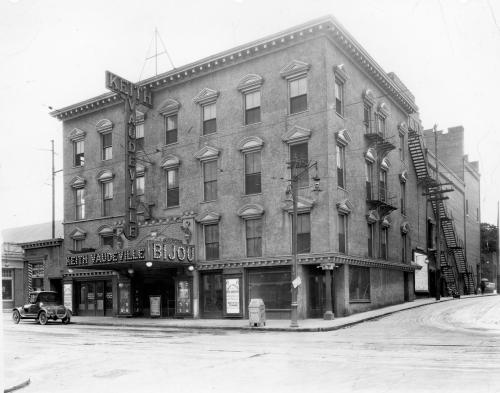 Bijou Theatre
Margaret lived, barely, into the age of photography. We always hear that 19th century people never smiled for photographs – she didn't get the memo. In this photo she's probably in her 70s, wearing a bonnet, her hands crossed on front of her. Her photograph is one of the earliest images I've seen taken of a Knoxvillian. It's definitely the earliest one I've seen smiling. She was an old woman proud of her life.
She died in 1854, after living 33 years of her third widowhood. She was one of the last people to be buried in the cemetery of First Presbyterian Church, where her first two husbands had been buried several decades earlier. Her grave is engraved, "A Mother in Israel," a quote from Judges, in reference to Deborah, the prophet-judge, a remarkable woman of many talents.
Next time you get to walk into the Bijou Theatre, you'll walk through the old house she and her husband built in 1816-1817. The lobby and box office area, as well as part of the restaurant known as the Bistro at the Bijou, are all within the walls of Thomas and Margaret Humes' house, which she governed as landlady of the Knoxville Hotel, later to be renamed the Lamar House.  
Whether 3,000 years ago or 200 years ago, women had to cut their own paths, and are especially memorable for it.