Today we welcome Steven Paul, Tennessee State Record Musky holder, to tell you how to make the most of a stay in Knoxville to experience musky fishing right here in East Tennessee!
Here in the South we call them Musky, while in northern states such as Minnesota and Wisconsin many opt for the spelling: Muskie.  The Ojibwa First Nations tribe named them Maashkinoozhe, while some folksy old-timers still refer to them as Jacks.  Regardless of native tongue or physical location, there is one name for the Muskellunge (or Esox Masquinongy) that nearly all anglers agree on: "The Fish of Ten Thousand Casts".
Musky have earned this dubious nickname by being notoriously difficult to catch.  Often anglers spend endless hours, casting heavy over-sized lures, only to catch a glimpse of the elusive monster before it mysteriously returns to the depths.  Needless to say the pursuit of trophy musky can be maddening for even the most patient of angler.
Regardless of their reputation for frustrating fishermen far and wide, many anglers continue to add catching musky to their "bucket list" as a fish of a lifetime.  These same folks are often willing to spend hundreds or thousands of dollars to travel to remote areas of Minnesota, Wisconsin and Canada in pursuit of this elusive trophy fish.  
Fortunately for those enthusiastic anglers visiting the Knoxville area, they can leave their passports at home, because trophy-class Musky are here and thriving in our local waterways.  The stocking efforts of the Tennessee Wildlife Resources Agency along with the steady growth rate of native populations have allowed these toothy predators to flourish just minutes from downtown Knoxville.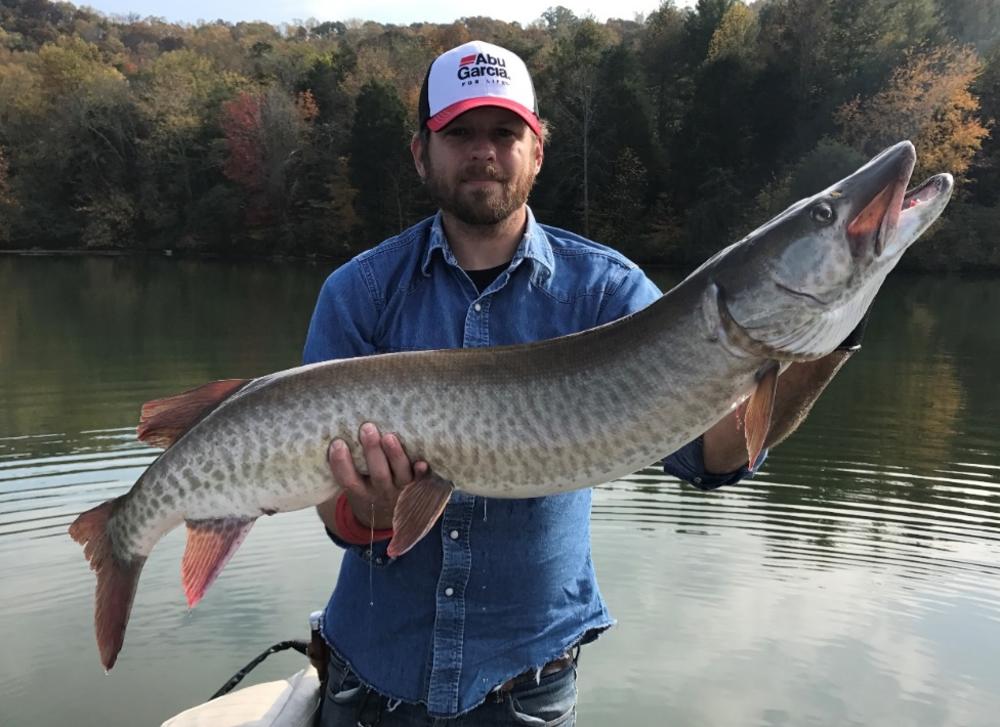 The clean cool waters, mild climate, and rich bio-diversity of East Tennessee's lakes and rivers have created a true "Trophy Factory"; churning out some astoundingly large fish.  I was personally fortunate enough to catch the current Tennessee State Record Musky in 2016 and have recently landed the longest documented fish at 55 inches in length.  And as a professional musky fishing guide to both local and out of town clients, I can attest that the Knoxville area has not only quality world class musky fishing but also quantity for those willing to dedicate their time.
Knoxville's mild climate offers musky fisherman a unique experience as one of the few year-round fisheries for musky.  During winter months many northern musky destinations are unfishable due to frozen fisheries or local regulation.  Fortunately, here in East Tennessee water temperatures rarely dip below the mid 40's, so ice is never an issue but more something we add to our sweet tea.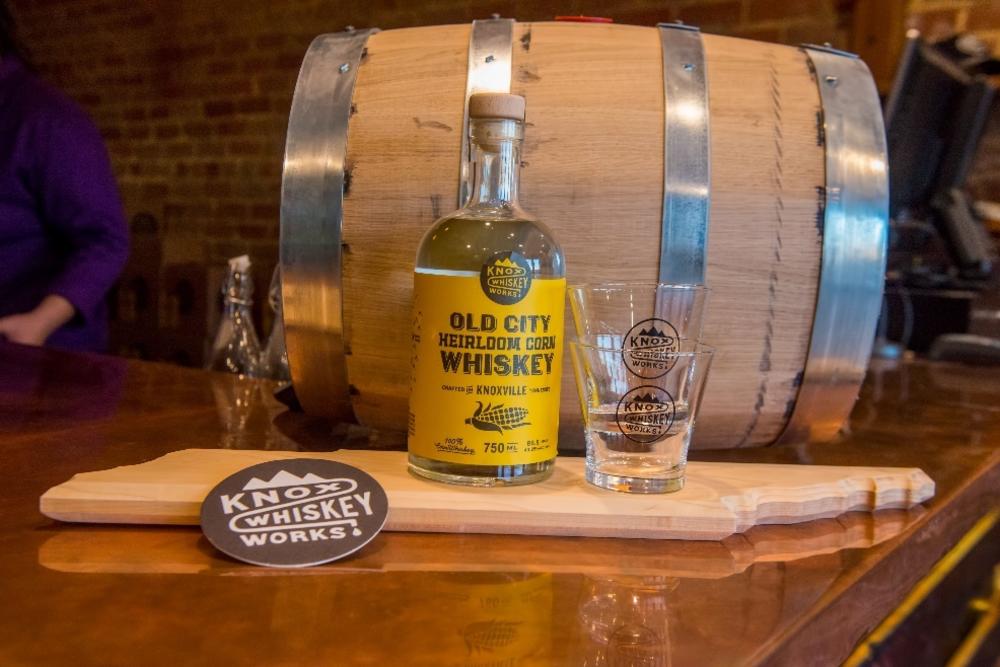 After a tough day on the lake chasing these toothy critters, it may be in the works to find something a bit stiffer than tea, so a trip to PostModern Distilling in Knoxville's Historic Old City is a great way to celebrate your trophy catch or drown your fishing sorrows.
With creative cocktails made from one of their own hand-crafted spirits it's the perfect place to relax, unwind and tell anyone that will listen about the one that got away.  And if you want to take home a little bit of that southern flavor Knox Whiskey Works has perfected artesian distilling, blending tradition and passion into their uniquely southern spirits.
Knoxville's vibrant downtown and the Historic Old City district are not only home to these two stops on the Tennessee Whiskey Trail but is also the epicenter of Knoxville's Ale Trail.  The Ale Trail showcases some of the finest locally made craft brews that Knoxville brewers have to offer but is a great way to learn the layout of the area, discover local artisans and enjoy unique shopping.  From perfect craft brews to breath-taking views, the Ale Trail is the perfect way to experience all the local flavors Knoxville has to offer.
Musky can be found throughout East Tennessee, most notably Melton Hill which is partially located in Knox county.  Additional musky fishing opportunities abound throughout the state on such lakes as Norris, Douglas, Dale Hollow, Center Hill and Rock Island.  With prime musky waters in every direction, Knoxville becomes the perfect centralized location to effectively pursue Volunteer State musky.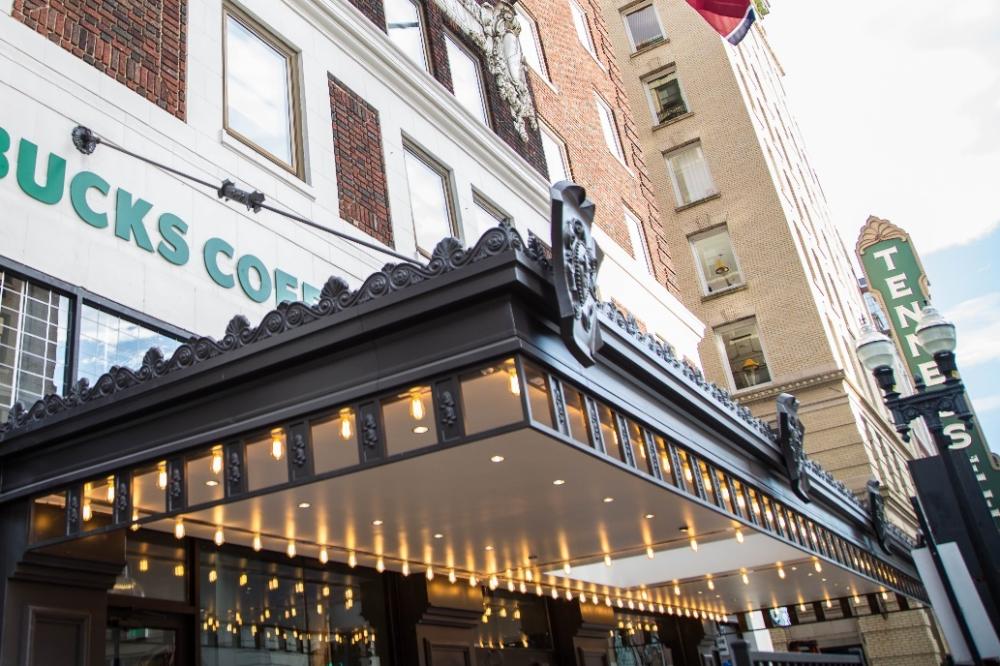 Pursuing Musky can take a physical toll so finding a comfortable place to stay is always an in important consideration.  Downtown Knoxville's centralized location near all things musky makes it the perfect place to stay.  Visitors can explore and experience all the Knoxville has to offer while still within quick access trophy fishing destinations.  There are many hotels ranging from affordable to opulent, making the decision to stay here an easy one.
While some traditional tactics work on Tennessee musky, they definitely have their own unique southern attitude.  With an extremely diverse forage base and the structural complexity of area waterways, Knoxville musky present even seasoned anglers with new sets of challenges.  Any experienced angler can tell you that catching a musky is never easy, but thankfully finding interesting and exciting things to do in Knoxville couldn't be simpler.
And if more than muskies catches your fancy, Knoxville will be the host of the 2019 BASSMASTER Classic, March 15-17.   Book your hotel room today to experience what is known as the biggest event in bass fishing!
.