Mountain Dew. Today it's the soft drink of gamers and programmers. It "fuels" skateboarders, snowboarders, and racecar drivers. And for some, it's the perfect pairing for Doritos or Taco Bell fare. High in sugar and caffeine, Mountain Dew ranks as the third most popular "liquid refreshment brand," behind only Coca-Cola and Pepsi-Cola. Around these parts, it is most people's favorite, and it began right here in the hills of Appalachia!
While everybody likes to claim it, including our neighbors "up the way" in Johnson City, the truth is that Mountain Dew was born right here in Knoxville! Knoxvillians and visitors alike will enjoy learning all about Mountain Dew's entertaining history in a new feature exhibition "It'll Tickle Yore Innards!": A (Hillbilly) History of Mountain Dew, on display at the Museum of East Tennessee History through January 20, 2019.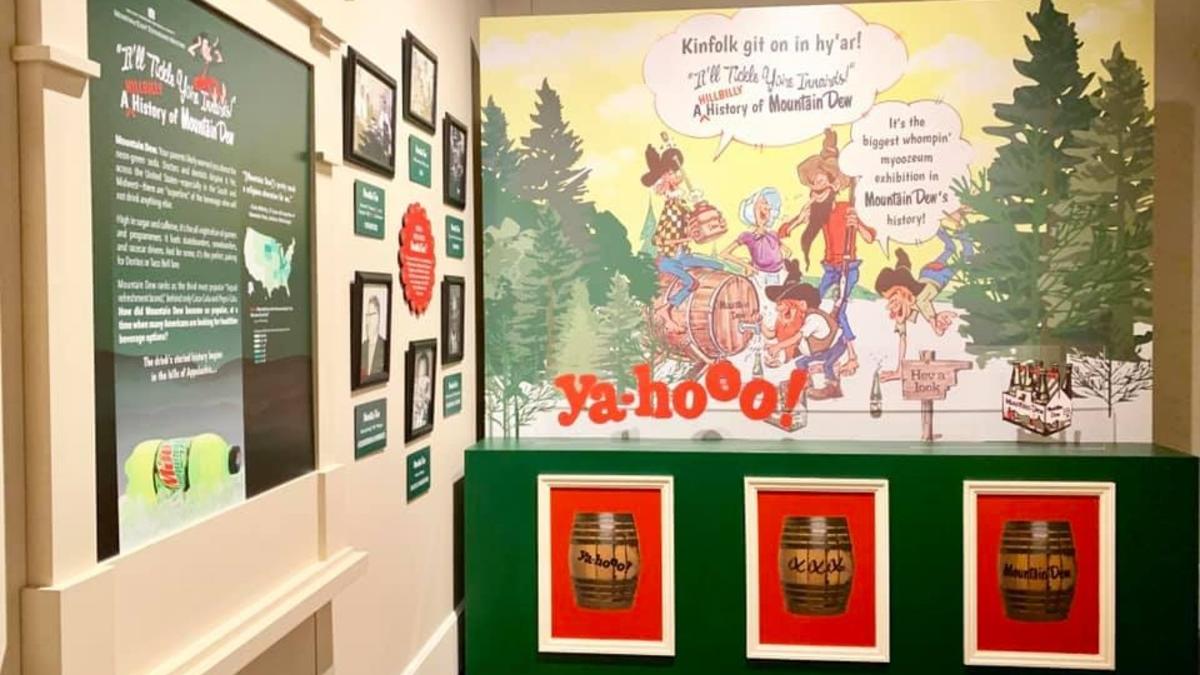 Mountain Dew was invented in Knoxville in 1946 when Barney and Ally Hartman, of the Hartman Beverage Corporation, first debuted their new soft drink at a Gatlinburg convention. The drink's trademark became official in 1953. Originally, Mountain Dew's flavor was lemon-lime similar to 7-Up or Sprite, and it was created by the Hartman brothers primarily as a mixer for hard liquor. In fact, the name "Mountain Dew" came about because the brothers joked that when mixed with liquor, the drink resembled a fine Tennessee moonshine. To continue the hillbilly aura, the old Mountain Dew bottles depicted a Tennessee moonshiner shooting at a revenuer as he exits an outhouse.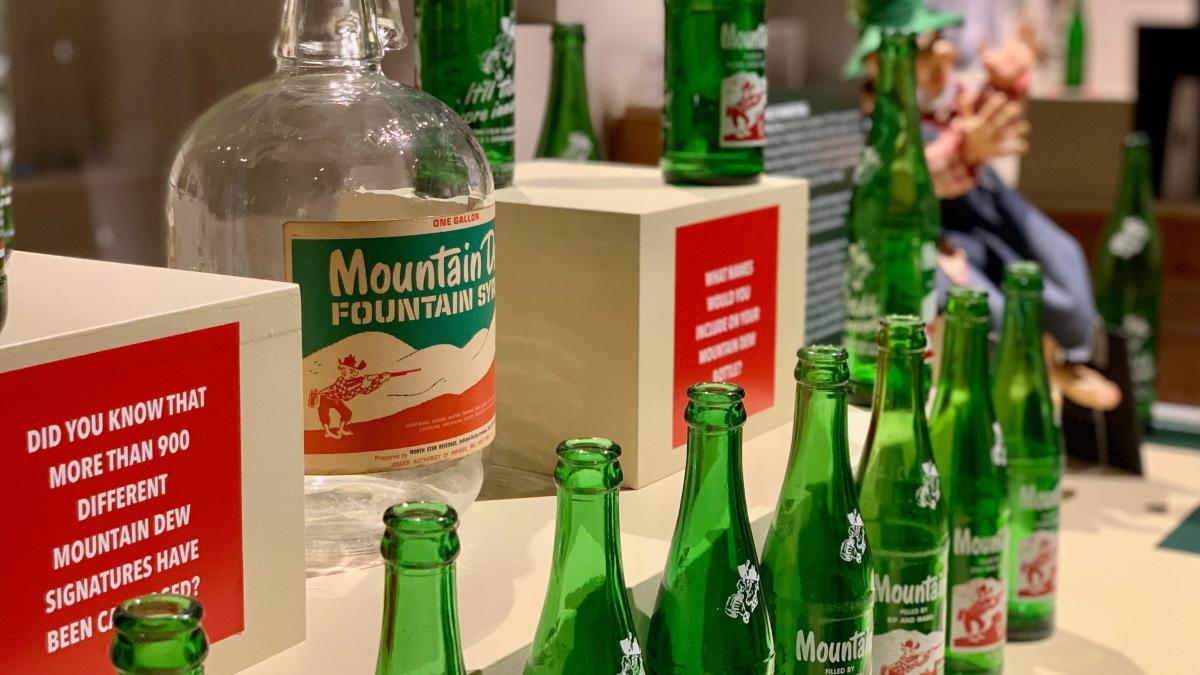 Sales of the lemon-lime flavored Mountain Dew were modest around Knoxville, so the Hartmans decided to expand their reach by issuing their first franchise to Charlie Gordon of Tri-City Beverage in Johnson City in 1954. Charlie Gordon used unique and aggressive advertising techniques to promote Mountain Dew and to dramatically increase the drink's hillbilly desirability. However, it was not until 1960 when Tri-City's manager, Bill Bridgforth, changed the flavor to the citrus-lemonade flavor we know today, that the drink began to soar. As Bridgforth put it, "it took off like a cat hit on the tail with a hammer."
"It'll Tickle Yore Innards!": A (Hillbilly) History of Mountain Dew highlights the drink's history, from the origins of the term "mountain dew" and the development of the marketable hillbilly image that influenced media and culture, to becoming the third most popular soft drink brand.
The exhibition includes more than 200 artifacts highlighting the drink's history, moonshining, and the hillbilly image. The exhibit begins with video footage of early moonshine busts and a 1938 visit to a moonshine still in Cocke County. A variety of liquor jugs dating from as early as the 1890s are on display with other moonshine paraphernalia. An assortment of artifacts reflects the early color writers and their effects on the hillbilly image, as well as artifacts from Knoxville's 1910 Appalachian Exposition. One case contains a variety of "hillbilly" memorabilia, including Beverly Hillbillies dolls, comic books, Lil' Abner items, and a pair of Hee Haw overalls.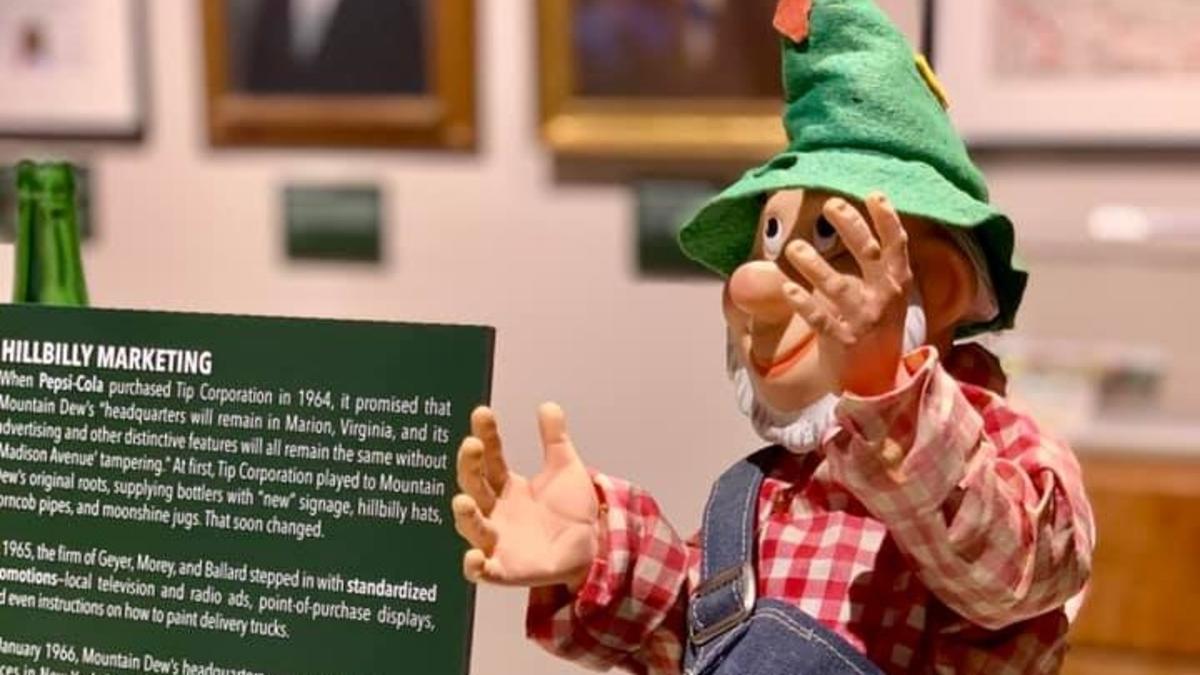 Also on display is a 1900 carbonation machine from the Roddy Coca-Cola Bottling Company in Knoxville and a sizeable display of rare and highly collectable bottles, including a few dating to Knoxville in 1927, a progression of Mountain Dew bottles over the years, and a variety of other vintage soft drinks from around the region. Of special interest are the "Barney and Ally" bottles, the first Mountain Dew bottles ever produced. In 1951 and 1952, the Hartman Beverage Company produced 7 oz. green and clear bottles. The applied color labels bear the name of the Mountain Dew creators. In the early 1950s, green bottles were reserved for "colorless" flavors, while clear bottles were used for drinks where the color would reflect the actual flavor. Mountain Dew was originally bottled as a set of flavored drinks and not as a specific flavor as it is today. Also displayed are a variety of items relating to the Hartman family.
Visitors are welcome to stop by the East Tennessee History Center (601 South Gay Street) to see "It'll Tickle Yore Innards!" Monday through Friday from 9:00 a.m. to 4:00 p.m., Saturday from 10:00 a.m. to 4:00 p.m., and Sunday from 1:00 p.m. to 5:00 p.m. with FREE admission.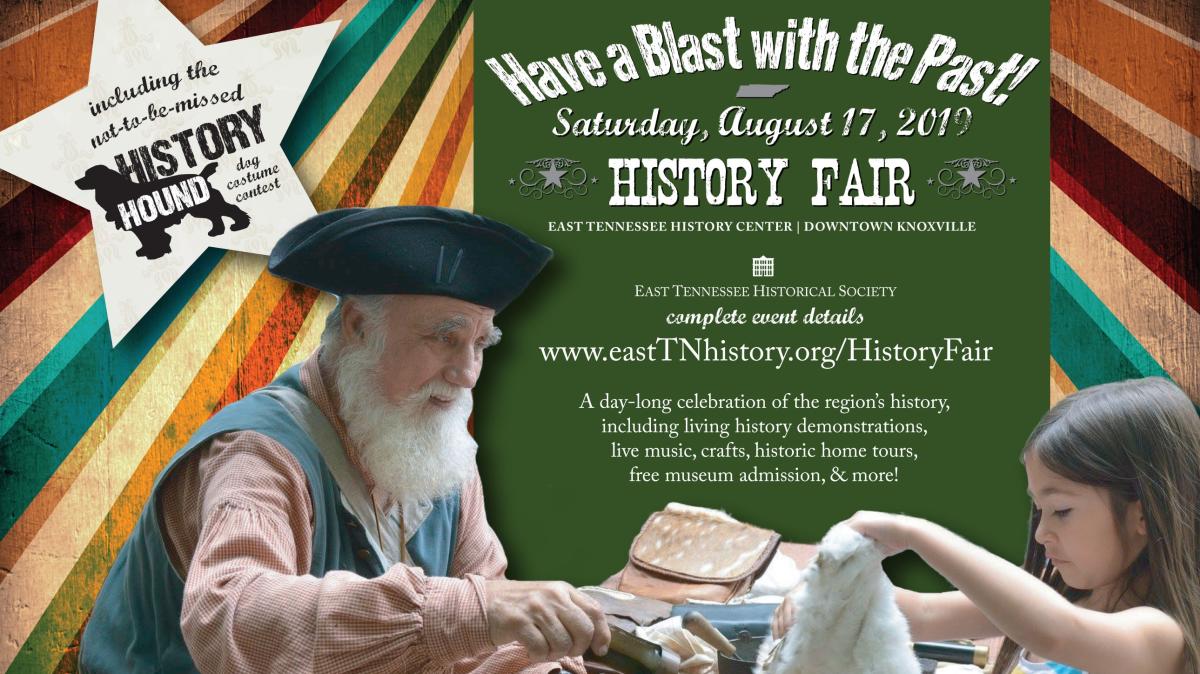 The perfect opportunity to see the exhibition is during the 12th Annual East Tennessee History Fair on Saturday, August 17, where the public is invited to have a blast with the past! History comes alive in downtown Knoxville with a day of free museum admission, a living history timeline, "History Hound" Dog Costume Contest, Downtown's only antique fair, Davy Crockett's birthday party, bus tours to open houses at downtown's historic homes and museums, vintage films at the Tennessee Theatre, Friend's of the Library book sale, a checkers tournament by Mast General Store, children's activities, live music, a vintage baseball game, tours with Jack Neely and Knoxville Walking Tours, historic craft demonstrations, more than 60 historical groups and museums from around the region, make your own raku pottery, tours of the First Presbyterian Church's stained glass and cemetery, a special exhibit at the Art Market Gallery, food trucks,  Market Square Farmer's Market, and much more! We're even hoping for a special visit from Mountain Dew's "Dew Crew"! It's all free and there's something fun for everyone!
For more about "It'll Tickle Yore Innards!": A (Hillbilly) History of Mountain Dew and the East Tennessee History Fair, please visit www.easttnhistory.org.
About the East Tennessee Historical Society:
Established in 1834, the East Tennessee Historical Society has been helping East Tennesseans hold on to our unique heritage--recording the events, collecting the artifacts, and saving the stories that comprise the history we all share. The historical society pursues its education mission through publications, lectures, conferences, school programs, museum exhibits, and heritage programs such as the popular First Families of Tennessee and Civil War Families of Tennessee. The East Tennessee History Center houses the staff and programs of the East Tennessee Historical Society, the Museum of East Tennessee History, the Calvin M. McClung Historical Collection, Tennessee Archive of Moving Image and Sound, and the Knox County Archives.