Although it's an iffy time to visit museums and cultural centers in an era of an unpredictable epidemic, we can still experience history with a drive to selected sites around town. This is Black History month, and African American culture touches all parts of town, as we'll show, and an afternoon drive can offer some perspective.
Few architectural remnants of African American heritage before the 20th century remain in Knoxville, partly thanks to the mass demolitions that came with Urban Renewal of the late 1950s and 1960s. Some rare exceptions are the 1898 Cal Johnson Building, downtown on State Street, and the campus of historically Black Knoxville College, which dates to 1876 and still has some early buildings, though the college itself is currently dormant, as efforts are underway to reopen it.
Still, we can see some areas important to the African American community of more than a century ago, by finding the cemeteries.
Some parts of the country had laws demanding that graveyards be segregated. Knoxville apparently did not. Even Old Gray, famous as the burial ground of the white elite, includes several known graves of African Americans, and the older First Presbyterian churchyard was proud to be the resting place of people "of all races and creeds."
However, economic realities and cultural segregation of churches, mortuaries, and life-insurance organizations resulted in the creation of several African American cemeteries in town.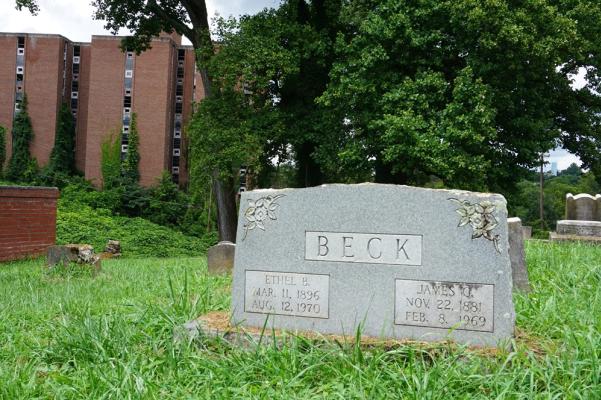 Beck Graves | Courtesy KHP
We'll start on the east side. From downtown, drive east Summit Hill Drive (which turns into Dandridge Avenue at E. Hill Avenue), a short distance past the Beck Cultural Exchange Center, the region's primary repository of African American history. At the bottom of the hill, turn left on Wilder, and then right on Fuller Avenue. The mostly wooded area on the downhill side of Fuller is Knoxville's largest African American cemetery still unrestored. It's known as the Eastport Cemetery. It might appear at first as simply a thickly wooded area covering most of a square block in the middle of a residential neighborhood, but pause and have a look, and you'll see among the trees and vines, gravestones. Because of economic stress among families unable to afford to pay for maintenance, several early African American cemeteries became overgrown over the years. Several have been restored, though, and you can already see progress of a recent project to make this one a visually appealing place. Although it's not yet open to visitors, you can get a sense of it with a drive around its perimeter.
One clue about why this graveyard was in this spot is a state historical marker on Fuller Avenue, the northern edge of the cemetery. In the mid-19th century, even before slavery was abolished, this was the site of Knoxville's first Black church, the Warner Tabernacle African Methodist Episcopal Church, established around 1845. Legend has it that it was involved in the Underground Railroad. The church building has long since vanished, but the adjacent cemetery remains.
When you're done, turn right (north) on McConnell Street and then left on Bethel. On your right is the best-known of the city's African American cemeteries. This grassy, tree-shaded park is known as Oddfellows, for the former men's fraternity that established it, but it actually includes other individual cemeteries clustered together, several of them with colorful names connected to the insurance and social fraternities that established them: The Old Banner Lodge of the Odd Fellows was the first to establish this cemetery in 1880, and the Silver Moon Lodge of the same fraternity added to the cemetery five years later. Meanwhile, other organizations, the Good Samaritans and the Daughters of Zion also began using the property during that era. A state historical plaque at the corner of Bethel and Kyle tells some of its story.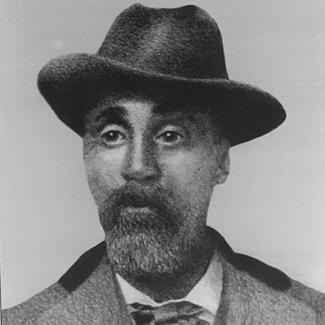 Cal Johnson
Courtesy Beck Cultural Exchange Center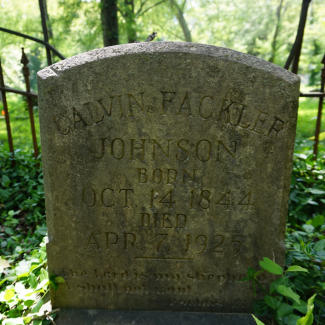 Cal Johnson Grave at Oddfellows Cemetery
Courtesy KHP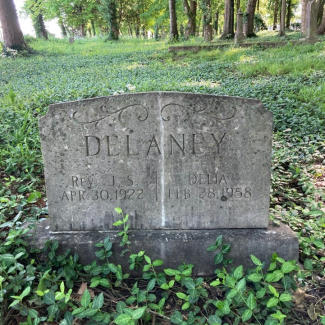 Delaney Graves at Oddfellows Cemetery
Courtesy KHP
Among the thousands buried here are many who grew up in slavery. Among those are the legendary businessman-philanthropist Cal Johnson (his whole family is contained within an old iron fence) and the parents of prolific artists Beauford and Joseph Delaney, Sam and Delia Delaney. (Beauford, the most famous of the family, is buried in Paris; Joseph is buried at Greenwood, on Tazewell Pike.)
Turn right on Kyle, and turn left on MLK, and later right on Summit Hill Drive. Follow that broad road as it turns into Western, then turn right on University. Turn left on College and drive just over the hill to find the Freedmen's Mission Cemetery.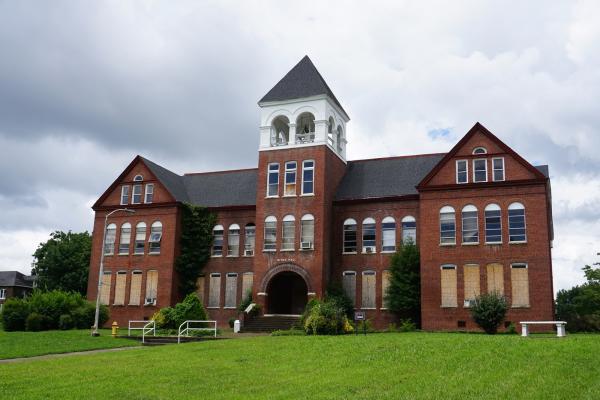 Knoxville College | Courtesy KHP
Right beside historic Knoxville College's campus, on College Street, is a small hillside graveyard called the Freedmen's Mission Cemetery, previously known as the First United Presbyterian Cemetery. Perhaps because of its association with Knoxville College, it became the burial place of several of Knoxville's intellectual and political leaders. It includes the graves of prominent physician and alderman Henry M. Green; James, Tennessee's first Black postal clerk and founder of the local NAACP, and his wife Ethel, founder of an orphanage for Black children (the Beck Center, located in their final home, is named for them); and Laura Cansler educator and mother of Charles Cansler, who began teaching recently emancipated African Americans during the Civil War, and in so doing became, arguably, Knoxville's first public-school teacher of either race.
Also buried here, notably, are two people who were once enslaved to Andrew Johnson, at least one of whom, William Andrew Johnson, remained with him as a free servant when he went to the White House, and who as an old man revisited the presidential mansion as Franklin Roosevelt's guest.
Andrew Johnson freed enslaved people (some of which were his illegitimate children) on August 8, 1863, as Tennessee Military Governor. Knoxville ceremonies for regional Emancipation Day, celebrated in East Tennessee on the Eighth of August, often begin here.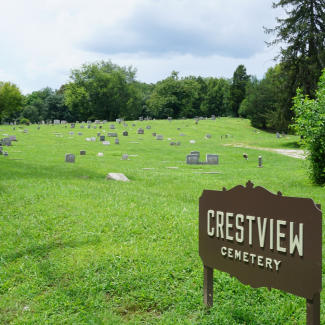 Crestview Cemetery
Courtesy KHP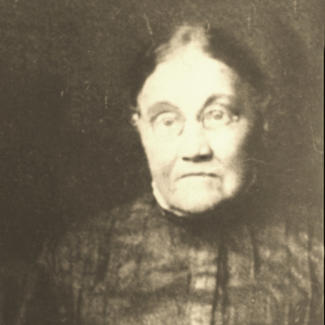 Laura Ann Cansler
Courtesy McClung Historical Collection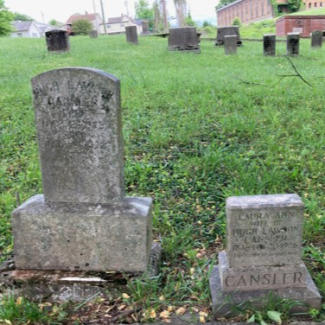 Cansler Graves at Freedman Cemetery
Courtesy KHP
Return to Western Avenue, drive about a mile to the northwest, and turn left on Keith. You'll pass the New Jewish cemetery on your left before getting to another cemetery on the right, marked "Crestview." Now known as the West View Cemetery, for its suburban neighborhood, this southern side of a steep ridge hosts another cluster of African American cemeteries, constituting what's probably Knoxville's largest Black cemetery. It began with a single grave in a family plot in 1873 and was originally known as Hall Town Cemetery. Like Odd Fellows, it was expanded by African American fraternities, and was originally separate cemeteries, including one known as Longview, and one known as Southern Chain, for a fraternity lodge. It opened to the public and was known as Crestview in 1922. It's believed to contain more than 15,000 graves.
Among those buried here is Charles Cansler, the Knoxville teacher, principal, and author who was connected to civil-rights leaders nationally (including Booker T. Washington and W.E.B. Dubois) and his wife Lillian, who taught at Knoxville College. Blues and jazz singer Ida Cox was buried here upon her death in 1967, but when these graveyards fell into disrepair, her grave was later moved just over the hill to New Gray, on Western. Long overgrown, these cemeteries were cleaned up about 10 years ago, in a city/county/community project that included the installation of interpretive markers.
If you have time to see one more graveyard, albeit a very small one, proceed west on Keith, turn left on Liberty, and continue over the interstate to Sutherland Avenue. Turn right on Sutherland, and after about a mile, turn left on Forest Park Boulevard. Drive straight across Kingston Pike to Old Kingston Pike, then turn right and quickly left, onto Colony. Turn right at Lyons View, and proceed a short distance, just past the big wall to a small parking lot of the Mount Pleasant Baptist Church.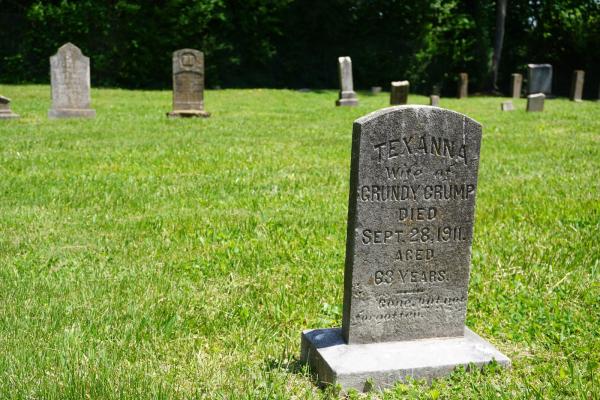 Texanna Crump Grave | Courtesy KHP
Mount Pleasant Baptist Church Cemetery on exclusive Lyons View, near Cherokee Country Club, is a rural African American cemetery adjacent to still-active church, with more than 100 graves, several that date back to the 1800s. Grundy Crump, a Black Union veteran who became a prosperous brickmaker, is buried here with an official-issue veteran's gravestone, along with his wife, Texanna. The African American church is still active, and stands next to a brick building that, despite the fact that it looks modern, was built during segregation in the 1940s to be an African American public school.
For more information on Black History and Attractions in Knoxville, go here.
Addresses:
Eastport Cemetery - 830 Addison Street, Knoxville, TN 37915
Oddfellows Cemetery - 2001 Bethel Avenue, Knoxville, TN 37915
Freedman's Mission Cemetery - 901 Knoxville College Drive, Knoxville, TN 37921 (This address is for adjacent Knoxville College)
West View Cemetery - 3220 Keith Ave, Knoxville, TN 37921 (This address is for adjacent The New Way Church of Knoxville)
Mount Pleasant Baptist Church Cemetery - 4926 Lyons View Pike, Knoxville, TN 37919
Other cemeteries mentioned:
New Gray – 2724 Western Avenue, Knoxville, TN 37921
Old Gray – 543 N. Broadway, Knoxville, TN 37917