A lot of us grew up hearing about "the '20s"--and even young people today have some concept of the idea. It's the '20s again, whether we're ready for it or not.
Knoxville in the 1920s experienced a flowering of creativity. Part of the excitement was all the new technology of the time. Radio was new--the first real station in Knoxville went on the air in 1922. Movies were bigger and better than ever, with experiments in both color and sound. There were new fads and novelties almost by the week, and some of them, from miniature golf to chop suey, caught on. Women could vote, and the once remote and forbidding Great Smoky Mountains were open to casual visitors who had cars.
Phonograph companies were putting more popular music on record than ever before, especially jazz, blues, and country (usually called "hill-billy" in those days). When music historians think of Knoxville in the '20s, they think of some pioneers of country music. Sterchi Brothers Furniture was sponsoring some of the first country-music records, as early as 1924, and some of the first country-music legends from Fiddlin' John Carson to Uncle Dave Macon were performing shows at the old Market Hall on Market Square.
But there were quite a lot of other styles, too. Violinist Bertha Walburn Clark's "Little Symphony" was performing regularly at the Farragut Hotel. Major international performers including Jascha Heifetz and Sergei Rachmaninoff performed in Gay Street theaters in the '20s. Even Marian Anderson, the famous African American soprano whose appearance at the Lincoln Memorial a decade later would be groundbreaking, performed in Knoxville more than once in the '20s.
But far more popular in 1920s Knoxville than either country music or classical was the new music called Jazz.
Jazz was everywhere. Riverboats offered moonlight jazz dance parties, with live orchestras. Department stores and restaurants sometimes hosted jazz bands. Some restaurants--one in Bearden in particular, known as the Wayside--didn't close after the supper crowd but remained open, sometimes until breakfast, hosting all-night jazz dances.
Radio station WNOX would later be famous for live country music, boosting the careers of Roy Acuff and Chet Atkins before they were famous--but if you look at their program listings in the 1920s, Knoxville's first radio station was broadcasting a whole lot more jazz, both local and national, than anything else.
On UT campus, a new craze was the "manless dance," a jazz dance with only women, half of them dressed as men.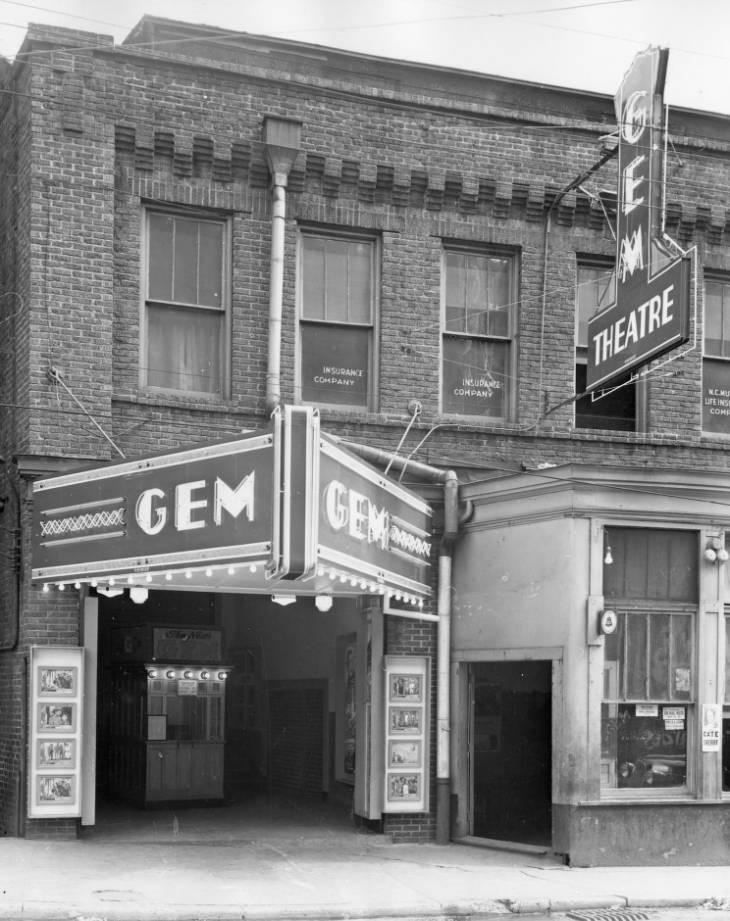 Gem Theatre | Courtesy Thompson Photograph Collection, McClung Historical Collection
But best remembered are longtime Knoxville residents and street performers Carl Martin and Howard Armstrong. Guitarist Martin was born in Virginia, but spent most of his youth in Knoxville. Fiddler and mandolinist Armstrong was part of a large singing family of brothers from LaFollette who came to Knoxville frequently to play. Howard Armstrong, who became known as "Louie Bluie," moved in with Carl Martin, and the two played together for many years. One of their first bands was called the Tennessee Chocolate Drops, eventually including Ted Bogan. They played on Knoxville radio, and in both black and white clubs, even the tourist-oriented Wayside Inn, in Bearden, known for its late-night dances. (Their legacy inspired the name of a modern Black string band, the Carolina Chocolate Drops who have played in Knoxville as a group and individually, see them here on the WDVX Blue Plate Special, listen to founding member Dom Flemons on the Blue Plate, and Rhiannon Giddens at 2019 Big Ears Festival.)
They later moved to Chicago, where they were both well-known in the mid-'30s. Martin, in particular, performed as a session musician on several well-known bluesmen's records. Armstrong was more the irrepressible showman. They joined up with Ted Bogan, a competent guitarist they met here. The split up after they moved to Chicago, then reunited in the late 1960s, as Martin, Bogan, and Armstrong, toured extensively, and made records, including an album called That Old Gang of Mine.
Martin died in 1979, but Armstong lived decades longer, enjoying a revival in interest especially after the release of an offbeat documentary by Terry Zwigoff, called Louie Bluie. He was a performer who remained in demand until his death at age 94.
Some of them died young, some moved north, some just seemed to vanish into thin air. We're lucky we still have a scant few recordings to give us some idea of what it was like. A few of them appear on an internationally produced box set called The Knoxville Sessions, released in 2017 with a great festival named for one of the Tennessee Chocolate Drops' 1929 recordings: the "Knox County Stomp."
Jazz is still well and alive today in Knoxville.  Listen to the Knoxville Jazz Orchestra, catch the Women in Jazz Jam Festival, and read more about Knoxville's modern jazz scene here.