The Knoxville Museum of Art is excited to welcome Under Construction: Collage from The Mint Museum August 20-November 7, 2021. The Mint is North Carolina's first art museum and holds one of the largest collections in the Southeastern United States! This exhibition, organized by The Mint, is the museum's FIRST large scale display of artworks that explore the unique and dynamic medium of collage.  
So, what is collage? Stemming from the French word "coller" meaning "to glue" or "stick together", collage is an artistic technique in which materials from different sources are cut, torn, layered, and assembled to create a new meanings and narratives. The technique was first used at the time of the invention of paper in China, around 200 BC, but it really gained acclaim in the early 20th-century thanks to artists like Georges Braque and Pablo Picasso.  This modernist movement in the arts aimed to break with classical and traditional forms to affirm the power of human beings to create, improve, and reshape their environment. After World War II, collage art in America experienced a revival which is widely attributed to Charlotte, North Carolina native, Romare Bearden (no relation to the Bearden neighborhood in Knoxville!).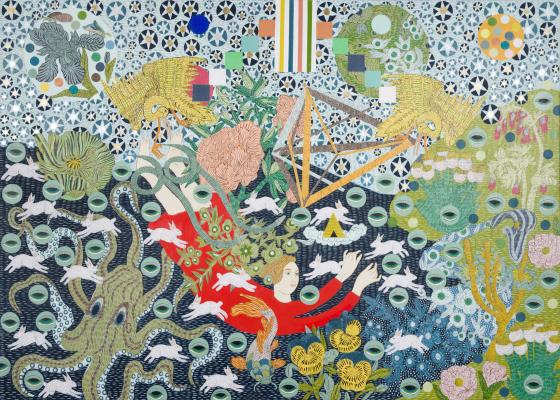 Iruka Maria Toro (San Juan, Puerto Rico 1983; lives and works in upstate New York)  The Invisible Life of Small Things, 2011  
Under Construction brings together more than a dozen collages by Bearden, who is known as  
"the nation's foremost collagist". Much like his work, the artist's life experiences were diverse, complex, and layered. Not only was he an artist, but he was also an author, songwriter, political cartoonist, athlete, social worker, military man, Harlem Renaissance intellectual, and civil rights activist – WHEW!! Long before the time of social media, Romare Bearden could have been called "The Original Influencer". According to him, "Practically all great artists accept the influence of others. But the difference lies in the fact that the artist with vision sees his material, chooses, changes, and by integrating what he has learned with his own experiences, finally molds something distinctly personal". As is evident in many of the works in Under Construction, Bearden's legacy continues to serve as a powerful touchstone for younger artists as they use new ideas, materials, and tools to define the medium's voice in the digital age.  
The Knoxville Museum of Art is elated to show off yet another aspect of the Southeast's rich visual culture. Just like Romare Bearden, today's makers can be influenced by other artists and blend it with their own history, culture, and lived experiences to create something entirely new! So please stop by and be inspired—admission is ALWAYS FREE!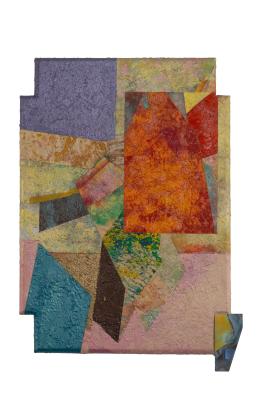 Sam Gilliam (Tupelo, Mississippi 1933; lives and works in Washington, D.C.)  Composition Around Violet, 1982  
The opening for the exhibition is Friday, August 20, 2021 from 5:30-7:30 pm. This event is free and open to KMA Members. Additional programs surrounding Under Construction: Collage from The Mint Museum exhibition include:             
Dine & Discover – Wednesday, September 22nd 12 pm at KMA  
Knoxville based artist Jean Hess will discuss her process of working in collage and layers bringing a local perspective to the exhibition Under Construction: Collage Art from the Mint Museum.   

Cocktails & Conversation – Tuesday, September 28th 6 pm at KMA 
Arrowmont Program Director and Instructor Nick DeFord will lead a conversation on his experience working in collage. This talk coordinates with the exhibition Under Construction: Collage Art from the Mint Museum.  

Collage Workshop – Friday, October 22nd 6 pm at KMA 
For adults 21 and up. Explore your creative side and learn about collage art in relation to the exhibition Under Construction: Collage Art from the Mint Museum.  

Kolaj LIVE Knoxville – Friday, November 5th - Sunday, November 7th at KMA 
Artists, curators, and writers will gather for a weekend of collage making, slideshows, exhibition visits, and storytelling that deepen our understanding of collage as a medium, a genre, a community, and a 21st-century movement. 
Under Construction: Collage from The Mint Museum is organized by The Mint Museum in Charlotte, North Carolina, and is generously sponsored by Wells Fargo. Special thanks to Lexus of Knoxville, Alexandra Rosen and Donald Cooney, and Hei and Stanley Park.  
---
About the Mint Museum 
Established in 1936 as North Carolina's first art museum, The Mint Museum is a leading, innovative cultural institution and museum of international art and design. With two locations — Mint Museum Randolph in the heart of Eastover and Mint Museum Uptown at Levine Center for the Arts — the Mint boasts one of the largest collections in the Southeast and is committed to engaging and inspiring members of the global community. 
About the Knoxville Museum of Art 
The Knoxville Museum of Art celebrates the art and artists of East Tennessee, presents new art and new ideas, serves and educates diverse audiences, and enhances Knoxville's quality of life.  
The museum is located in downtown Knoxville at 1050 World's Fair Park. It is open to the public Tuesday through Saturday 10 am–5 pm, and Sunday 1 pm-5 pm. Admission and parking are free.