Knoxville once had a whole neighborhood where it was St. Patrick's Day every day. It was populated mostly by Irish immigrants, refugees from the famine at home. They settled all over America, but hundreds, mostly young men, came to Knoxville in the 1850s as unskilled laborers, helping build the first railroad through East Tennessee. Some of them moved on when the job was done, but a lot of them settled near the railroad, on the north side of the small but rapidly growing industrial town. And the place where they settled was called Irish Town. 
Descriptions of it vary just a little, but Irish Town was mainly in the bottomland just to the north of Jackson Avenue, up to Fifth—just three or four blocks in that direction—but about 11 blocks long, from Second Creek east to what's now Randolph Street. It lay like a tam o'shanter over the top of downtown Knoxville. 
City Directories indicate the neighborhood wasn't all Irish, though there seems to be a predominance of immigrants in general, some of Jewish or German background. But some pockets within those boundaries were extremely Irish. In the 1880s, a single linear block of Park Avenue—later considered part of Magnolia east of Central had families of Sheas, Shanids, Morans, Malones, Dillons, Sullivans.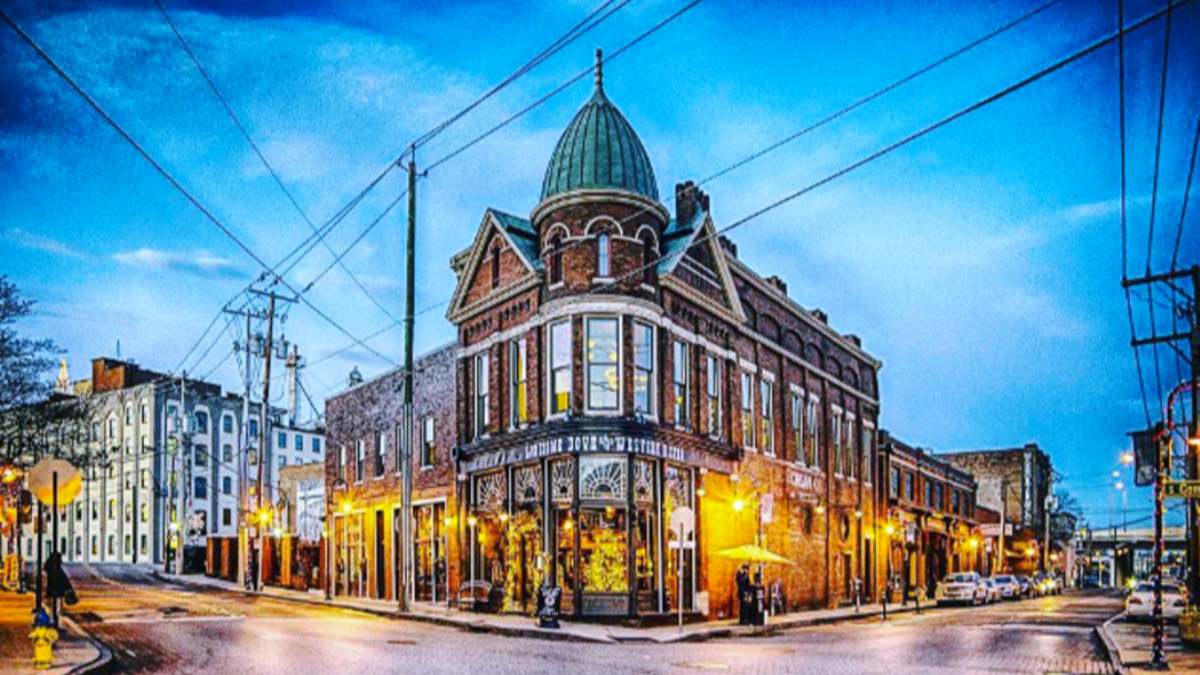 Lonesome Dove Western Bistro
Most of the immigrants spoke English, but some were just as comfortable with Gaelic. Some interacted with Knoxville natives, but others preferred never to leave Irish Town. They didn't really have to. They had their own groceries, bakeries (Miss Mary Donahue's was famous), and saloons. There were several, on more corners than not; among the first and most famous was that of Patrick Sullivan, who was operating a saloon on Central soon after the Civil War, kind of at the lower portal to Irish Town, where he was guaranteed a crowd of both Irish and non-Irish. He built a grand new building, with a corner cupola, in 1888. Never obliged to conform to American customs, Sullivan's allowed both men and women in saloon, and both blacks and whites. (Patrick Sullivan's can be enjoyed today as Chef Tim Love's Lonesome Dove Western Bistro.)
Of course, they had their own church, Immaculate Conception (which now plays host to Irish Fest in the fall). For years the only Catholic church in East Tennessee, founded mainly to serve the Irish immigrants, was nearby, just up the hill, and visible form every house in Irish Town. To this day, that church faces north, toward Irish Town—not south, toward most of downtown Knoxville. 
Irish Fest on the Hill at Immaculate Conception
They liked sports, especially boxing and rugby—years before Tennesseans got used to the rugby-like sport called football. But they also quickly picked up the American sport of baseball, and had their own competitive teams, including the Irishtown Greens. Some of these sports they played in a field at the southeast corner of Central and Depot—before the White Lily Flour factory was built there in 1886. Above Kavanaugh's Saloon at Central and Depot was a boxing ring. One of the memorable champions of the 1890s was Johnny O'Connor, whom his fans called "Punch." More about him later. 
They formed groups: St. Anselm's Union, the Hibernian Society, the Athletic Club. Despite Irish Town's reputation for drinking, dances, and games, the community maintained a strong social order, cracking down on criminals and dishonest practices, sometimes without having to bother with the police. The Irish didn't like guns, and preferred to settle things with fists. The people of Irish Town didn't like to lock their doors, but did like to pummel would-be burglars. It was claimed that, despite Irish Town's proximity to the saloon and brothel district, Irish Town was utterly safe. It's interesting that several Irish, perhaps already accustomed to enforcing Irish Town's rules of conduct, also became Knoxville policemen. 
The Irish celebrated St. Patrick's Day, of course. Always with music—several Irish male and female, were noted singers of old Irish songs—and dancing, sometimes with grand parades down Gay Street. Some of them allied themselves with the Fenians, the radical Irish separatists back home. Others were just Democrats. They had their own politics. Although a couple of fellows from Irish Town were elected Mayor of Knoxville, like Martin Condon, in 1888—yes, Knoxville had a Catholic mayor, even back then—but one popular fellow was known as the Mayor of Irish Town. His name was John P. Murphy, and he was well known all over the city, a member of the Board of Aldermen and, twice elected to the state legislature. Upon the death of Mayor McTeer in 1904, John P. Murphy filled in, and for eight days the Mayor of Irish Town was also Mayor of Knoxville. 
Irish Town started coming apart in the early 1900s. According to some accounts, it was at funerals that the people of Irish Town got accustomed to the idea that they lived in a larger city, and that the people of that city were not so bad. The Irish began to venture out more. Some Irish immigrants, and especially their children, became successful in business, and moved away from the noisy, high-density parts of town to live in new houses with green lawns and gardens, many of them just to the north of Irish Town especially in the neighborhood we now know as Fourth and Gill.  Even Patrick Sullivan himself retired and moved there.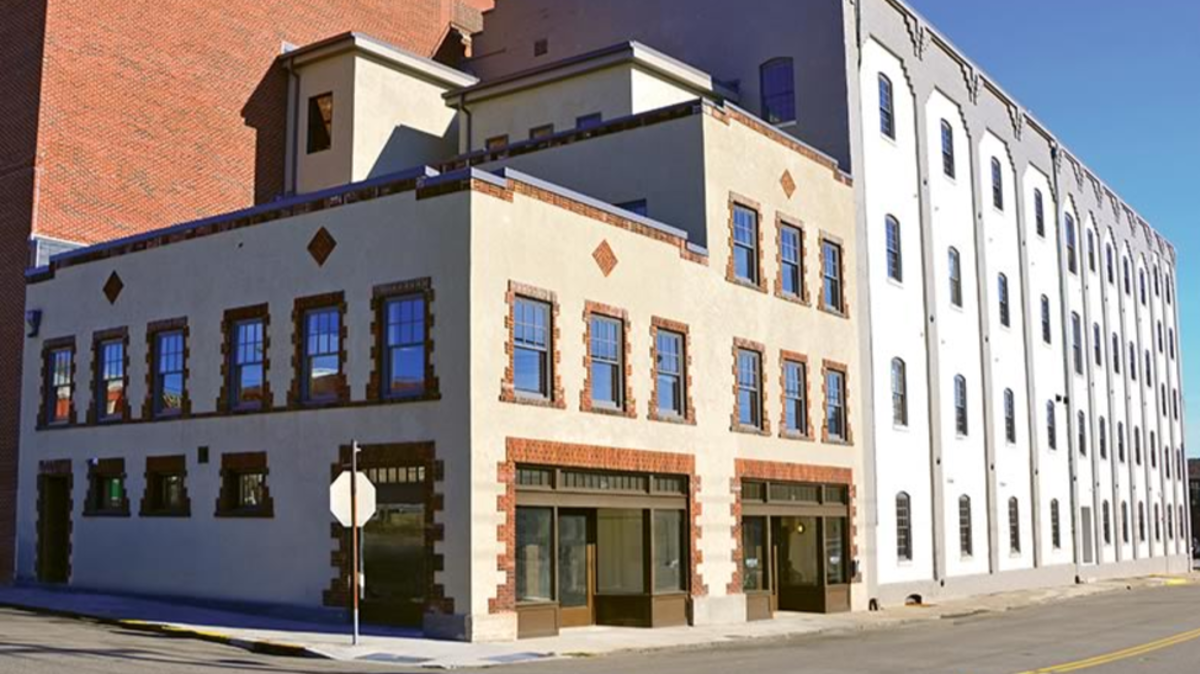 White Lily Flats
Meanwhile, after White Lily's factory took up their old playing field, the residential neighborhood became more and more commercial, as factories and warehouses for railroad-related businesses moved in to take advantage of the adjacency to the railroad tracks the Irish had built years before. Several Irish families sold their houses and moved into residential subdivisions. 
Then, in 1907, the city delivered a fatal blow, by banning saloons, the most popular gathering places in Irish Town. Sullivan's Saloon, now run by another member of the Irish community, Dan Dewine, closed, eventually becoming an Italian ice-cream factory. Most Irish-run saloons closed, but Bill Long's, at Central and Depot, somehow stayed open, claiming to serve only soft drinks and sandwiches, but even the police knew different. Everybody liked Bill Long. 
But despite his remarkably persistent presence, Irish Town dwindled, and might have been forgotten altogether, if not for one thing. In 1932, John T. "Punch" O'Connor was elected mayor of Knoxville. He boasted of his birth in Irish Town, eliciting curiosity about what he meant, and a series of newspaper feature stories featuring reminiscences. 
In 1949, a newspaper columnist remarked on the last surviving resident of Irish Town, an old lady named Kate Leahy Amanns, who still lived in a little house among the concrete-block commercial buildings along Magnolia near William Street (it appears the short lane we know as Williams Street was William Street during the Irish Town era). A few years later, the construction of I-40 went directly through old Irish Town, flattening much of whatever remained. 
Remarkably, the saloon known as Bill Long's Place remained until 1976—when White Lily Flour demolished it to make a parking lot for employees. In its 70-plus years, it had only two proprietors: Bill Long himself and his stepson, Clark Bolden, who was elderly at the time he was induced to retire. 
Today, you can barely see indirect traces of Irish Town. Catholic High School, built in 1930, was built after Irish Town's era, but on land still owned by Irish Catholics. It's now the Magnolia campus of Pellissippi State. The John T. O'Connor Senior Center, a modern building built in the 1960s, is named for Irish Town's long-ago boxing champ. Its location at the northeastern corner of old Irish Town is probably coincidence.
Central Depot courtesy of Knoxville History Project
However, at the northwestern corner of Central and Depot is a Victorian commercial building that was there in the Irish Town era, and may have been the site of Kavanaugh's Saloon; was the second floor the location of the once-famous Athletic Club, with its chin-up bars and boxing ring? As luck has it, the old building now houses a saloon again, called the Central Depot. 
Click here for events on St. Patrick's Day weekend!  For the St. Patrick's Day Parade, click here.